Outdoor Living Lovers In Powell OH Trust The Seasoned Expert Builders At Archadeck
What's your idea of outdoor living perfection and bliss? If you're not quite sure, this may be helpful as you begin your quest to uncover it.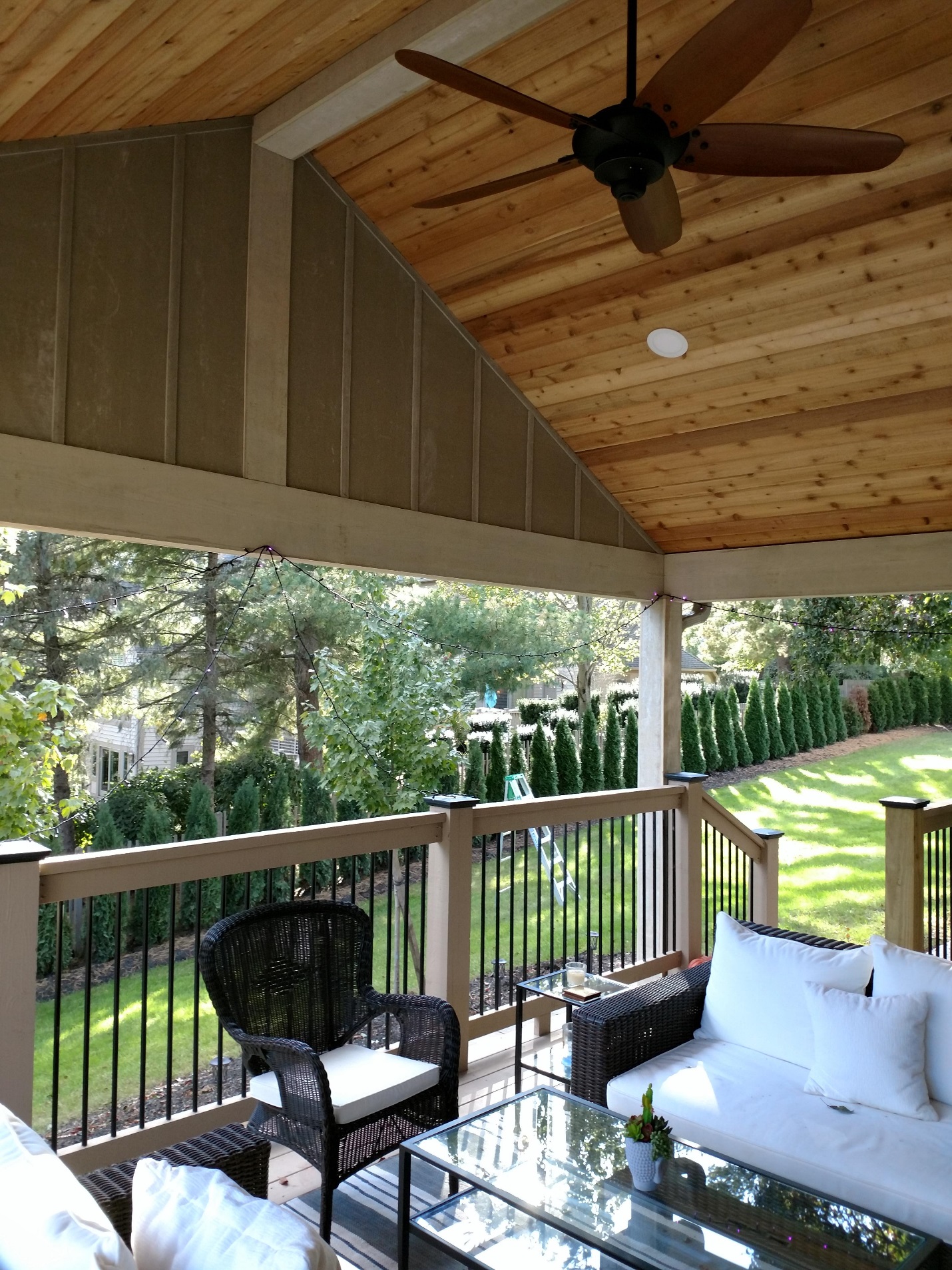 Archadeck in Powell OH is building some of the most beautiful, functional and sought after leisure living structures Ohio has ever seen. And it's been doing so since Archadeck's founding in 1980. Here is what you need to know about us in Powell OH.
When Opportunity Knocks, Archadeck Answers The Call
Our heritage of outdoor building excellence was born out of necessity. More than four decades ago, home building was different than it is today – very different.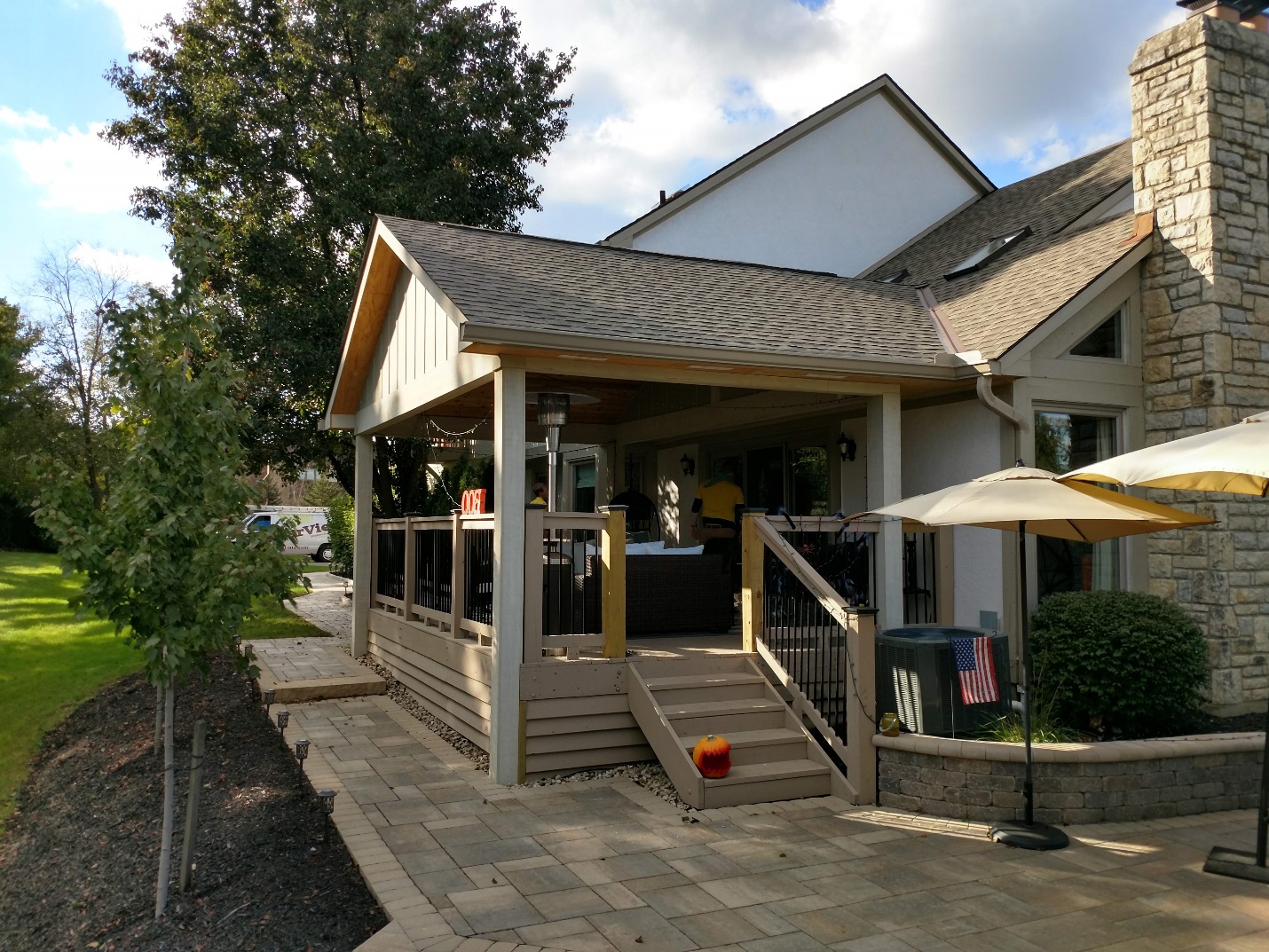 Back then, new home builders primarily focused on building the home structure itself, and not adjacent exterior areas for outdoor living.
The creative minds at Archadeck seized that open window of opportunity and built a business which has grown to become America's #1 builder of outdoor living spaces of all kinds:
• Decks
• Porches
• Covered Porches
• Patios
• Covered Patios
• Pergolas
• Combination Outdoor Living Projects
Outdoor Living Has Become Increasingly Popular Throughout Powell OH In Recent Years
Thankfully for us, area homeowners are embracing the idea of extending their living spaces beyond the confines of their homes and utilizing their outdoor areas for relaxation, entertainment, and recreation.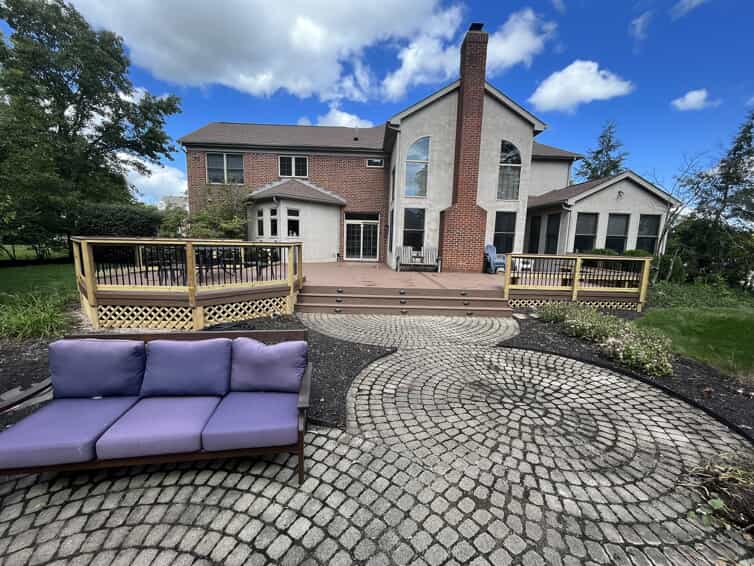 The trend towards outdoor living has been fueled by various factors, including a desire to connect with nature, the pursuit of a healthier lifestyle, and a growing appreciation for outdoor activities.
One of the key indicators of the popularity of outdoor living is the surge in the sales of outdoor furniture, grills, and outdoor accessories. The outdoor furniture industry has experienced significant growth, with a wide range of stylish and comfortable options available to suit different outdoor spaces and personal preferences.
Additionally, there has been a rise in the popularity of outdoor entertaining spaces. People are investing in outdoor kitchens, dining areas, and lounging spaces, creating inviting environments for hosting gatherings and spending quality time with friends and family. The concept of the outdoor room has gained traction, where outdoor spaces are designed and furnished with the same attention to detail as indoor living areas.
Furthermore, the increasing interest in outdoor activities such as gardening, landscaping, and outdoor sports also reflects the popularity of outdoor living. Many individuals are prioritizing the development of their outdoor spaces, creating beautiful gardens, installing features like fire pits or water features, and engaging in outdoor hobbies.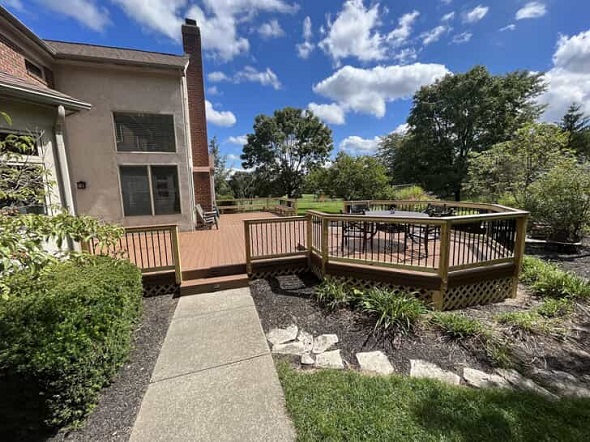 The COVID-19 pandemic and related restrictions also played a role in boosting the popularity of outdoor living. With indoor socializing limited, people turned to their outdoor spaces as a safe alternative for gathering with others while adhering to social distancing guidelines.
Overall, outdoor living has become a significant trend, and its popularity continues to grow as people recognize the benefits of spending time outdoors and creating inviting and functional outdoor spaces.
What Are The Most Popular Outdoor Space Home Improvements In Powell OH?
These popular spaces of our custom designs can serve as the inspirational starting point for creating your own outdoor oasis at home.
Patios and Decks: Patios and decks are versatile outdoor spaces that provide a foundation for various activities. They can be used for dining, lounging, and hosting gatherings. Materials like concrete, pavers, or wood can be used to create a functional and aesthetically pleasing patio or deck.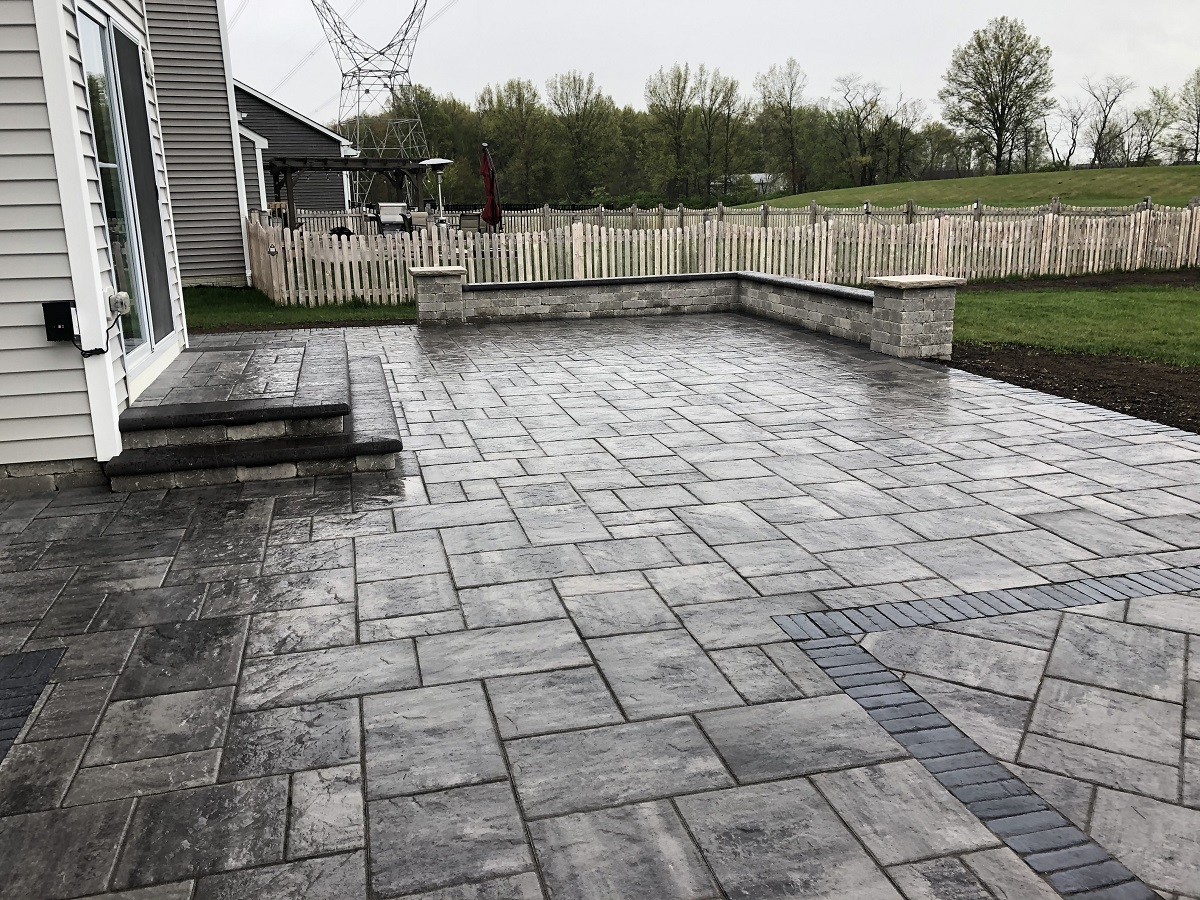 Outdoor Kitchens: Outdoor kitchens have gained immense popularity. They typically include a grill, countertops, storage cabinets, and sometimes even sinks and refrigerators. They allow you to prepare and enjoy meals while enjoying the fresh air and natural surroundings.
Fire Pits and Fireplaces: Fire pits and fireplaces provide warmth, ambiance, and a focal point for outdoor gatherings. They come in various designs and can be powered by wood, gas, or electricity. Fire features create a cozy atmosphere and extend the usability of outdoor spaces into the cooler months. Of special note is the rise in popularity of wood burning backyard pizza ovens as a component of an outdoor fireplace.
Outdoor Dining Areas: Outdoor dining areas are perfect for enjoying meals in the open air. Whether it's a simple table and chairs or a fully equipped dining space with a pergola or canopy for shade, these areas offer a pleasant setting for family meals or entertaining guests.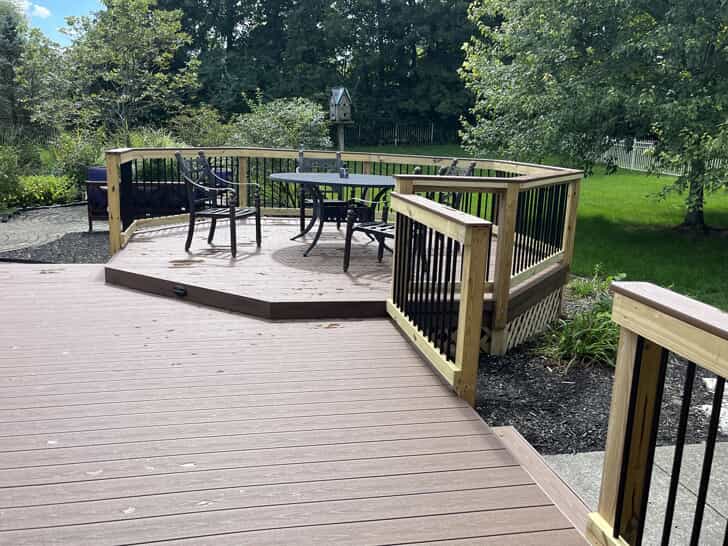 Outdoor Living Rooms: Outdoor living rooms provide comfortable seating arrangements, such as sofas, chairs, and coffee tables, akin to an indoor living room. They are ideal for relaxation, reading, or socializing, allowing you to enjoy the outdoors while maintaining the comfort of indoor living.
Landscaped Gardens: Well-designed gardens enhance the beauty and tranquility of outdoor living spaces. Incorporating plants, flowers, trees, and pathways can create a serene and inviting atmosphere, attracting birds, butterflies, and other wildlife to your backyard living oasis.
Outdoor Living While Home Aside, How Else Are Folks In Powell OH Embracing The Outdoors?
We are all fortunate that we live in a region that offers a diverse range of natural elements. Here are some of the notable elements of nature in and around Powell.
Woodlands and Forests: Our city is situated in an area with abundant woodlands and forests. These areas are characterized by a variety of tree species, such as oak, maple, and hickory, creating beautiful natural landscapes and providing habitats for wildlife.
Rivers and Streams: The Olentangy River runs through here, offering scenic views and recreational opportunities. Nearby streams and creeks, such as the Liberty Creek and Big Walnut Creek, add to the natural beauty of the area and provide options for activities like fishing and canoeing.
Parks and Nature Preserves: Powell is home to several parks and nature preserves that showcase the region's natural beauty. Examples include the Liberty Park, Highbanks Metro Park, and the Scioto Reserve State Park. These areas offer hiking trails, picnic spots, and opportunities to observe wildlife in their natural habitats.
Wetlands and Meadows: Our area surroundings feature wetlands and meadows, providing important ecosystems for a diverse range of plants and animals. These areas are not only visually appealing but also contribute to the overall biodiversity of the region.
Wildlife: For true nature lovers, we are fortunate to have a variety of wildlife species that call the area home. It is common to spot deer, squirrels, rabbits, and a variety of bird species, including cardinals, blue jays, and woodpeckers. The natural elements in Powell OH create habitats that support the survival and flourishing of these animals.
Changing Seasons: Another natural gift we enjoy is the ability to experience all four distinct seasons, each with its own unique beauty. From the vibrant colors of fall foliage to the blossoming flowers in spring, the changing seasons offer an ever-changing natural landscape that residents can appreciate throughout the year.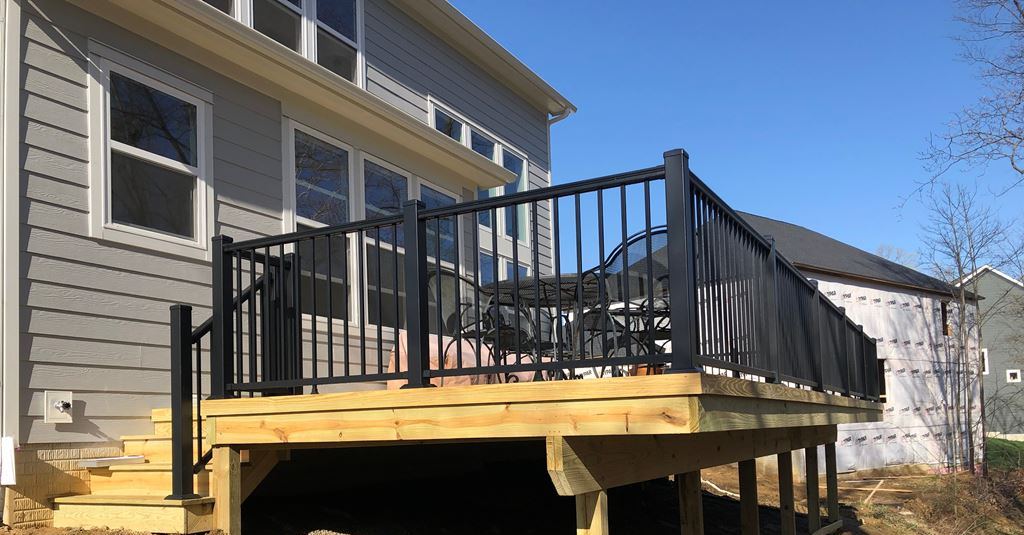 These natural elements offer opportunities for outdoor activities, including hiking, birdwatching, photography, and simply enjoying the beauty of nature. Exploring local parks, nature preserves, and nearby natural attractions is a great way to immerse oneself in the natural elements of Powell OH when venturing outside of your own outdoor living spaces.
Whether At Home Or Away, Celebrate The Beauty Of Our Great Outdoors, And Drink It In
For a closer look at some of our outdoor living home improvements, we encourage you to view past custom designs in our Photo Gallery.
Your Archadeck design consultant looks forward to telling you about these custom projects and more during your complimentary design consultation.
To schedule yours, call us at 740-265-3905. Even more convenient, just click right here and schedule it online.
The Archadeck of Columbus Team.