Grove City Ohio Has Archadeck As The Most Trusted Expert Of Custom Outdoor Living Structures And Backyard Spaces
With an ingenious and creative portfolio of custom design plans for innovative and multi-functional outdoor living spaces, Grove City OH families can now meet with the one true expert in outdoor living trends, quality building and brilliant designs. That's Archadeck.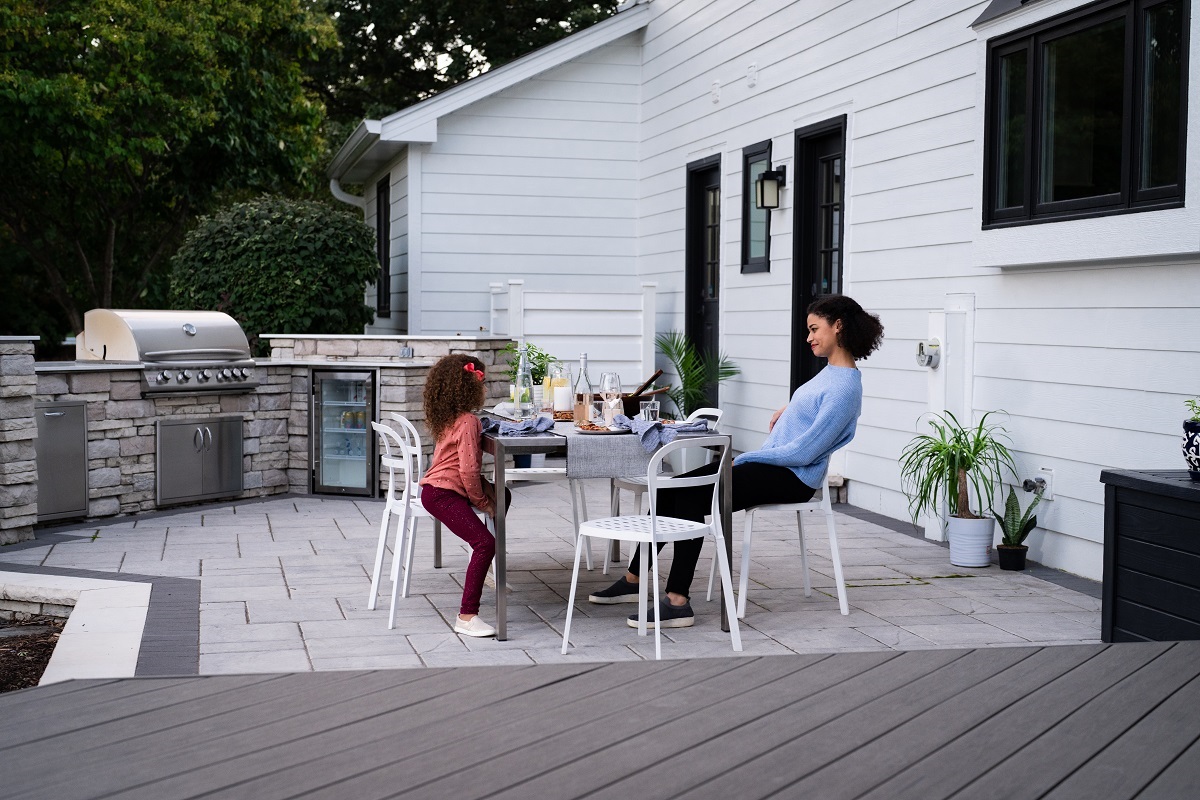 Archadeck Rises To The Occasion As The Premium Grove City Deck Builder And Grove City Patio Builder
Here is a perfect example.
Before Archadeck arrived on the scene, the owners of this home in Grove City, OH, only had a 3-foot by 3-foot builder-grade landing with three steps down to ground level.

Before and After.
What they wanted was a second-story deck with a patio underneath, quite a stretch from where they were starting out. For this transformation, they called the best Grove City deck and patio builder they knew of, Archadeck.
Because the deck would be high up on the second level of the home, the family wanted to be able to use the valuable space beneath it as a patio. The area under the deck needed to be attractive, as it would be visible from the outside; but even more important, they wanted it to be part of their outdoor living space. A request that made good sense.
For the deck, the homeowners selected one of our specialties of low-maintenance TimberTech composite decking in the Amazon Mist color from the TimberTech Tropical Collection. The Tropical Collection decking features a multi-color streaking that mimics the look of exotic wood grains. These composite boards are covered with a polymer shell on all four sides for maximum durability.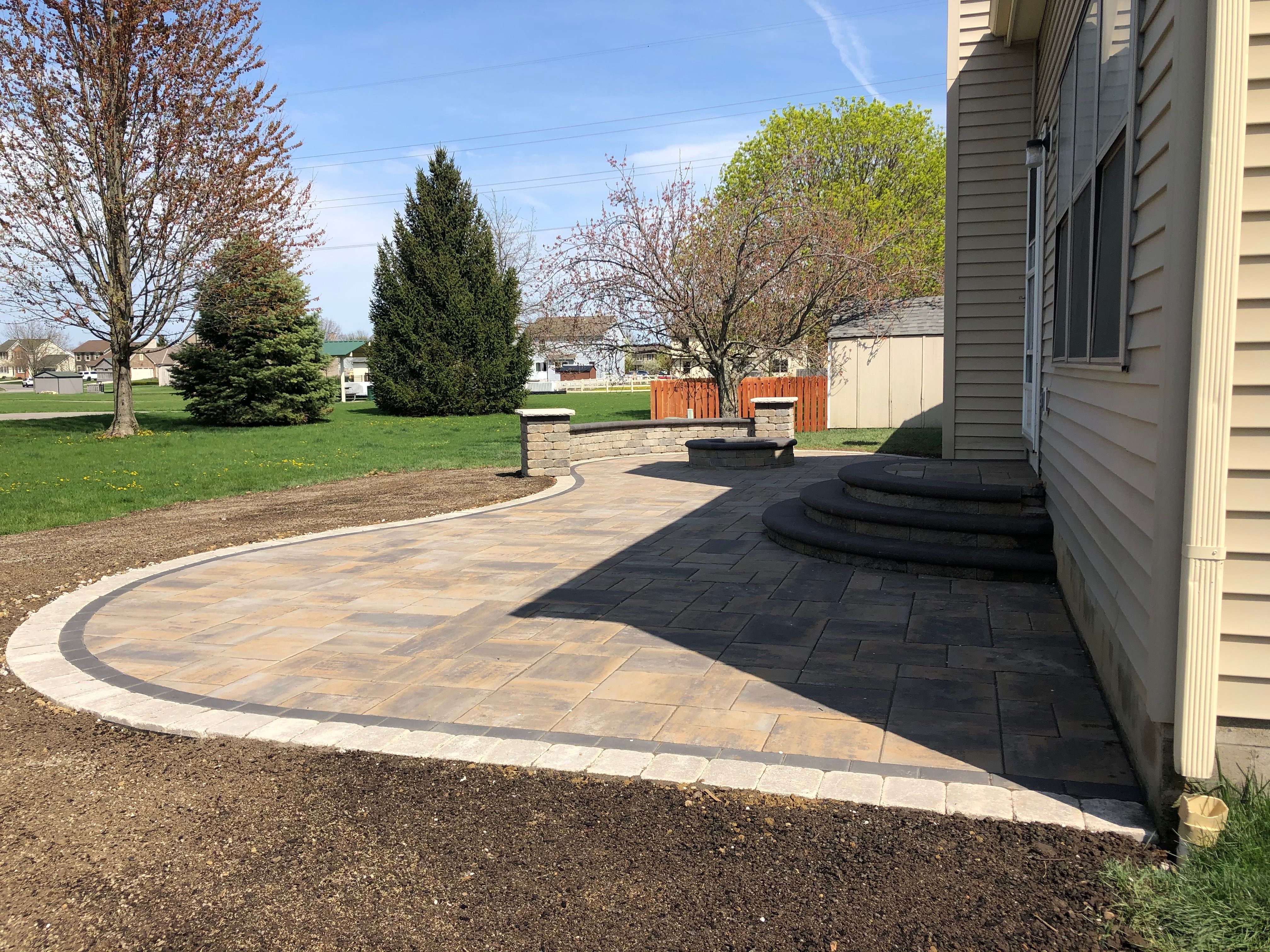 To provide the family with the usable space they wanted below the deck, we installed TimberTech's DrySpace product, an under-deck drainage system that channels moisture from the spaces between boards. DrySpace is made of solid extruded vinyl for strength, durability and weather resistance.
As for their patio pavers, the homeowners selected Unilock Beacon Hill Flagstone pavers in platinum with a border of Unilock Series 3000 in granite, a stunning accompaniment to the overall design scheme.
Grove City OH Decks, Porches, And Patios Are Just The Beginning Of How Archadeck Can Enhance Your Life And Make Your Leisure Time More Enjoyable Than Ever
Here are some key indicator insights into what designs are currently in demand throughout Grove City OH and what homeowners are looking for in outdoor living spaces.
Deck and Patio Custom Spaces: Patios and decks are versatile outdoor living spaces that can be used for lounging, dining, and entertaining; and our clients use them almost on a daily basis during Spring, Summer and Autumn.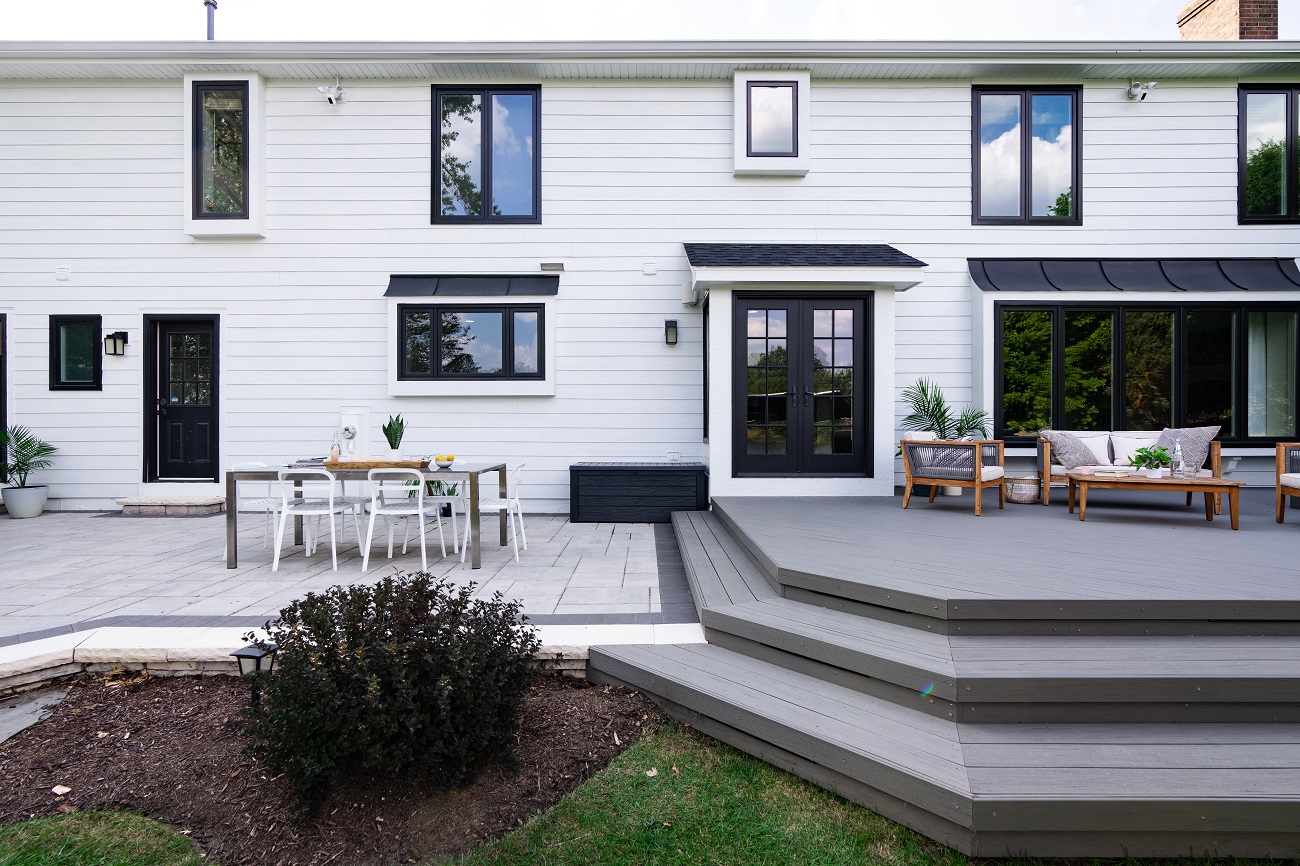 These creatively designed and highly functional outdoor spaces are key among the most often requested design plans here in Grove City OH. Here's why:
Our Climate: Grove City OH experiences varying seasons, including warm summers and chilly winters. Decks and patios provide versatile outdoor spaces that can be enjoyed during many months of the year, allowing residents to make the most of the pleasant weather.
Entertainment and Socializing: Custom designed decks and patios by Archadeck offer a great place for Grove City OH residents to gather, entertain friends and family, and enjoy outdoor meals and parties. With proper seating, dining areas, and perhaps even features like grills or fire pits, these spaces become natural hubs for socializing.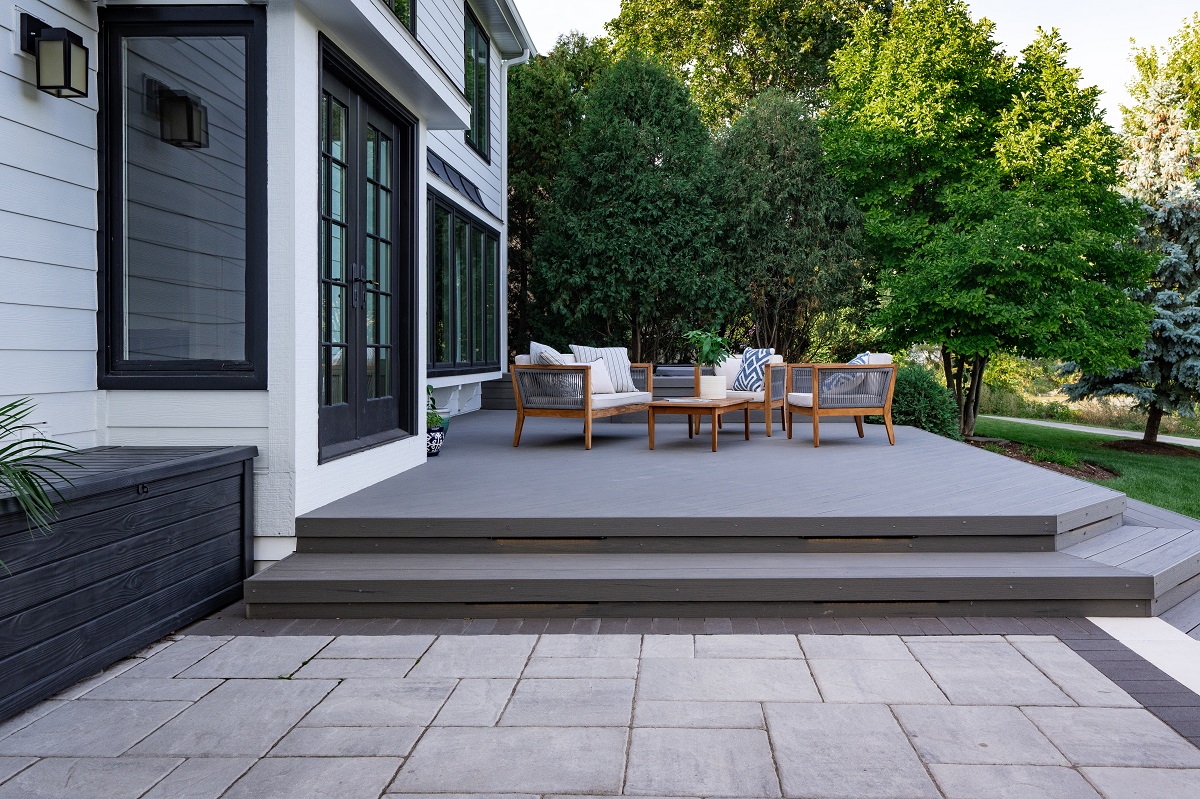 Natural Beauty: The natural surroundings in Grove City and the broader Ohio region often include picturesque landscapes, which make decks and patios particularly appealing. People can relax and enjoy the beauty of the outdoors from the comfort of their own property.
Extensions of Living Space: Archadeck expertly designed and built decks, patios and porches effectively extend the usable living space of a home. They provide a beautiful and often sought-after transition between indoor and outdoor environments, allowing residents to enjoy fresh air and nature without leaving their property.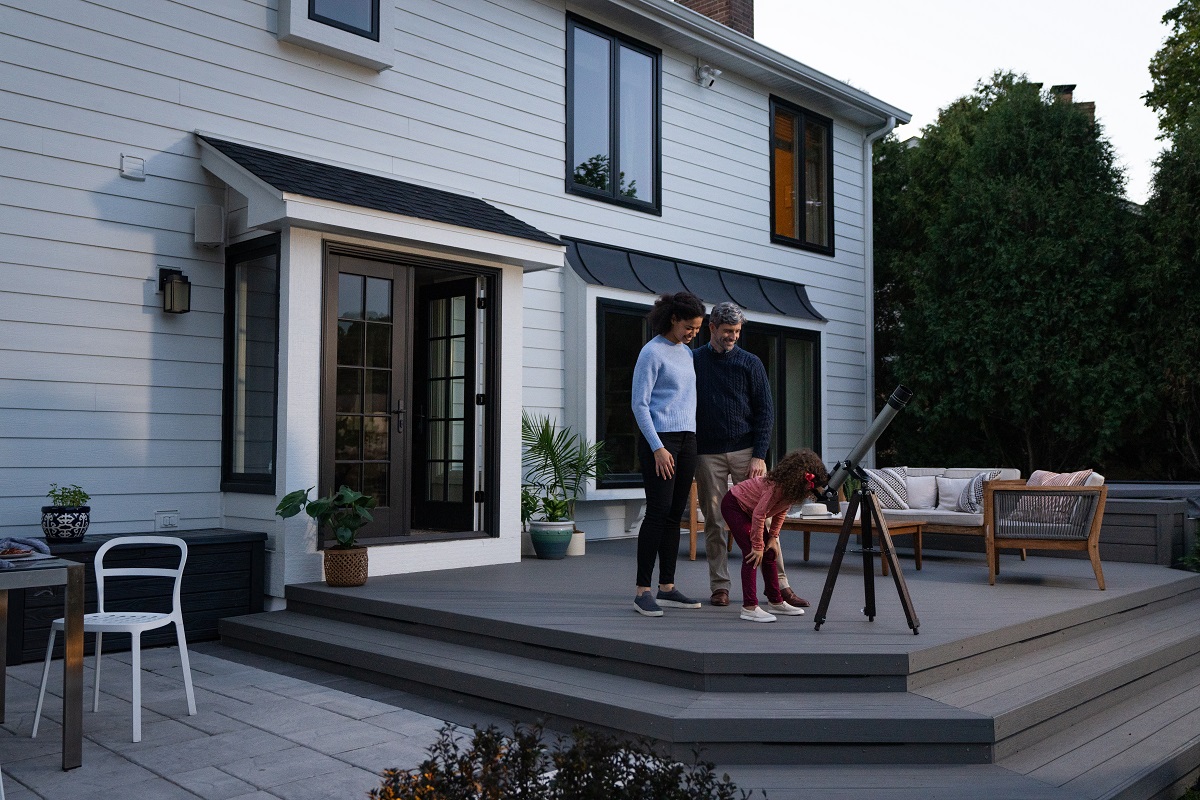 Landscaping Opportunities: Decks and patios can be integrated with landscaping features such as gardens, flower beds, and shrubs. This combination of hardscape and softscape elements adds visual interest and creates a harmonious outdoor environment.
Property Value: Well-designed and properly maintained decks and patios can enhance a property's curb appeal and overall value. If and when it becomes time to sell your home, potential homebuyers often see these outdoor spaces as valuable additions to the property.
Personalization: Decks and patios offer a blank canvas for homeowners to express their personal style and preferences in their outdoor living combination projects. From choosing materials to designing the layout, residents can create a space that suits their lifestyle. With Archadeck's professional guidance, we help our clients achieve seamless aesthetic transitions between their interior living space and their new outdoor living spaces.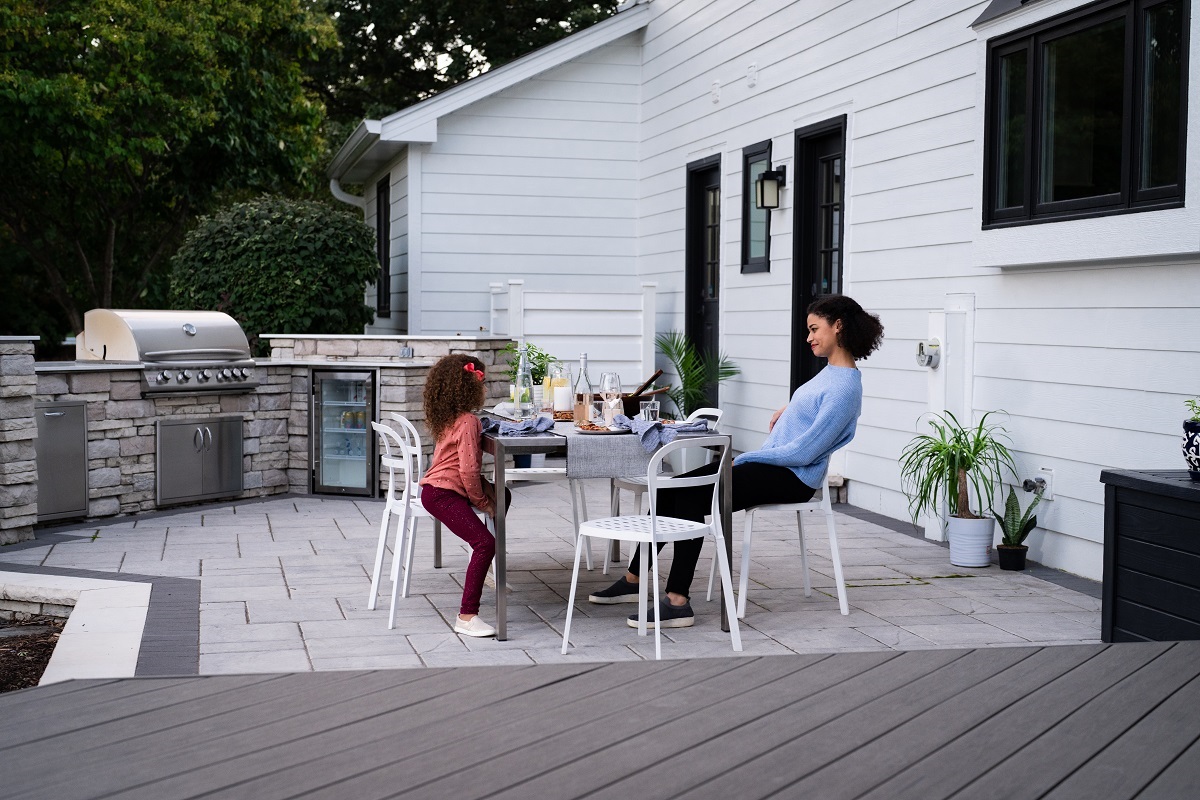 Lower Maintenance: Compared to some other types of outdoor spaces, decks and patios generally require less maintenance. Regular cleaning and occasional upkeep are usually enough to keep them in good condition. To help achieve maximum relief from deck maintenance, we will guide you to the best building material choices for the structures you're looking for. When it comes to decking, we proudly feature easy-to-care-for TimberTech building materials by AZEK. With every innovation imaginable, AZEK strives to improve how you experience the great outdoors from the comfort of your own backyard. All the while, they are persistently working to help safeguard the beauty of nature for future generations with sustainable manufacturing and ambitious recycling initiatives. That's why they manufacture composite and PVC decking with the most realistic wood looks, sustainably made and engineered for life.
Versatility: Decks and patios can be adapted for various uses. They can serve as outdoor dining areas, lounging spaces, yoga and exercise spots, or even small gardening areas. There is virtually no limit to their uses in an open, shaded or roofed outdoor environment.
Return on Investment: Grove City OH homeowners often see a solid return on investment when adding a deck or patio to their property. If well-designed and well-maintained, these outdoor spaces can positively influence a property's resale value.
Outdoor Living Spaces And Places For All Kinds Of Outdoor Living Luxury In Grove City OH
Outdoor Kitchens: Creating an extension of the indoor kitchen outside is a popular trend and becoming more so with each passing day and every outdoor kitchen innovation. These now include built-in grills, smokers, refrigeration, bar tops, countertops, sinks, and even pizza ovens. The only limitations here is your imagination. Virtually every indoor kitchen convenience can now be replaced outdoors. By incorporating adjacencies of comfortable furniture, outdoor rugs, and shade structures, they become even more inviting.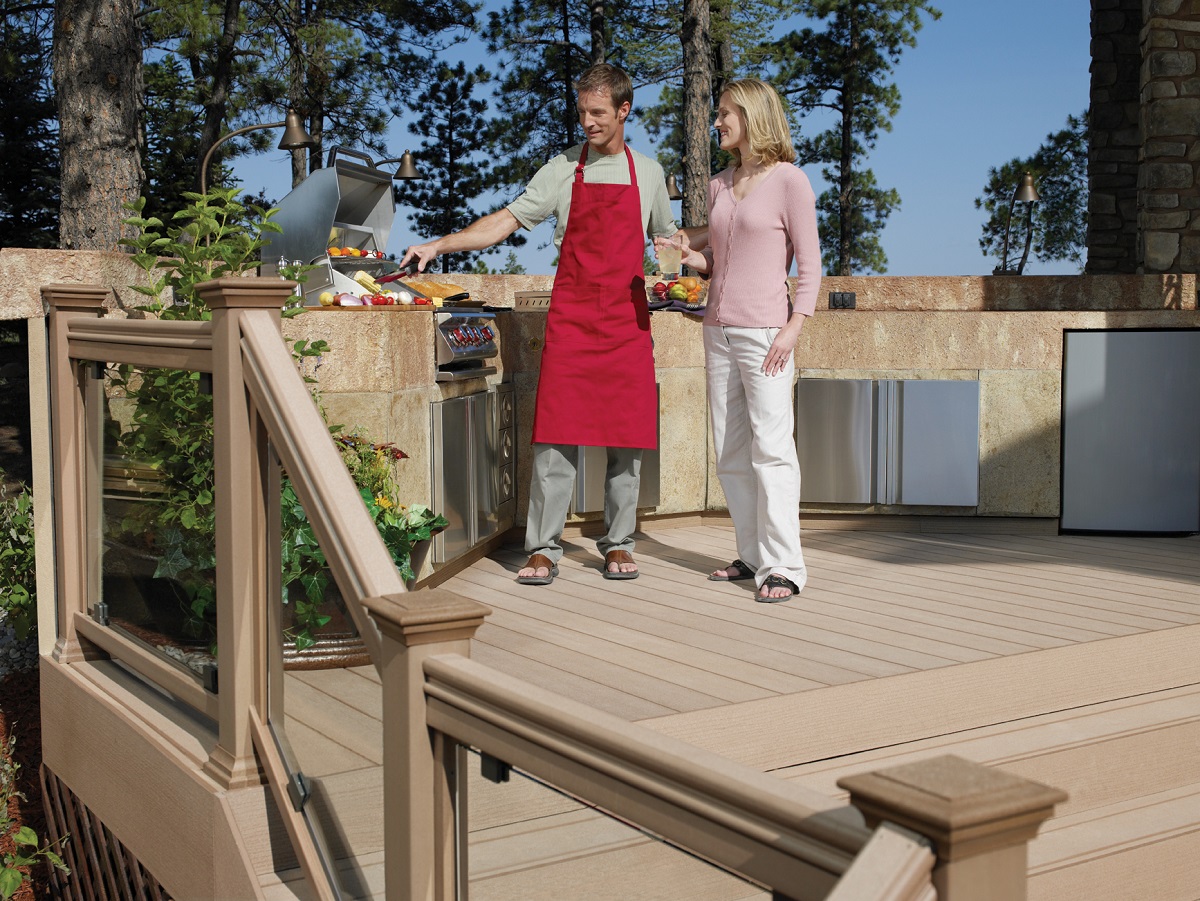 Fire Pits and Fireplaces: Adding an Archadeck custom fire feature creates a cozy ambiance and extends the usability of your outdoor spaces into cooler months. This could be a simple fire pit or an elaborate outdoor fireplace. Be sure to ask your Grove City OH Archadeck design consultant what style may best fit your needs.
Pergolas and Arbors: These custom enhancements to Grove City OH deck and patio structures provide shade and can define different areas within your outdoor spaces. They are often used to support climbing plants and add a sense of enclosure for privacy and serenity.
Outdoor Living Rooms: Ohioans are increasingly asking us to design their outdoor spaces to resemble indoor living rooms with comfortable seating, decorative lighting, and accessories. It's our pleasure to bring the best of the indoors outside for leisure living surrounded by fresh air, sunshine and wonderful breezes.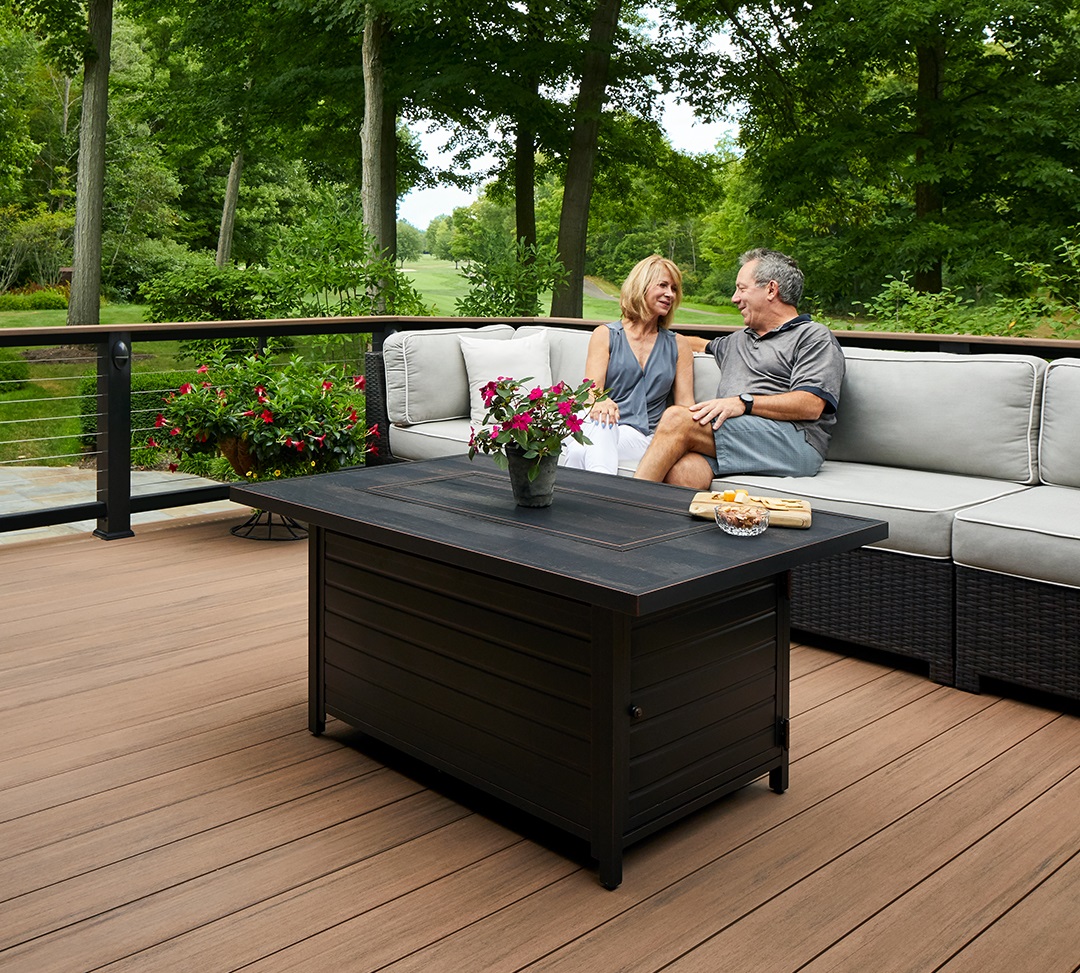 Outdoor Entertainment: Bringing the best of the inside out, many of today's spaces and sunrooms now include features like outdoor televisions, sound systems, and seating arrangements for movie nights and sports events. When the weather is just right, take it outside, Grove City OH.
Sustainable Landscaping: With a growing focus on sustainability today in both building materials and lifestyles, native plants, rain gardens, and eco-friendly materials are being integrated into many of our outdoor designs. Just ask your Archadeck design consultant for ideas that may be the perfect accent to your new custom space.
A Complimentary Design Consultation Is Yours For The Asking
To schedule yours, call us at 740-265-3905 – or click right here to connect with us.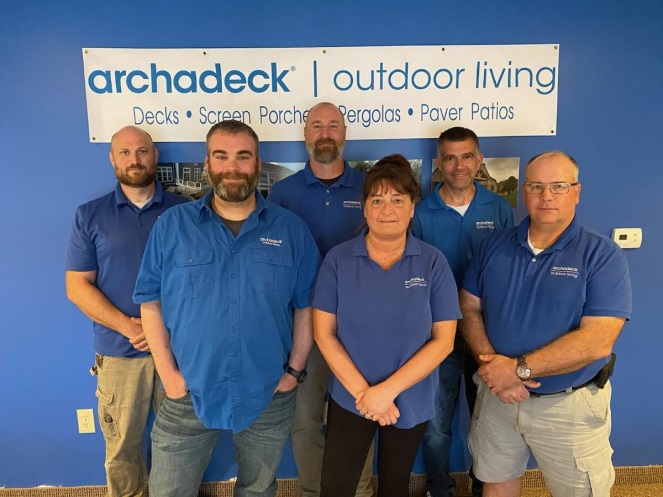 The Archadeck of Columbus Team.