This New Albany Deck Builder Creates Awesome Custom Decks And Is Well Known For Their Quality Patios, Porches And 3 Season Rooms, Too
If you're thinking about a new deck – or any custom outdoor living space here in New Albany OH – Archadeck has 12 expert tips for you when doing your research for due diligence about who is the best expert builder for your project.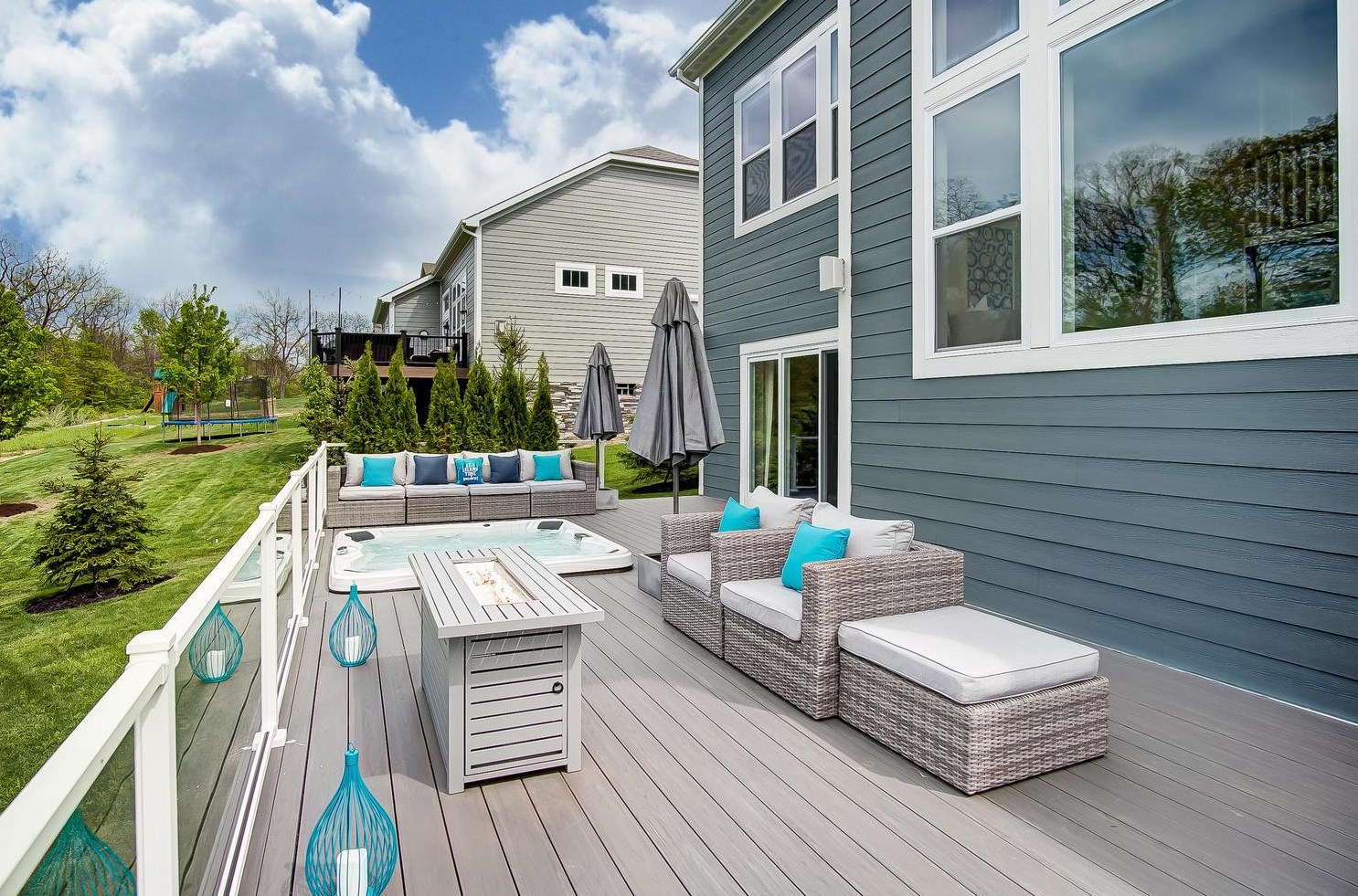 1. Ask For Reputable Deck Builder Recommendations: Talk to your neighbors, family, and associates that you know and trust who have recently had a deck built.
2. Check Online Reviews: In this world where virtually everyone shares what they are feeling about certain situations – both good and bad – online reviews can be a Godsend. These reviews can give you an idea of the quality of work and customer service offered by different deck builders.
3. Check With Professionals In The Know: If you don't get the comfort level you need to move forward with a decision on which New Albany OH deck builder to use after speaking with friends and neighbors, speak to local home improvement stores to get recommendations for deck builders in our area. Many people in the trade are happy to share their experiences with contractors and can give you valuable insights into the quality of different builders' work.
4. Check The Credentials Of Deck Builders You Are Considering: Make sure the deck builder you choose is licensed and insured in the state of Ohio. You can check with the Ohio Construction Industry Licensing Board to verify the builder's license. Additionally, make sure the builder has liability insurance to protect you in case of any accidents or damage during the construction process.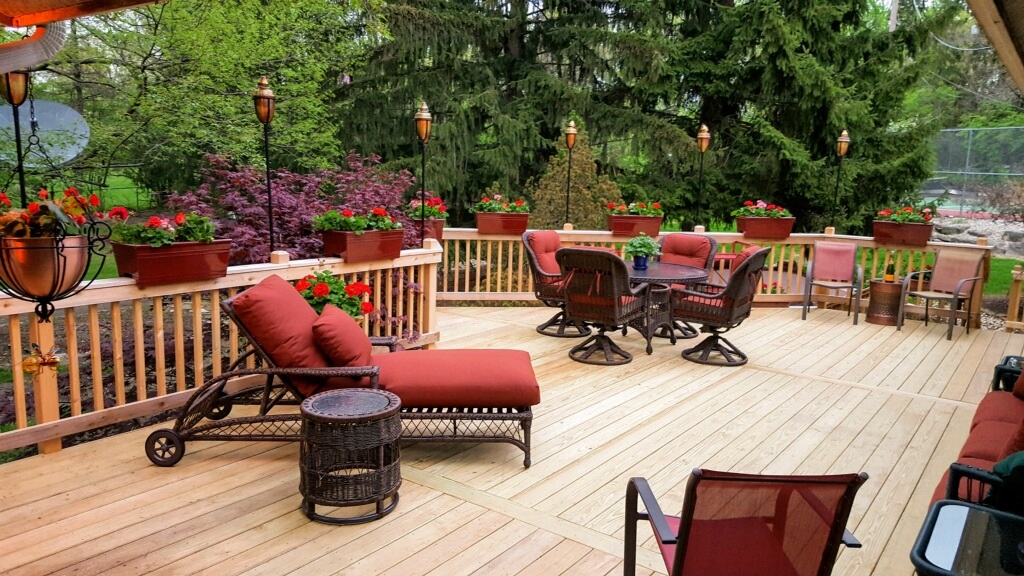 5. Ask About Their Experience In Building Both Wood And Low Maintenance Decks: Look for a quality deck builder with experience building decks similar to what you want. Ask about their past projects and any challenges they faced and how they addressed them. This will give you an idea of their problem-solving skills and how well they can handle unexpected issues that may arise during the construction process.
6. Review Their Completed Deck Construction Projects: Take a look at the deck builder's previous deck designs and builds to get a sense of their craftsmanship and attention to detail. Ask to see photos of completed decks; and try to visit in person a deck the builder has recently completed, if possible.
7. Be Sure They Sweat The Details: A reputable, trustworthy New Albany OH deck builder will take the time to ensure that all aspects of your deck are well thought out and executed. This includes things like the spacing of the deck boards, the placement of the railings, and the overall layout of the deck to ensure that it will provide the room and functionality you will be looking for. This is especially important when you decide to replace an older deck that has outgrown its usefulness for your family.
8. Make Sure They Are Easy To Talk To: Choose a deck builder who is easy to talk to and open to your ideas and concerns. Being honest with one another is a key component of any professional relationship. If you don't understand something, ask for clarity. It's important to feel comfortable communicating with your deck builder throughout the construction process.
9. Value For The Cost: Make sure you are getting a fair price for the work. If an estimate seems too good to be true, it probably is. Don't just choose the cheapest option.
10. Ask About Warranty Protection: Find out what kind of warranty the deck builder offers on their work and materials. A solid, reputable Columbus deck builder will stand behind their work and offer a warranty to protect you in case of any issues.
11. Verify That They Will Handle Permits: When you decide on the deck builder of your choice, be sure that they will take care of obtaining any necessary permits and follow all local building codes. The last thing you need is to encounter more responsibility in an area that is foreign to you.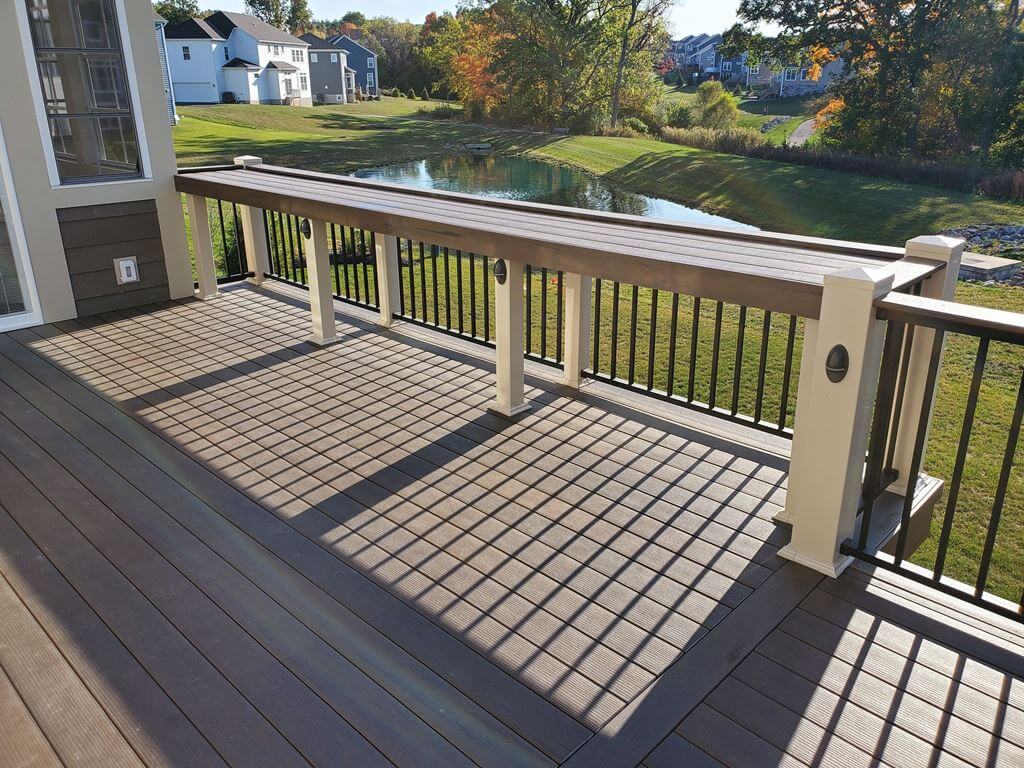 12. Skip To The Head Of The Class And Call Archadeck Instead: We check all the boxes. After an acclaimed 44 years in the deck building business, Archadeck is most assuredly the name you can trust.
We're The Expert New Albany Patio Builder, Too
After viewing the links in this blog, you may have noticed that our expertise in building beautiful and multi-functional New Albany patios and hardscapes is yet another strong capability of ours.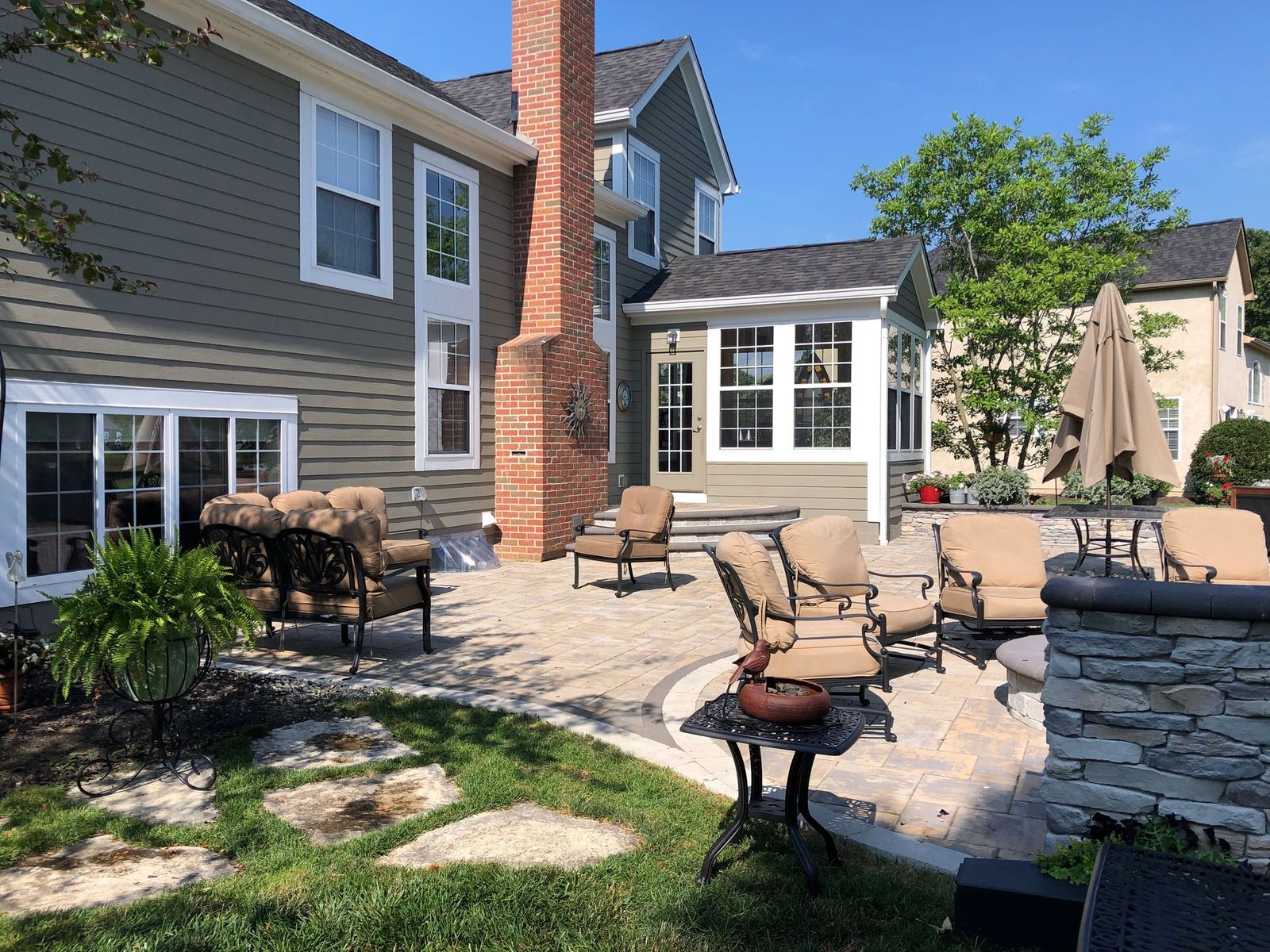 For your peace of mind, when we meet with our customers during the planning stages of their new patio, hardscape or outdoor room, we always inquire as to what type and size of furnishings they have in mind for their space. In some cases the furnishings have already been purchased specifically for the space. Furniture size and shape is a key factor in planning the size and shape of your patio. Details are important!
New Albany Porch Builder Creates Porches That Backyard Dreams Are Made Of -- And Front Porches And Porticos, Too
When our New Albany weather outside is cooperative, there are few better places in your home to relax and unwind than outside on the porch. Whether it's reading a book, spending time with your family, or simply getting some fresh air, a porch can be a beautiful and functional addition to your home. At Archadeck Outdoor Living, our porch contractors can design and build the porch of your dreams.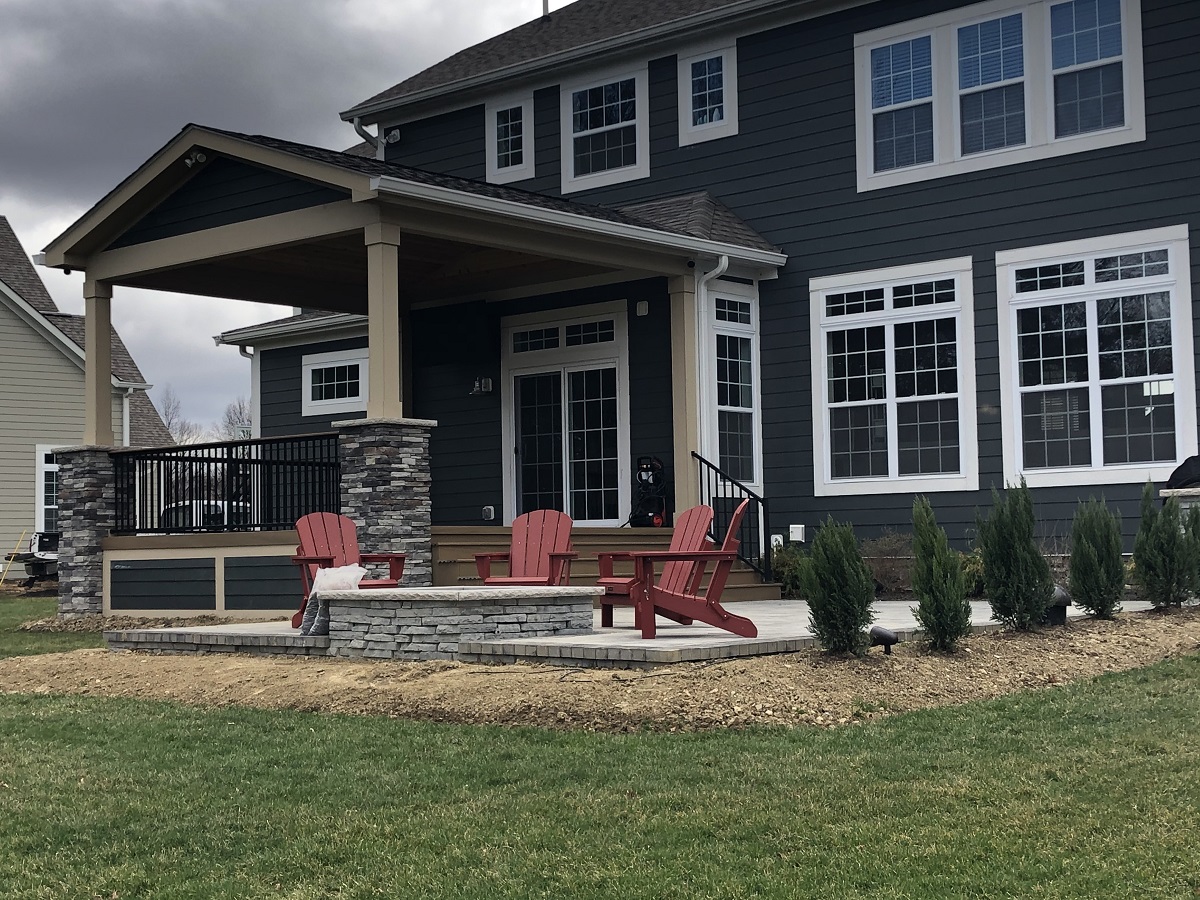 Unlike other porch builders, we can assist you with your project from the earliest stages. You may have something specific in mind or a particular style you like, but settling on what's right for your home and budget can be tough. Our designers will make it easy. We'll get to know your preferences and what you're looking for; and then we'll design a space that incorporates it all. Throughout the entire process, we'll be transparent and communicate with you to make sure your new porch is everything you hoped it would be.
If You Prefer A Truly Easy Breezy Outdoor Living Leisure Life, When It Comes To New Albany TimberTech Deck Builders, We Are The True Expert
For many of our clients, once their dream outdoor living space is completed, they prefer to never have to worry about its upkeep and ongoing maintenance.
That's why we have teamed up with two outstanding low maintenance product lines from the AZEK company – TimberTech Composite low maintenance decking and TimberTech Advanced PVC decking.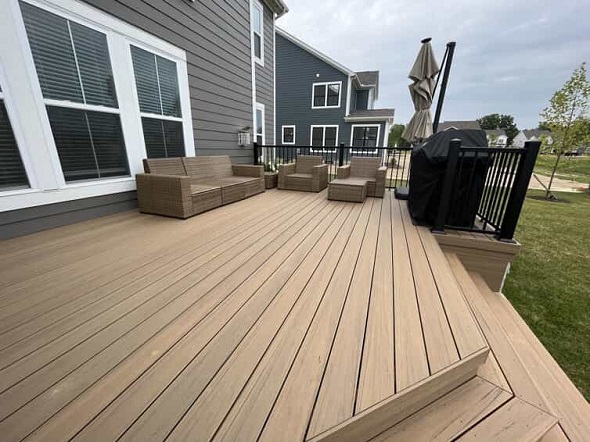 TimberTech Composite Decking innovates beyond traditional composite decking with realistic wood looks and a proprietary, protective cap that locks out moisture and locks in rich color. Plus, the highly durable boards won't fade, splinter, or crack, so you'll enjoy a worry-free deck for decades to come. Without a doubt, it's the essence of premium composite decking material protected with a polymer cap for performance, durability and longevity.
It's partner brand, TimberTech Advanced PVC Decking, delivers AZEK's most realistic wood looks with the highest performance to anything else on the market. These decking and outdoor building boards feature unrivaled benefits including unbeatable moisture resistance, impressive fade resistance, and a barefoot-friendly surface that's splinter free, cooler to the touch, and slip-resistant. Plus, style conscious clients with new homes looking to add an outdoor space in place of a builder-grade slab will especially enjoy their design versatility with Multi-Width Decking. Highly sustainable, it's the greenest PVC decking on the market today, made in the USA from approximately 60% recycled material, including post-construction scrap like vinyl siding and trim. Furthermore, it's fully recyclable at the end of its useful life!
Truth Be Told, When It Comes To Exceptional Outdoor Living Projects, We Build Them All
See for yourself and connect with us for a personalized, complimentary outdoor living space design consultation. Call us at (740) 265-3905; or click here. It's that easy.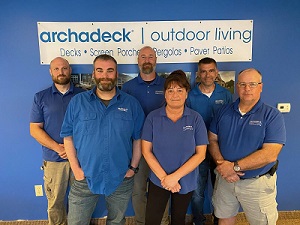 The Archadeck of Columbus Team.