Pickerington OH Outdoor Living Builder For Deck, Patio, Hardscape, Porch, And Combination Outdoor Living Project Perfection
With its beautiful natural surroundings, Pickerington, OH, is known for its natural beauty, with its lush greenery, parks, and picturesque landscapes.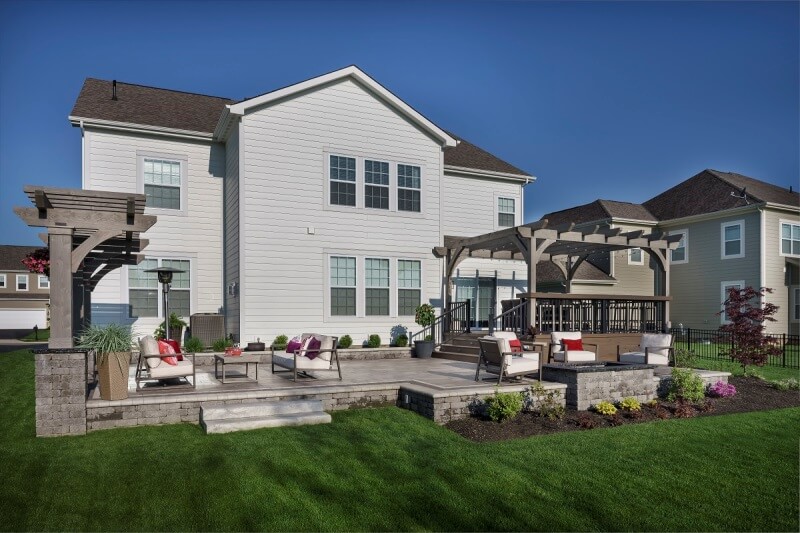 When relaxing at home, Archadeck Outdoor Living backyard spaces allow Pickerington, OH residents to enjoy and immerse themselves in these natural surroundings, creating a peaceful and refreshing atmosphere.
Our Pleasant Climate Brings Out The Best In Us Outdoors
Ohio experiences all four seasons, including mild summers and cool winters. As such, outdoor living spaces in Pickerington are designed to take advantage of this pleasant weather, providing homeowners and their families with opportunities to enjoy the outdoors throughout the year. From comfortable spring evenings to cozy fall gatherings, these spaces enhance the overall enjoyment of the climate.
Backyard Entertaining And Socializing In Pickerington OH
Our areas varied outdoor living design structures offer excellent settings for hosting gatherings, parties, and social events. They provide ample space for outdoor dining, barbecues, and lounging areas where friends and family can gather, relax, and have a good time. The versatility of these spaces allows for various activities, making them perfect for entertaining guests.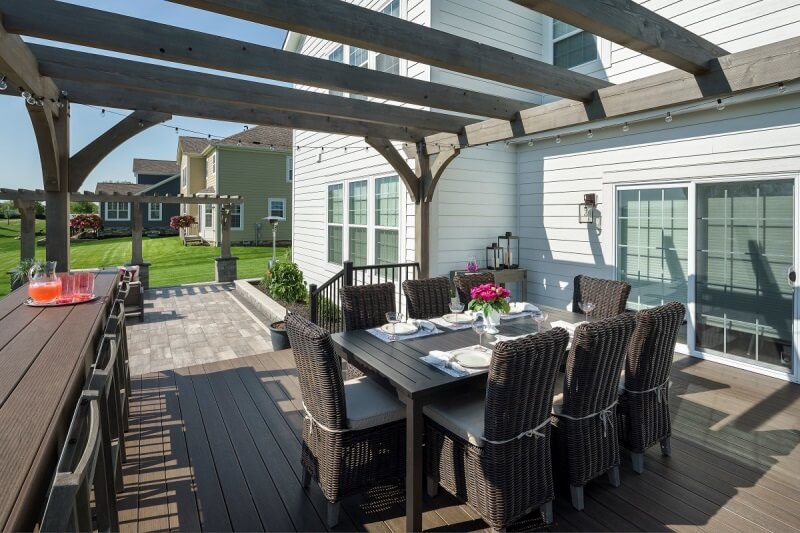 Extending The Indoors Outdoors In Pickerington OH
Archadeck Outdoor Living spaces effectively extend the usable living space of a home. Whether it's a patio, deck, or screened-in porch, these areas provide additional room for relaxation, recreation, and leisure activities. They serve as an alternative to indoor spaces and allow residents to enjoy the outdoors while still being within the comforts of their homes.
A great example can be seen here with this combination patio, outdoor kitchen and pergola.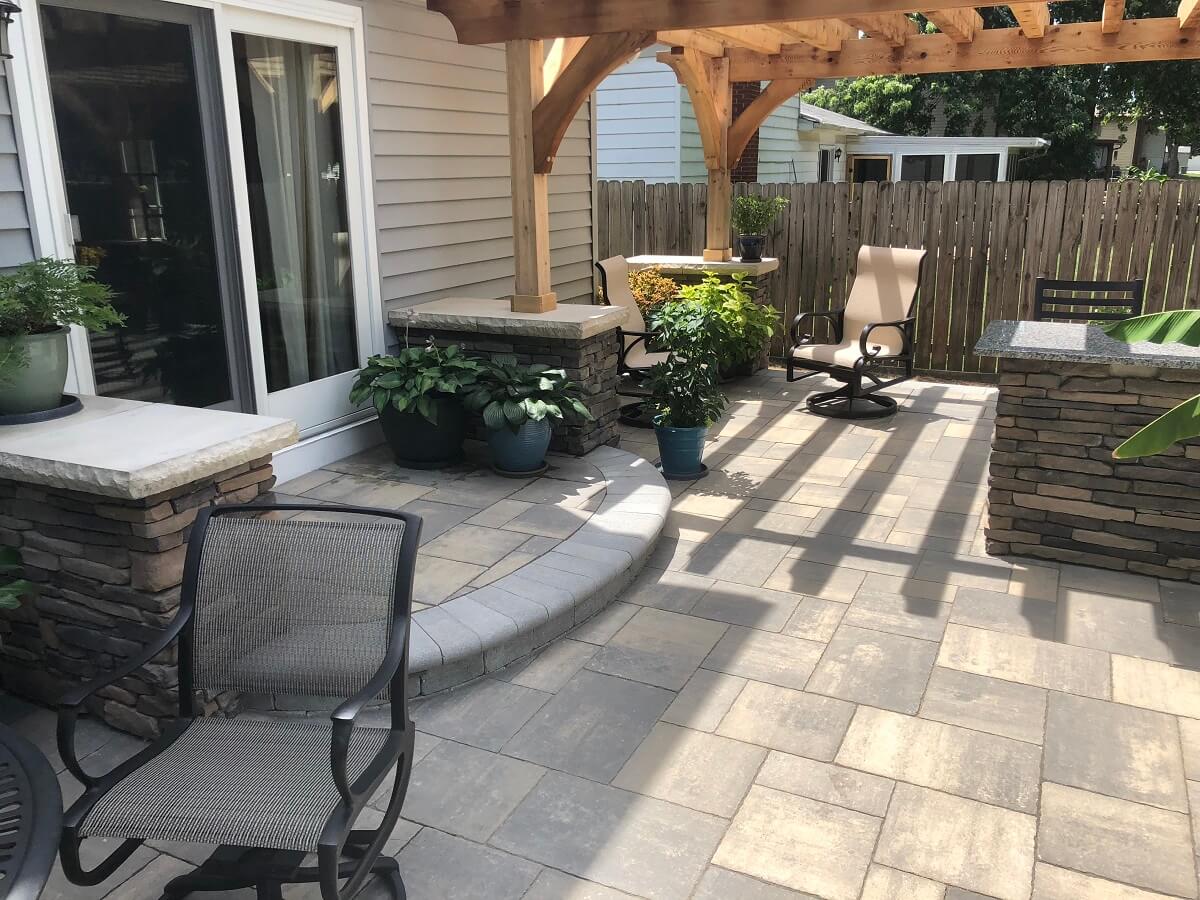 When we first arrived for the family's complimentary outdoor living design consultation, we learned that the homeowners had a small concrete patio outside a second set of doors, with a table and chairs—and that they love plants. They have lots of plants, including many in pots on the patio and along the back of the house.
As a result of our backyard transformation, the homeowners now have plenty of room for all of their plants. The new backyard paver patio we custom designed and built is so big, they now can add as many new plants as they wish. And what a beautiful patio it is.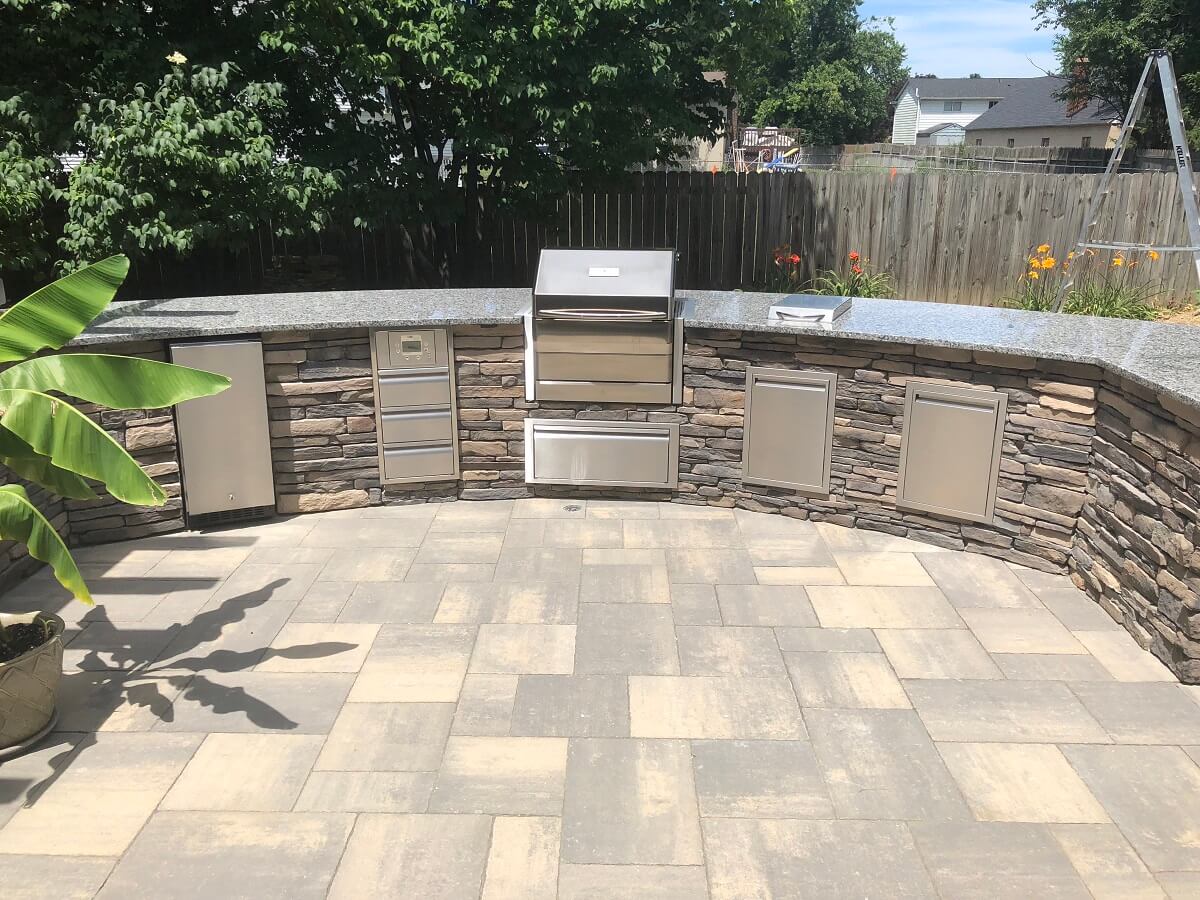 The pavers selected by the homeowners are Unilock's Bristol Valley pavers in the steel mountain color, which is a strikingly subtle color blend. The rounded pavers along the edges of the walkway leading from the first door to the main patio area, and around the planter area by the wall, are Unilock Brussels Fullnose pavers. These rounded pavers in a lighter color provide contrast and soften the edges of the curved walkway and planter.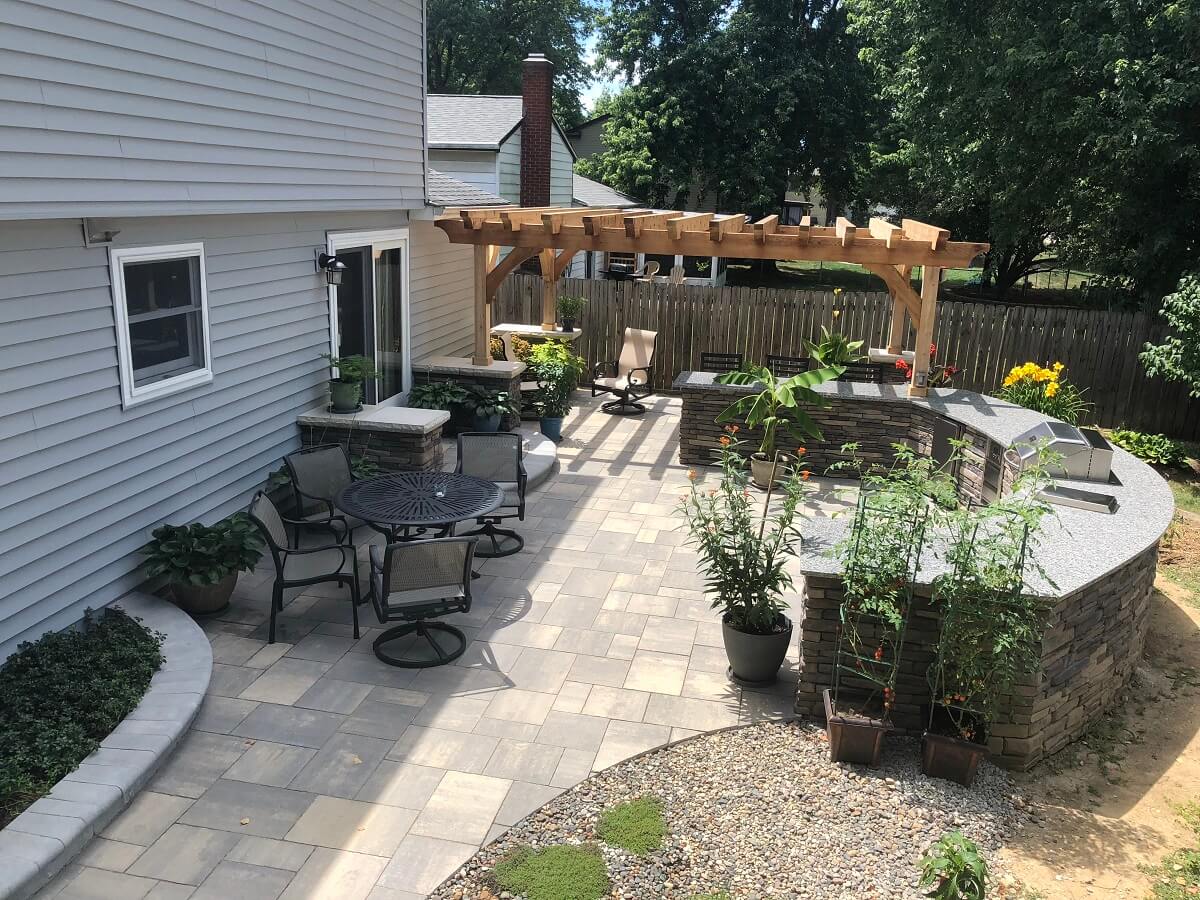 Bordering this elegant patio is a sweeping, curved outdoor kitchen with granite countertops. We used stacked stone to build the surround for the appliances. Notice the contrasting color insets for the granite countertops in the "eat in" kitchen and bar area.
Add Retaining Walls And A Pergola, And It Is More Than Perfect
Flanking the second set of doors at the far end of the patio are two retaining walls built with Unilock Brussels Limestone. We used Unilock Ledgestone on the top of these retaining walls for a striking contrast.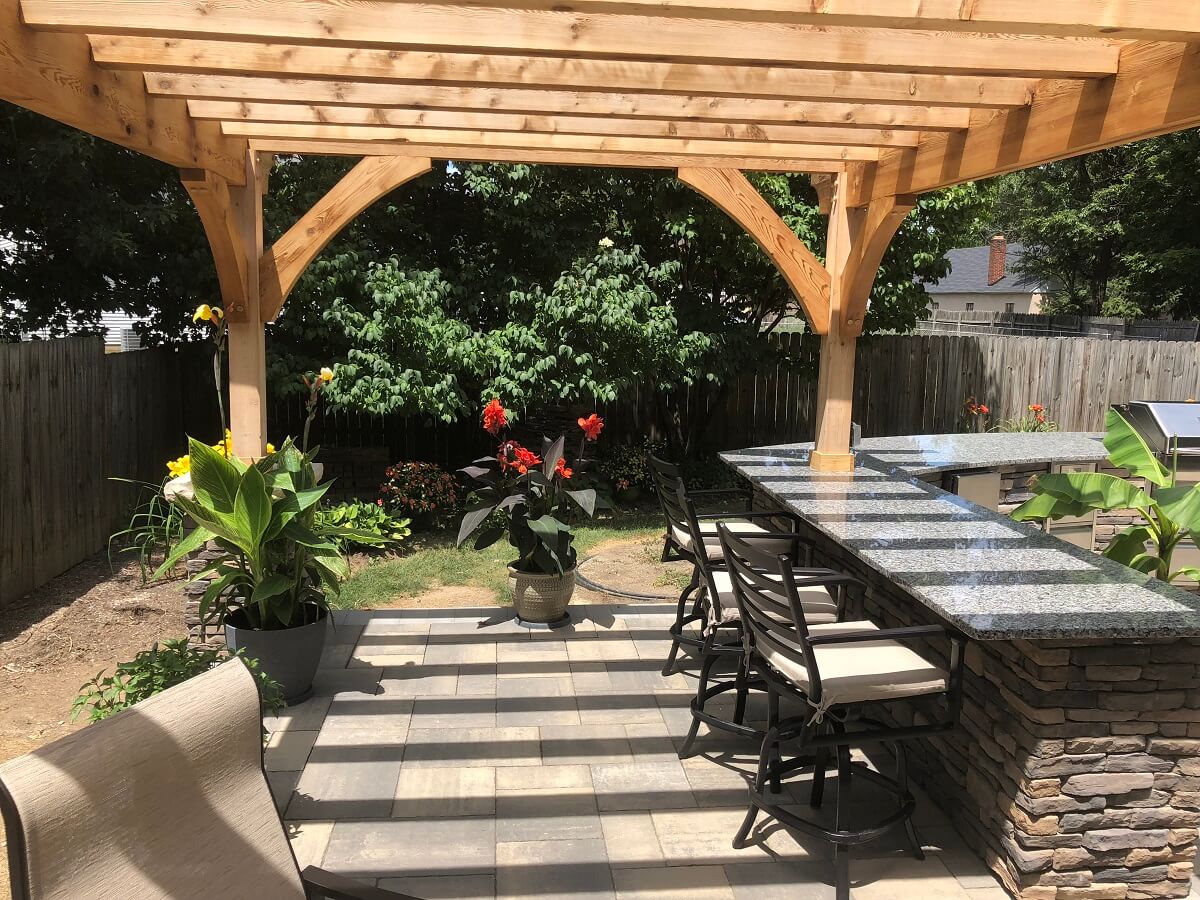 For the crowning touch, we added a pergola over the bar area for architectural interest, comfort and partial shade. It's made of cedar timbers that play with the sunlight and cast dynamic shadows. It defines the dining and bar area dramatically, and it will provide the diners with some shade.
We think you'll agree that this Unilock paver patio, outdoor kitchen and pergola combination outdoor living space has completely transformed the home. The backyard went from a plant retreat to an extraordinary venue for entertaining in elegant style.
Outdoor Living Luxuries For The Health Of It
Spending time in nature and outdoor environments in Pickerington has been linked to numerous health benefits, including reduced stress levels, increased vitamin D exposure, improved mood, and enhanced overall well-being. Outdoor living spaces here provide residents with opportunities to connect with nature and enjoy these positive effects on their health.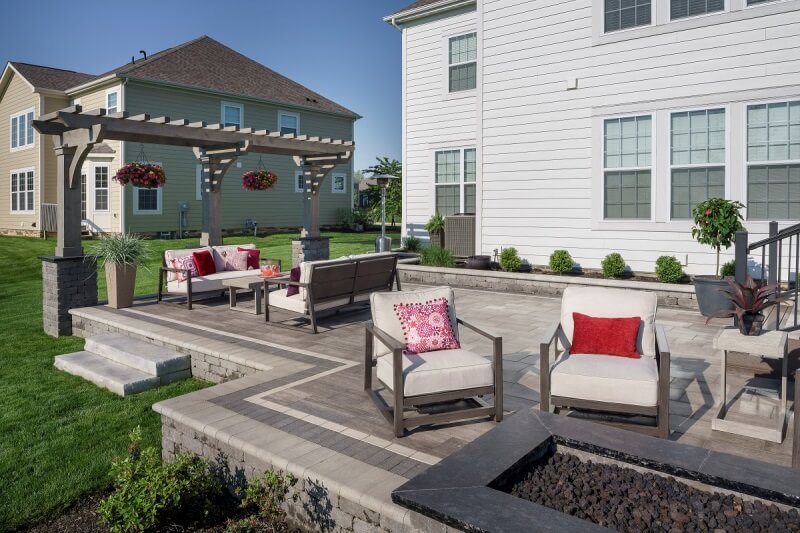 Homeowners in Pickerington can have us personalize their outdoor living spaces according to their preferences and lifestyle. Whether it's adding comfortable seating, outdoor kitchens, fire pits, or even incorporating landscaping elements, our clients have the freedom to have us create a space that reflects their style and meets their needs – and we do so with pleasure.
Building On The Future For Increased Enjoyment And Functionality
Well-designed and well-maintained outdoor living spaces like decks and porches can significantly increase the value of your Pickerington OH property. These spaces are sought after by homebuyers who appreciate the benefits and aesthetics they offer. Investing in an outdoor living area can potentially provide a positive return on investment when selling a home here.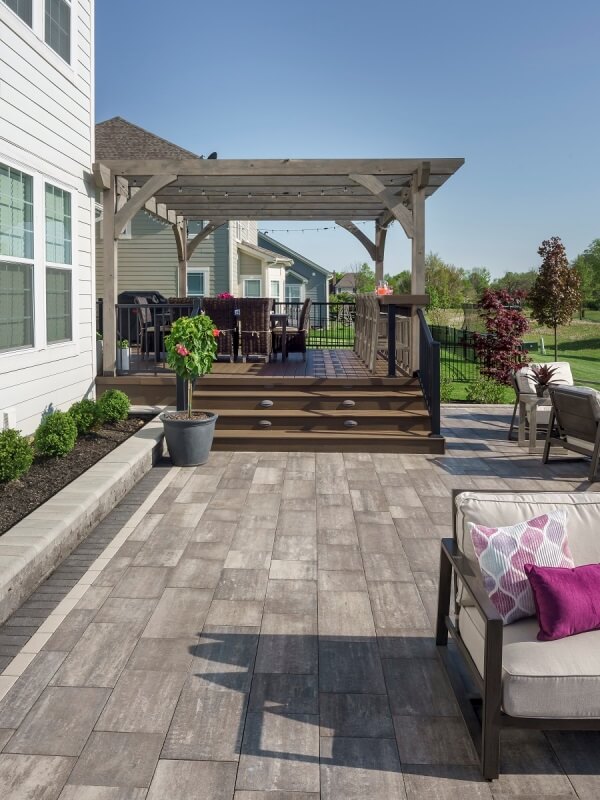 Overall, outdoor living spaces in Pickerington, OH, combine the beauty of the natural surroundings, pleasant climate, and the opportunity for entertainment, relaxation, and socialization. They enhance the overall lifestyle of residents and contribute to the charm and desirability of the community.
Please Accept Our Invitation To Improve Your Pickerington Outdoor Living With Us
Let's explore what's possible. Call us at (740) 265-3905 to schedule your complimentary design consultation; or click right here to do so.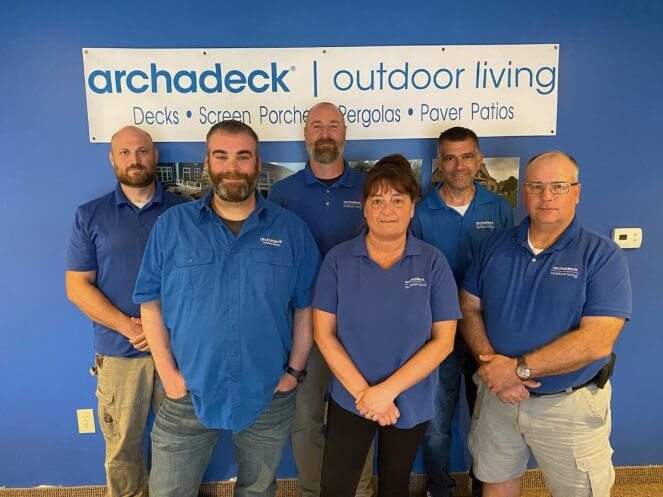 The Archadeck of Columbus Team.