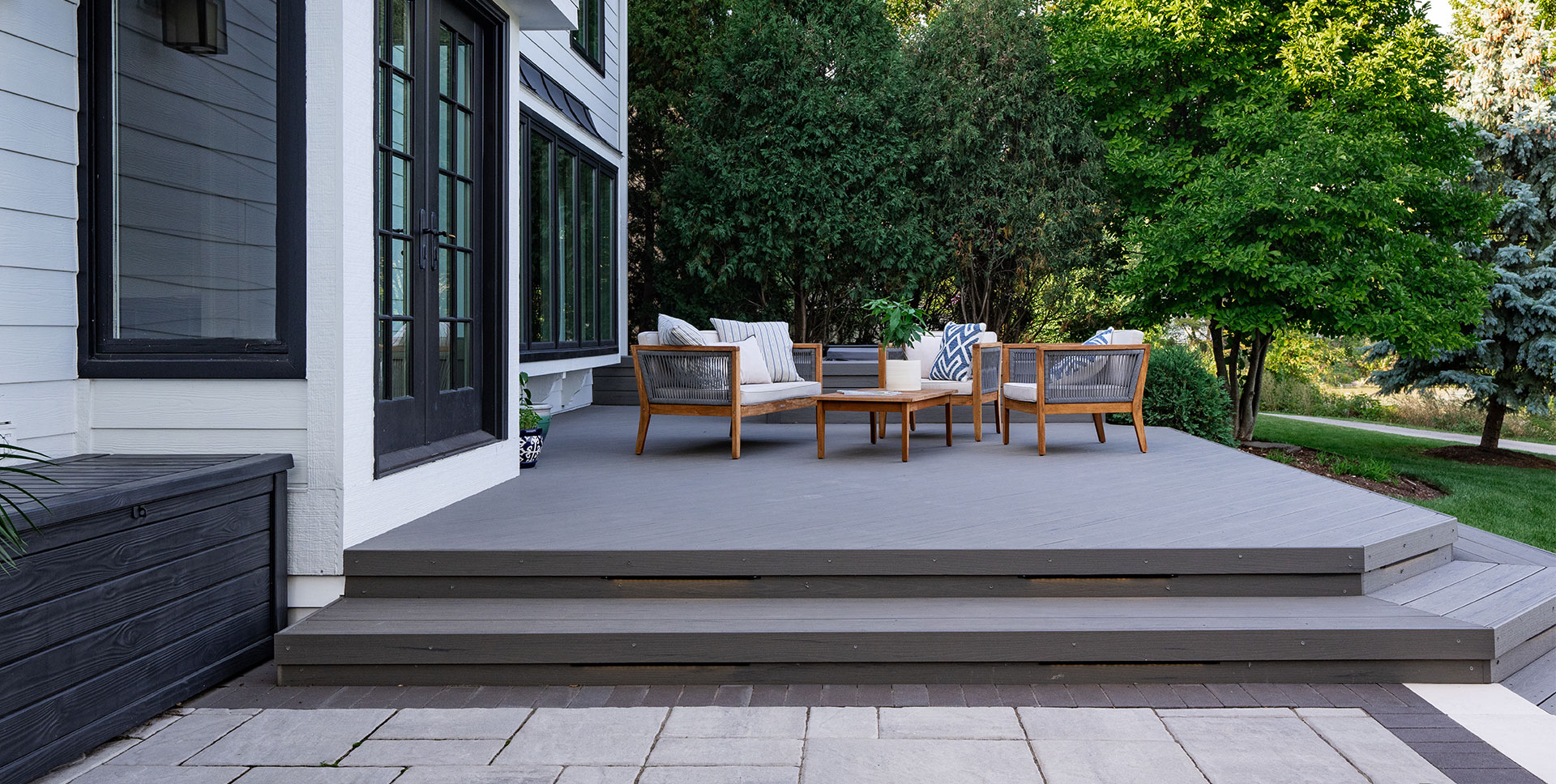 1 / 3
STEP 1: CONSULT
During our initial design consultation, our Archadeck designers will discuss what your dream backyard looks like. From size and functionality, to style and materials, we'll connect on what the most important to you to create the perfect design. Additionally, our designer will walk the property for any terrain considerations that will need to be addresses, take measurements to understand the space you have to work with, and take pictures to use during step 2 - design.
2 / 3
Step 2: DESIGN
At Archadeck, we design for you. With all the information we discussed and gathered during our design consultations, our designers then create a plan that brings it to life. From how you want to use your space, to distinctive design details - railings, lattice skirting, benches, board designs, etc. - to the investment you're looking to make in your home, we keep your tastes and needs in mind. Because ultimately the design, and this new outdoor living space, is about you. When the design is ready to go, we'll present it to you during your recommendation visit. When we both are comfortable with the design and scope of work, step 3 begins - building.
3 / 3
Step 3: BUILD
There is more to the building phase than just building the projects. Before production can begin, our team has blueprints created, files for building permits, checks zoning, orders materials, and more. We handle all the nitty-gritty details so that our clients don't have to. Our project manager will meet with the homeowner to discuss what's expected during the project with respect to timing, job safety and more. Since we are outside and Mother Nature doesn't always comply with our plans, we'll keep you updated on any timeline adjustments that may impact the completion of your project. When we're done, our team will clean up your property and complete a final walkthrough to make sure everything is just as you expected. It's the Archadeck Difference.
❮
❯
What You'll Love
About Archadeck
Professional quality building standards.
Trained, licensed and certified in all applicable areas.
The most expansive customer warranty in the industry.
North America's largest outdoor living space builder
Contact Us
The Clear Choice From
Start To Finish
With every project we design and build, we bring our 40+ years of experience to provide a full-service experience other companies can't provide. From the initial design and building permits to material acquisition and construction, Archadeck will handle it all for you so you can sit back, relax, and see your dream outdoor project come to life.
Archadeck
Other Contractors
Architects / Designers
Engineers
Design
Consultation
Material
Suggestion
Professional
Drawings
Handle Permit
Process
Work with HOA
Excellent
Communication
Construction
Warranty
Project
Guarantee
FREQUENTLY ASKED QUESTIONS
Learn About Our Custom Design and Build Process
What kind of projects do you build?

We custom design and build decks, patios, porches, screened porches, sunrooms, gazebos, pergolas, and any combination of outdoor living structures.

How many designs do I have to choose from?

After our design consultation, our designers work on a custom plan specific to your budget and needs. We will present those plans during our recommendation visit and can make any edits or changes to the plans at that time. Once you're happy with the design, we'll get a contract signed and get you on the schedule!

What kinds of wood do you use?

We build with all types of wood and are experienced with treated wood, cedar, redwood, tropical hardwoods, and low-maintenance composites and synthetics. You have a full range of materials to choose from.

Do you have a written contract that I will sign?

Yes. We supply you with a detailed contract to ensure we're all on the same page before we order materials or get started. Once you sign a contract with Archadeck, you receive our National Project Guarantee which ensures your project will get built by Archadeck no matter what!

What type of warranty do you offer?

We provide a one-year workmanship warranty, and a 5-year structural integrity warranty to give you peace of mind that your project will be built to last. Learn more about our warranty here.

Do you build year-round?

The best times to build are during the spring, summer and fall, but often we can build year-round.

Can I get an exact price before I decide to hire Archadeck?

Definitely. Our contracts help ensure an exact price for your project, barring any additional addendums that may be needed if changes are made to the design.

What do you charge per square foot?

Since our projects are custom designed and built, there is a lot more that goes into our pricing than simply square footage. We encourage you to visit our pricing page to learn what goes into pricing an outdoor living space.

Are you insured?

Yes, our locations carry at least one million dollars of general liability insurance, and their carpentry crews are covered by worker's compensation insurance.

Is it necessary to get a building permit?

Where a building permit is required by local code, Archadeck will secure that permit for you. You need this permit for three very important reasons:

It's the law.
It's one of the ways we protect you.
Some homeowner's insurance policies will not protect you if an injury occurs on a structure that does not have a permit

I've just signed a contract with Archadeck. How long will it take to build my project?

It depends on the size and complexity of your project, the weather, and the workload of your local office. Normally, projects can be turned around faster in the fall and winter (as opposed to the spring, which is our busiest season). Your local office should be able to give you an approximate start and finish date, subject to weather conditions and materials availability.