Making Steiner Ranch Backyards More Beautiful And Functional Is Just Part Of Our Claim To Fame
To those of us who are fortunate enough to live in Steiner Ranch, enjoying outdoor leisure activities and recreation pastimes such as golfing, boating, swimming, biking and fishing are just part of the joy of living here.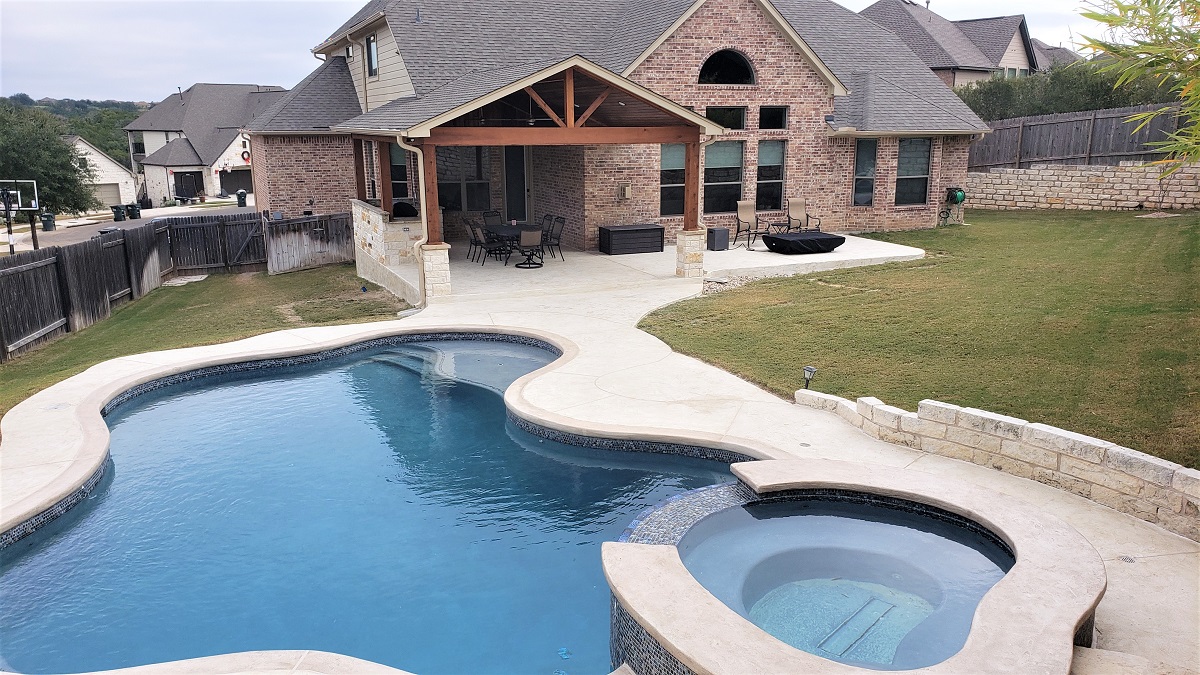 Luckily for Steiner Ranch homeowners, they need not go far to enjoy our beautiful weather and open skies. In fact, thanks to Archadeck, they only need to step outside of their homes to enjoy outdoor living splendor in custom creations that make life just a little bit sweeter – and more precious.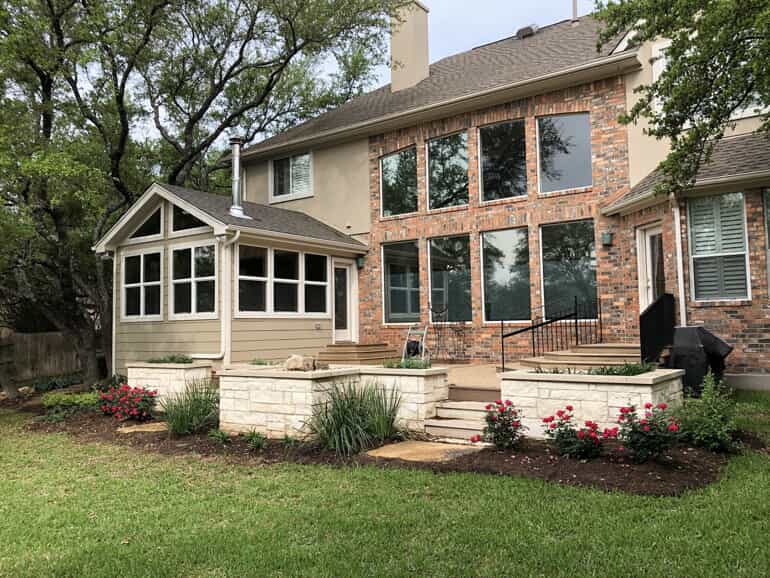 Celebrating Outdoor Living In Steiner Ranch In High Style, And Comfort
Creating new outdoor living environments and upgrading existing ones is just part of how we add value to the lives of families here.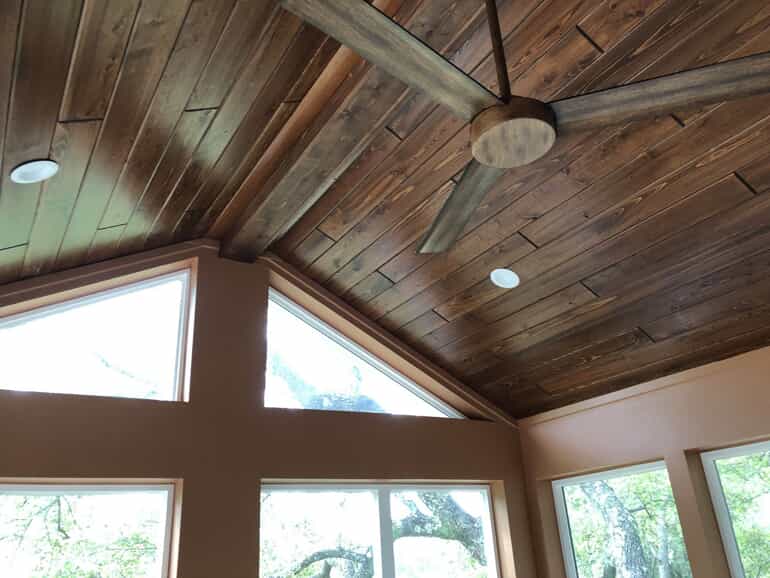 To better accommodate the plentiful sunny days here in Steiner Ranch, many of our custom backyard designs feature an overhead cover or roof structure to ensure that fresh air leisure time need not be interrupted by extreme heat or an occasional unexpected rain shower.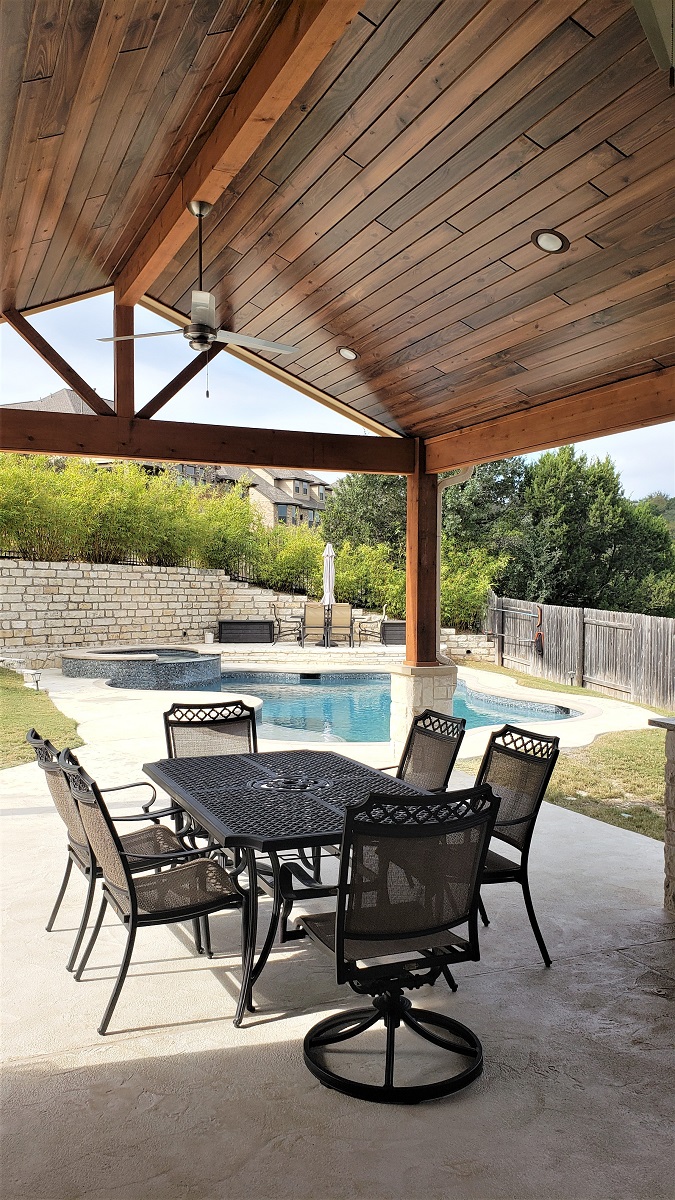 Our covered porch construction portfolio is a great example of this. The home's existing outdoor living space was originally a small covered porch with a concrete patio floor. It wasn't even close to being sufficient for this family and the outdoor living activities they envisioned. The first complexity in the design scheme arose as the homeowners wanted to extend their covered porch in two directions instead of one. They wanted to extend it further out into the back yard and also to the side. Our response? No problem!
Extending the porch roof straight out into the back yard would have been easy enough. We could have extended the patio, added a new roof and tied it into the existing porch roof. But extending it in two directions required the professional finesse and meticulous eye for detail that we are known for.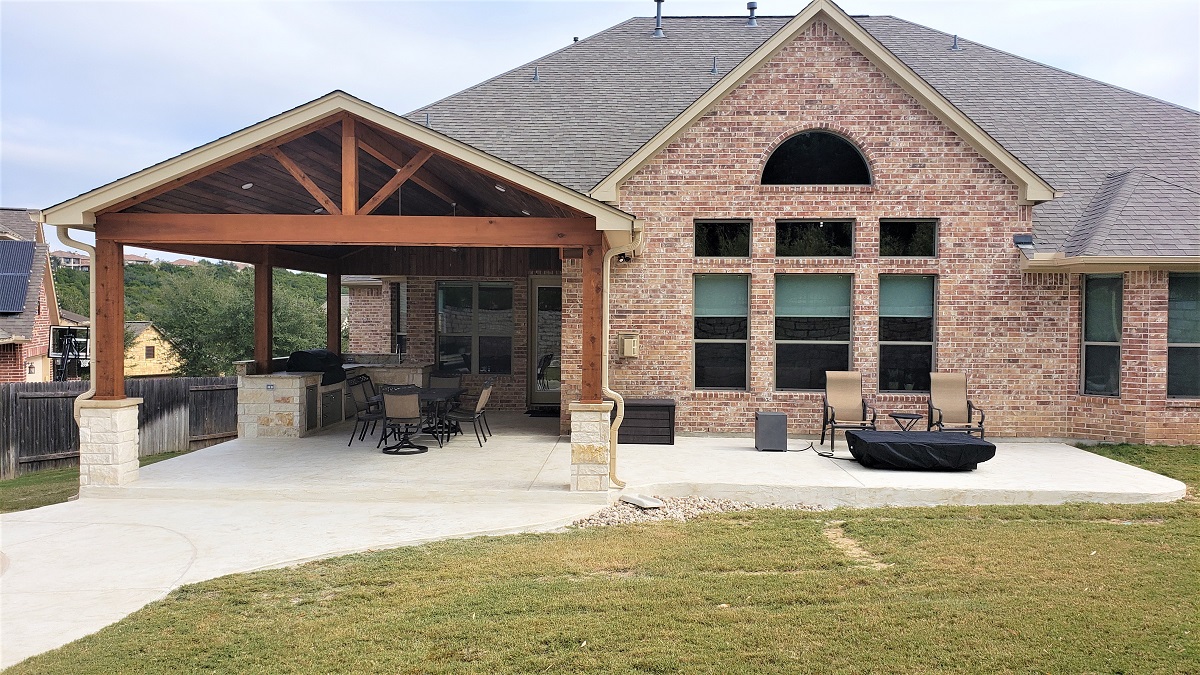 In all honesty, tying in a new roof and extending it in two directions would have been possible, but without the right pre-approved blueprint, it may not have looked right. We didn't think that our client would like the way this home improvement would have turned out, and we would not have been satisfied with it either. The end would not have been up to Archadeck's exacting design standards.
Demolition First And Then Reconstruction Is The Key To Success
The better course, from a professional design standpoint, was to demolish the existing porch cover and start from scratch. This approach enabled our team to create a better looking and more functional tie-in to the home.
Interesting here is that we did have to go into the home's attic space to install the ridge wall for the new patio cover. Going in gave us more information about the electrical and gas lines that would need to be relocated to facilitate the new roof. So it was a wise choice in more ways than one.
Transformational Upgrades Are A Specialty Of This Steiner Ranch Redecking Expert
When our clients want to improve, enhance, or expand an outdoor living space they currently enjoy, when appropriate, we will salvage what is safe and good and change up the rest.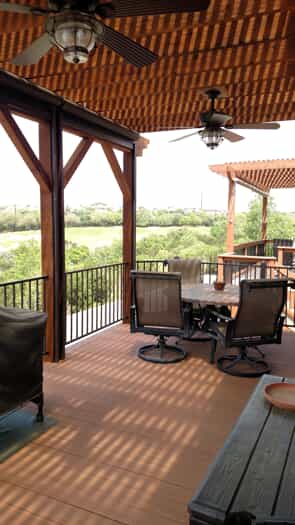 Recently, we saved money for a Steiner Ranch homeowner by redecking the outdoor space instead of removing their old composite deck and building a new one from scratch. Even better, we solved their glaring sun issue as well.
How Redecking Works
Redecking is an option when Steiner Ranch residents want to replace their deck's surface boards – the portion that the family sees and walks on – if the deck's substructure is still sound. Because Texas substructures aren't often exposed to the elements, they are usually in much better condition than the surface boards that need replacement.
Homeowners who opt for redecking are not always limited to keeping the size and shape of their original deck. Archadeck of Austin may be able to expand the square footage of a deck as part of a redecking project. Also, during the redecking process, we can usually make additional changes or add amenities that your original deck lacked.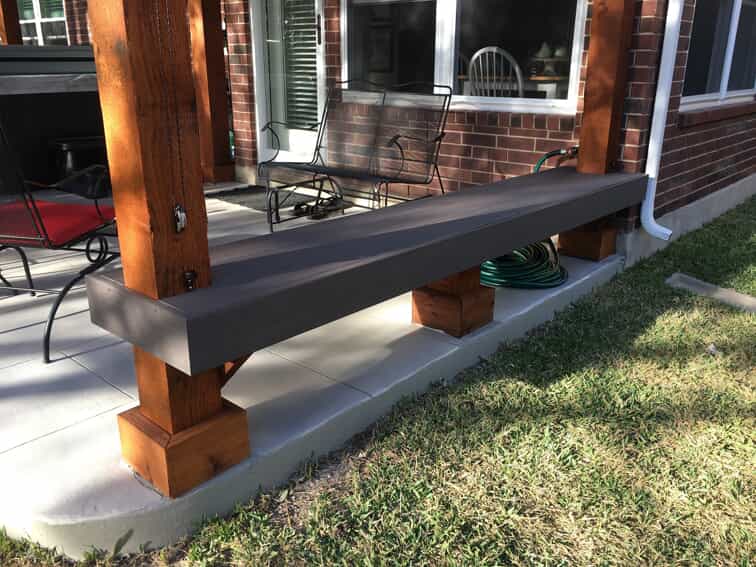 Good examples would be adding built-in bench seating, upgrading or replacing the deck railing, adding a pergola or covered area for shade, or even changing the direction and flow of the stairs. Even better, if pressure-treated lumber was used in the original construction of the exposed deck and porch areas, we can ensure excellent future wear and longevity by using acclaimed low maintenance outdoor building materials like TimberTech composite materials and AZEK synthetic decking.
Steiner Ranch Backyard Bliss Comes In Many Shapes, Sizes, And Custom Designs
With your Steiner Ranch outdoor living design team leading the way, it won't be long until you realize what we mean by backyard bliss.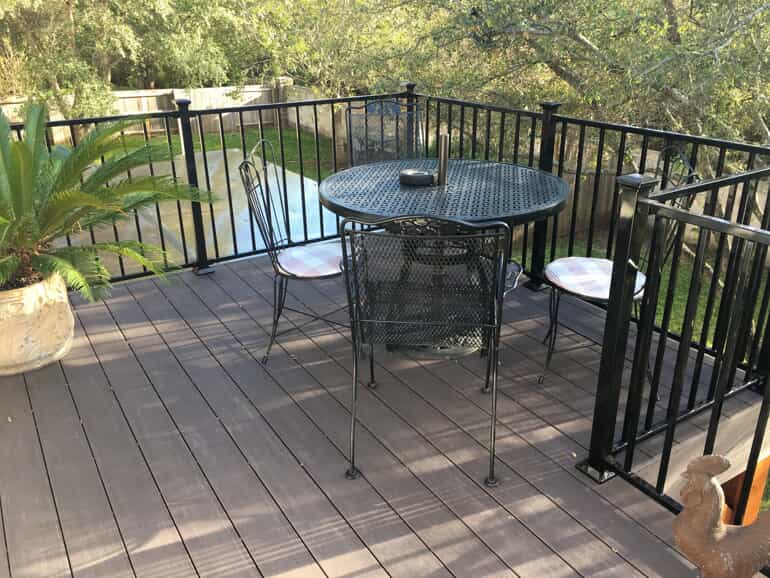 Linger longer on carefree days and beautiful evenings on a custom deck design – made even more perfect with sustainable, low maintenance materials.
While out there enjoying the best that Mother Nature can provide, should the weather temperature dip and result in a chill to the air, we have you covered for that eventuality, too. Our broad range of fire feature installations just may encourage you to stay outdoors – even if it's way past your bedtime.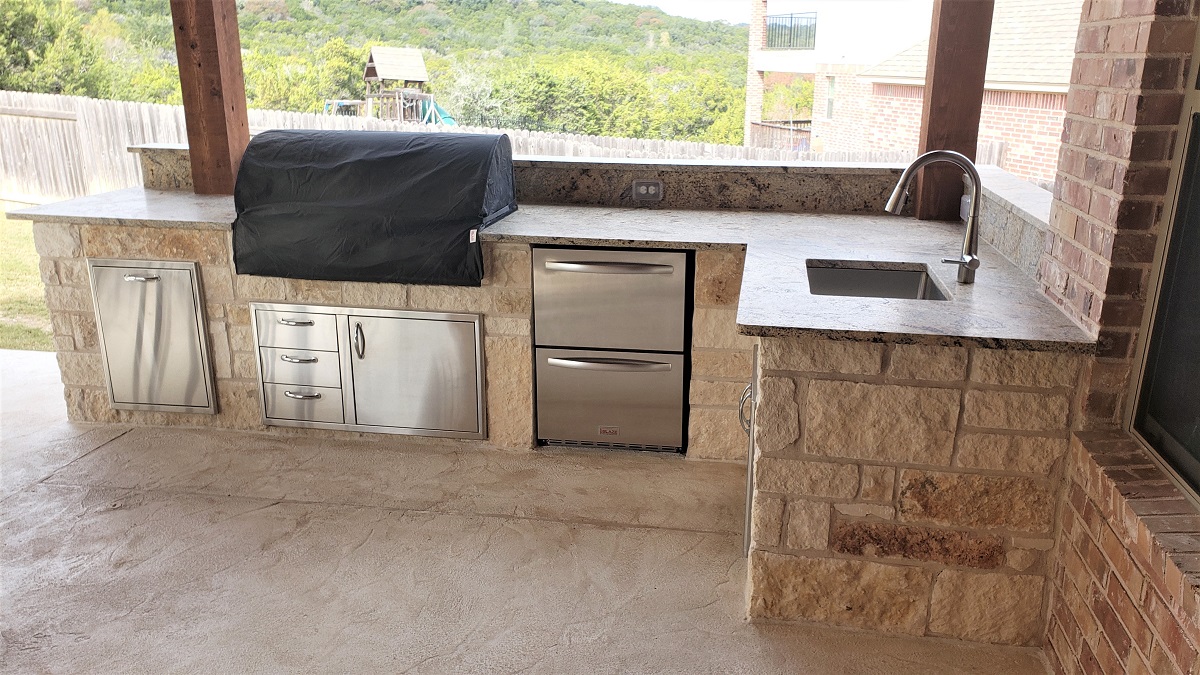 Speaking of cold and fire, our outdoor kitchen designs often exceed the functionality, beauty, and expectations of our Steiner Ranch clients. Our ingenious outdoor kitchen designs allow you the freedom of diversity when entertaining and enjoying the everyday moments that are so important. Imagine being able to dine alfresco on a whim, or indulge the home team into backyard tailgating in your very own backyard. With Archadeck of Austin at your service, we can make that happen – with pleasure. Our custom outdoor kitchens expand the footprint and capabilities of your deck, patio or porch making your outdoor living space a favorite spot for family and friends to gather.
Sometimes More Is More, Especially Outdoors, With This Steiner Ranch Outdoor Living Space Builder
It is our pleasure to acknowledge that many of our clients enjoy more of a good thing, so we often expand and increase the functionality of outdoor living spaces by adding onto what a homeowner initially requested.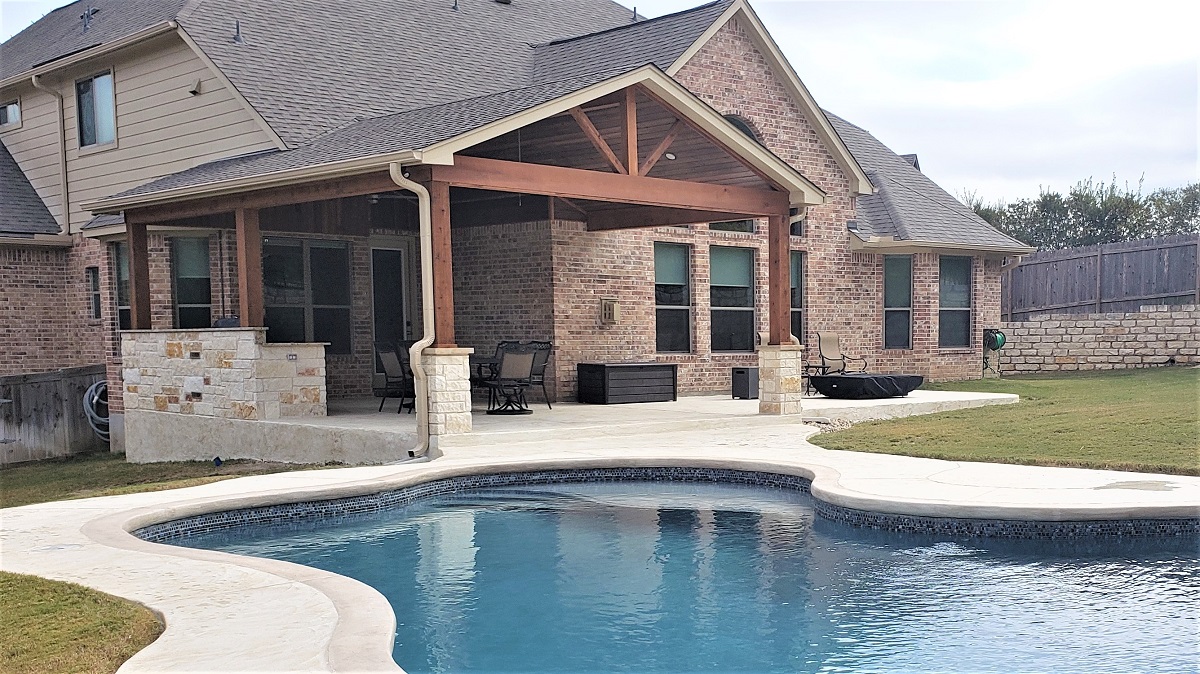 Great examples include our stunning patio and hardscape creations, geometrically interesting pergola designs, and most notably, our natural wood and low maintenance porch and multi-season screened porch environments.
Enjoy More Of What You're Looking For By Connecting With Us Now
There is no need to wait any longer to help realize the backyard bliss you have been searching for. You can find it, right here. Connect with us now with a complimentary design consultation.