Oak Hill Enjoys Expert Deck Building As Well As Design And Construction Of Porches, Patios, Cabanas And Much More Thanks To Archadeck
Oak Hill residents recently asked, "What does Archadeck build?" here in Travis County, Texas, in Southwest Austin.
Our answer is succinct and simple – we custom design and build ALL things outdoor living. We build decks, porches, poolside structures, outdoor kitchens, outdoor fire features, pergolas and much more!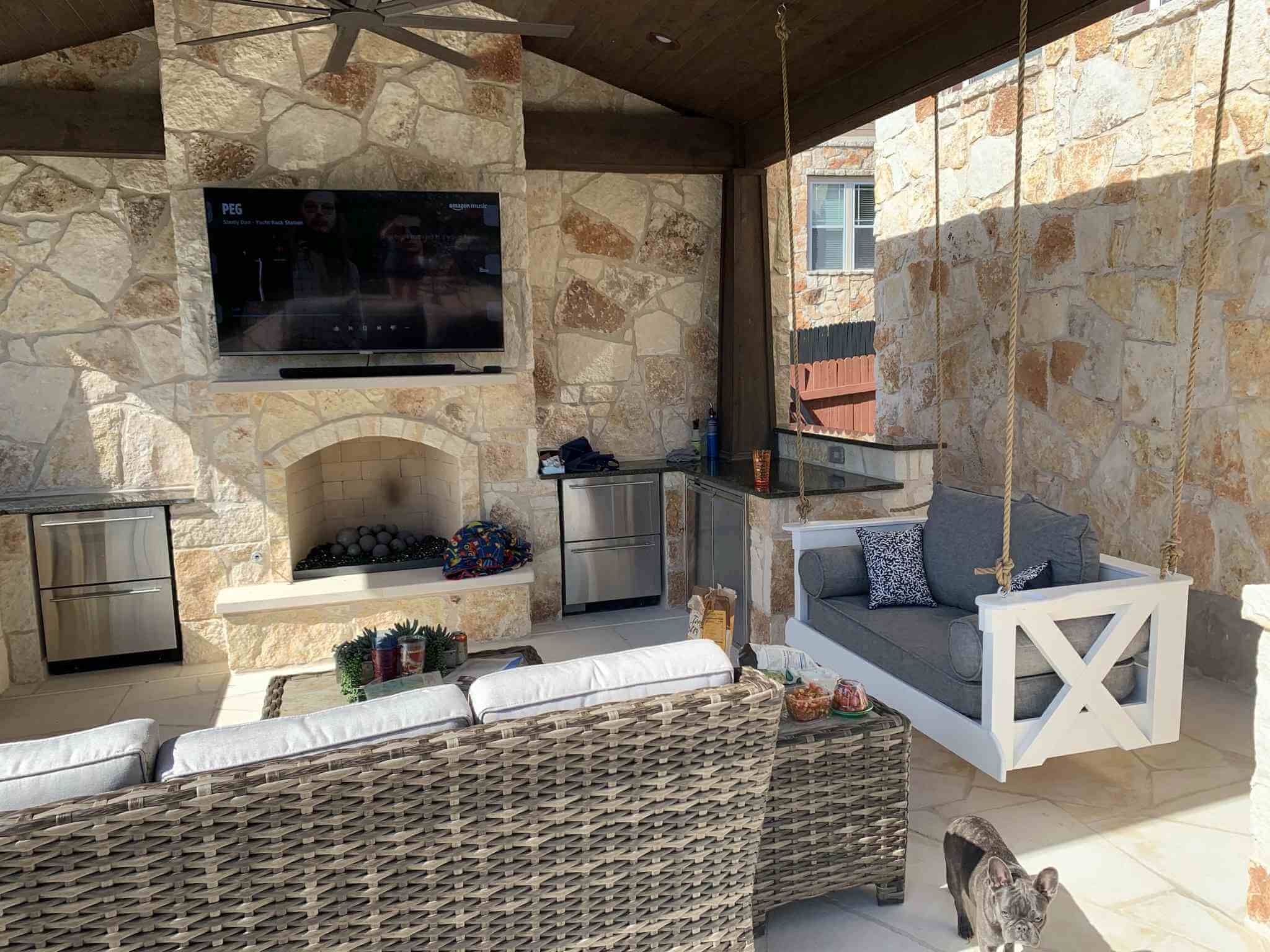 A highlight of the Oak Hill neighborhood is its picturesque location in the Texas Hill Country, with rolling hills, mature trees, and abundant natural beauty. It offers a mix of urban and suburban living with a more relaxed and rural atmosphere compared to the downtown Austin area.
When not enjoying backyard outdoor living spaces, Oak Hill families are surrounded by opportunities for outdoor activities such as hiking, biking, and exploring the Barton Creek Greenbelt, which offers miles of trails and access to Barton Springs Pool, a natural spring-fed swimming pool.
We Specialize In Designing And Building Custom Outdoor Living Structures For The Way You Want To Live Outdoors
From high-quality, low-maintenance TimberTech composite and Advanced PVC decks, to perfect porches, patios and pergolas and more, we offer an extensive selection of the finest outdoor building materials to choose from when Oak Hill families return home. Our goal is to bring only the very best to our customers and that includes not only the best design and craftsmanship but also the best materials.
We Invite You To View Our Oak Hill Custom Designs Right Here, Within Our Outdoor Living Spaces Project Photo Gallery
Oak Hill Dream Decks Masterfully Built From Wood And Low Maintenance Materials
Locally owned and operated, Archadeck serving Oak Hill has been designing and building custom, one-of-a-kind decks in Southwest Austin and Travis County for decades.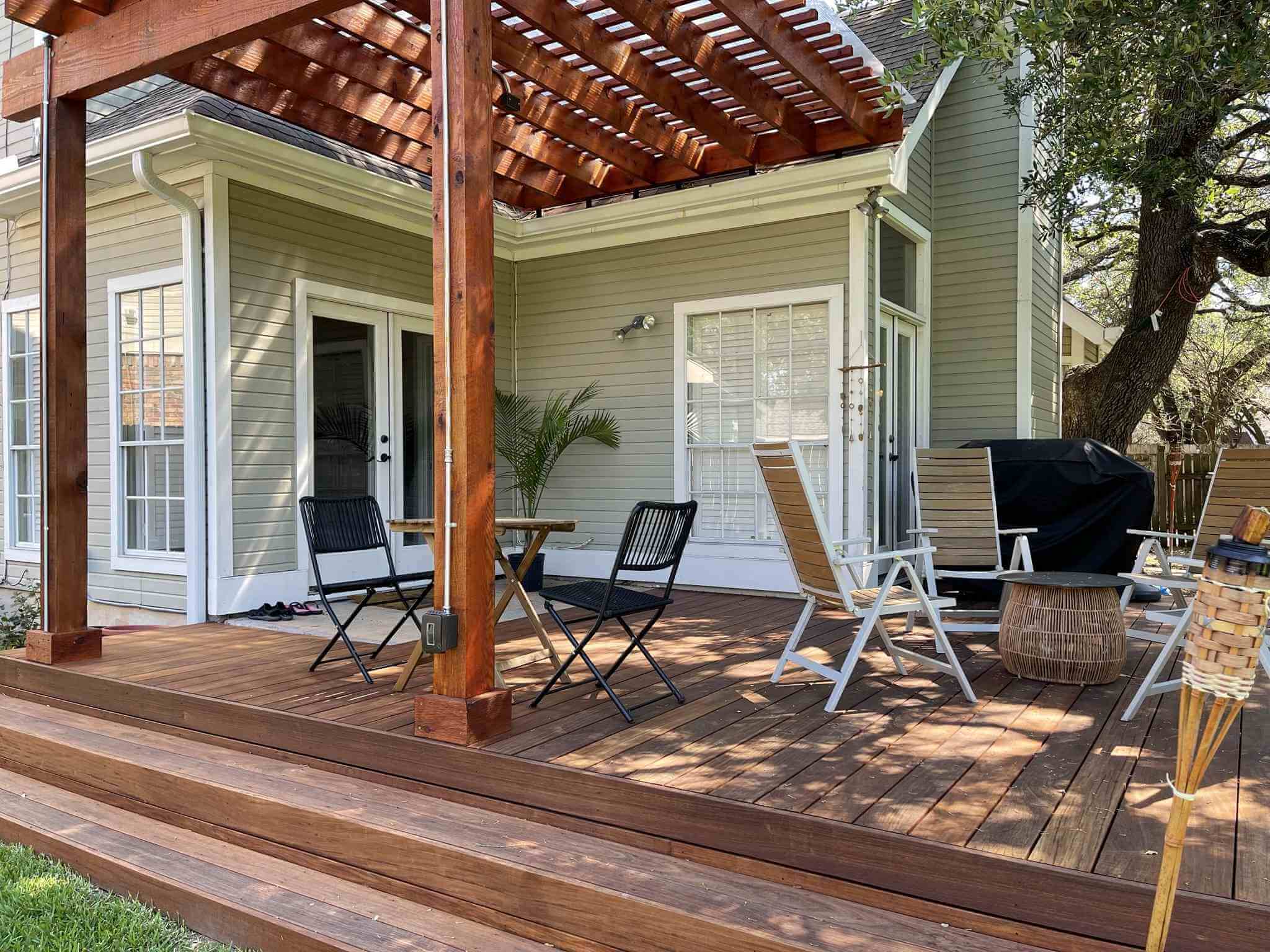 Our professional team brings you the commitment to quality and personal customer care of a local business, with the expertise and knowledge of an international design and build firm. We've built thousands of decks all around the area and look forward to building thousands more.
With advances in engineering and design, and improvements in synthetic decking, there is now a wide variety of material options to choose from. Choosing your decking material and color is the first decision, but there are many more. You must choose the size and shape of the deck, location of the stairs and the railing type and color. To help you through these complicated choices, we will use your property and lifestyle as a way to help guide you. The personal service you get with Archadeck in Oak Hill, a custom outdoor living design and build firm, is top notch from the first call until well after post construction clean up.
Oak Hill Low Maintenance Composite And Synthetic Decks
Building with TimberTech decking from AZEK will allow you the luxury of never having to worry about maintaining the appearance of your deck.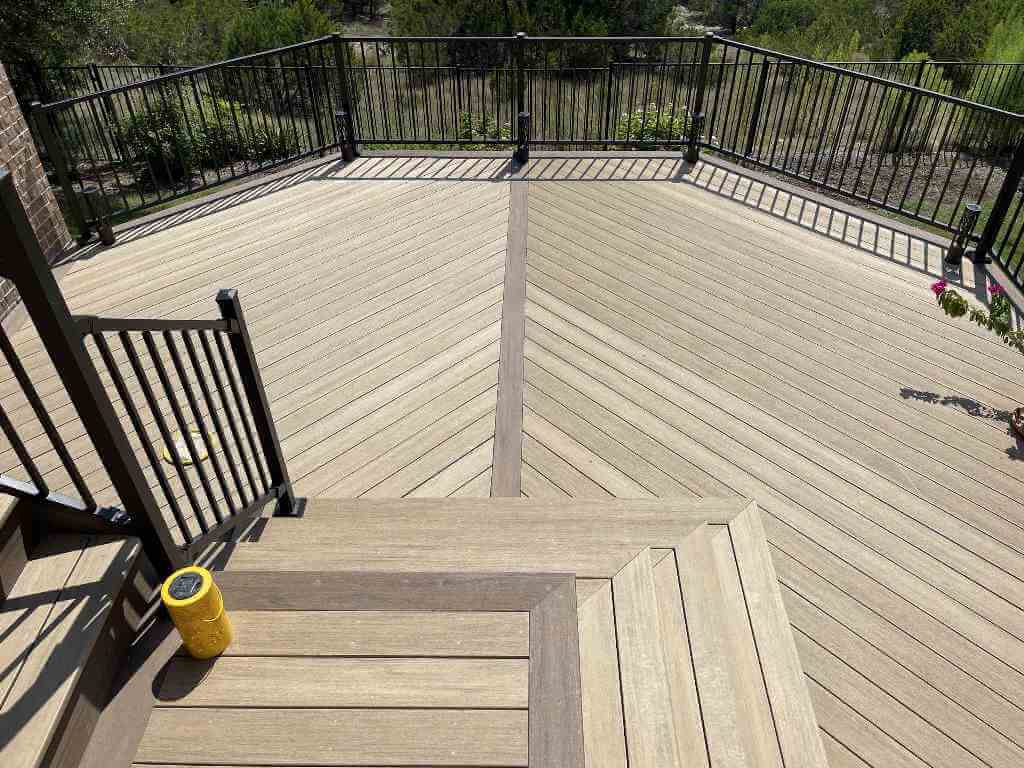 These outstanding synthetic decking materials look just like wood but are much better. They will never have to be stained or sealed, just an occasional cleaning with a garden hose is all that is needed. TimberTech Advanced PVC by AZEK and TimberTech Composite Decking by AZEK won't split, crack or warp.
Aside from being easy to care for and maintain, design versatility is a huge advantage of these decking materials. For instance, synthetic decking can be bent and molded for stunning curved picture framing, winding inlays, intricate patterns and creating designs throughout your deck. AZEK low-maintenance decking comes with outstanding extensive warranties and they stand behind the quality of their product, giving you peace of mind.
An Open Air Cabana With Overhead Protection To Stay Clear Of Unseemly Elements Of Nature
When viewing this majestic looking white cabana porch with its classically clean, elegant, and simple lines, one can easily imagine the folks who live there.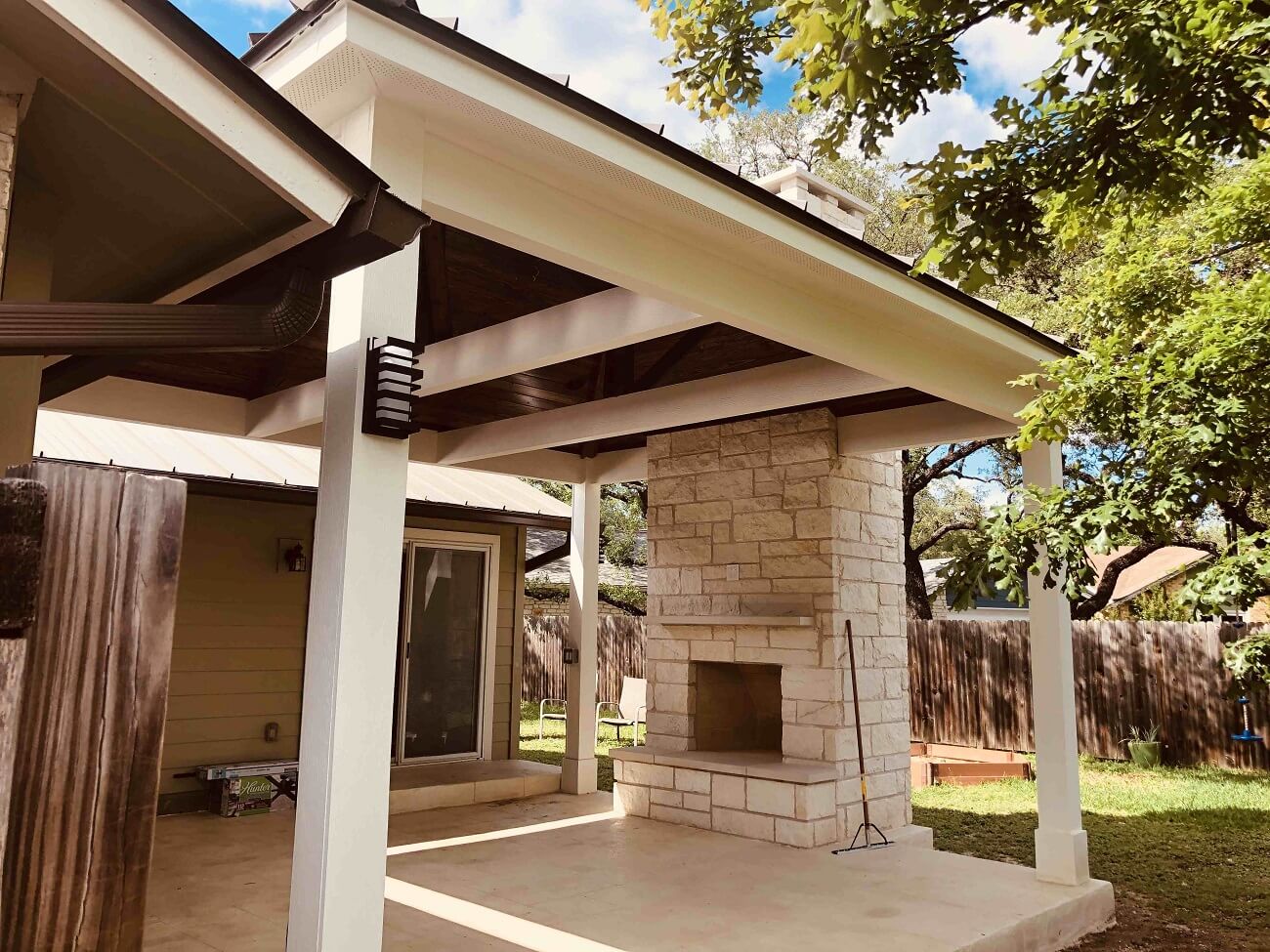 This gorgeous mosaic of white-white and nicotine colored chopped stone rests proudly atop a concrete patio with overlay. Designed by Archadeck of Austin's Daniel Smith, this newly erected outdoor living gem resides in South Austin's Oak Hill neighborhood.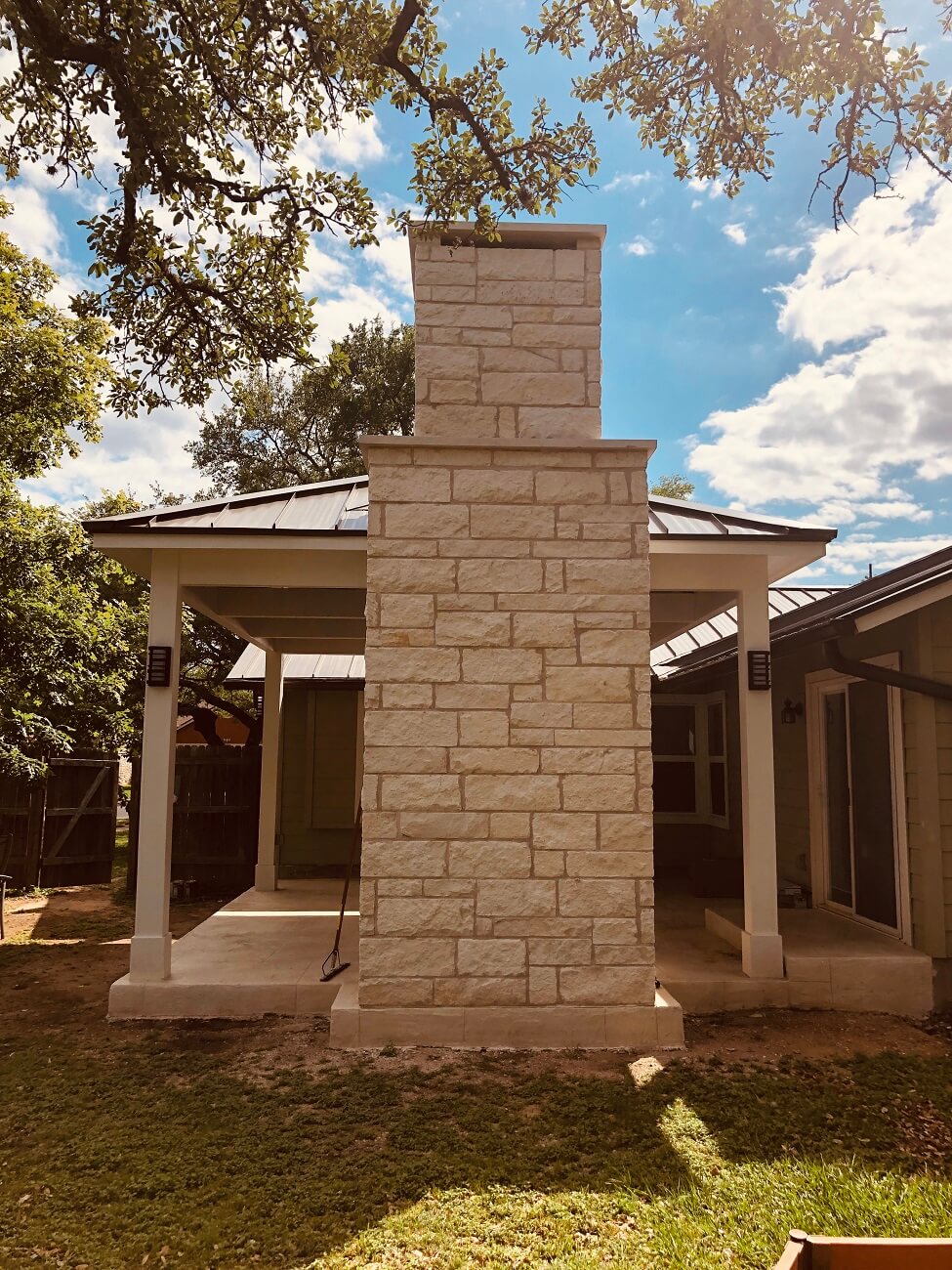 To ensure comfort while remaining outdoors when the temperature decides to drop, you'll notice the beautiful stacked stone fireplace, an Archadeck custom creation.
Atop of the cabana porch sits a standing seam metal roof, which was not the original plan. Initially, the goal was to create a roof tie but that was not possible due to the design of the home's existing roof. So we went with a detached design instead. But none the worse for wear, as they say, it's perfection at any angle.
Quality Materials Make For A Quality Outdoor Living Cabana Worthy Of Praise
Notice when viewing the photos of the cabana interior that we chose Synergywood ceiling in pine. It beautifully accents the architectural design of the vaulted cathedral ceiling.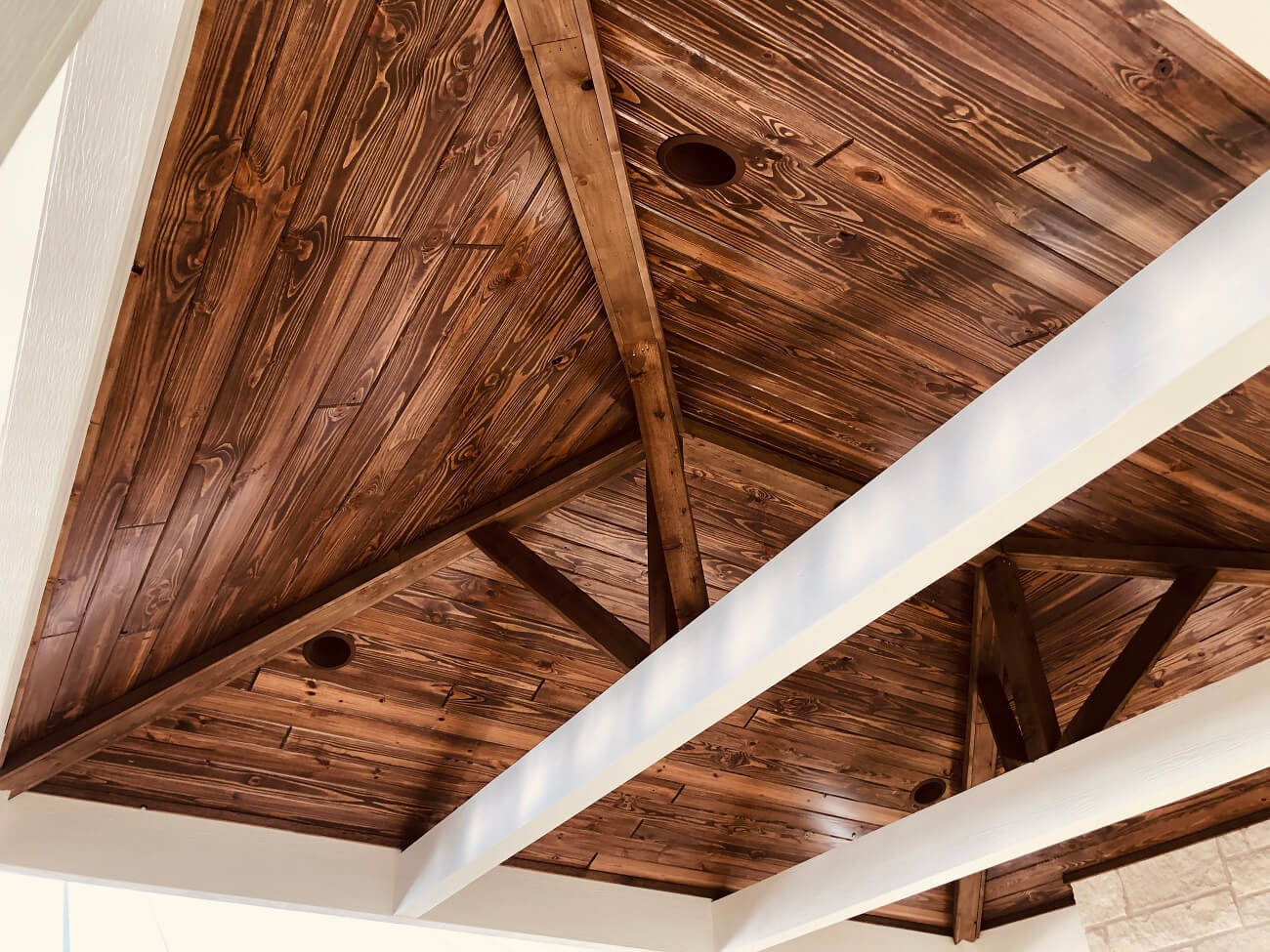 Finishing electrical touches include a ceiling fan and sconce lighting for gentle illumination and increased functionality as dusk fades into the evening Texas sky.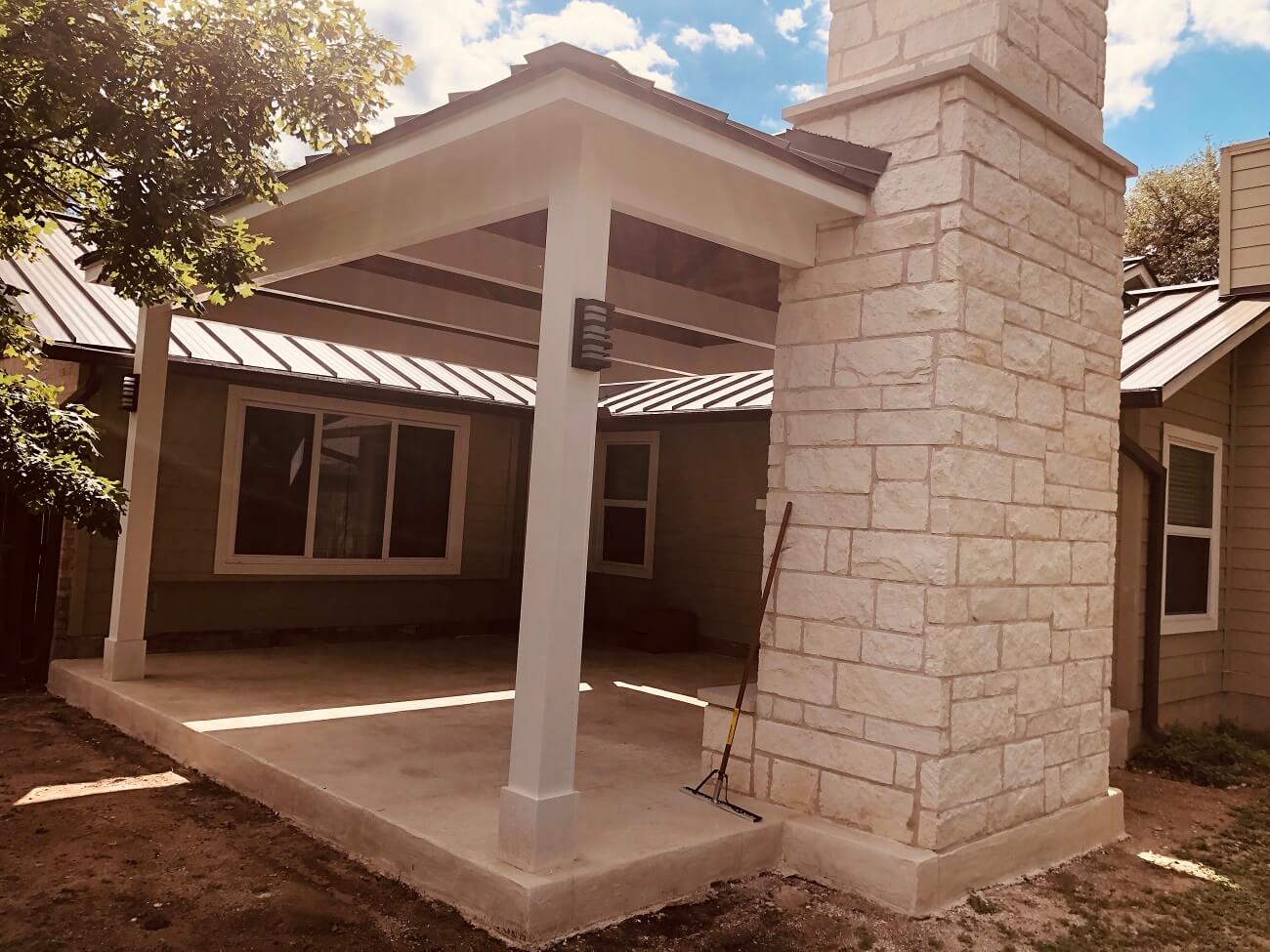 Looking at this gorgeous creation, it is hard to imagine that before we created it, there was a simple deck with no cover for protection whatsoever. Talk about a true Oak Hill transformation!
Oak Hill Outdoor Living Expert Designs For Function
Our design philosophy begins with functionality. Traffic flow is taken into consideration for the best functional use of the deck. Pattern changes in the floorboards or structural elements such as pergolas are used to define separate "rooms" in your space. We examine your specific needs; and we even take your outdoor furniture into account — because a picnic table needs a different shape deck than a round umbrella table would.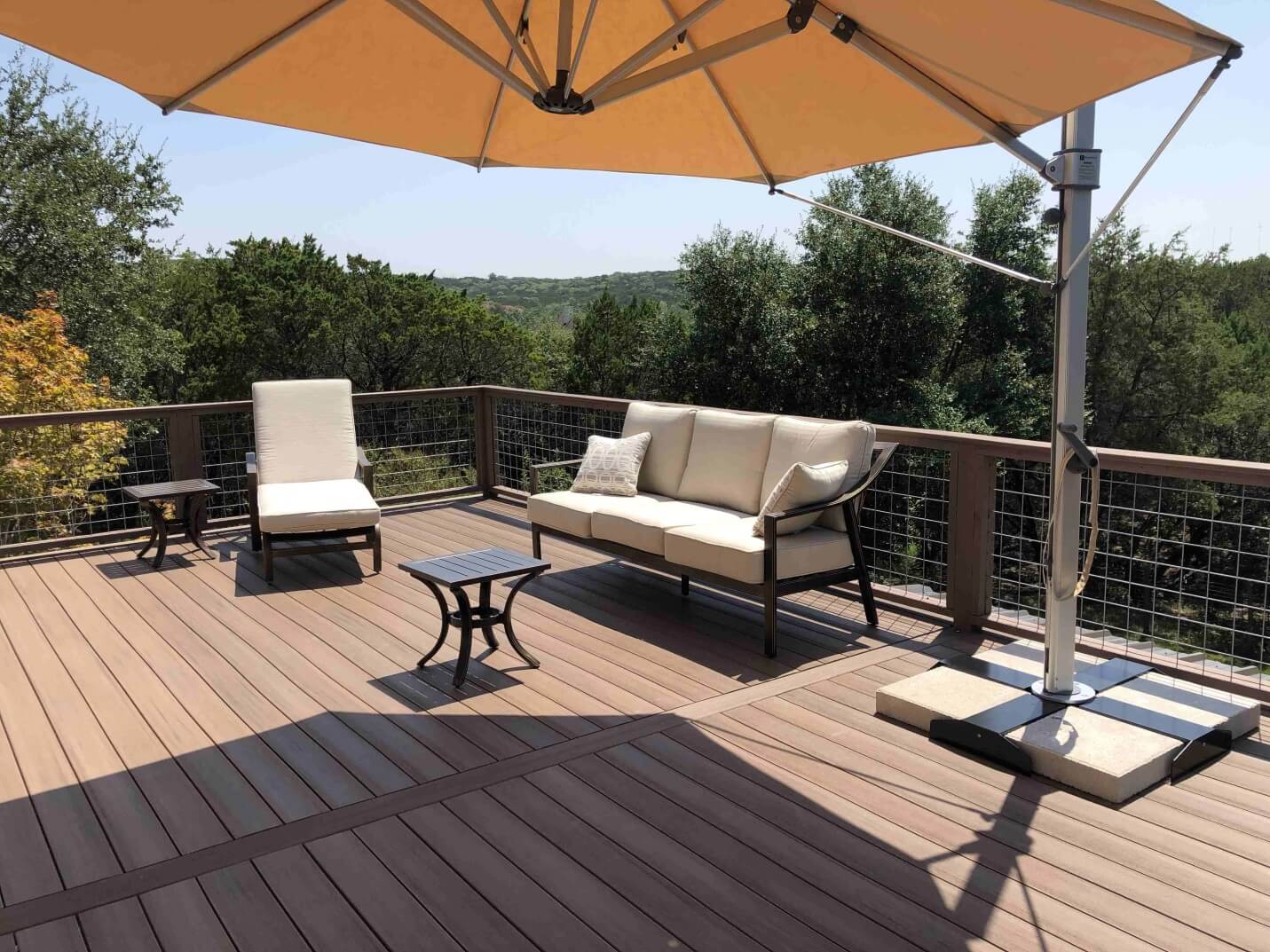 You'll be amazed at the way your Archadeck custom structure blends seamlessly with your home yet still manages to stand out as the masterpiece of your yard. You could plop an ordinary square deck behind your house. Or, for close to the same price, you could have Archadeck build a stylish custom deck creation that will be the envy of the neighborhood. Pretty easy choice, isn't it?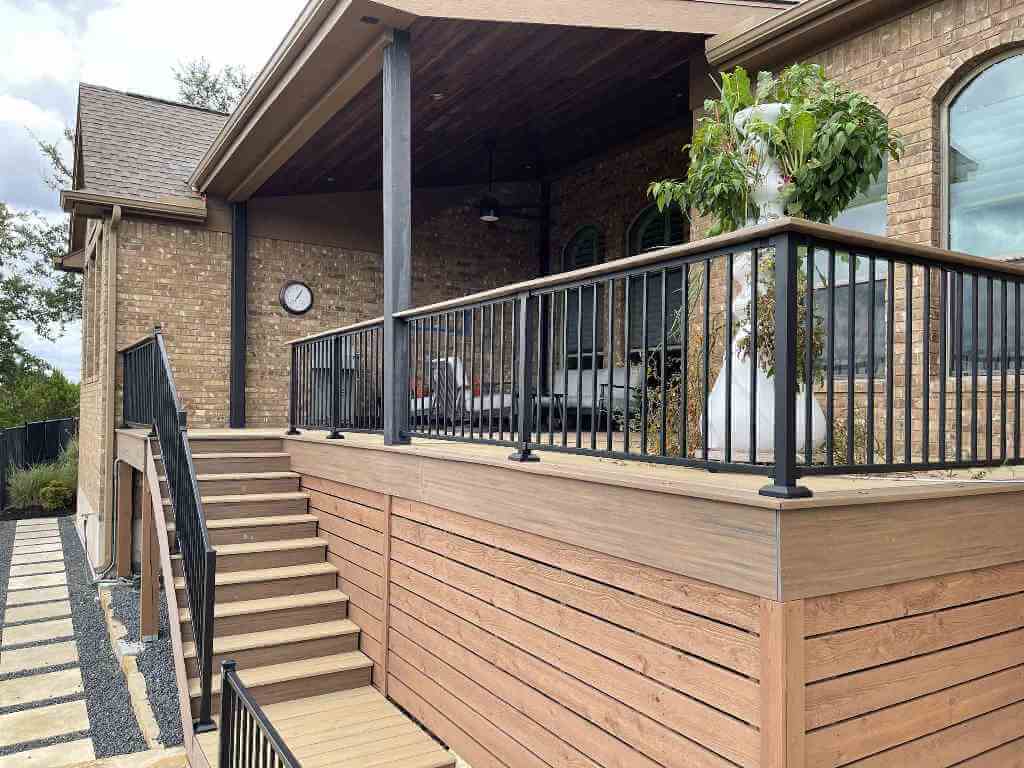 As Oak Hill's largest deck and porch builder, your property is in very capable hands. We offer decades of proven experience and have built hundreds of thousands of structures throughout the years. We are always focused on the personalized design and expert quality of every structure we design and build.
Please Accept This Open Invitation For Your Personal Outdoor Living Space Design Consultation
Call us at 512-886-8367; or just click right here to connect with us.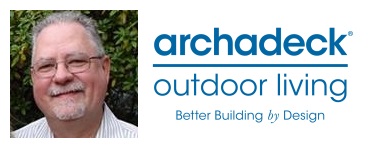 Jim Odom, owner Archadeck of Austin.