Lago Vista TX Homeowners Know That Archadeck Outdoor Living Is The Area's Finest Expert Outdoor Spaces Contractor
Lago Vista TX homes are now enjoying some of the sought-after expertly designed and built custom decks, porches, shaded outdoor structures, screened porches, patios and more – thanks to Archadeck Outdoor Living.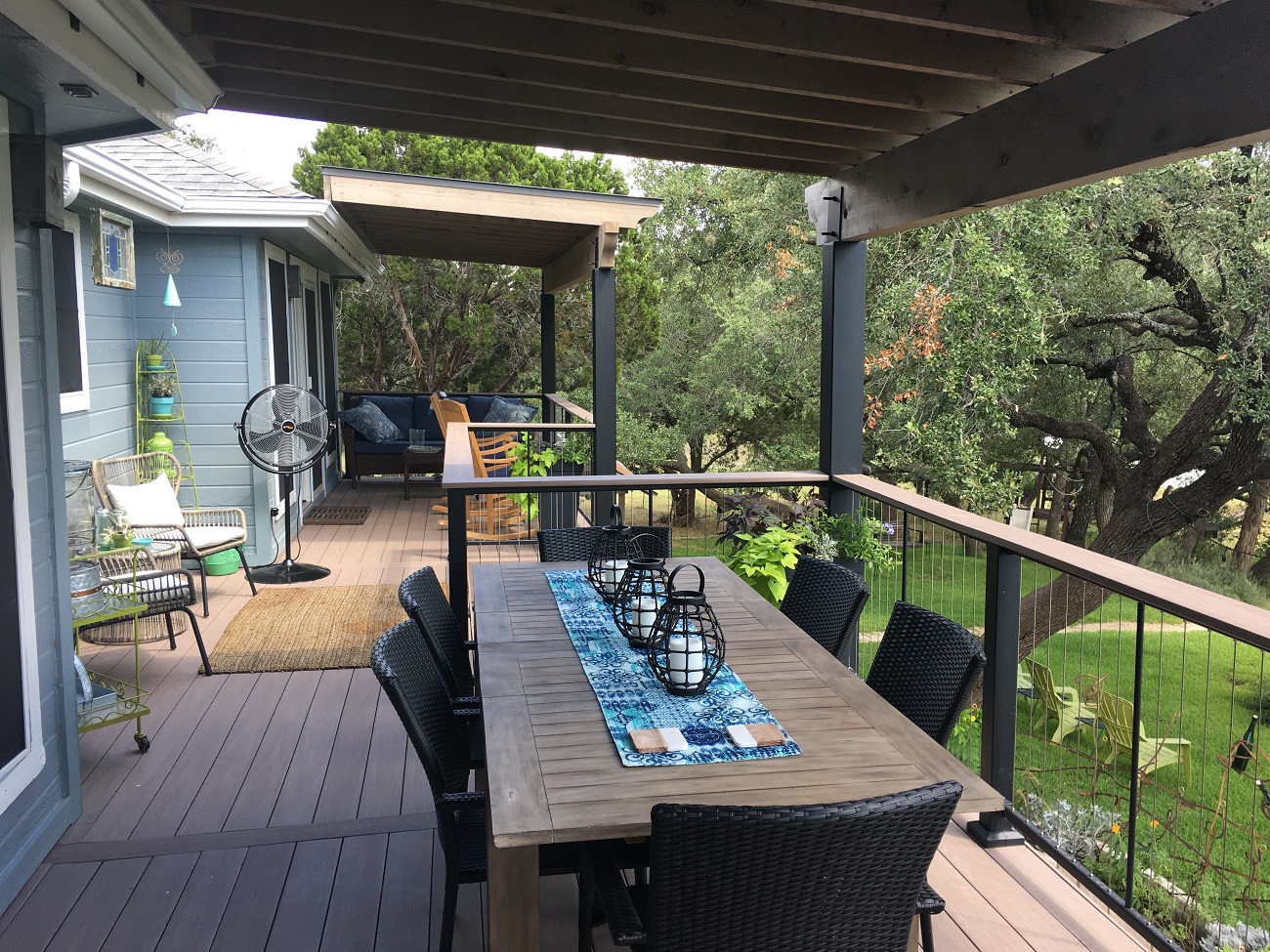 Lago Vista Families Archadeck As Their Expert Deck, Porch And Patio Builder
Looking to transform your Lago Vista TX lake house? Take a look at this.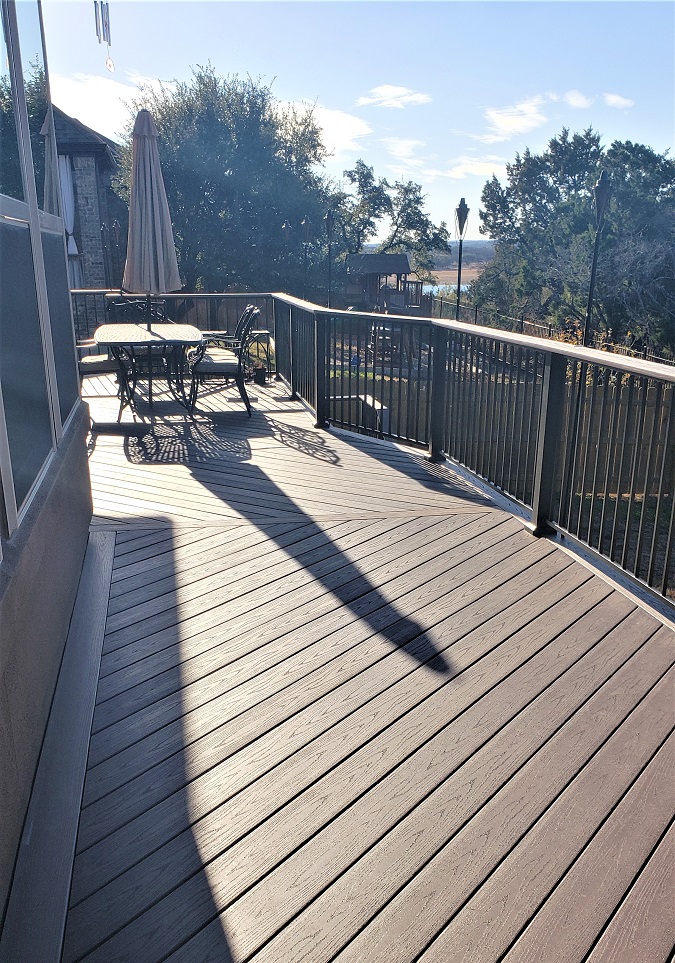 This magnificent Lago Vista TX home overlooks Lake Travis; and when the homeowners reached out to Archadeck, they were in need of an upgrade to their outdoor deck. They wanted a low-maintenance alternative that allowed them to focus on enjoying their peaceful lake oasis. It was our pleasure to help!
Before Archadeck began the upgrade, we met with the homeowners. During our complimentary design consultation, we could see that the existing deck space was just a small area of faded wood. The deck was only four years old, but the direct sun had caused it to fade and appear much older. We began the remodel by completely removing the existing deck and starting from scratch.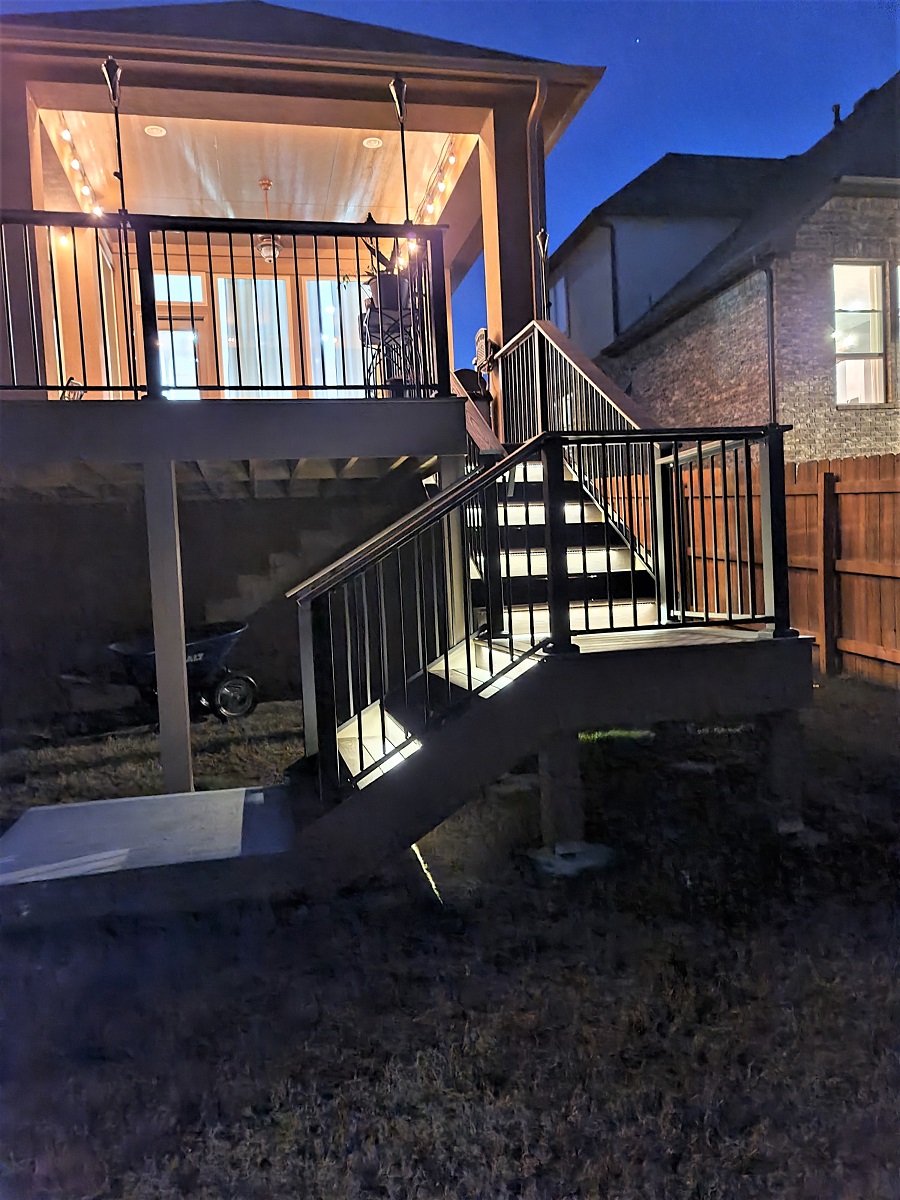 The goal for the redesign was to extend their outdoor living space and create more curb appeal for the backside of the home. In addition, we also needed to create more outdoor storage areas, as this was a special request from the homeowner.
Knowing that the sun exposure and UV rays would continue to be an issue, this new deck was built using pressure-treated pine for the substructure.
The homeowners chose beautiful low maintenance TimberTech Advanced PVC Harvest Collection Decking by AZEK for the deck flooring, picture framing, and ribbon boards. They chose it as the main material because it is a breeze to maintain and will retain its luxurious look for years to come.
The new deck design features dual tones of the AZEK decking in Kona and Autumn Harvest to complement the home and make the deck stand out as a prestigious centerpiece.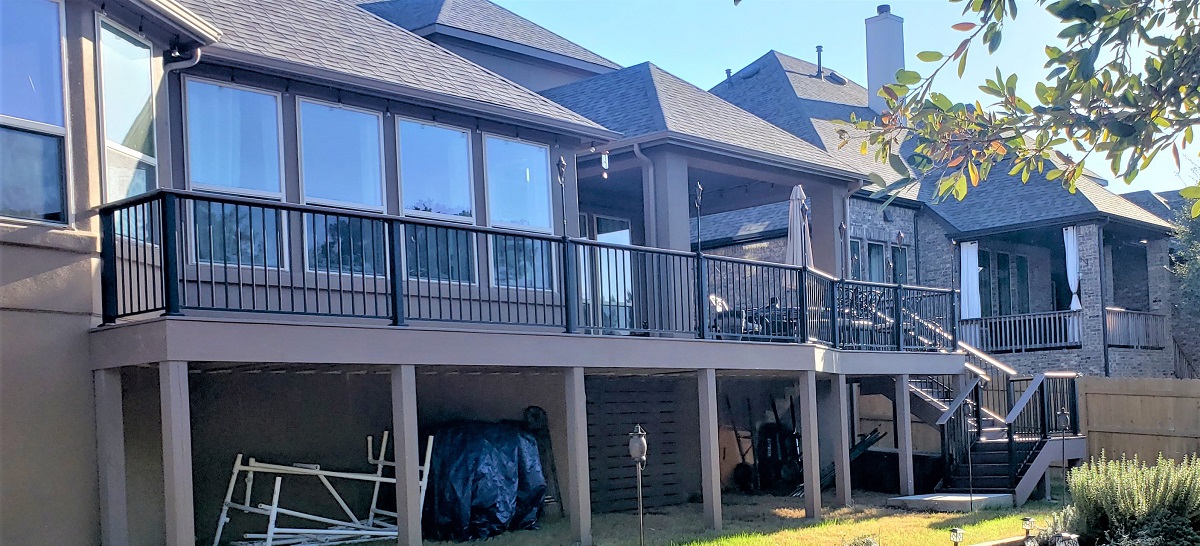 Whether it be in the color family of Kona, Brownstone, or Slate Gray, you, too, can enjoy the fresh, inviting look of stained or painted wood without the rigorous maintenance of wood.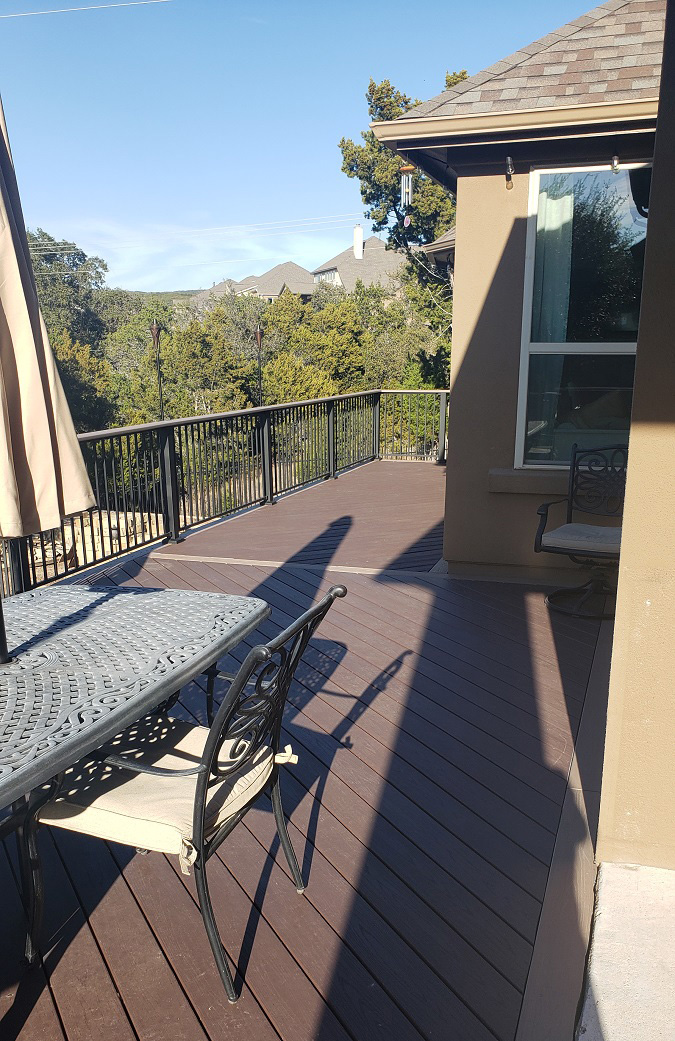 This capped polymer decking features proprietary materials technology that delivers sophisticated, real wood aesthetics you'll never have to sand, stain, or seal. The proof? AZEK gives this exceptional product a 50 Year Fade & Stain Limited Warranty!
This Exquisite Combination Project In Lago Vista, TX, Turns Up The Heat With Expanded Outdoor Living Possibilities
Archadeck in Lago Vista TX completed the final stage of this dual-phased outdoor living combination project. The completed masterpiece includes a patio cover which serves as an outdoor living room for these homeowners complete with a custom natural stone fireplace and hearth. Within the covered patio, we also created a well-stocked outdoor kitchen which houses an egg smoker, grill and refrigerator, among other amenities.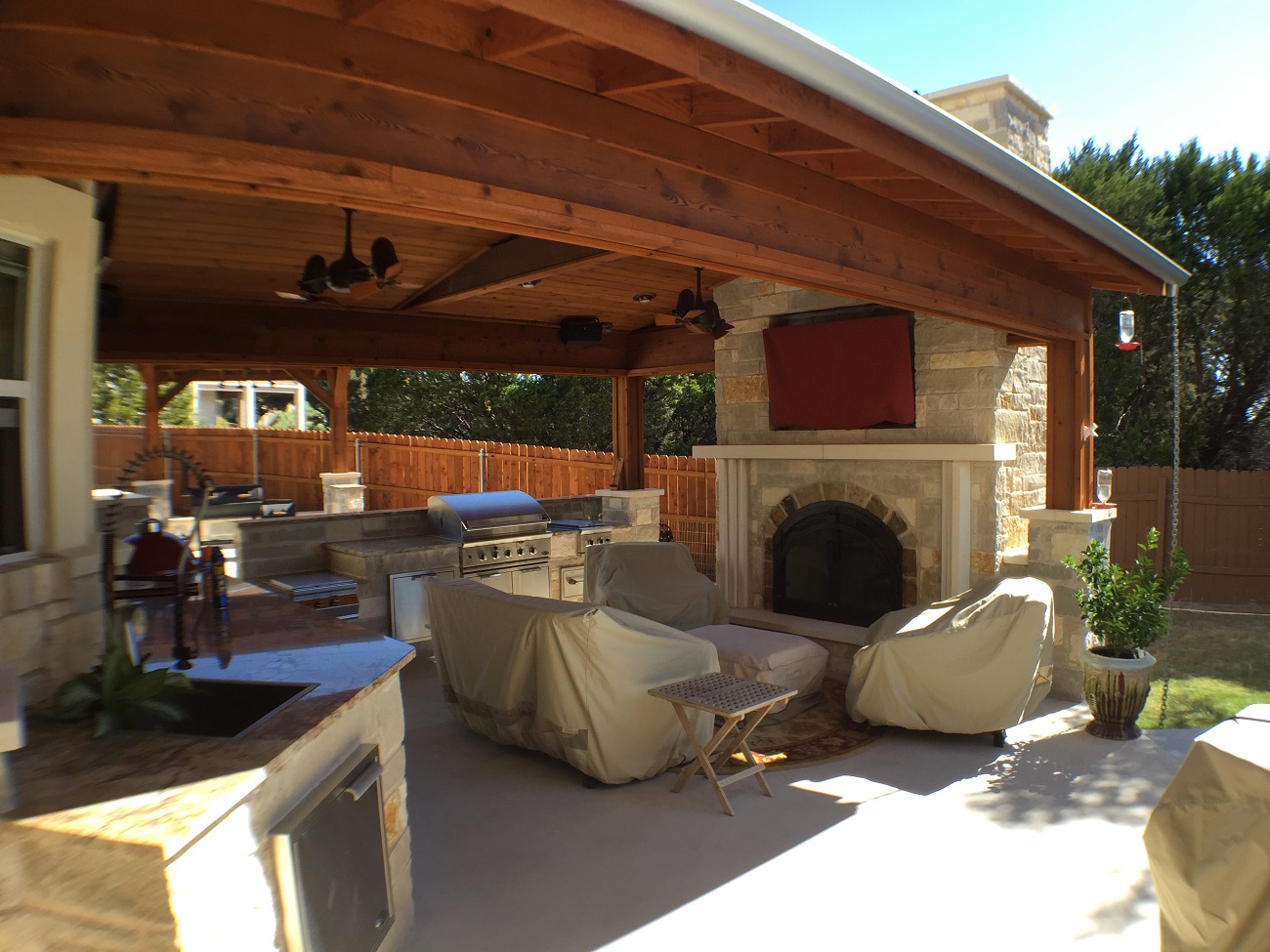 Just a stone's throw away from the covered patio is the pergola-style protected shade structure designed to house the family's beloved smoker that has been handed down generation to generation. This area includes an integrated park-bench inspired seating wall perfect for teaching the subtle art of smoking meats. The addition of the separate smoker space came about after the homeowner moved the existing perimeter fence out to accommodate the anticipated design.
Although outdoor food preparation and outdoor dining is high on the homeowners list of favorite things, they also have a soft spot for natural and native materials. This is evident throughout the space in their choice of materials. Archadeck perfected the design of both outdoor living additions to compliment the rustic wood used in conjunction with natural stone.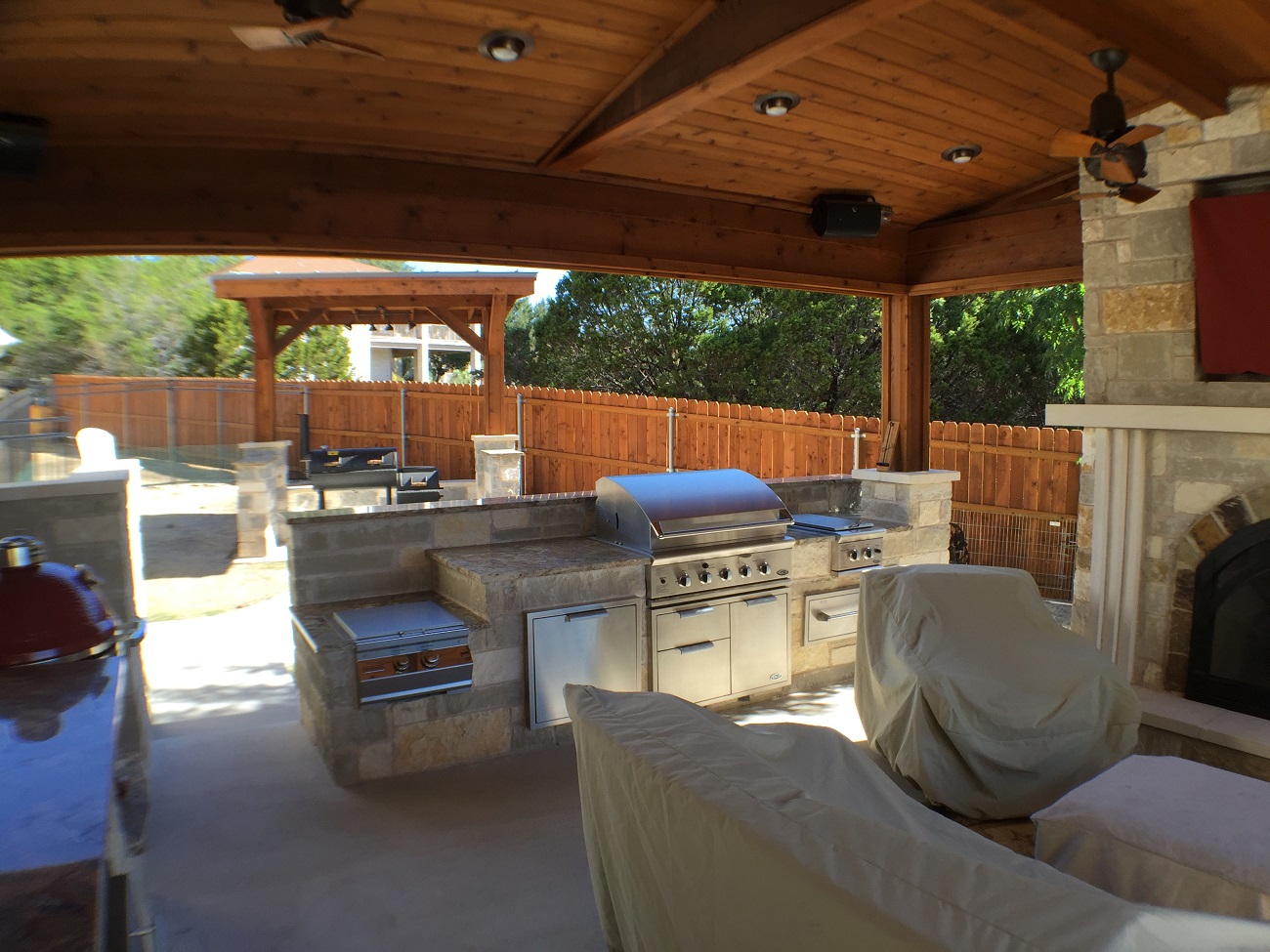 The materials used within the patio cover consist of a tongue and groove cedar ceiling with posts and beams, including engineered beams, wrapped in cedar and stone. The spacious fireplace within the space is crafted from a combination of sandstone, limestone and Lueders stone. In the outdoor kitchen area, we continued the use of Lueders stone and topped the kitchen area off with a beautiful natural granite countertop. It's stunning – simply stunning – as well as highly functional.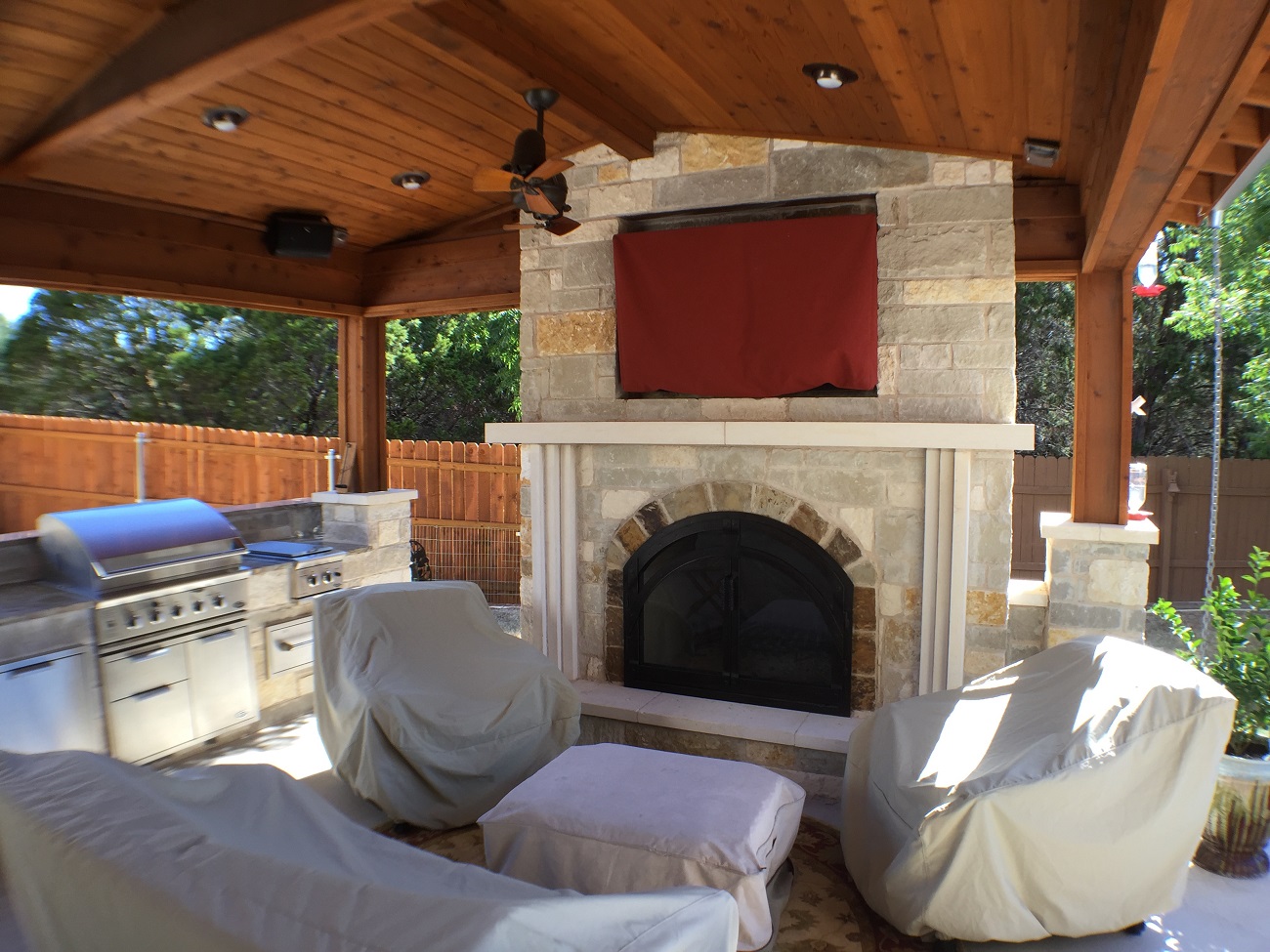 New Deck Design In Lago Vista Has It Comfortably Made In The Shade By Design
With a house this big, overlooking a large swimming pool and the Colorado River, not just any deck will do. You need a very special deck, a one-of-a-kind deck for this one-of-a-kind Texas Hill Country home situated between Lago Vista and Marble Falls, TX. Archadeck was the right company to design and build this splendid deck with four pergolas.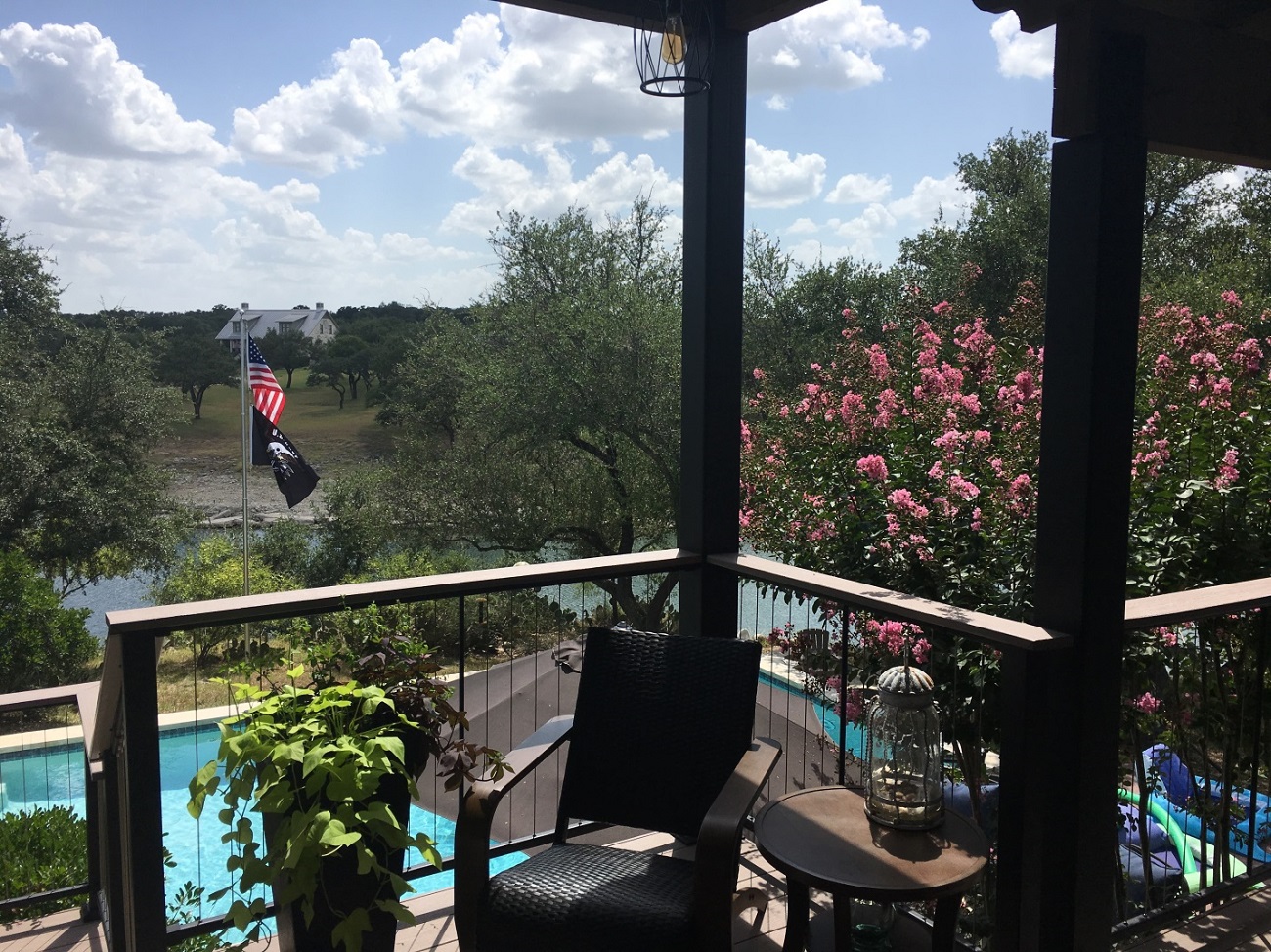 The homeowners wanted their old wooden deck replaced with a larger deck made of low-maintenance material. One of the criteria was that the new deck be large enough to have room for a dining table that can seat six people. We were able to achieve that by adding two feet to the size of the deck.
For the decking boards, this client also selected AZEK decking, this time in the Autumn Chestnut color, part of AZEK's Harvest Collection. The deck features Fortress vertical cable railing with a black sand finish. The vertical cables are marine-grade stainless steel cable, and the railing and posts have a durable, multi-layered anti-corrosion coating, that's virtually maintenance free and long lasting.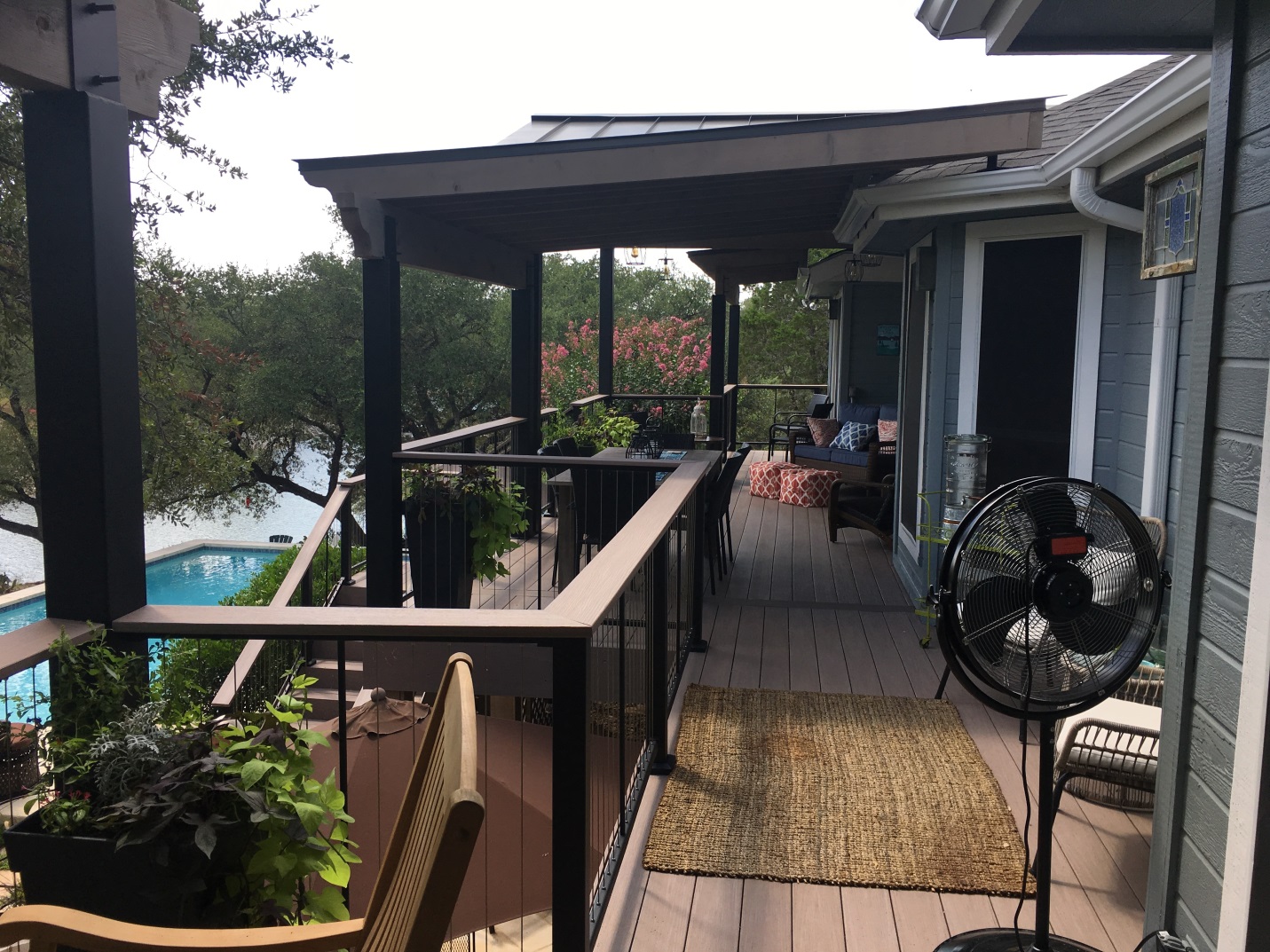 We also replaced the old deck's three existing pergolas with four new ones. We mounted the new wooden pergolas on 6-inch by 6-inch custom-fabricated steel posts with a black finish matching the deck railings.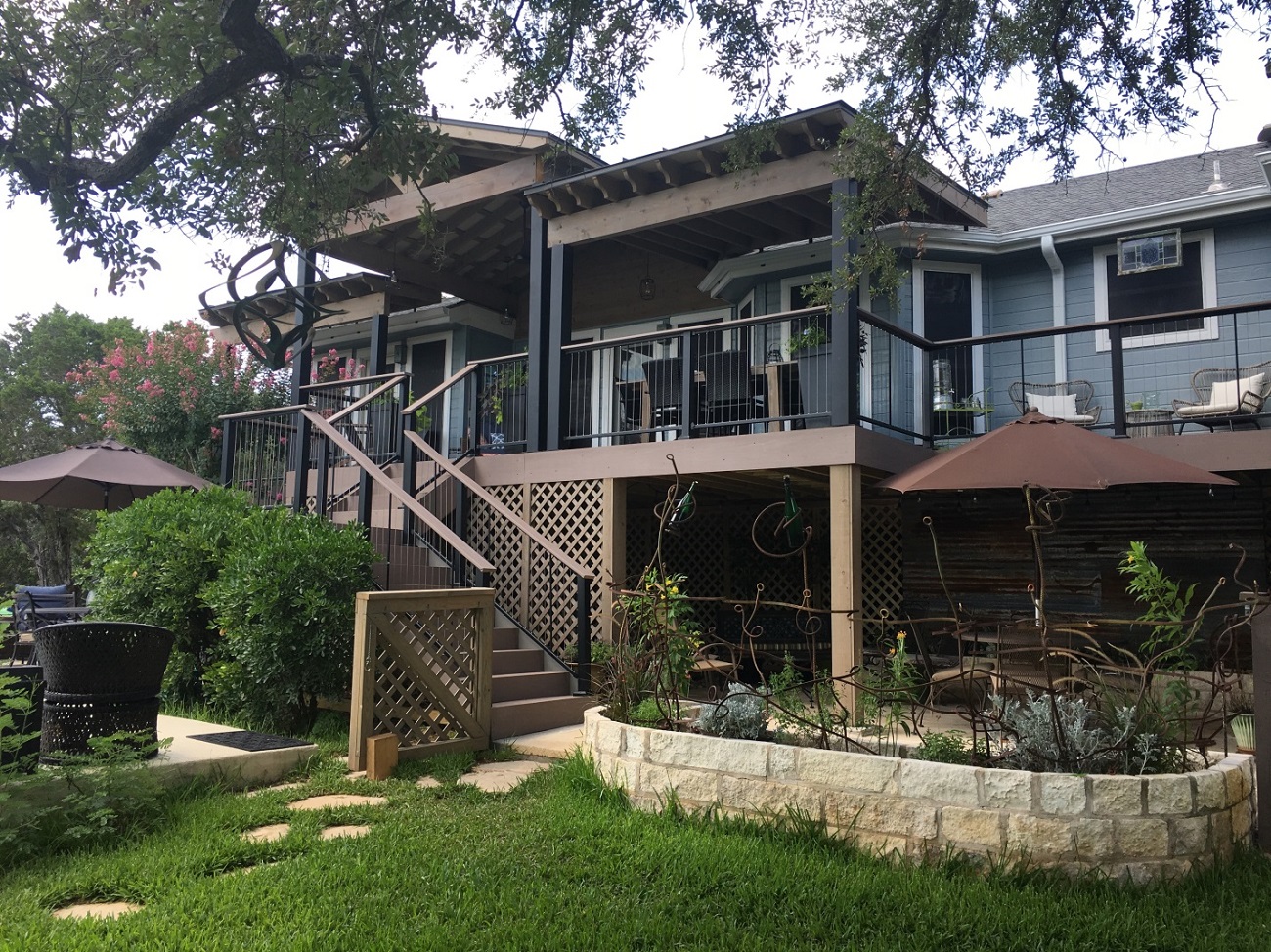 Even though the homeowners didn't want a roofed structure tied into the roof of the home, they did want a roof over each of the pergolas for additional shade. So, we installed a standing seam metal roof over each pergola. Three of them have flat roofs, while the fourth is a gabled roof that covers the portion of the deck opening out to the stairway leading down to the pool. The gabled pergola is tied into the roof to make it more rain tight.
The gabled roof design of the fourth pergola also provided a covered space for sconce lighting and a ceiling fan. Archadeck did all of the necessary electrical work to add these finishing touches.
For Proverbial "Soup To Nuts" Outdoor Living Space Building, Trust Archadeck To Consistently Deliver – Now And For Generations To Come
Schedule your complimentary outdoor living space design consultation now by calling 512-886-8367. Alternatively, just click right here to connect with us!
Jim Odom, owner Archadeck of Austin.
Meta Title: How Lago Vista TX backyards and outdoor spaces get the royal treatment.
Meta Description: Lago Vista, Texas, backyards and outdoor living spaces enjoy the finest high functional design and utility when Archadeck takes the reins creating beautiful and magical leisure spaces.