Lakeway Outdoor Living Luxuries Abound Thanks Archadeck Of Austin
Lakeway, TX is #67 on The List Top 100 Best Cities To Work Remote In 2023, #6 on The List Top 100 Best Cities To Work Remote In 2023, #12 on The List Top 100 Best Cities For Outdoor Living.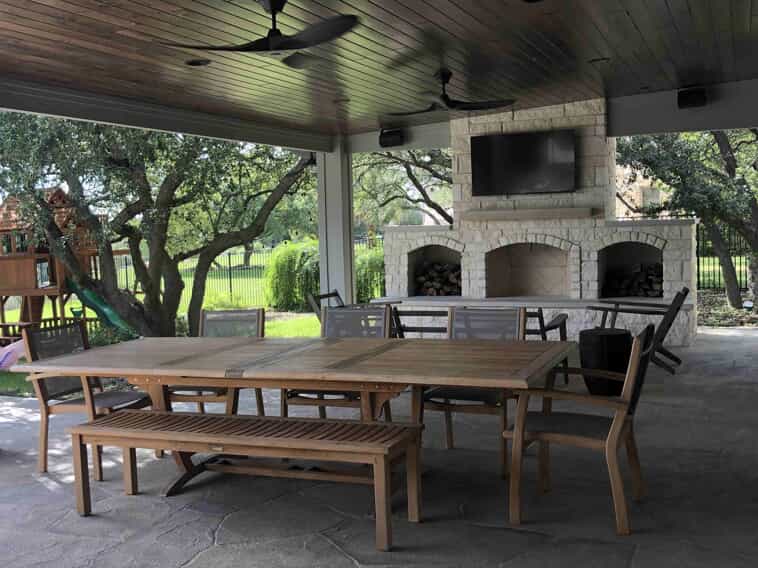 The #1 Designer and Builder of Custom Outdoor Living Spaces? Why Archadeck, of course. Proven time after time, one custom space after another, our Lakeway clients love the beauty, functionality and convenience our outdoor living designs bring.
Less Lakeway Outdoor Living Maintenance Means More Time To Savor Your Great Outdoors
Blessed with wonderful weather most often between 50º to 90º Fahrenheit, and with documented low risk of natural disasters, Lakeway living can be a paradise. Making it so is exactly what we at Archadeck do – every day.
Perfecting the best of what low maintenance, virtually carefree outdoor living can bring, we use only the best sustainable, Earth-friendly outdoor building materials available to create our custom creations.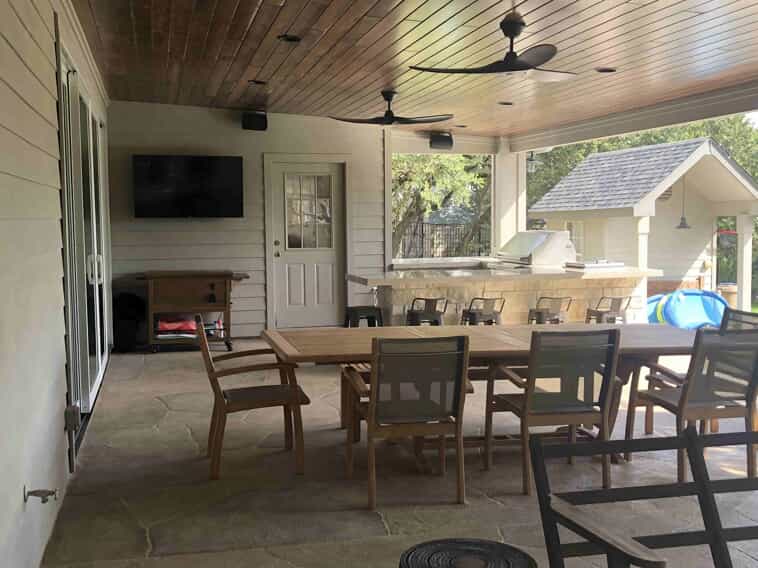 Here in Lakeway, we build low maintenance porches, screened porches, decks, patios, hardscapes, shade covers and more, to last a lifetime. Our frequent use of sustainable building materials composed of reclaimed or recycled materials is a win/win. They're better for our environment, and they're a blessing to homeowners who would rather enjoy their backyard outdoor spaces rather than fuss over them. Keeping them looking like new usually means a quick rinse from a garden hose or brush strokes from a broom.
Sustainability Also Means Money In The Bank Should You Decide To Sell Your Home
Speaking of sustainability being a win/win, another big incentive to using sustainable building materials here in Lakeway in our custom leisure designs, beyond the money that you can save and the decreased carbon footprint, your homes resale value and speed of sale can actually be improved should that eventuality someday arise.
A recent study stated that a home that employed third-party certifications for sustainability sold for 8 percent more on average than a similar non-certified home.
Sometimes Less Is More When Improving A Lakeway Deck Or Porch
Creating the ideal backyard oasis doesn't have to mean reinventing the proverbial wheel. We can get your outdoor living upgrade and transformation project up and running without making a lot of changes.
A recent example is a beautiful home in The Hills of Lakeway, TX. The homeowner family liked the deck they already had. They liked the color, the size, the shape, and the way it hugged the back of their home.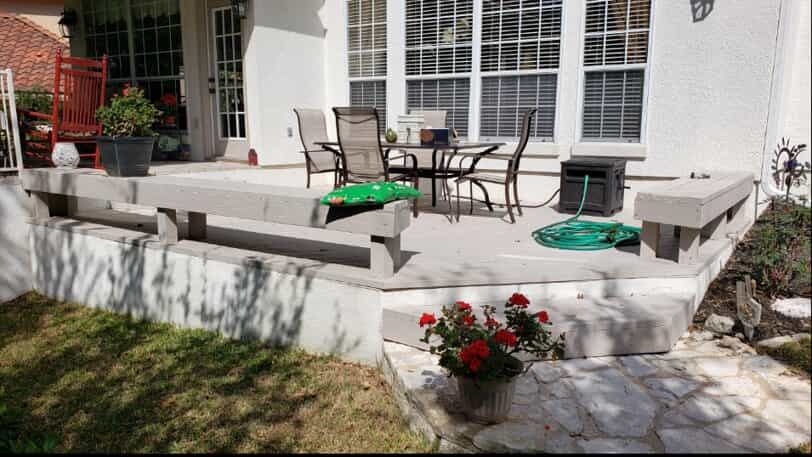 Before.
Originally built in cedar, the deck was beginning to show wear, break down and deteriorate. As the deck was low to grade, it was regularly exposed to moisture near the ground from the weather and irrigation, and the wood was beginning to rot. It was time for a deck replacement.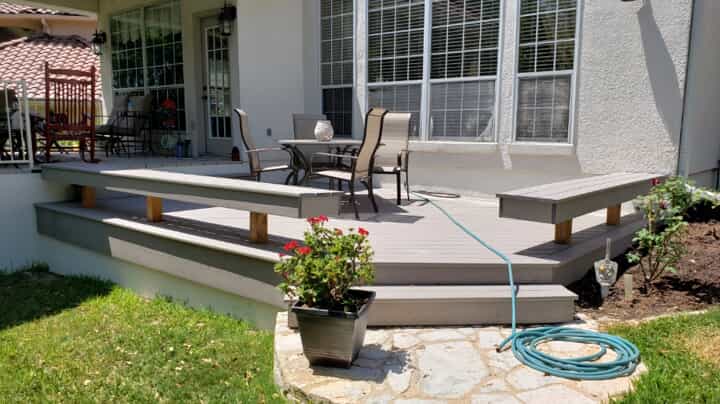 After.
Saying goodbye to the reality of wood did not mean saying farewell to the intricately beautiful features of real wood. For this redecking project, our Lakeway team installed new low maintenance decking selected in AZEK from TimberTech's Harvest Collection in Slate Gray.
Since the homeowners liked so much about their original deck, design decisions for their deck replacement were easy. That's the great thing about replacing a deck; you don't have to make a lot of changes if you don't want to.
After.
In this case, our clients wanted us to use the same footprint for their new deck's scale and size. They chose a similar shade of gray, too, and they wanted similar benches along the sides of the new deck. It's like it was new all over again, because it was!
Putting A Lid On It Makes This Covered Porch An Additional Living Space That Can Be Used All Year Long
If you enjoy entertaining outdoors, and you have the space in your outdoor footprint, all you need are the right structures to provide the perfect setting for Lakeway outdoor luxury. Our clients at this home just South of Lakeway, TX, had a covered porch, but it wasn't sufficient for what they had in mind. They wanted a larger covered porch for seating and dining. They wanted to add an outdoor kitchen. To top it all off, their plans for expansion included everyone's favorite, an outdoor fireplace.
At Archadeck of Austin, we love being able to satisfy even the most exacting Lakeway, Texas, client. These particular homeowners had planned ahead for this project because they needed it to be completed by mid-June. They had family coming in from California to spend the summer with them, so the timing was important.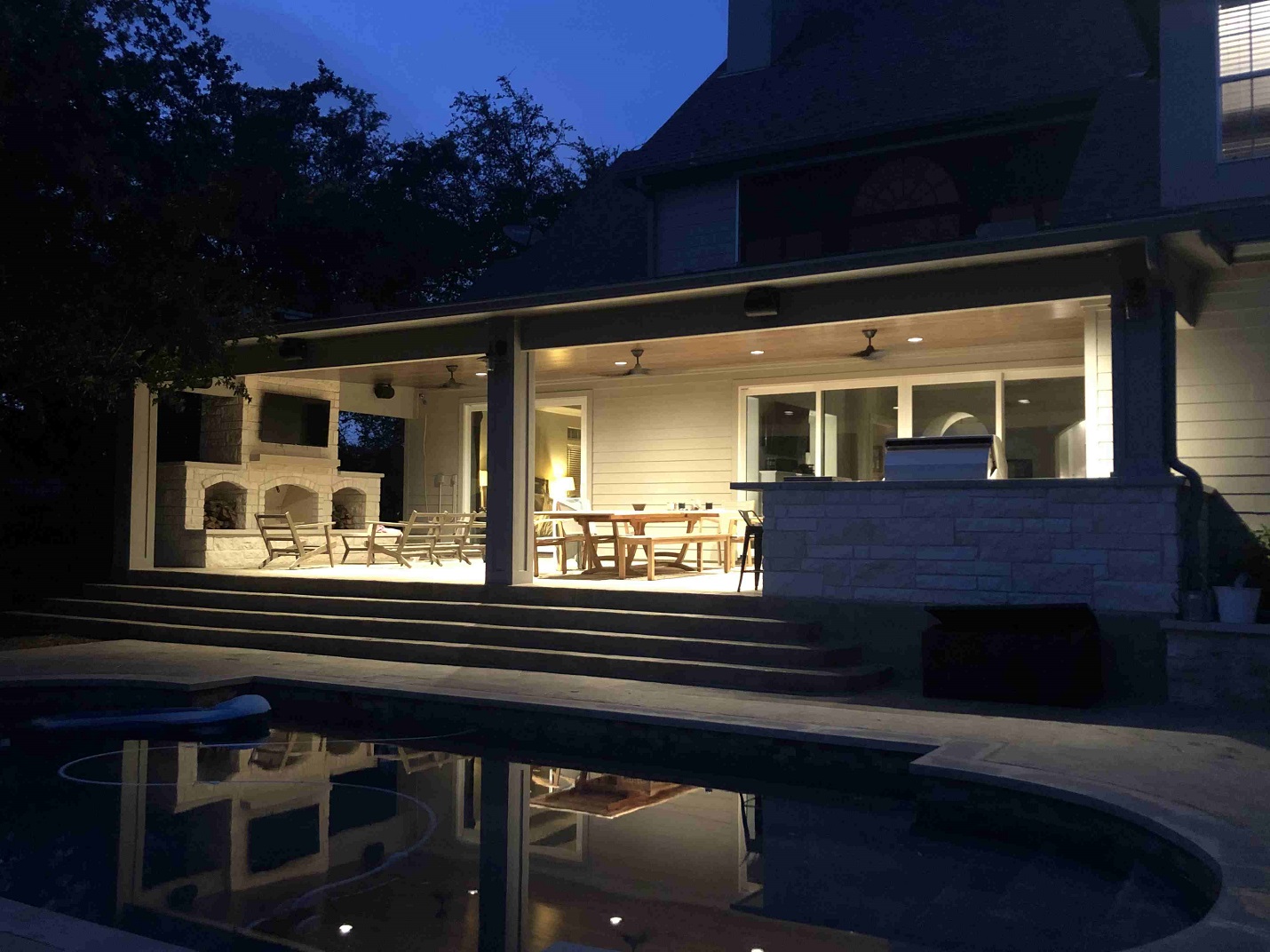 This is another good reason to commit to your new outdoor living project now before spring kicks into high gear. When demand is less during off-season (if there truly is such a thing down here), it increases the likelihood that you will be enjoying your great outdoors sooner rather than later.
Your Lakeway Porch Builder, Creating Everything Under One Roof
Another design conceived by Jim Odom, local Archadeck franchise owner and designer, was a generously sized covered porch with an expansive outdoor kitchen at one end and a wood burning outdoor fireplace at the other end.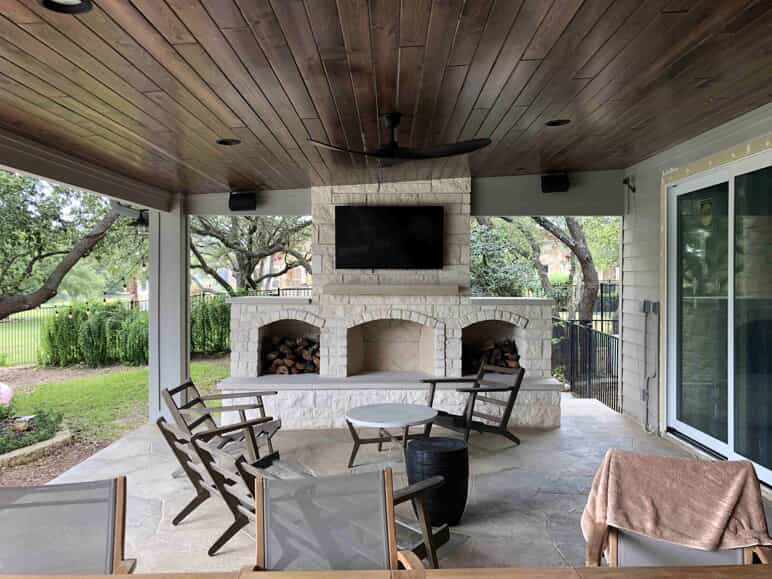 The custom stacked stone fireplace has room for a large-screen Smart TV over the mantel. And we deliberately designed the fireplace with deep firewood boxes to hold plenty of wood on either side of the hearth. The outdoor kitchen design is U-shaped and contains a built-in area to house the homeowners' Traeger smoker/grill.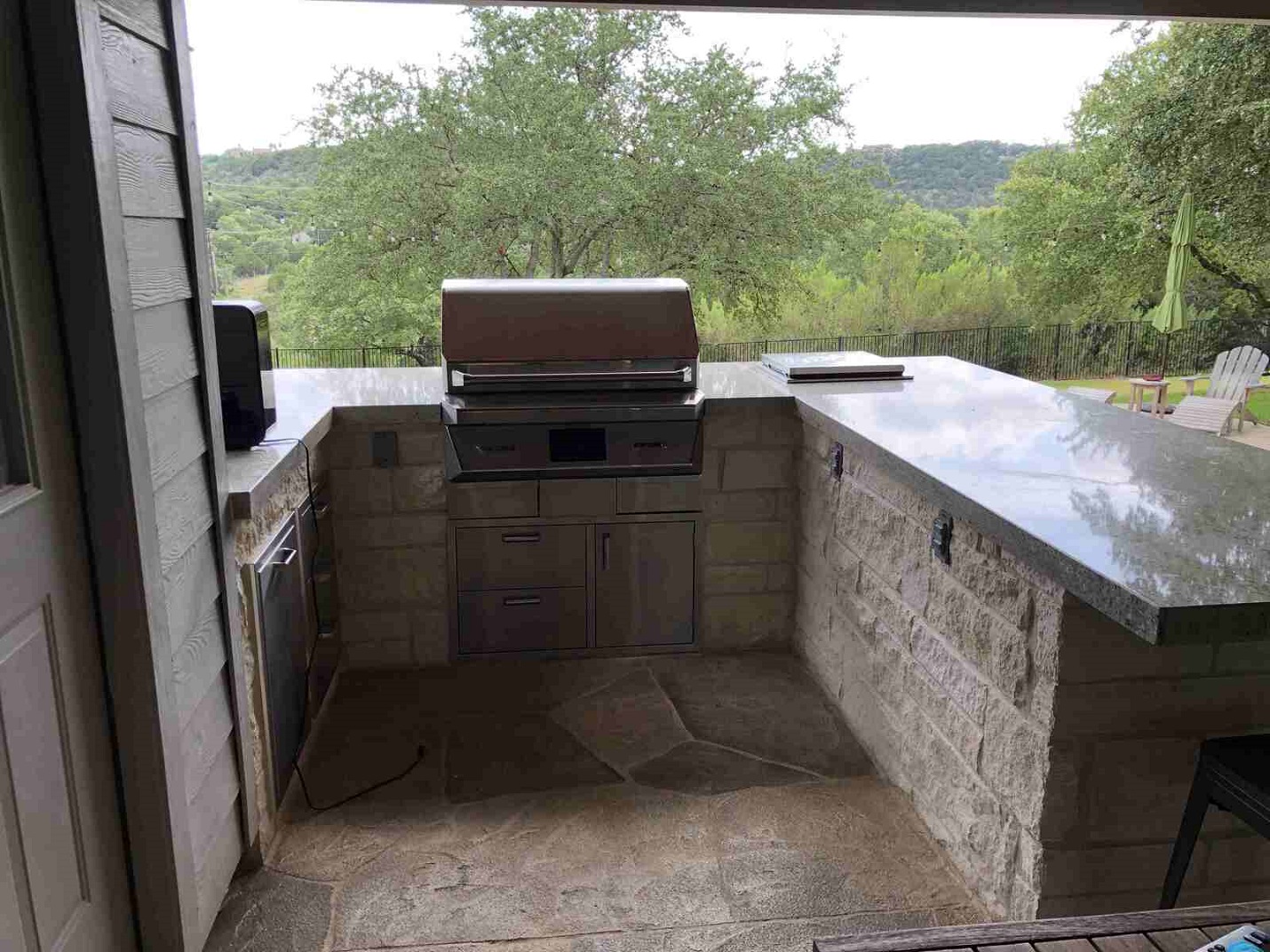 Another personal favorite structure of Jim's is his multi-functional screened porch designs, built for year round enjoyment.
Meet The Lakeway Patio Builder Specialist
While it's true we have more than one specialty, we specialize in custom designing and building all outdoor living structures, and we create amazing patios.
Ever since the pandemic, outdoor patios have become increasingly popular due to their very design nature of being surrounded by fresh air – even if there is a patio cover overhead.
A popular and efficient patio construction formula is to pour concrete and then finish the surface with a flagstone pattern. Our overlayment process is a very artful, creative process carried out by hand, on site by our professional team of craftspersons.
Lakeway Luxe Living Starts With A Complimentary Design Consultation
Your wait is over, Lakeway. Click here and get ready to enjoy a personalized, custom complimentary design consultation to discuss all the designs and opportunities for your outdoor living future.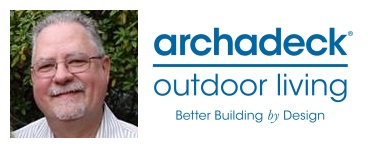 Jim Odom, owner Archadeck of Austin.