Could an Outdoor Living Combination Enhance Your Nolensville TN Home?
Homeowners in Nolensville, TN, are including outdoor living improvements on their to-do lists. Are projects you may have put on the back burner rising to the top as priorities now? Nothing does more to enhance your home's outdoor living potential than a combination outdoor living space designed and built by Archadeck of Nashville.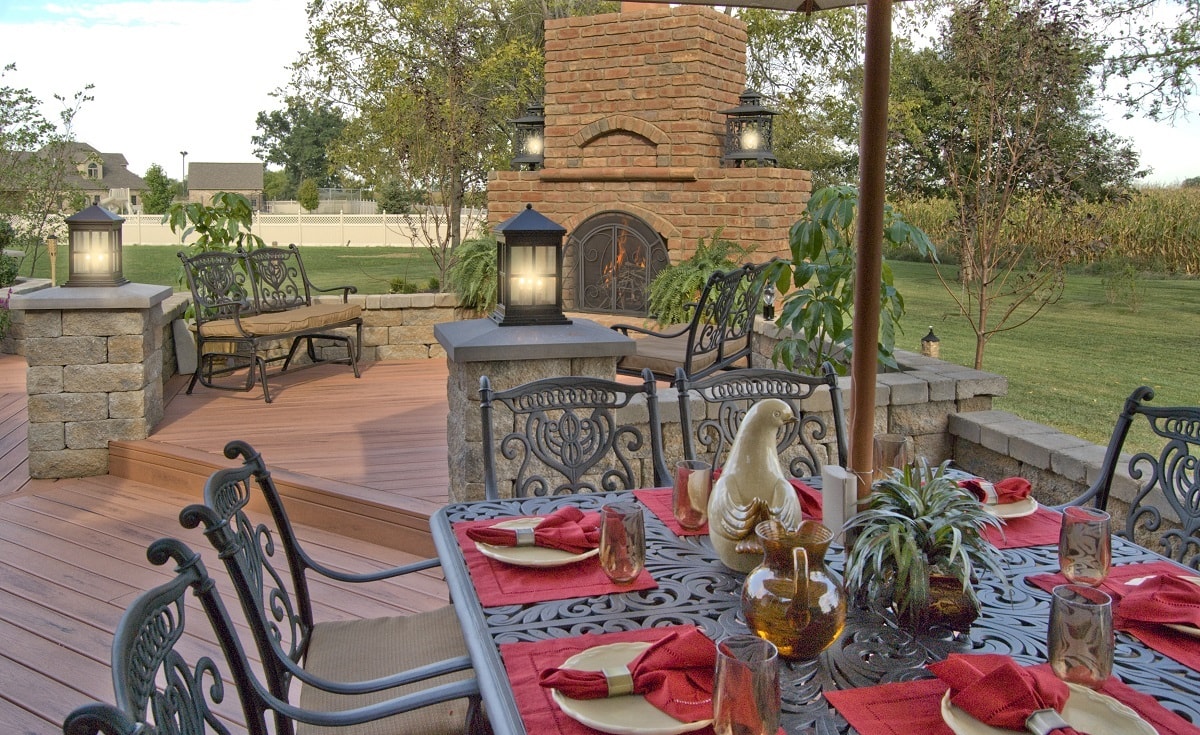 Designing Your Nolensville Outdoor Living Space Combinations
What is an outdoor living space combination? Like the name suggests, it is the perfect outdoor living space created by combining two or more structures to work in harmony for your enjoyment. Why choose between a deck and a patio or a screened porch and deck? Why settle for a simple patio with a grill when a covered patio with an outdoor kitchen would better accommodate the outdoor lifestyle you desire?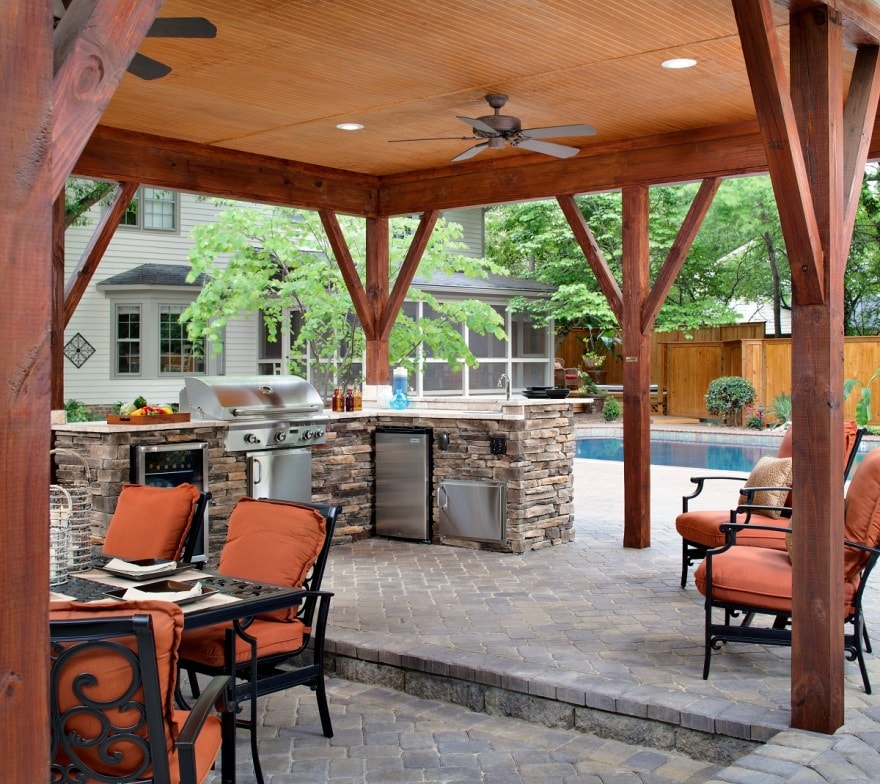 Increasingly, Nolensville homeowners are finding that a deluxe, multifaceted outdoor living space meets their needs. To read more about this topic, see our article, "Trending in Nashville: Deluxe Outdoor Living Space Combinations."
Choose the Best in Nolensville Custom Outdoor Living Possibilities
When you meet with an Archadeck of Nashville design consultant, we'll introduce you to a process we call the "comprehensive needs analysis." Archadeck created this process to help our clients identify—or clarify—what custom-designed outdoor living structures will best meet their needs. Frequently we find that it takes more than one structure to create the kind of outdoor living environment our clients want to enjoy.
Choosing Archadeck to design and build your ideal outdoor living area makes the most sense if quality workmanship and attention to detail are important to you. You'll find that we are detail-oriented and thorough at every stage from the design process through construction and the final walk-through. Read more about this topic: "Why Choose Archadeck of Nashville for Your Outdoor Living Project?"
Once you identify the structural components of your combination outdoor living space, you won't need to look for different contractors to design and build each one. Archadeck specializes in all things outdoor living! If you want a screened porch and a deck, for example, we will combine them in a custom design so they work together seamlessly. We don't just tack one onto the other. We design them cohesively with furniture placement and traffic flow in mind. We believe outdoor living should be easy and convenient.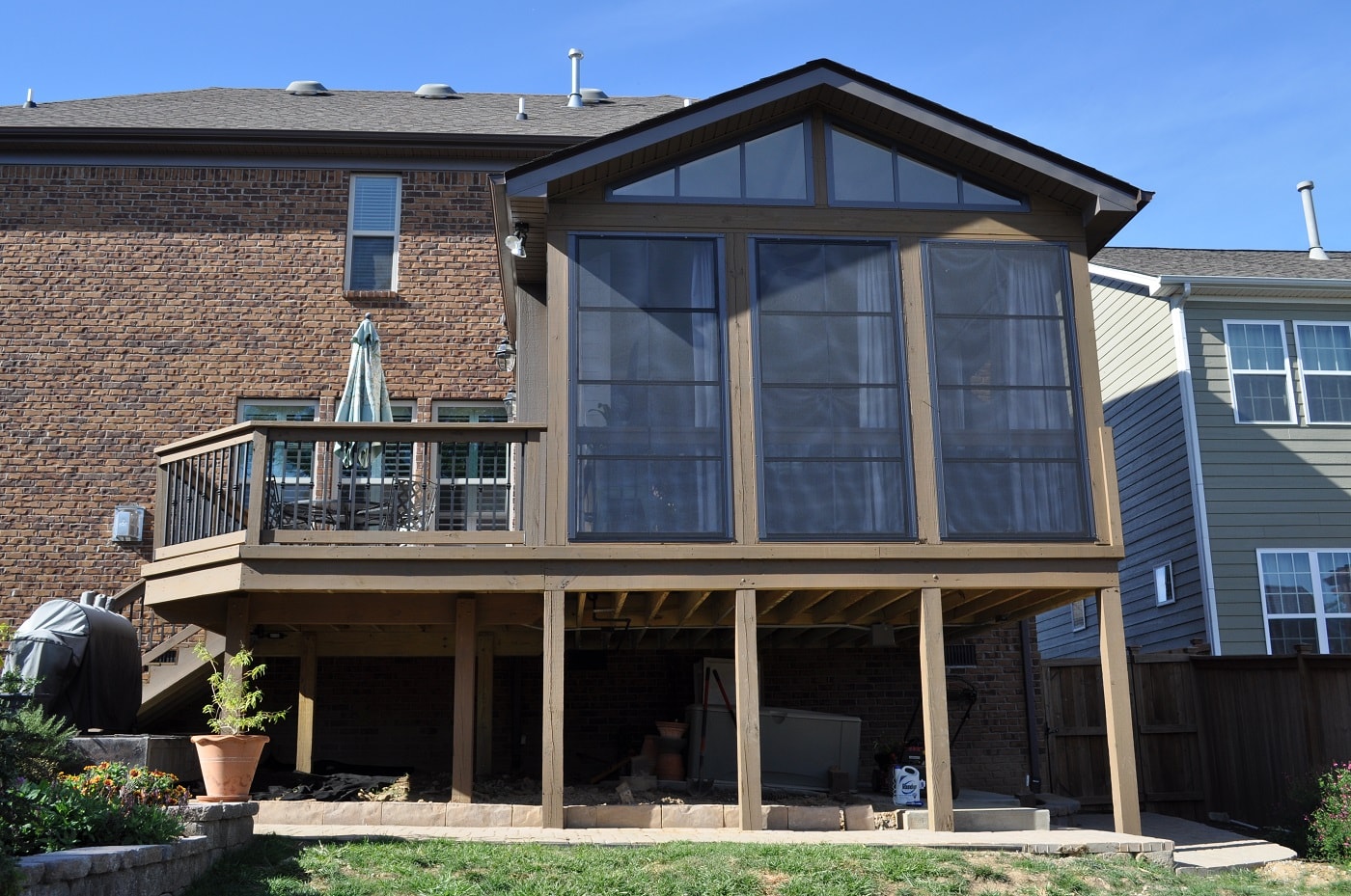 Are you looking for a rustic, casual outdoor space or an outdoor environment that's more refined and formal? From Scales Farmstead to Bent Creek and Burkitt Place, we have worked with homeowners to design new porches and porch updates expressing their individual style preferences. The materials you select for your porch project will set the tone for how you furnish and decorate your outdoor room.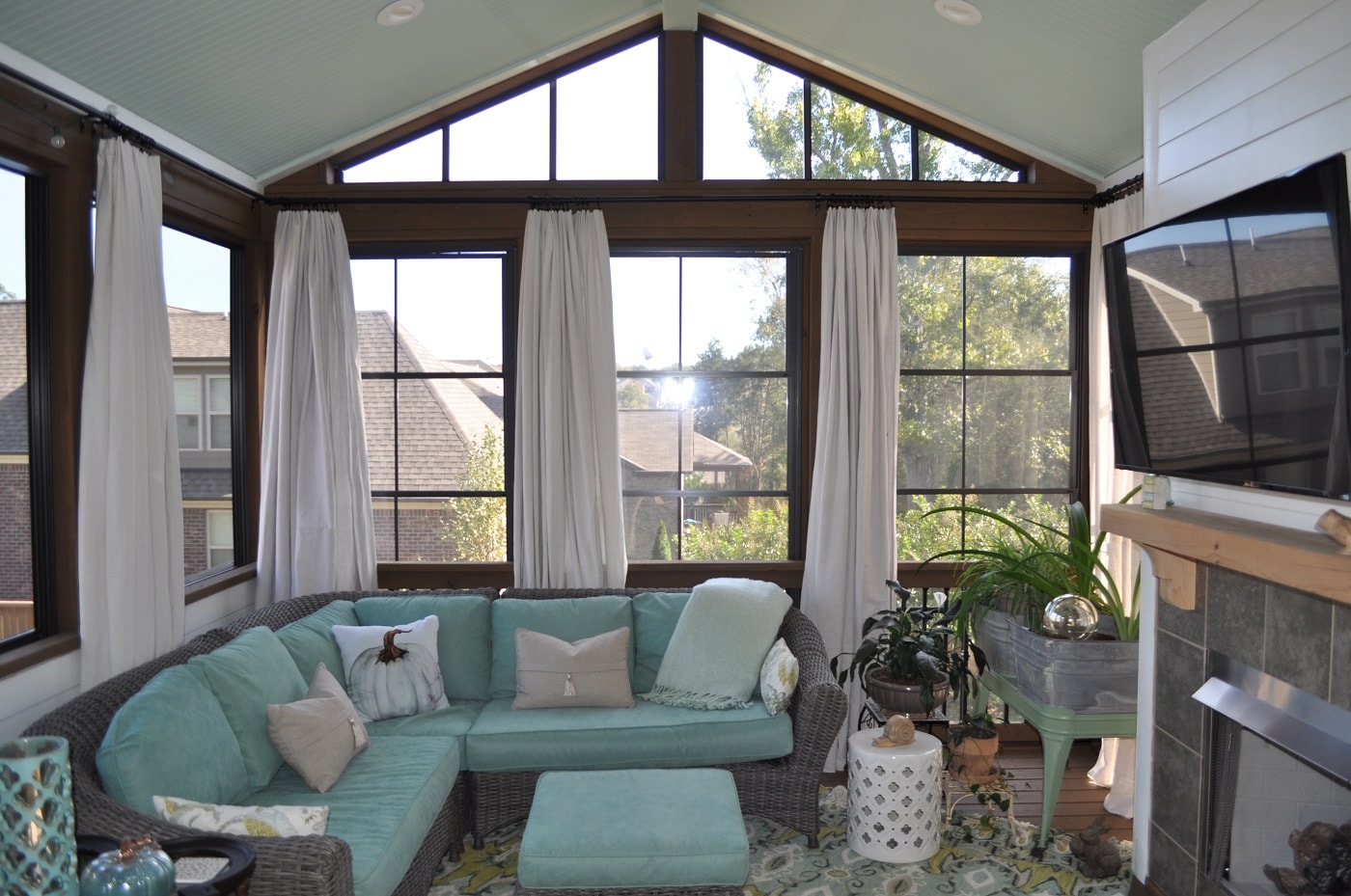 Many of our clients want a porch that's the equivalent of an outdoor living room. At Archadeck of Nashville, we specialize in custom outdoor living rooms designed for comfort and style.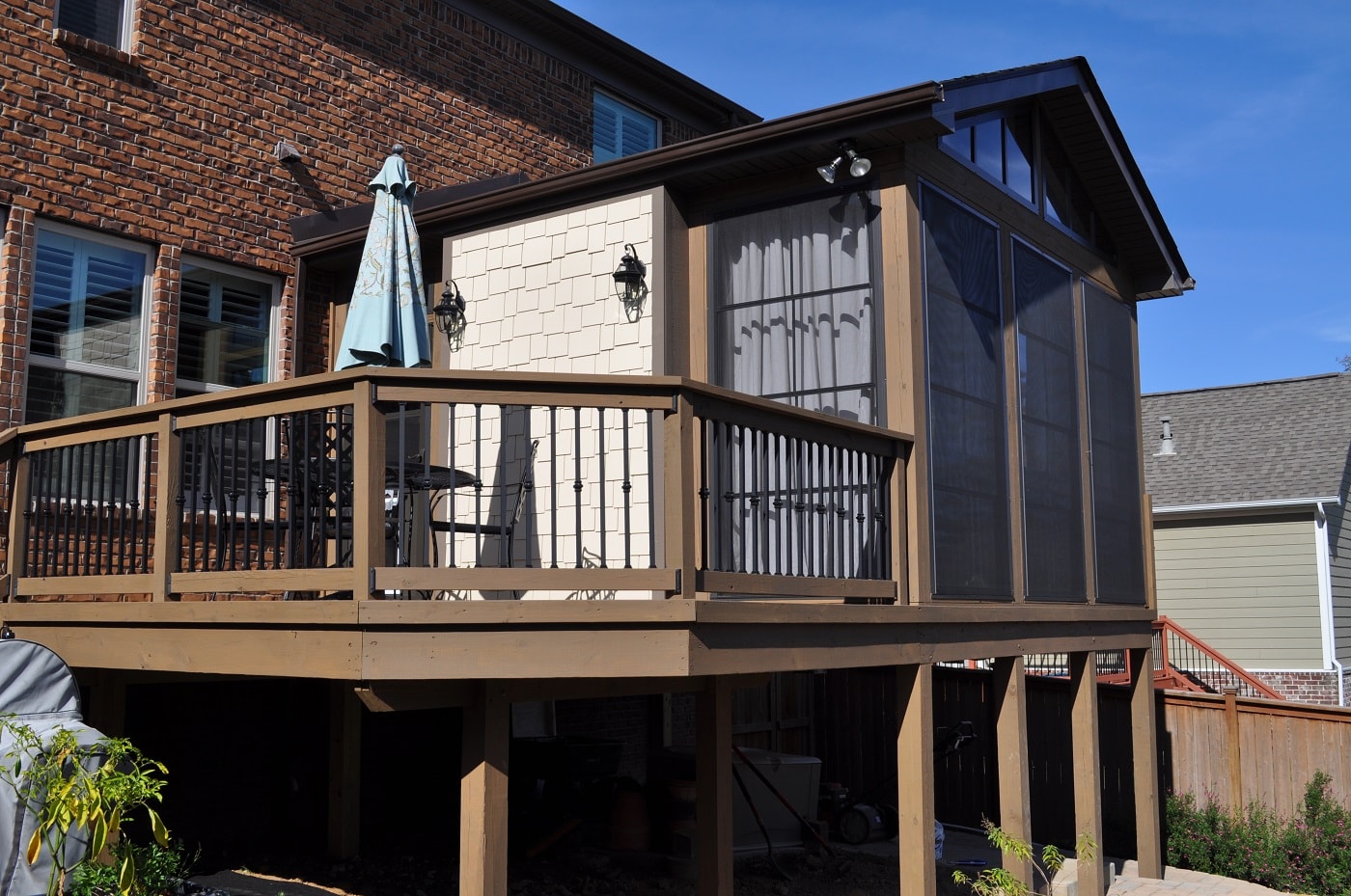 Whether you prefer an open porch or screened porch, what's most important is the porch roof. A porch roof shields you from harsh sunlight and rain so you can use your porch in almost any weather conditions. That's why a porch is the perfect complement to a deck. Together they provide an open-air space and a protected space, and that's what we call having the best of both worlds.
Beautifully-designed hardscapes pair well with porches and decks to create the perfect outdoor settings for relaxing and for entertaining. If you're having trouble choosing between a deck and patio or a porch and patio combination, why not combine all three? Like a deck, your patio can be open to the stars, but a covered patio appeals to many homeowners who want an outdoor kitchen. Either way, hardscapes introduce all kinds of options for outdoor living design. Seating walls, pillars and planters enhance any patio. Add a fire pit or outdoor fireplace to create a space where you'll want to spend more time.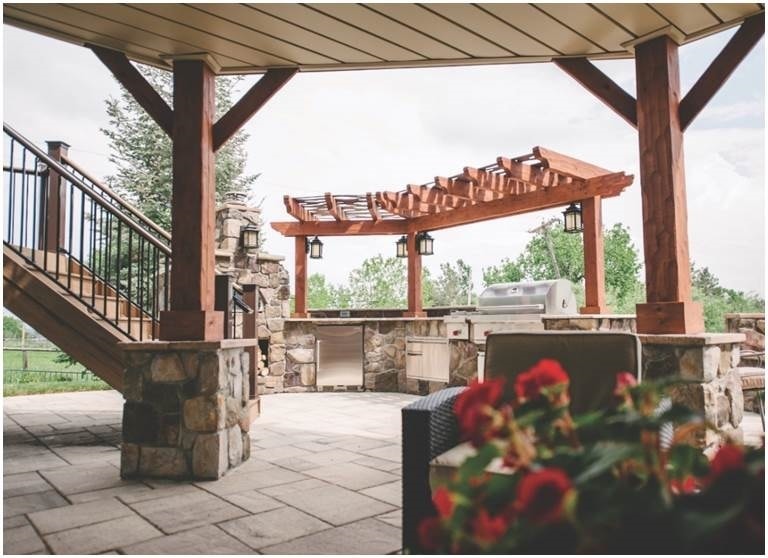 The options for paver patio design—including additional complementary hardscape elements—are almost endless. Archadeck of Nashville is certified by the Interlocking Concrete Pavement Institute (ICPI), so you know the hardscapes we build for you will be beautiful and trouble-free.
Can you see it now, in your mind's eye? Will the ideal outdoor living space for your Nolensville home combine a porch, deck, patio, outdoor kitchen and fire feature? Whether your perfect space for relaxing and entertaining outdoors will include "the works" or a simple deck or screened porch, let's get started!
Contact us today to schedule a design consultation for your perfect deck and patio or porch and patio combination.