Custom Outdoor Living Space Upgrades in Antioch and Brentioch TN
Whether your home is in Antioch TN or Brentioch, there are plenty of reasons to upgrade your outdoor living space. For some homeowners, it's simply the need for additional space for relaxing and entertaining outdoors. For others, it's the desire to replace old designs and materials with something fresh and new whether it be a deck, porch or patio. Whether you want to rethink your entire outdoor living space design, or just add another component, Archadeck of Nashville is here and ready to get started.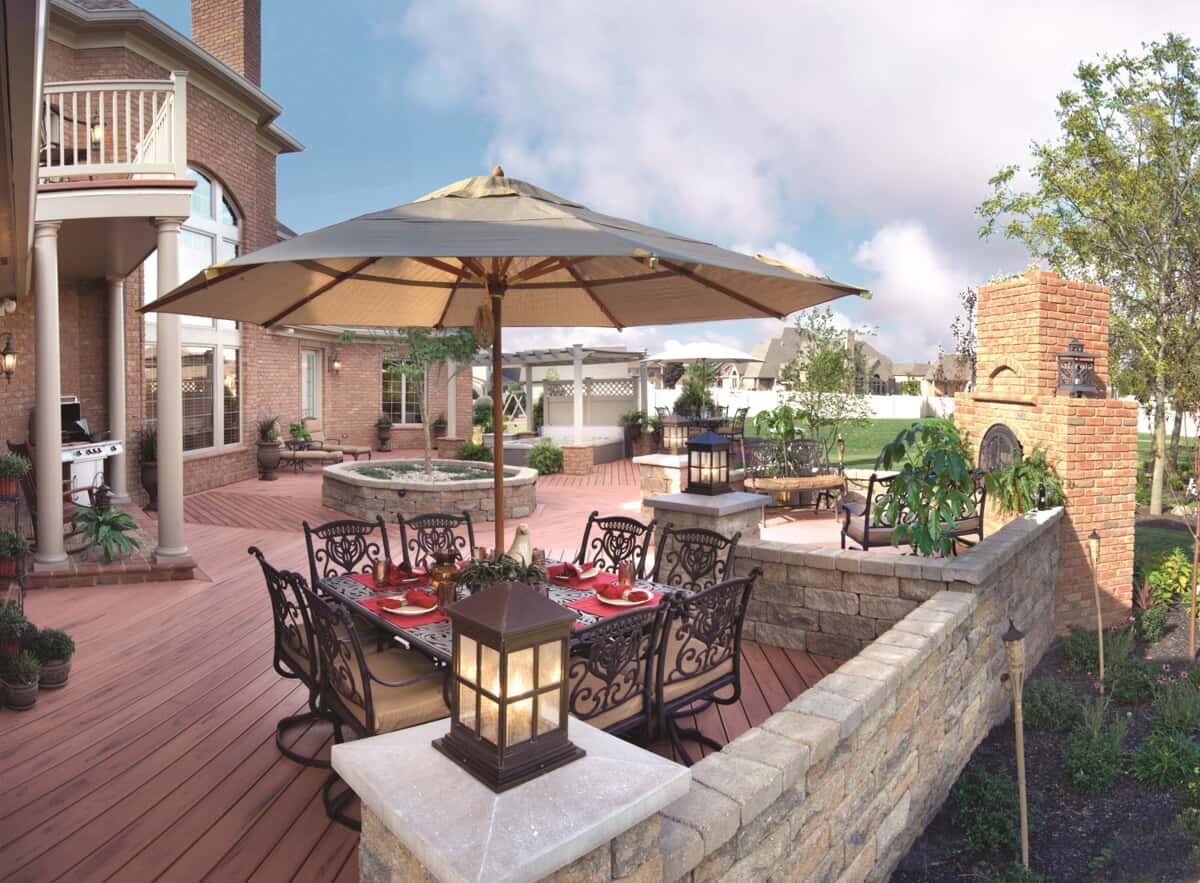 Ask Your Antioch Porch Builder: Open Porch, Screened Porch or Both?
Many Antioch homeowners love the natural progression from their home's interior to a screened porch and then to an open porch. It's wonderful to have the options of a more protected space—the screened porch—and less protected space—an open porch or deck. With both options, you're ready for anything! The versatility of this combination is unmatched. If you're thinking about converting your open porch to a screened porch, consider adding a new open porch, too.
If you're wondering, Will I use two porches? … the answer may be a resounding Yes! … especially if you enjoy entertaining outdoors.Archadeck of Nashville has an interesting process we call our "comprehensive needs analysis." We can use this tool to help you determine what kind of outdoor living structures—and what size—will meet your needs. Two porches may be the perfect fit for your family's outdoor living lifestyle.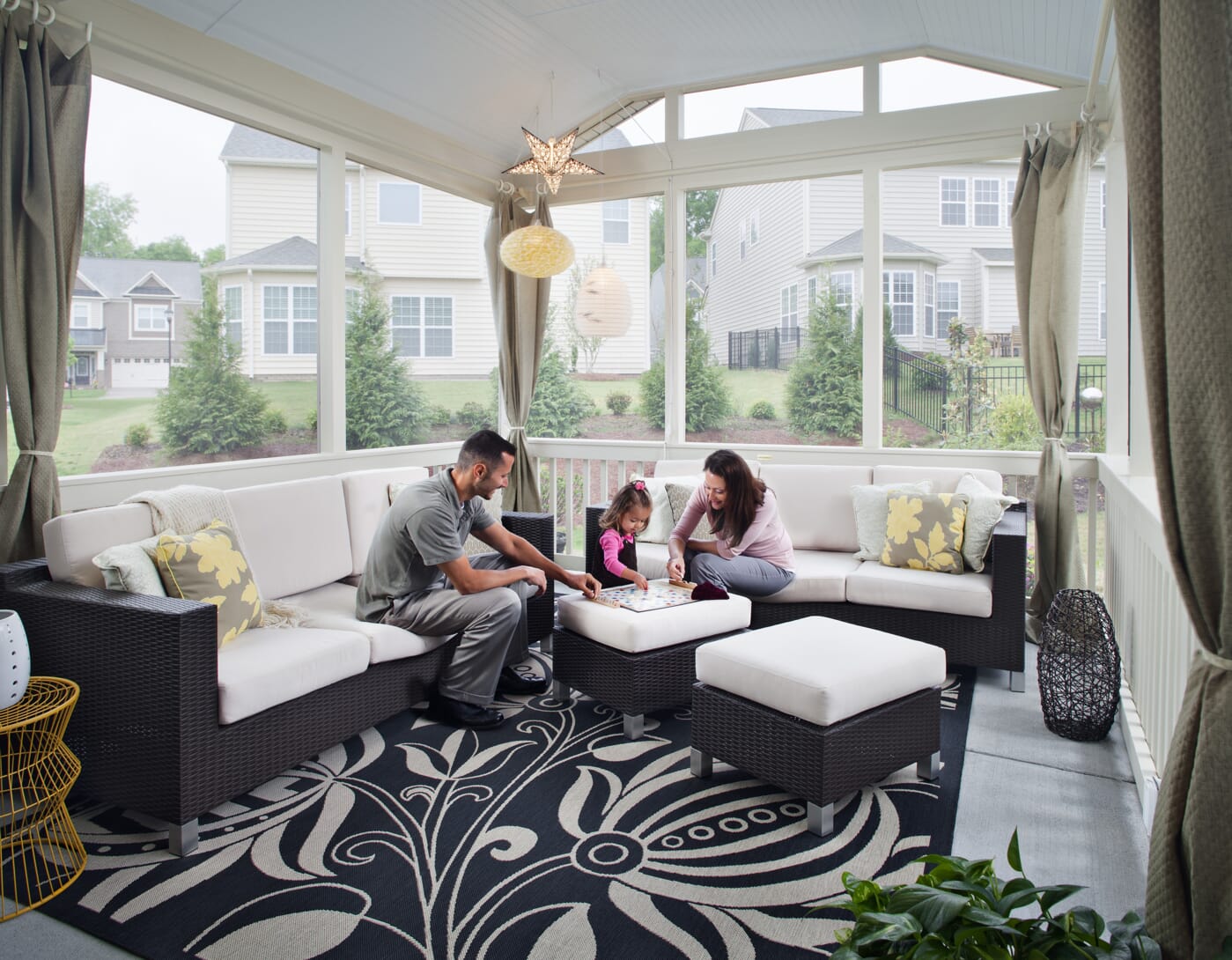 ​
There's another option that comes up when we talk about porches, and that's the Eze-Breeze 3-season porch. We can help you weigh pros and cons to determine if this type of porch upgrade is right for your Antioch home. The Eze-Breeze system combines screens and crystal-clear vinyl window panels. With this system you'll have the option of switching from windows to screens any time throughout the year.
Read more: Should you add a screened porch or 3-season room to your Nashville home?
Archadeck is the Brentioch Porch Builder Designing Outdoor Living Rooms
Dreaming of a porch that feels like an outdoor living room? Call Archadeck of Nashville and we can explore what that means to you. Have you been saving photos of your inspirations to Pinterest, or do you have your ideas tucked away in your head? Either way, we can collaborate with you to bring your outdoor living ideas to life at your Brentioch home.
For inspiration: Archadeck of Nashville is the premier deck and porch builder for Brentwood, TN
For Deck Upgrades, Archadeck is Your Antioch Deck Builder
Deck upgrades can take several different forms. If you have an older wood deck that's nearing the end of its useful life, it may be time to replace that deck. Your biggest decision will be whether to replace it with another wood deck or change to a low-maintenance composite or synthetic deck. It's a personal decision, partly financial and partly aesthetic. You may already have a strong opinion in favor of or against such a change. If you would like help making the decision, we can guide you in evaluating the options.
In some cases, we can engineer a deck upgrade through a process called redecking. If the substructure of your deck is sound and up to code, redecking could be an option. In this process we replace the deck's surface boards, railings and stairs while re-using the original deck's support structure. Redecking saves time and money, and the result looks like a brand-new deck!
Read more: Is it really worth the investment to upgrade your Nashville deck to composite decking?
Whether you're replacing your deck or redecking, this is the time to make any other changes you have thought about. Would you get more use out of a larger deck? Could we improve the traffic flow on your deck by relocating the deck stairs? With pets or young children, you might want to add a gate.
Can Your Brentioch Deck Contractor Build Shade into Your Deck?
Adding shade cover to a deck has become popular with local homeowners. Archadeck of Nashville can design a roof over part—or all—of your Brentioch deck to deliver the shade you desire. You've seen covered patios; now picture a similar extension of your home's roof providing shade for your deck. Or perhaps you have a pergola in mind? A pergola adds style and dimension to a deck but may not provide sufficient shade.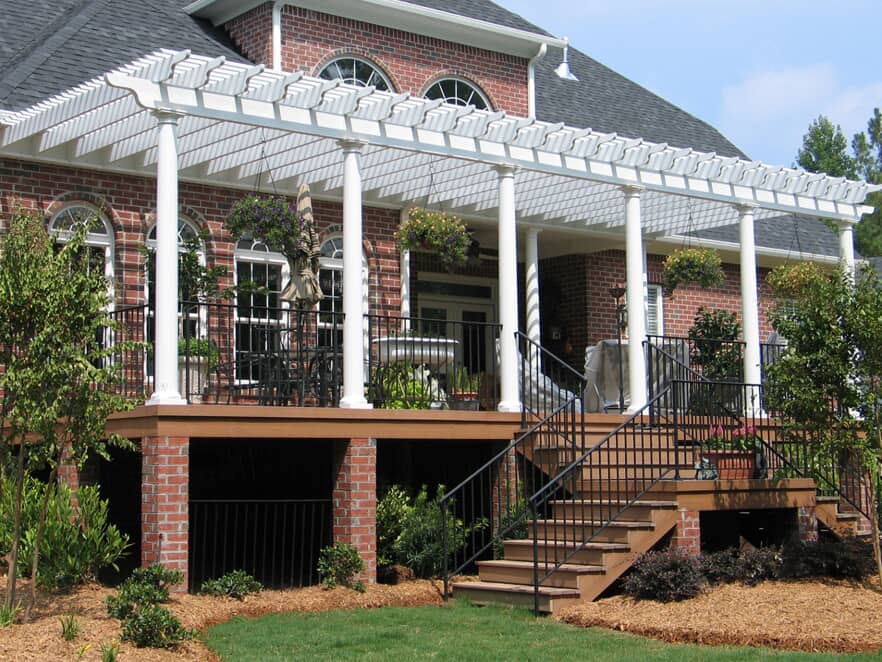 ​
Archadeck is Your Brentioch Patio Builder, too!
Are you looking to upgrade your Brentioch or Antioch patio? Archadeck of Nashville can offer plenty of ideas, but chances are you already have something in mind. If you have an older patio, you may be drawn to the newer styles of pavers and the matching blocks used to create vertical hardscapes. Seating walls add dimension to your patio design and reduce the need for extra chairs taking up too much space. Stone pillars or planters can also enhance your patio and add depth and character to your outdoor living space.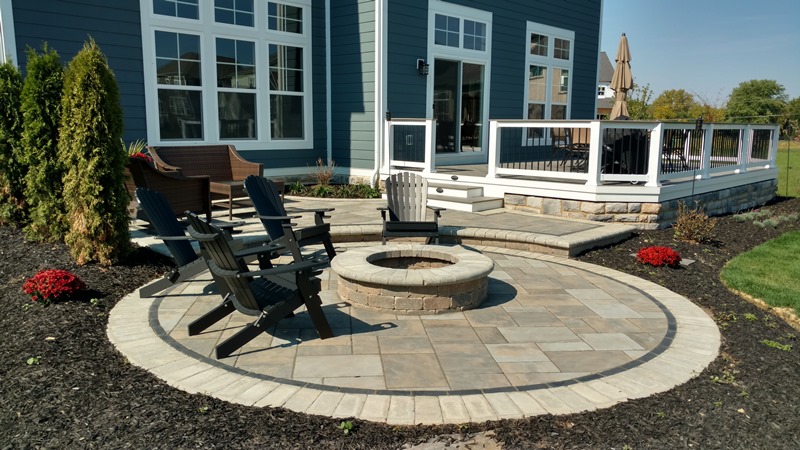 ​
Perhaps you are dreaming of adding an outdoor kitchen to your patio. If you spend as much leisure time outdoors as possible, or love to entertain outdoors, an outdoor kitchen is an excellent investment. It practically pays for itself in convenience, saving you from having to run in and out of the house to prepare food and bring it outside.
How much of an outdoor kitchen would you like? Our custom outdoor kitchen designs range from top of the line, with all the bells and whistles, to simple and straightforward. Maybe all you need, besides your grill, is a fridge and a counter surface for food prep. It's up to you!
Another very popular upgrade to Brentioch outdoor living spaces is the fire feature. Choosing between a fire pit and an outdoor fireplace can be a matter of scale. If your outdoor living area is compact, a fire pit may be sufficient while an outdoor fireplace could overwhelm the space. On the other hand, if your yard offers room to expand, an outdoor fireplace could be the perfect addition to your outdoor living space. Is an outdoor fireplace something you've always wanted? Maybe it's time to give that gift to yourself!
Is a Covered Patio the Ultimate in Brentioch Outdoor Living?
If your patio doesn't include a covered space, you're missing out on some prime patio time. Are you staying indoors on days when it's just too hot to sit in the sun? Let's add a roof to that patio—or to a portion of it, if you want the option of sitting in either sun or shade. Whether it's a freestanding roof structure or one tied into your home's roof, a patio cover gives you more than just shade. With a patio cover, you have a place for ceiling fans and new options for lighting, too. A covered patio may be the best upgrade you can make to your Brentioch or Antioch TN outdoor living space.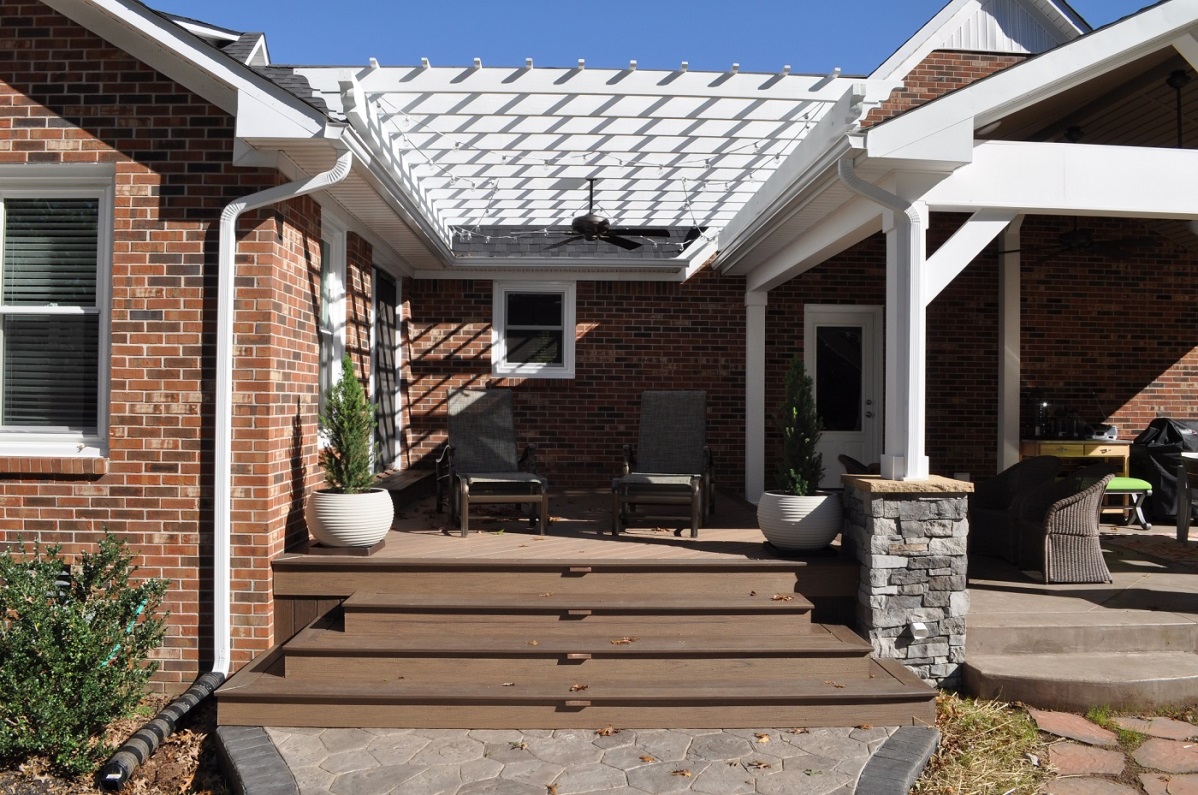 Contact us today to schedule a design consultation for your porch, deck and patio upgrades.