HENDERSONVILLE, TN'S, BEST PORCH, DECK & PATIO CONTRACTOR
Isn't it time you started living the outdoor lifestyle you deserve with a new porch, deck or patio for your Hendersonville, TN, home?
Archadeck of Nashville is the Hendersonville-areas go to contractor for all things outdoor living. This includes porch additions, deck additions and patio and hardscape additions. We can translate the vision of your ideal outdoor living space into a one-of-a-kind design that will make you the envy of the neighborhood! Our attention to detail and quality workmanship are unmatched when it comes to delivering a truly custom outdoor space. We listen closely to our clients' needs and desires in order to craft a custom deck, custom porch or hardscape that fits your home and lifestyle perfectly!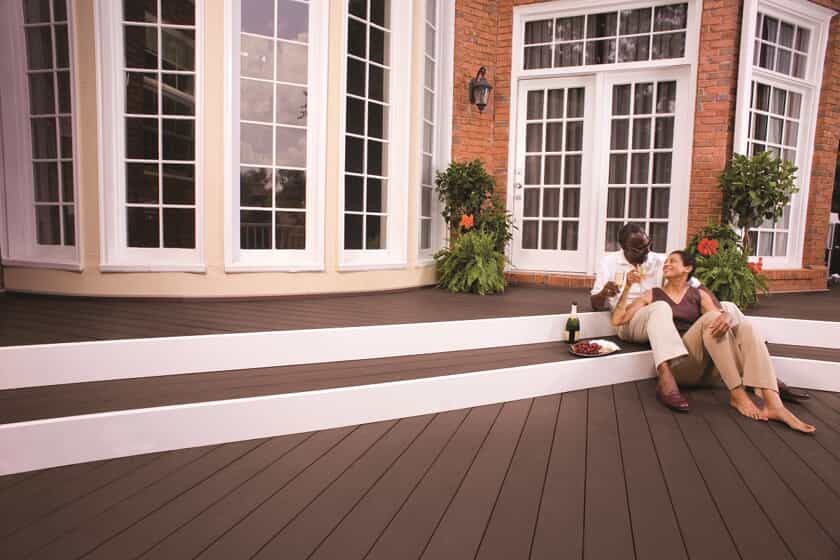 Hendersonville, TN, Low-Maintenance Outdoor Living
We specialize in being able to provide quality outdoor spaces for homeowners with varied budgets and lifestyle needs. Our deck and porch portfolio includes the premium low-maintenance composite brands TimberTech and AZEK, along with traditional pressure-treated wood and hardwoods.
We also design and build custom paver patios, which serve as another medium for low-maintenance, high-aesthetic outdoor living.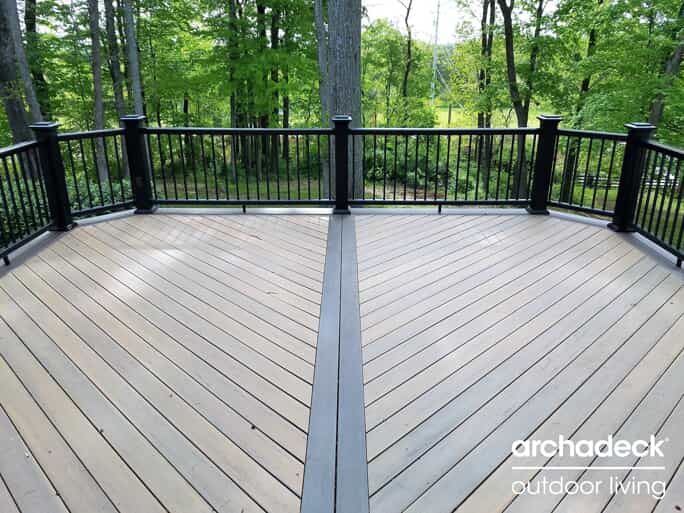 With low maintenance outdoor living the rigor and responsibility of regular upkeep becomes a thing of the past. While you are enjoying your new or upgraded outdoor living area, you will no longer have to worry about the periodic care that some woods require.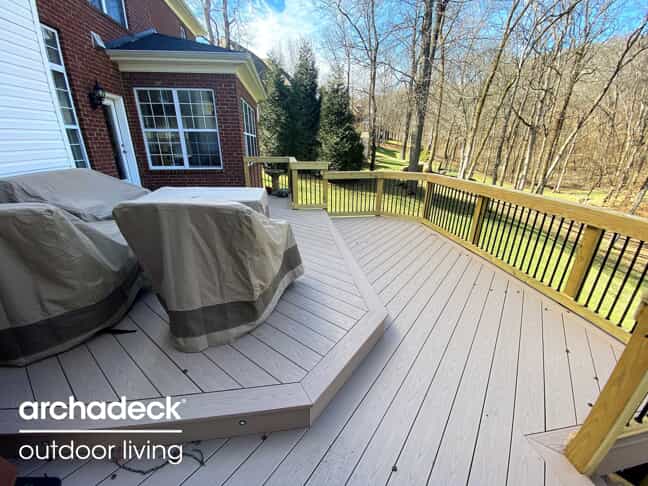 When comparing composite decking to wood, composite requires less stringent maintenance than wood since most composite deck boards have a core composed of a blend of wood and synthetics. This core is surrounded by a synthetic coating that prevents moisture and insects from creeping in and compromising the integrity of your deck.
We can't wait to show you what we can do. Give us a call today at (615) 640-3628to schedule a complimentary design consultation.
Hendersonville Patios And Hardscape Contractor
Just as we pointed out in our story Nashville's Unsuspected Low-Maintenance Backyard Structure; The Patio, many clients are pleasantly surprised when they learn that hardscapes such as paver patios, are low-maintenance. Paver patios, when properly installed, are as reliable and stable as concrete patios. They last just as long as concrete patios and require only minimal maintenance reducing the time you spend laboring over the constant cleaning, staining and maintenance of a wooden structure.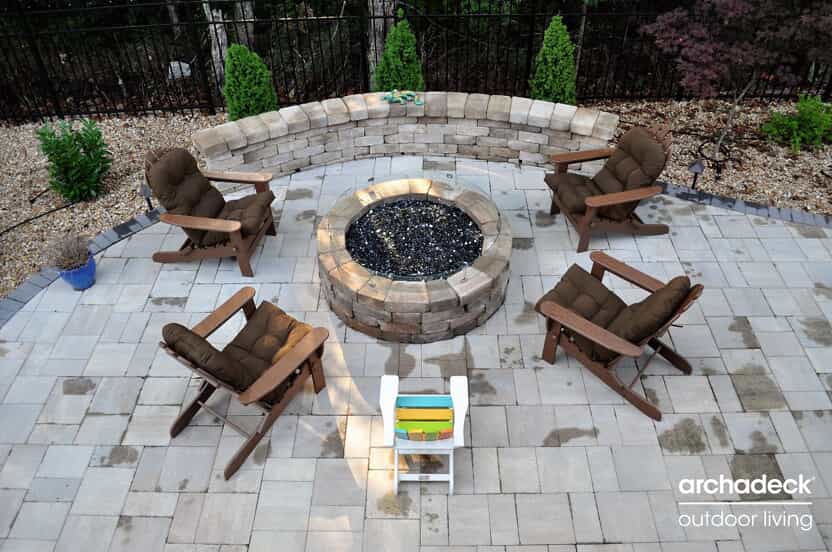 Our patio designs require very little attention on the part of the homeowner aside from just maintaining them with common sense practices to ensure their aesthetics; that is keeping leaves blown off the patio, grilling spills, cleaning up mud where the dog tracked it from the yard on a rainy day, etc.
Archadeck Best warranties, best in class customer service, 30+ years
Contact us today for a design consultation and get started on bringing the outdoor living space you have always dreamt of to life at your Hendersonville, TN, home! You can reach us by phone at 615-547-2333or send us an email at nashville@archadeck.net.
Hendersonville Deck/Porch And Patio Combinations
Choosing a deck or porch built from one of our high-quality, low-maintenance decking material options paired with a paver or patio will also provide double the low-maintenance qualities. This is because patio and hardscapes are considered low maintenance in their own right. Paver patios, in particular, are becoming more popular with Hendersonville homeowners who are seeking low maintenance, durability, and stability in their outdoor living space. In fact, more than 200 million square feet of pavers have been installed throughout North America.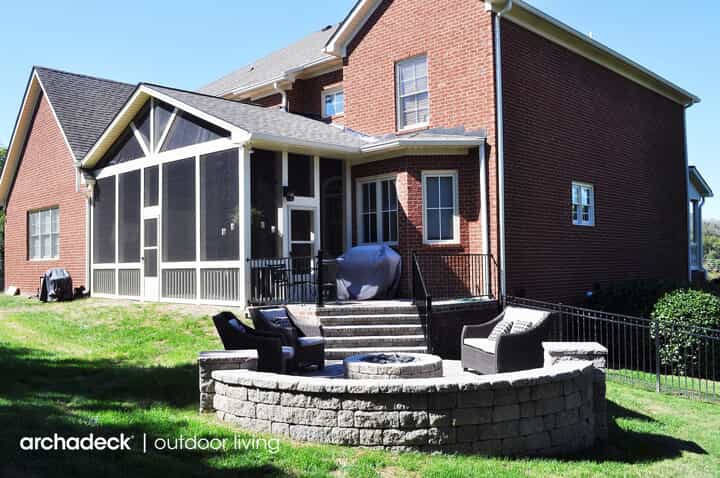 In some cases, making the decision to integrate a patio into your project design in lieu of opting for just an oversized deck can be more economical as some hardscape materials are budget-conscious and this means more benefit for your buck, so to speak.
Exploring Your Options In Hendersonville Covered Porches, Screened Porches, And 3 Season Porches
Perfect porches for joyous and casual outdoor living are one of our hallmarks. The question is: "Which type of new porch or porch upgrade is best for you and your needs?"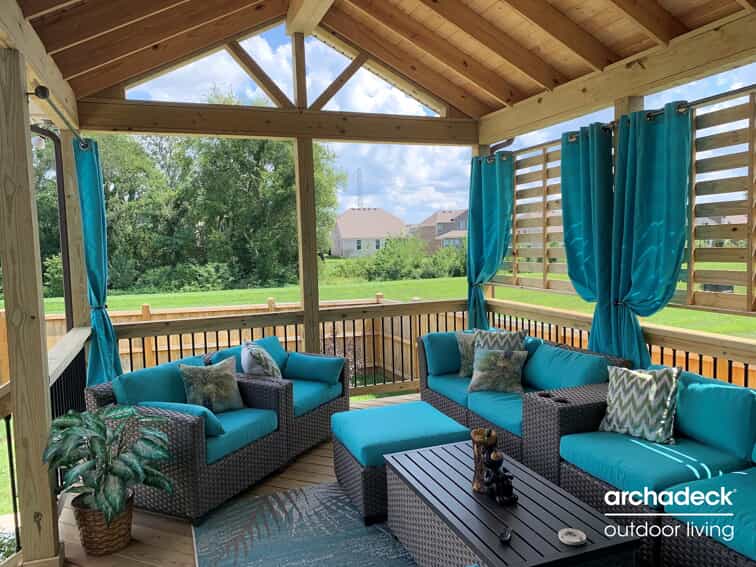 Open Porches: An open porch protected by an overhead cover or roof extension is a terrific way to enjoy the views of your exterior yard and landscape while protecting yourself from strong sun rays and occasional fallen tree debris and rainfall. As Hendersonville porches provide protection from inclement weather and plenty of shade, they can also help increase the aesthetics of your home increasing the value of your home and the value of the time you spend outdoors. Depending on the function you have in mind, they also work well as part of an outdoor living combination space. Outdoor fireplaces, adjoining decks and patios, and even outdoor kitchens work well in unison with today's modern porch designs.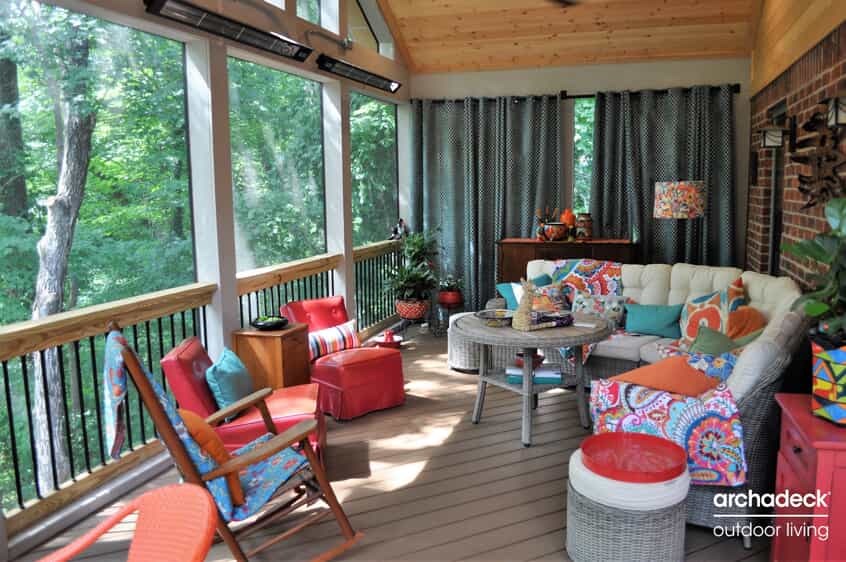 Screened Porches: Screened porches give you extended protection from debris, allergens, harmful UV rays and insects. Archadeck takes great pride in our long list of satisfied screened porch customers within the Hendersonville and greater Nashville area. We build the tried and true traditional screened porch designs and also stay in tune with up-and-coming design trends to give you more choices. Our screened porches are designed with a keen eye for the holistic way homeowners view their backyards with the goal of creating an outdoor escape.
3 Season Porches: A 3 season porch is essentially a screened-in porch with the addition of a track window system. Beautiful glass or vinyl windows allow you to essentially close your porch during any unpleasant weather, cold seasons, or dreaded springtime pollen.
With cozy walls and possibly a small space heater or outdoor fireplace, a 3-season room can be enjoyed earlier in the spring and later into the fall, even reaching into those mild early winter days, depending on where you live in Tennessee.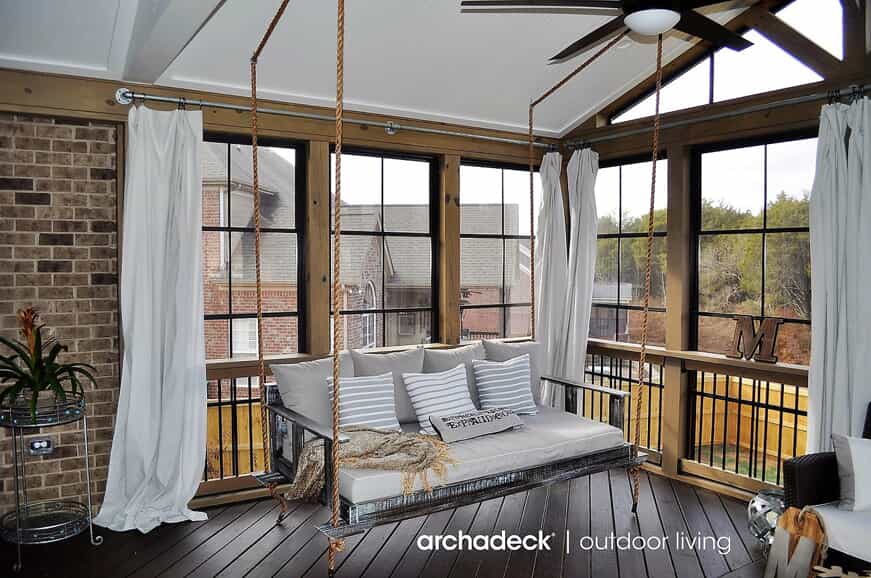 Will A New Or Improved Deck Or New Patio Add Value To My Hendersonville Home?
Especially among budget conscious clients who want to improve or expand their outdoor living options within their backyard, this question sometimes comes up.
Our answer is two-fold.
1. Yes, if you are referring to adding value to your life. The value of being able to live more spontaneously in a fresh outdoor environment is worth its weight in gold.
Transitioning your indoor entertainment to your outdoor landscape is wonderful as it allows you a more relaxed platform to enjoy the company of your family, friends, and guests while enjoying yourself.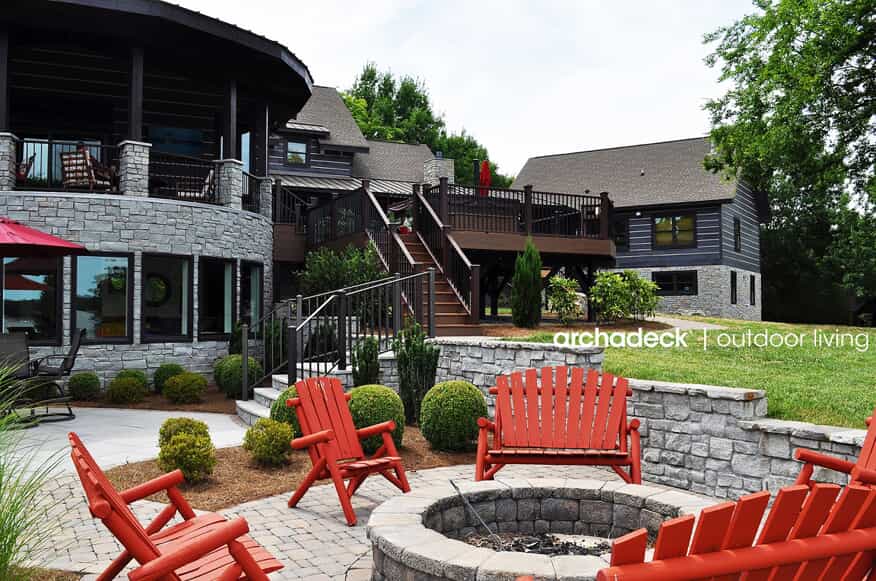 Concerns about the wear and tear on your interior surfaces diminishes as your new venue is your backyard and all that it affords.
Surrounded by the gifts of nature, you'll enjoy fresh air, gentle breezes, and the splendid scenes of green grass, perennial flowers, landscape ornamentation, and water and fire features, should they be a part of your exterior surroundings.
2. Yes, if you are referring to monetary value. Our research indicates that a well-designed patio can bring an ROI of more than 80% when you sell your home. Likewise, you may be able to recoup as much as 66% of the cost of a new wood deck.
From a different perspective, though, consider that simply adding a new patio or deck may help you sell your home. If the majority of homes listed in your neighborhood have an impressive deck or patio and yours does not, interest in your home may be affected.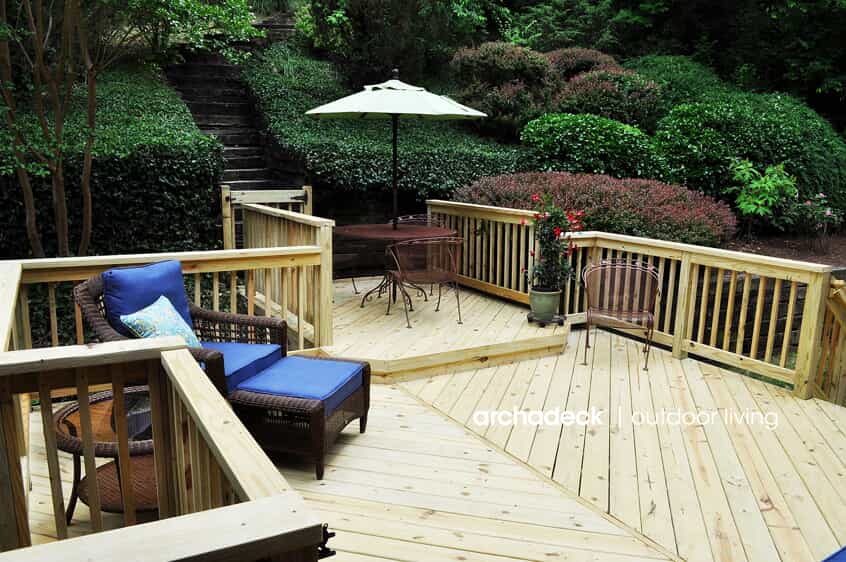 Relative to timing, if you do plan to sell your home in the very near future, a wood deck will provide the better return. Research shows that a new wood deck addition increases a home's resale value by about the same amount compared to a composite deck. This comparison assumes the wood deck has not begun to look weathered from age and lack of maintenance. Obviously, a weathered deck will detract from your home's value and reduce your home's appeal in the eyes of prospective buyers.
Are TimberTech And AZEK Low Maintenance Decks And Outdoor Structures Worth The Cost When Compared To Pressure-Treated Lumber In Hendersonville?
Again, this is best answered with some introspection of emotional value versus financial value.
The longer a composite deck lasts, while still looking great, the more value it delivers. As we have worked with each new version of composite decking, we have seen these decks increasingly hold more value over time.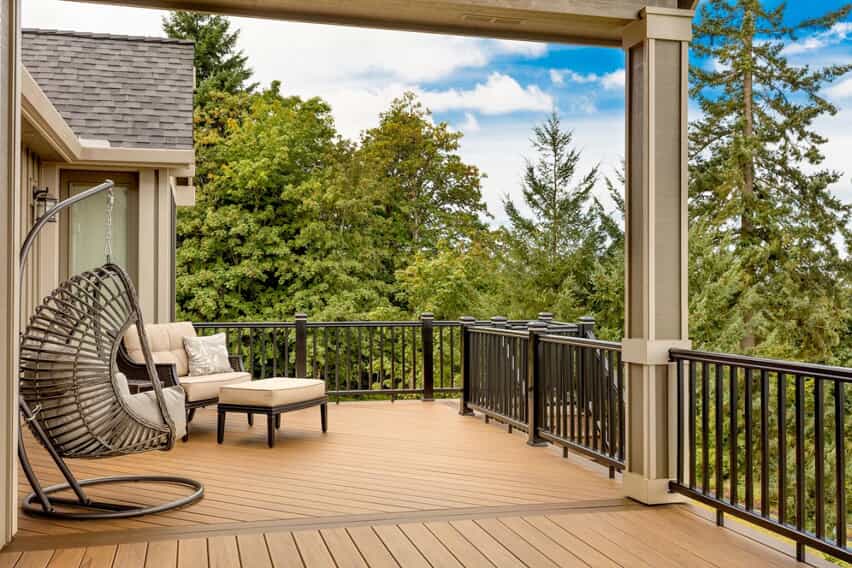 Today's low-maintenance composite and synthetic decking boards will last longer than those that came before, as technology in the manufacturing process continues to evolve.
We have already been hired to replace decks built with early versions of low-maintenance decking. Decks we build today with the newest TimberTech composite and AZEK synthetic materials are going to be around for a long, long time. You can depend on the manufacturers' warranties – 25 years and more in many cases – as an indication of product durability.
Our cost comparison of wood decks versus composites and synthetics centers on one thing: a deck that's durable and looks great, year after year. If you purchase a wood deck, you need to understand that keeping it looking great requires an ongoing financial investment as well as time. When exposed to sunlight, rain and snow, wood will degrade over time. To protect the wood and restore its appearance, you need to sand, stain and seal the wood annually – or at least every other year. Otherwise, you will soon have a weathered deck that has seen better days.
The Value Of Building A Hendersonville Low Maintenance Deck And Patio Combination Space
Hendersonville low maintenance deck and patio combinations are more popular and in demand than ever. As the area's premiere deck and patio builder, reasons for these favored outdoor combination spaces are numerous.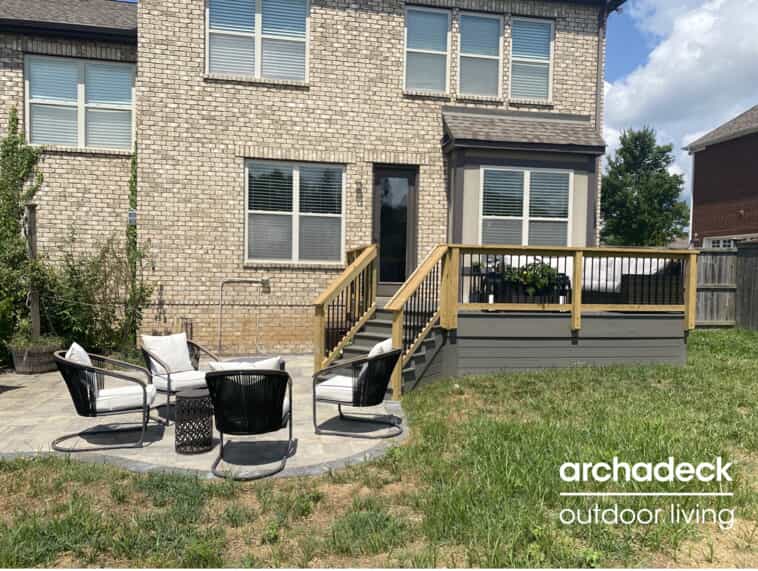 More Usable Space: With a new or upgraded deck, adding a hardscape patio adjacent to it or below it creates a whole new vista for outdoor leisure enjoyment, relaxation, and entertaining. How about cocktails and appetizers on the new patio for free flowing conversation, and then moving to an alfresco dining space on the deck? It sounds luxuriously inviting, doesn't it?
More Variety: With combination outdoor living spaces, the only limit to how you use and enjoy them is your imagination. For example, sunbathing and outdoor reading is enjoyable just a step or two outside your home on your new deck. But for more open real estate, a patio that stretches to your rear lawn may be a desirable alternative. You decide as your backyard combination outdoor living space is your proverbial oyster.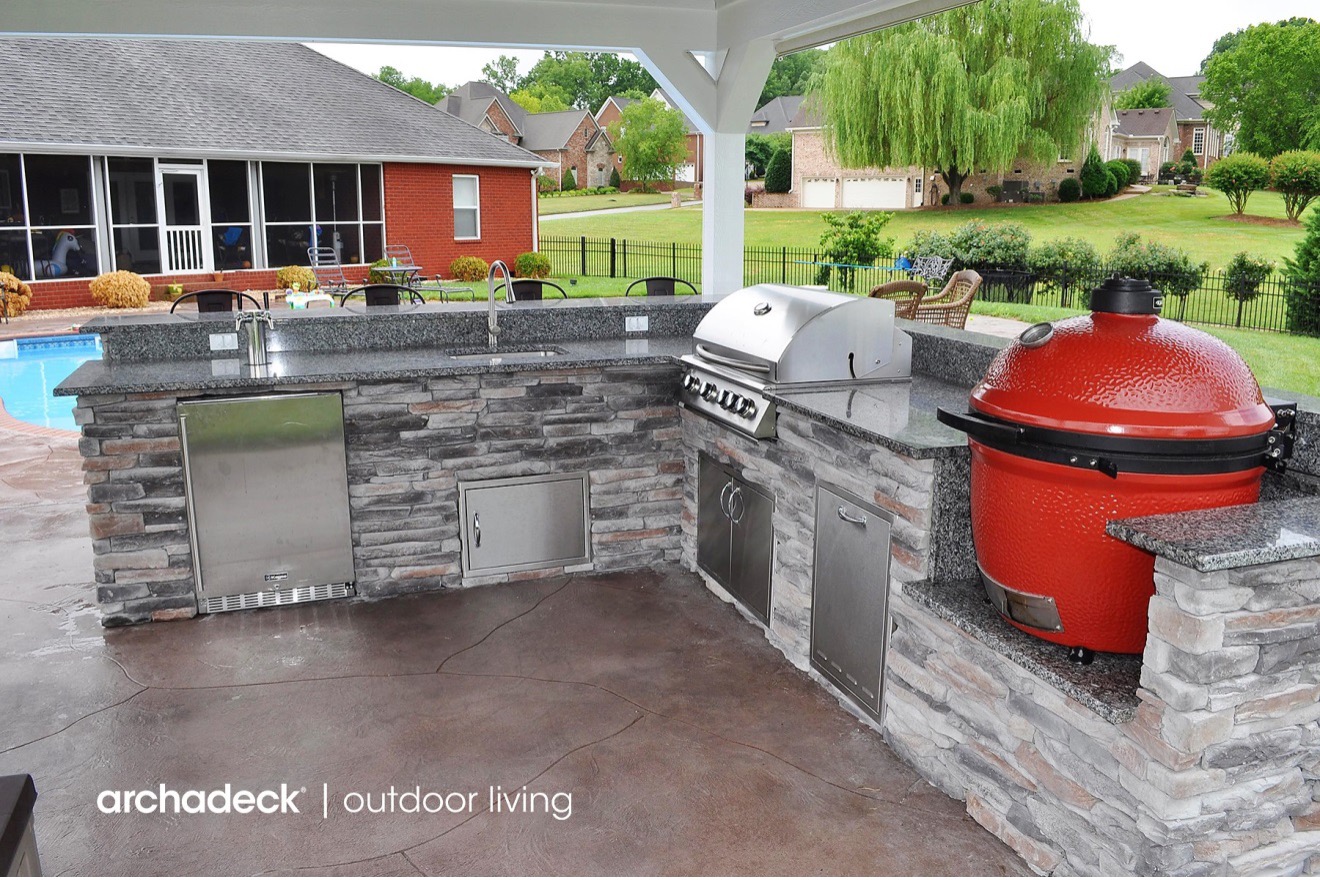 More Functionality: With multiple areas to choose from, you can more easily allocate different uses of your combination space to certain parts of your new backyard landscape. A dedicate grilling station for impromptu barbecues is a great example – as is the perfect location for that new outdoor kitchen. It's your call.
From a design standpoint, we can blend these structures and features and integrate them beautifully. Not only are they a joy to relax on, but they are also a joy to take care of. They are extremely low maintenance. A sweep of the broom or rinse of a hose gets the job done nicely.
Archadeck Serving Hendersonville Is Your Combination Outdoor Living Space Expert
Ever since the COVID pandemic hit, the process of dealing with multiple vendors and craftspeople for home improvement construction has become a daunting task. Phone calls ignored – or not returned. Promises to show up at designated times that never happen as planned. It's enough to drive a person bonkers.
So as you do your research on what outdoor living space design and build contractor to select, you are most likely to hear from your Hendersonville and nearby Nashville friends and fellow homeowners that Archadeck is unquestionably the very best choice for designing and building outdoor living structures. Our unsolicited testimonials are documented proof.
Russell and Magan Henderson, the local owners and design experts, strive to hone in on how, unlike other builders, Archadeck makes the whole journey of your process to a new outdoor living space seamless and stress-free.
There is a belief among many homeowners that ANY type of renovation or remodeling project is a headache. With Archadeck, we now know that is not the case.
And to be upfront, we don't claim to be perfect, although we sure as heck try. But when problems arise, we will make it right. Don't take our word for it. For more validation, feel free to view our Google reviews to see what our customers have to say about our performance and responsiveness.
Enjoy Hendersonville Patio Perfection From Your Expert ICPI-Certified Contractor
Kudos from your clients are great and well appreciated, but a badge of honor from your industry is just as cherished. Such is the case with our ICPI Certified Installer designation from the Interlocking Concrete Pavement Institute.
As an ICPI-certified patio designer and builder, our team is exceptionally qualified professionals, thanks to their specialized training. For example, ICPI Certified Concrete Paver Installers have passed a written exam. We are well-versed in the industry's best practices and stay up to date as new products become available.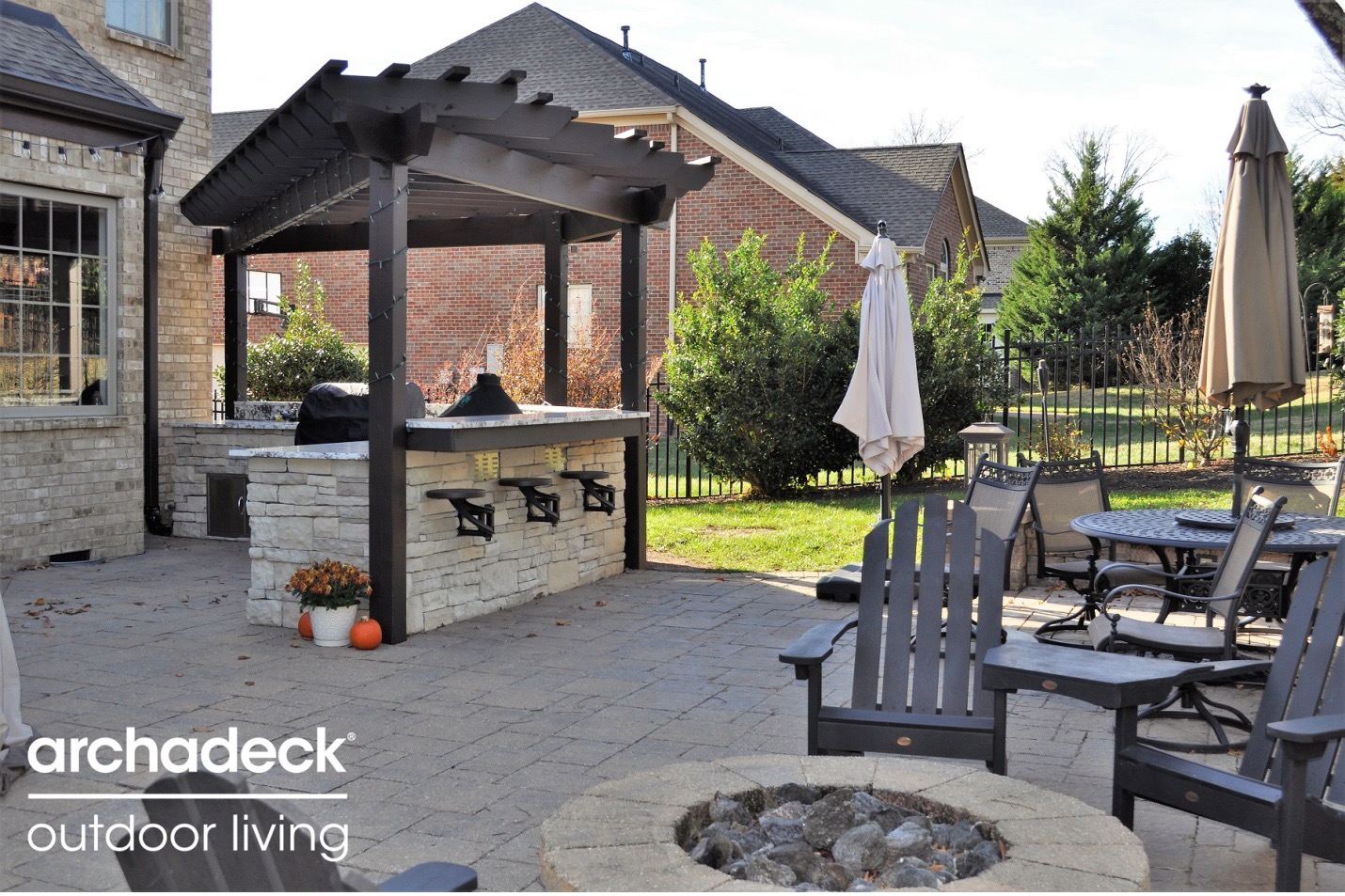 Furthermore, the work of an ICPI-certified patio builder meets their exacting specifications, standards, and construction guidelines. For example, your ICPI Certified Concrete Paver Installer has the technical expertise to prevent patio settlement and reduce seasonal movement of your pavers – an important attribute to say the least.
It Is Our Distinct Pleasure To Serve The Families Of These Hendersonville, TN, Neighborhoods:
Arrowhead
Ashcrest
Autumn Creek
Berry Hill
Blue Ridge
Bluegrass Landing
Breakwater
Cherokee Woods
Chesapeake Harbor
Country Hills
Creekside at Station Camp
Crest at Country Hills
Cumberland Hills
Cumberland Place
Drakes Pointe
Durham Farms
Forest Chase
Fountain Brooke
Glen Leven
Governors Point
Harbortowne
Hidden Point
Hunters Trail
Indian Lake Forest
Indian Ridge
Island Brook
Mansker Farms
Meadows of Indian Lake
Millstone
Monthaven Green
Otter Creek
Point O View
Riverchase
Somerset Downs
Southern Shores
Stonecrest
Stoneybrook
Tower Hill
Vintage Knoll
Windstar Bay
Winston Hills
Wynbrooke
Wyncrest
and many more! (Contact us for a complete list by clicking here or phone us at 615-640-3628)