Pergola Design and installation
Pergola Installers Near Me
Are you considering adding a pergola to your deck or patio design? Archadeck of Charlotte is your premier choice when searching for pergola design and installation. We've been serving the Charlotte area since 1988 designing & building outdoor living spaces for families all around the North and South Carolina area. Our consultative process starts with meeting with one of our design consultants to discuss your desired aesthetic, functionality, and budget to ensure that all of your expectations are understood and met. With a strong focus on customer service, you will have peace of mind knowing that you will receive custom designs, high quality builds, and unbeatable warranties.
Custom Pergola Designs
Archadeck of Charlotte builds custom pergolas specifically designed for you space. Depending on your desired aesthetic, our pergolas are typically constructed of either pressure treated pine or cedar. Pergolas offer a captivating design to your outdoor space while also providing some shade to enjoy more time outdoors. Although, not all pergolas are designed for functionality, some homeowners add a pergola to their deck or patio to create a unique design element. Your Archadeck design consultant will work closely with you to understand your needs and desired aesthetic when designing your pergola.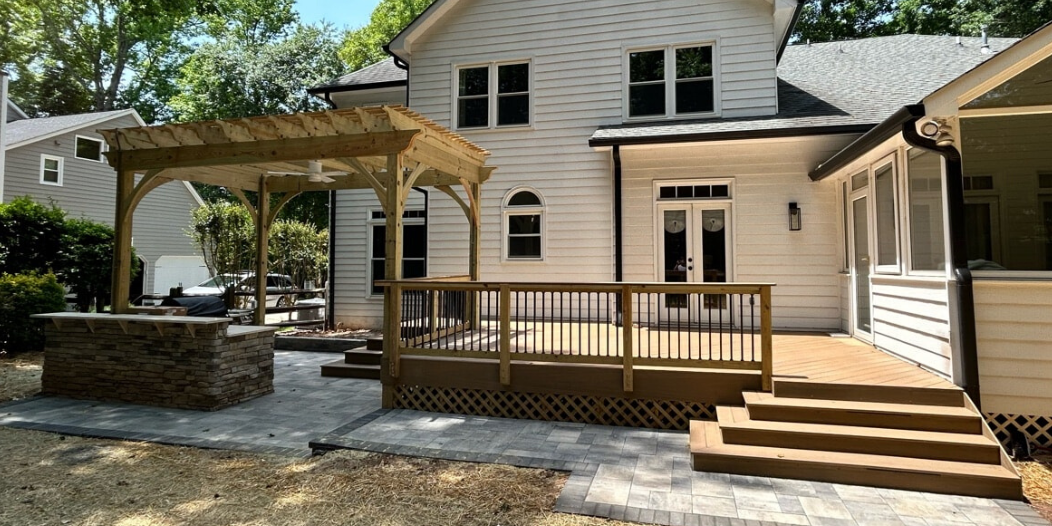 Why Charlotte Homeowners Search for Pergola Builders
Are you considering adding a pergola to your backyard or outdoor space? Here are some of the benefits of adding a pergola.

Shade protection: Pergolas offer partial shade and protection from the sun allowing you to enjoy more time on your deck or patio without the worry of harmful UV rays.
Aesthetic Charm: Adding a pergola to you outdoor living space can create a focal point that not only draws attention but adds dimension and charm to the space.
Expands living space: Pergolas add privacy to your home by creating a somewhat covered and more usable outdoor space. Create a dining area, living space, or outdoor kitchen under your pergola to create secluded outdoor enjoyment. With the addition of a privacy fence you can create even more coverage from nosey neighbors.
Versatility: An added benefit of a pergola is the ability to decorate it to your desired style. Add string lights, plants, or other outdoor decor to your pergola to create your personal oasis.
Covered Pergola

A common service Archadeck of Charlotte offers is the design and construction of a covered pergola. Because of Charlotte's mild weather, we are able to build an underdeck drainage system under your pergola to provide dry space and a finished look. If you are looking for complete coverage and 100% water proofing, an open porch may be the better option for you.
Charlotte Homeowners Share their Experience when choosing Archadeck as their Charlotte Pergola Builder

"Thank you Archadeck, we love our covered pergola. Can't wait to use it year round!" – Aileen Y
"I recently had a Pergola completed. Everything about the project from beginning to end was of the highest quality, if five star is the highest then that's what I'm giving I am I especially want to give kudos to Alex who was extremely patient in driving the project from beginning to end. Again, I'm giving as many stars as there can be given. Thanks again" – Jerry R
"In the fall of 2021 I chose Archadeck to construct a pergola because of their reputation for quality and design. During and after construction, they lived up to their reputation. Their supervisors, construction teams, sales personnel, and office support personnel were amazing. All were attentive to detail, worked according to the schedule, workmanship was excellent, and were a pleasure to work with. I would definitely select Archadeck again for any future projects." – Lousie B
Read more client testimonials.
Pergola Contractors Charlotte NC
Archadeck of Charlotte is the preferred pergola contractor for Charlotte homeowners looking to enhance their outdoor living spaces. With years of experience, we offer a consultative process that covers everything from the design to permitting, constructing, and ensuring client satisfaction. We focus on the details and strive towards the common goal of exceeding client expectations. Entrust Archadeck as your Charlotte pergola builder for a seamless design, hands-off process, and durable build.
Ready to get started? Schedule your complimentary design consultation with our team today! Reach out to us at (704) 850-6104
Check out our Pergola Photo Gallery