Deck Installers
Deck Building and Design Contractors Near You
There are few better ways to enjoy the beautiful weather than outside on your deck where you can take in nature without having to leave the comfort of your home. If you're ready to bask in the sunshine and maximize the possibilities your property has to offer, Archadeck Outdoor Living is here to help. We offer deck design and build services that will take that vision you have and bring it to life. Our expert team will first design what you have in mind to capture everything you want, and then our contractors will build your custom structure using the best quality products. Take a look at what our clients have to say about us, and see why we are the most trusted deck installation contractors!

Why We Are the Leading Deck Building Company in North America
Since 1980, Archadeck has been designing and renovating decks that transform outdoor spaces. Our decking contractors are highly regarded for delivering results that are on time, inside budget, and true to plan. Here are a few more reasons why people choose our team.
We secure all the proper permits for you.
Details on every deck component and product for your records.
Access to all deck construction and design details.
Carpenters, designers, and contractors with years of experience.
Warranties on workmanship and structural items.
Unlimited Options for Deck Features
Trying to decide exactly what to include in your new deck can be a difficult process. Some people get overwhelmed with all the possibilities. Thankfully, our design consultants have plenty of experience collaborating on projects in their earliest stages. Even if you aren't sure what you want, you can always reach out for feedback or to share your ideas!
Here are some popular deck design features you may be interested in:
Privacy Slats or Latticework
Wrap-Around Benches
Garden Features (Raised or Ground Level)
Specialized Lighting
Flying Insect Protection
Wind & Rain Protection
Time-of-Day Sunshine or Shade
Unbroken Outdoor Views
Glass Railings
Accommodating Trees (or Natural Features)
What Are The Benefits Of A Custom Deck?
Customizing your own deck may offer you and your family a number of exciting benefits. From enhancing your home's aesthetic appeal, to improving your home's functionality, below we list and discuss some of the top advantages of installing a customized deck in your home. If you are looking for a custom deck builder near you, consider some of the following benefits.
Some benefits of a custom deck include the following:
Extends your living area – Everyone loves options, and with a deck, you increase the square footage of your home. When the weather is nice, you can enjoy it without having to leave your property. When you have company over, it provides more space to entertain.
Increases your property value – Adding a deck to your home can increase your property value and is a great investment. It may seem pricey upfront but will pay off in the long run.
Enhance aesthetic appeal – Installing a deck is a great way to enhance both the look and feel of your home. Our expert designers will not only create a functional structure but one that matches the style of your home and increases the visual appeal.
Adds Functionality - A deck can add functionality to your backyard. You can take advantage of an extended living area by making use of it for various purposes. Whether you want to add plants to a new grill, the possibilities are truly endless! It also gives you and your family a reason to get outside in the sun or get some fresh air.
Contact our deck installers today to learn more about the many benefits that come with installing a customized deck in your home.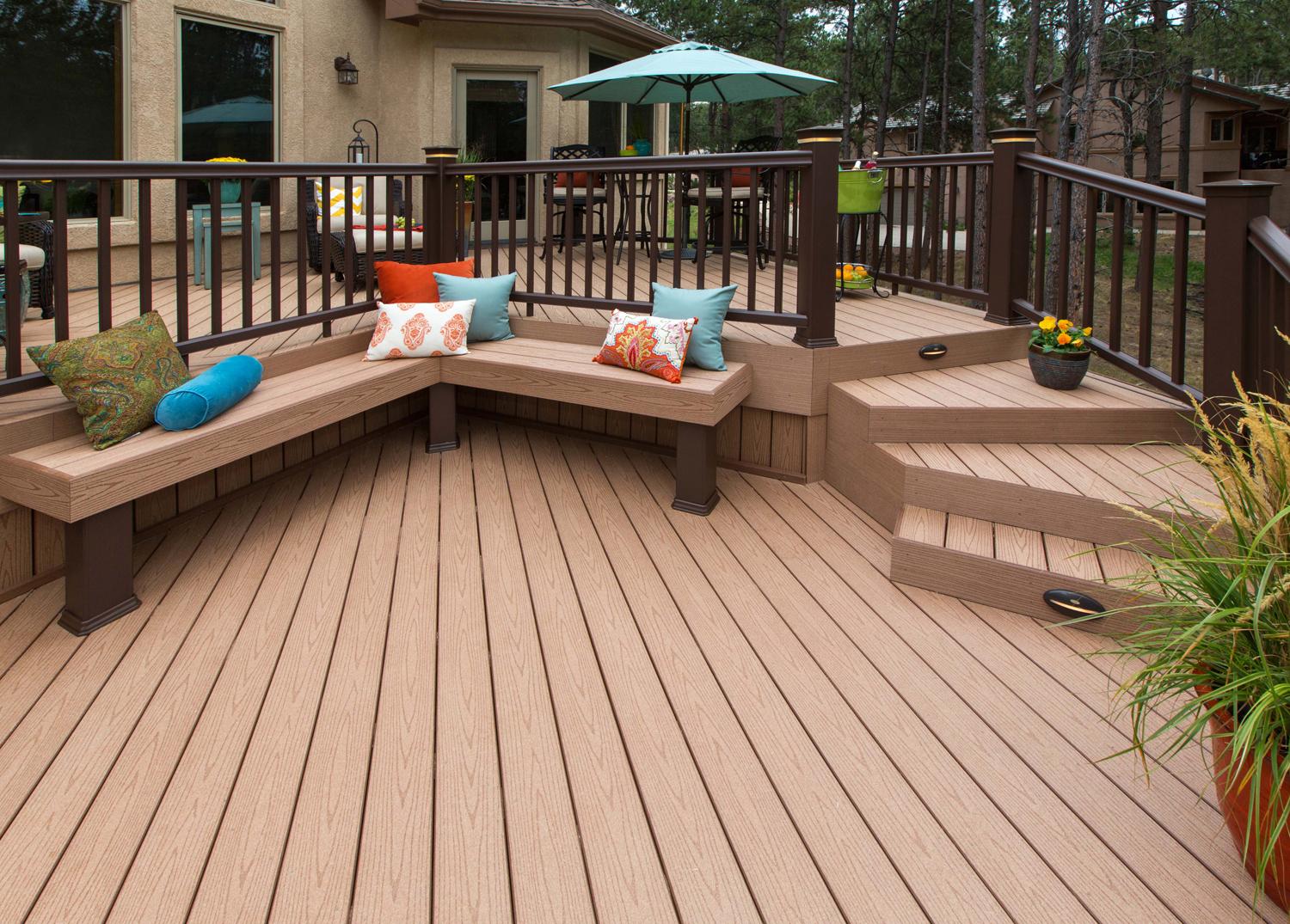 Why Choose Us As Your Deck Installers?
You may have several options when it comes to deck building, but few offer what Archadeck does, and our deck building reviews can vouch for it. Backed by over 40 years of experience, you can count on guaranteed workmanship and the highest-quality client service. Our ability to design and build your deck from scratch is what truly sets us apart from the competition.
Many homeowners have an idea of what they want but aren't entirely sure. We can take into consideration your preferences and then design an idea that will perfectly accommodate what you're looking for. Our deck designers enjoy helping you decide which amenities to include – and which ones aren't necessary.
Backed by the Best Warranties in the Industry
The Archadeck team puts client satisfaction at the forefront of our services. That's why we offer the best warranties in the industry. Simply put, we guarantee that our work will be completed to your satisfaction. We do so by using our Job Process Methodology that ensures the structure is well-built, and we only hire team members who are trained, licensed, and certified in all applicable areas.
Suggested Reading: