Nashville Porch Builder, Serving Franklin, TN

Franklin, TN, residents already know their hometown is an oasis of true Southern hospitality! This middle Tennessee town has earned recognition as an authentic, eclectic community whose locals have never met a stranger. As a trusted Nashville porch builder, Archadeck of Nashville proudly services this area, from the lovingly restored classic period homes along the 16-block National Register district to Franklin's abundance of elegant new constructions and classic farmhouses.
No two properties are exactly the same in Franklin. From the architectural details that make your home unique to the plant materials you choose to fill your landscape, the colors, shapes and textures you choose to make your home sweet home are a reflection of the family who resides within. With this in mind, why would you settle for a "cookie cutter" outdoor living space?
Archadeck of Nashville doesn't do one design or style fits all when it comes to our custom outdoor living spaces. Each deck, porch or patio we build is as unique as the property it enhances, and the residents who call it home!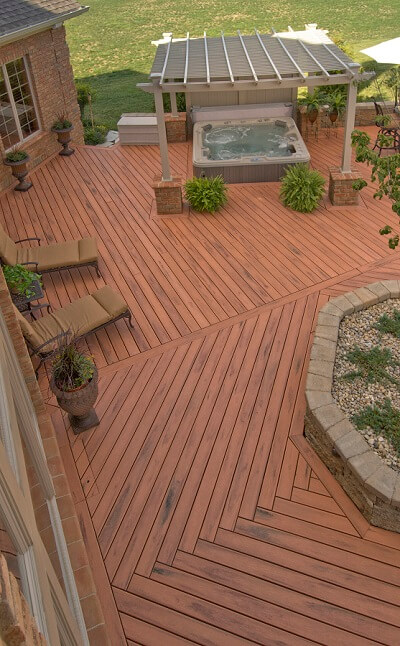 Our quality design service is geared toward bringing the backyard of your dreams to life an enjoyable experience. We take great pride in being the area 's premier design and build firm for custom outdoor living spaces, and it shows in each of our one-of-a-kind projects! With An Archadeck Of Nashville Design — You Know What You're Going To Get — Down To Every Detail! Our goal is to design and build a project that will not only meet but exceed your expectations and manage your project in a way that will let you enjoy the process as much as we do.
Archadeck of Nashville is Middle Tennessee's premier outdoor living space designer and builder. We specialize in custom wood and low-maintenance decks, open and screened porches, patios and hardscapes and much more. Our attention to detail and quality workmanship are unmatched when it comes to delivering a truly custom outdoor space. We listen closely to our clients' needs and desires in order to craft a one-of-a-kind deck and/or porch that fits your home and lifestyle perfectly!
We can't wait to show you what we can do for your home. Schedule your complimentary deck design consultation today at (615) 640-3628!