Gallatin TN Backyards Are Alive With Custom Built Decks, Porches, And Outdoor Living Combinations!
Gallatin, Tennessee, boasts a cost of living 20% lower that the U.S. national average, is blessed with glorious weather. It is one of the hidden jewels nestled in Sumner County, Gallatin homes are experiencing a glorious rebirth through the transformation of their backyards. Gone are the days of vast lawns devoid of any home improvement interest.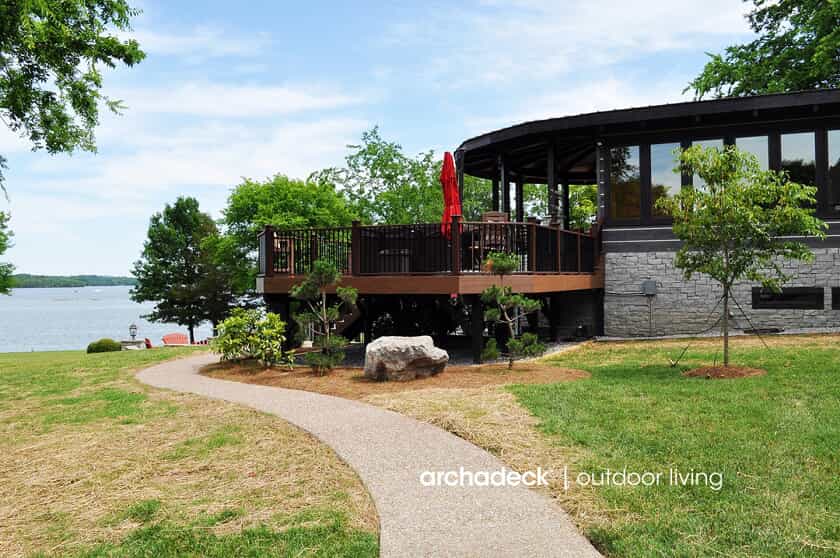 Thanks to America's favorite deck builder, porch builder, and combination outdoor living space expert, Archadeck is helping to make Gallatin one of the most sought-after places to live, work, and play in TN.
Gallatin Is An Energetic Small City Set In The Idyllic Countryside Only 30 Miles North Of Nashville
When Gallatin homeowners aren't fishing, enjoying watersports, and exploring our natural landscapes, they can be found living the good life in their backyard outdoor living spaces. Luckily for them, they have Archadeck of Nashville at their service to create idyllic backyard home improvements that rival the very finest new designs as seen on TV.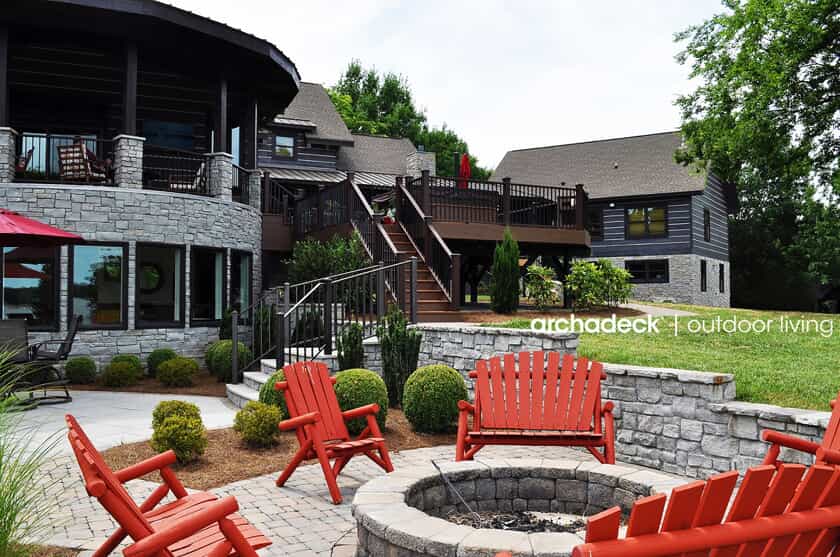 Whatever residents of Gallatin wish for to heighten outdoor living enjoyment, Archadeck stands ready to custom design, build, and deliver.
Wood decks. Low maintenance decks. Front porches. Open porches. Screened porches. 3 season rooms. Hardscape patios. Any combination of these and more we can build to achieve outdoor living perfection.
Where Can I Find The Best Deck Builder Near Me In Gallatin TN?
The answer is simple – Archadeck of Nashville – Gallatin's premier deck builder. So when you are ready to decide whether to add a pressure-treated wood deck or low-maintenance composite deck to your home, contact Archadeck for a complimentary design and backyard space planning consultation.
Decks of all kinds are extremely popular in the Gallatin area – and for good reason. They provide a comfortable, convenient, and private area for relaxation and entertaining outdoors at your home. As you weigh the pros and cons of wood and composite/synthetic decks, we would like to clear up a popular misconception. The idea that low-maintenance decks are more expensive than wood decks is usually not
true when you factor in the ongoing cost of wood deck maintenance. A low-maintenance deck will save you enough money over time that it will likely end up costing less than a wood deck of comparable size and sooner than you might expect.
The Source For Low Maintenance Decks In Gallatin TN
Whereas a well-maintained wood deck has a life expectancy of about 15 -20 years, there's a good reason to consider a composite or synthetic deck. An Archadeck Gallatin low maintenance deck will last about twice as long as a deck built with pressure-treated wood.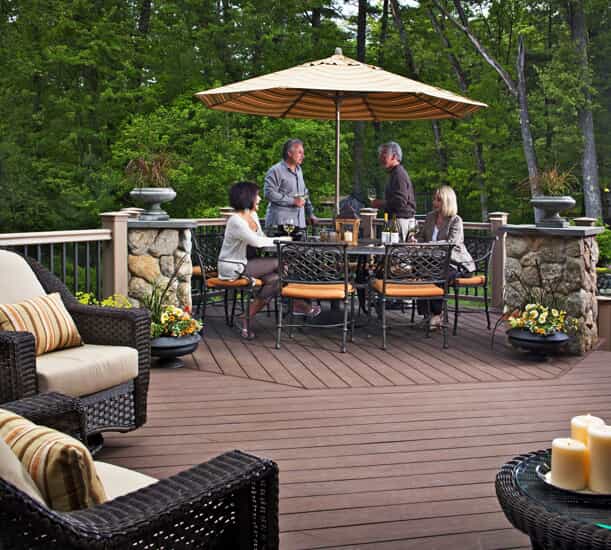 Having a strong, dedicated relationship with the finest low maintenance decking supplier in the world, TimberTech/AZEK never fails to please both our construction team and our Gallatin clients.
TimberTech AZEK decking comes with a lifetime limited product warranty. Archadeck now offers a matching lifetime labor warranty for work needed if your deck fails for any reason covered by TimberTech's limited product warranty.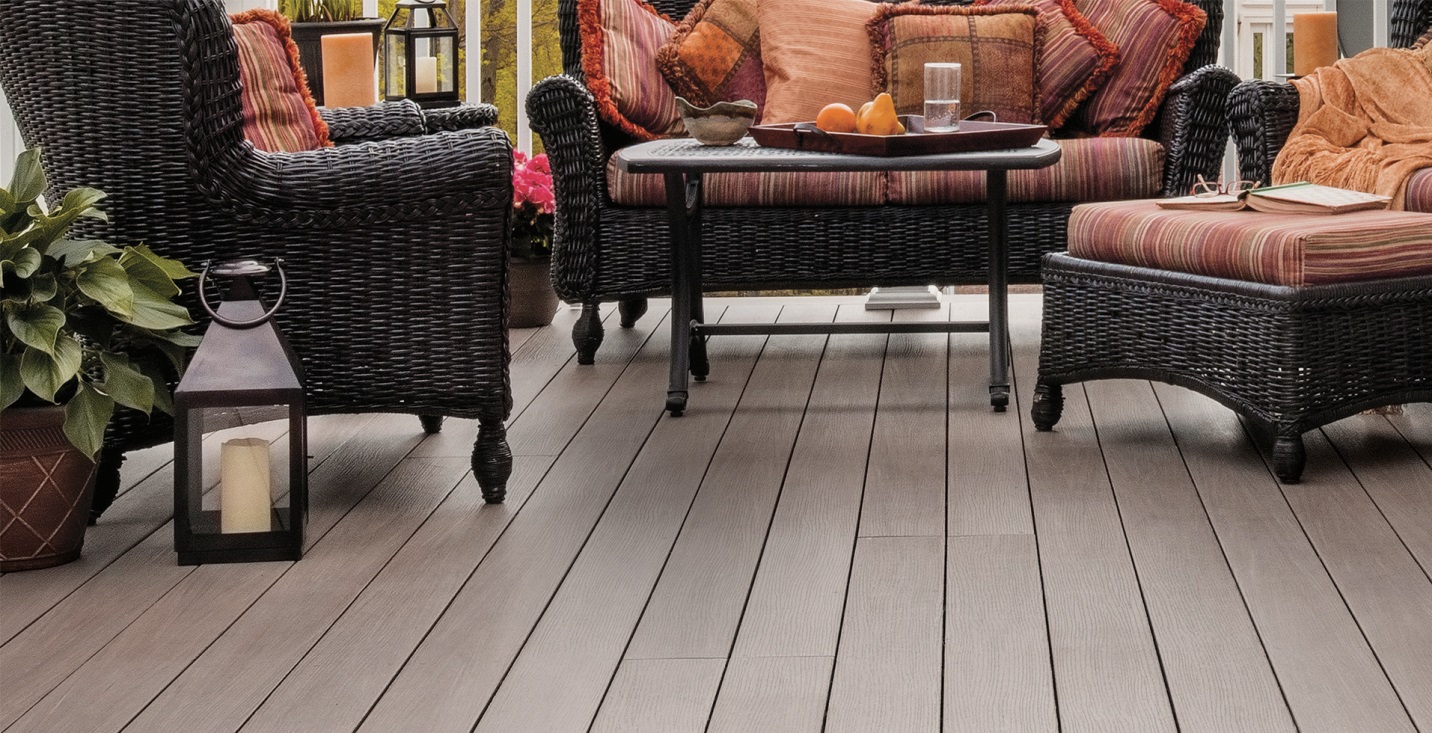 TimberTech Pro decking comes with a 30-year limited product warranty. Archadeck now offers a matching 30-year labor warranty for work needed if your deck fails for any reason covered by TimberTech's limited product warranty.
How's that for having confidence and peace of mind?
Gallatin TN Wood Deck Builder Expert
As many residents know, there is nothing quite like real wood to surround oneself with the rich beauty and texture of nature's gift to us.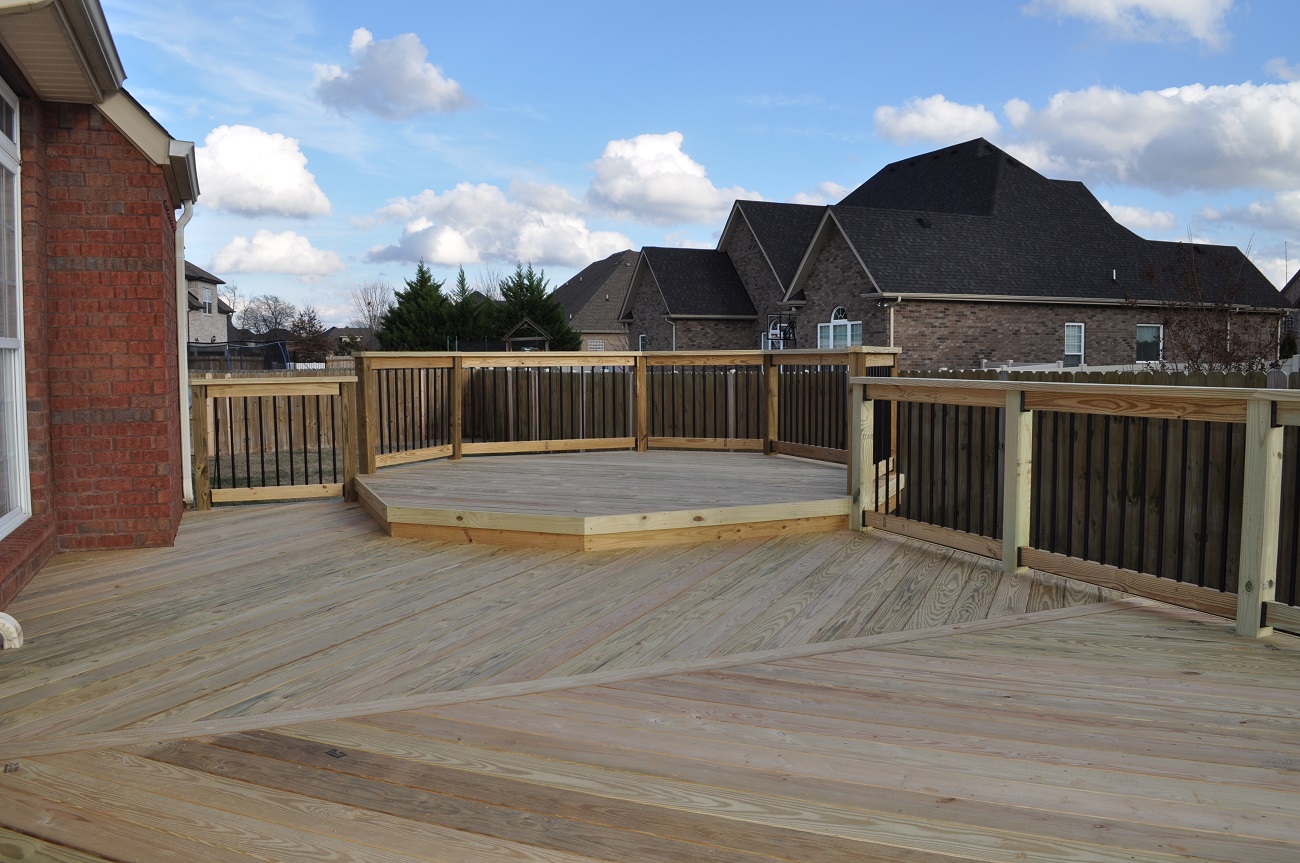 Thoughtful planning goes into each wood deck design, even down to small details such as having the grain go against traffic pattern to help reduce the chance of splinters on bare feet. It all adds up to a stress-free building experience.
Wooden decks do require regular maintenance with stain, sealant or both. Depending on your property, if your deck is exposed to full sun most of the day or is under the cover of a heavily wooded lot, you may need more or less maintenance. The versatility in finishes allows you to choose different stain colors each time to make your deck look brand new.
Adding a custom shade feature or roof structure over your wood deck will most certainly provide protection from the intense rays of the sun to prolong your wood deck's life and appearance.
Gallatin TN Homes Live Better And Smarter With Custom Porches Of All Shapes And Sizes
Most "porch people" can find ways to enjoy a porch almost year-round. If you love spending time on a porch, you'll love our suggestions for enjoying your porch each year during the cooler months.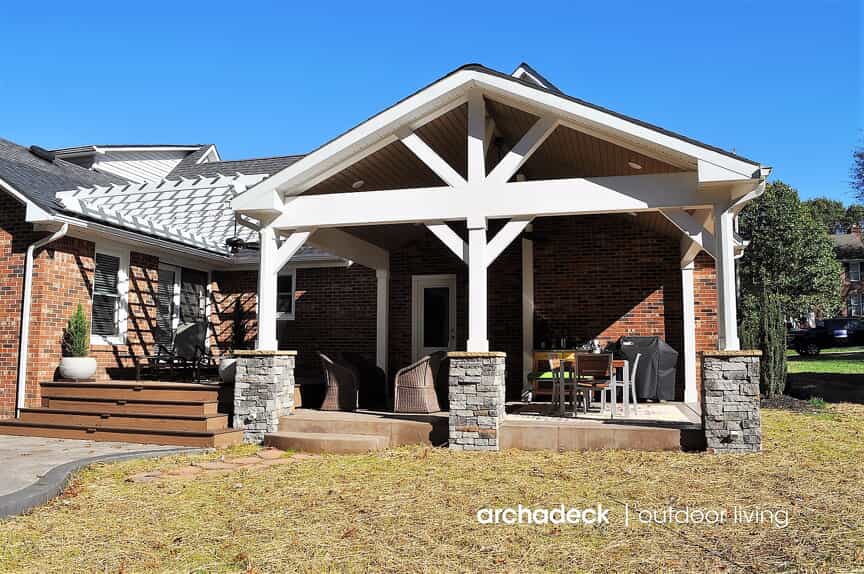 Infrared heaters are perfect for cooler-weather porch comfort. We recommend these amazing, energy-efficient outdoor heaters for all of our Gallatin porch clients now. Unlike the old space heaters, these newer heaters are safe to use, and they are just as effective on open porches as enclosed porches. They have also become more affordable even as they've become more popular. We mount them near the ceiling, as they safely warm you with their invisible infrared rays circulating through the air.
Picture yourself on a crisp, fall Friday afternoon, working from home on your cozy couch – on your porch. You may have a warm throw and a cup of coffee, but your bottom half can be just as comfortable. Wiggle your toes in the radiant glorious warmth of your infrared heater. Breeze through your work while listening to leaves rustle and watching the colors of fall take shape.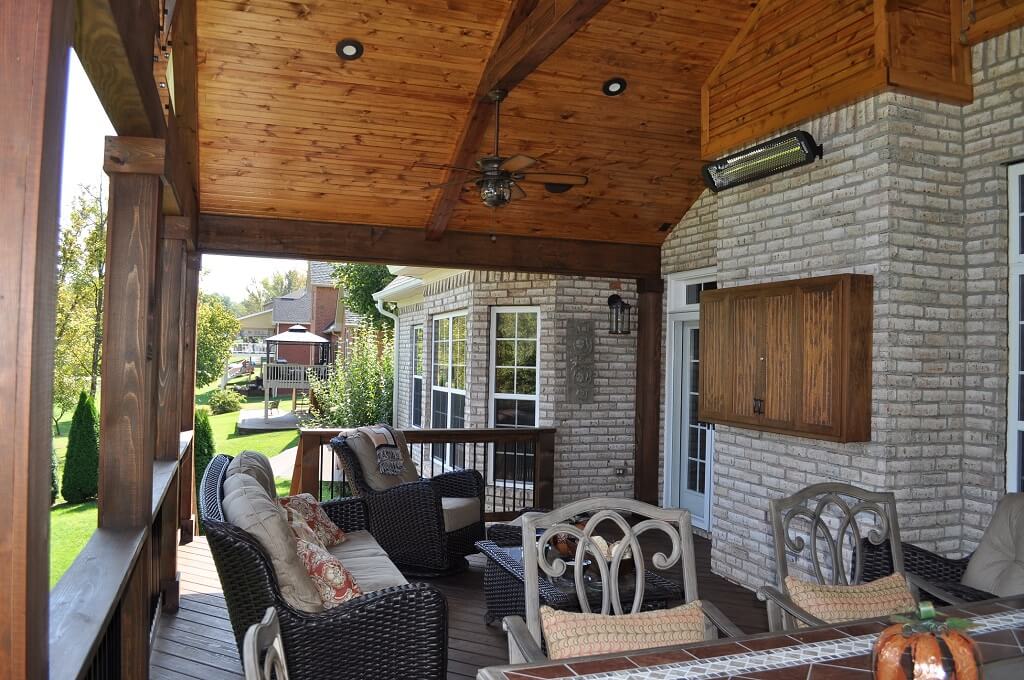 Any night after a tough day, you're ready to relax on the porch and let your cares fall away. Enjoy the comforts of your Gallatin home on the porch with your friends and neighbors, some wine, and throw blankets all around. Your infrared heater will make it possible. Unless your friends have infrared heaters on their porches, too, your new porch is destined to be the gathering place of choice.
Porches in Gallatin TN Help Families Live Better By Enjoying The Best Nature Has To Offer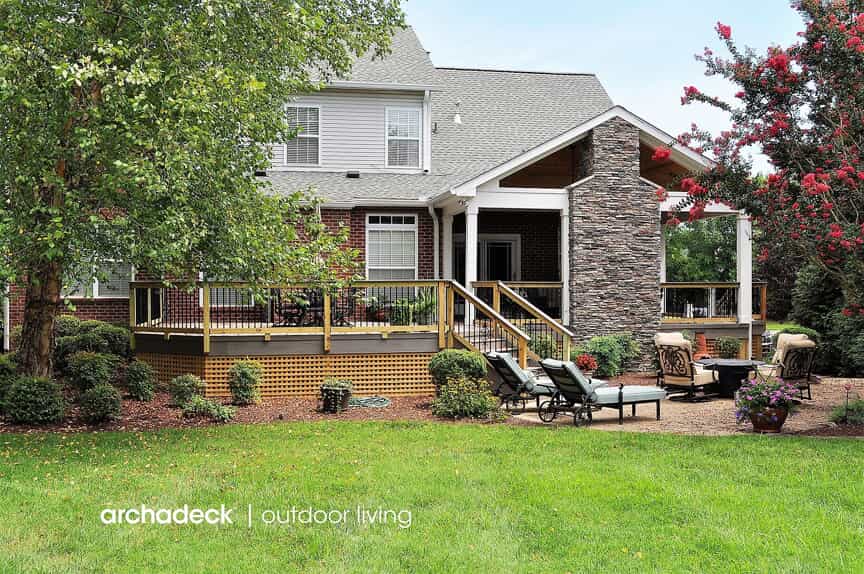 As the seasons change, your porch may be the perfect location for an Archadeck custom fireplace. There's nothing like an outdoor fireplace for ambiance.
Whether you are looking to add a screened porch or open porch, we can design the perfect porch and outdoor fireplace combination for both comfort and functional practicality. Hours spent in front of the fireplace are some of our favorite times, and that goes double when your fireplace is on your porch. Would you prefer a crackling wood fire or hypnotic gas flames in your outdoor fireplace? You decide. Our custom designs can deliver anything your heart desires.
Screened Porches In Gallatin Reinvent The Joys Of Outdoor Living Luxury
Do you automatically think of screened porches when you hear the word "porch"? Many Gallatin homeowners do. Screened porches are extremely popular because they provide shade while keeping insects away.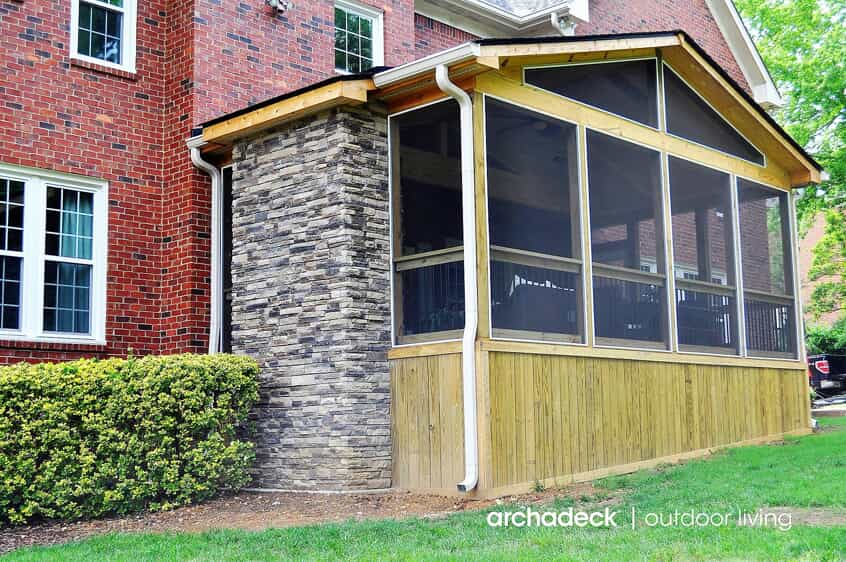 Screened-in porches bring the best of both worlds to your outdoor space. You get to enjoy the fresh breeze and the sounds of nature without having to deal with annoying and possibly dangerous bugs or the weather elements. If you've been considering a backyard screened-in porch, Archadeck Outdoor Living would love to help you make that a reality. We are a custom porch and deck building company that also offers exceptional design services. This allows you to get the perfect customized outdoor space you have envisioned.
The biggest benefit to screened-in porches is pretty obvious: no bugs and no interference by outdoor debris. However, there are quite a few additional benefits that you may or may not have thought about. Screened-in porches can also protect you from the rain, as well as damaging UV rays. Having a screen on your porch makes it easier to entertain company and serve meals outside, as well. The advantage of our design services is that whatever needs you have for your porch, we can incorporate them.
3-Season Porches Provide The Best Of All Possible Worlds In Functionality And Value
When it comes to the tremendous variety of porch designs, many Gallatin homeowners prefer a third type, a 3-season porch or 3-season room, for its versatility.
A 3-season addition or conversion is a great way to trap the heat and enjoy the outdoors in spring and fall and the perfect way to avoid bugs and sunburn in summer.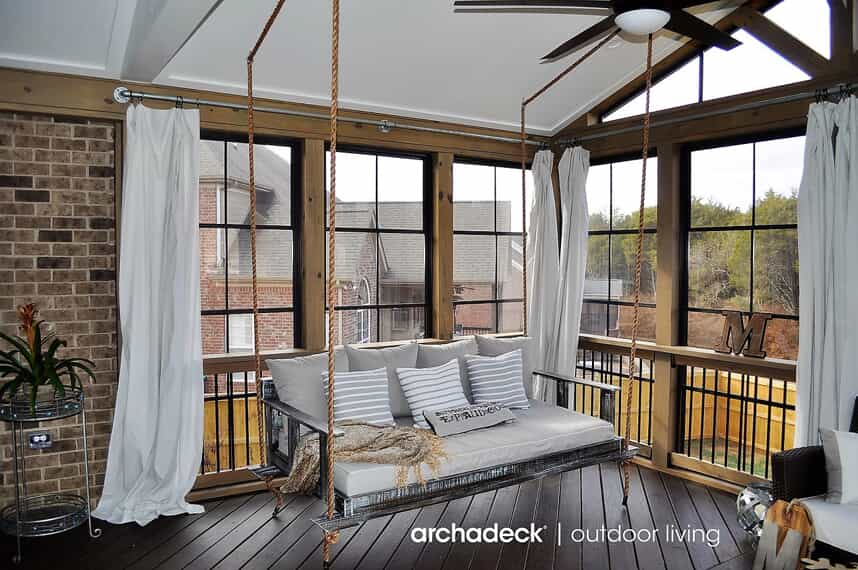 3-season rooms don't usually require heating, plumbing, insulation or foundations, so installation can be minimal. In most cases, all you'll want an accompaniment deck which is an Archadeck specialty.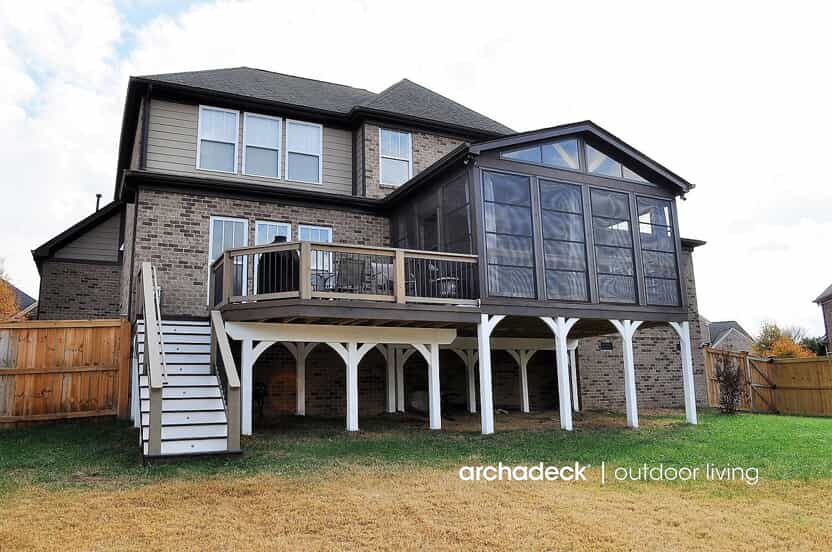 One of the many reasons Gallatin homeowners choose to add 3-season rooms to their properties is to provide extra space for entertaining. This might just include a TV, a PC, gaming consoles, and a dining area for the family. And you can also go all out and create the perfect room for hosting impromptu parties and larger dinner parties.
Porch Upgrades Increase The Value Of Your Leisure Outdoor Relaxation Time And More
Making more of what you already have in your backyard is a special talent of Archadeck. Here are just some of the ways we can upgrade and add functionality to your porch:
1. Build a new porch or convert your existing one to expand your outdoor living space options.
2. Add a roof for overhead protection from the elements.
ICPI-Certified Patios And Hardscapes Are A Unique Specialty
Hardscaping is the portion of an exterior backyard landscape including patios, walkways, steps, outdoor living areas, and retaining walls that complement your residential landscape.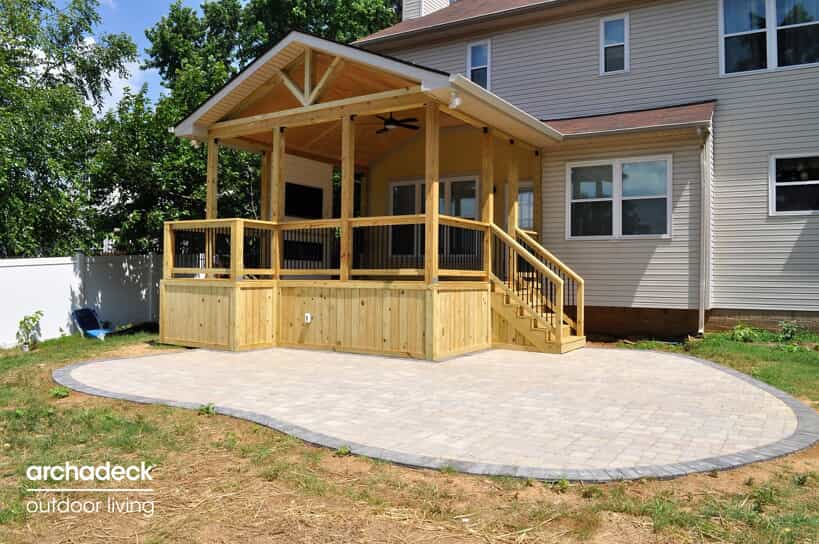 Archadeck is an ICPI Certified paver patio builder which is significant as it attests to our level of commitment and industry excellence.
This certification and accreditation ensures that our Gallatin patios and hardscapes are installed beautifully and correctly. The Interlocking Concrete Pavement Institute (ICPI) espouses to install your pavers and hardscape foundations with expertise, precision, and professionalism. As such, we have tremendous experience and expertise in designing and building custom patios that speak to your outdoor living needs.
Outdoor Living Combinations Can Be Customized To Celebrate The Way You Live – And How You Want To Live Better In The Future
Savvy Gallatin homeowners want outdoor living spaces that meet the needs of how they want to live outside. Just as we often have a space within our homes where we can eat, read or relax, our Archadeck clients here in Gallatin want multi-functional combination spaces.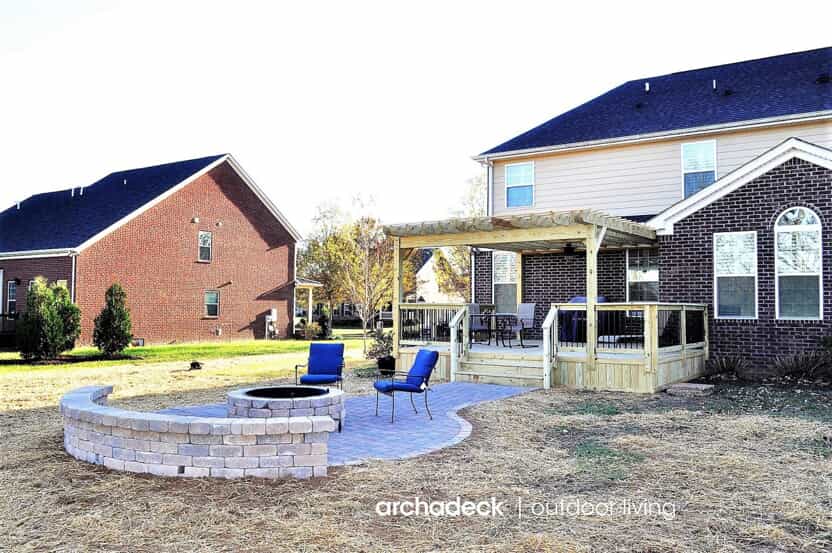 With virtually any combination possible, these can include:
• Deck and patio combination
• Patio and screened porch combination
• Screened porch with attached deck
• Porch with attached deck
• Integrated custom outdoor fire features
• Pergolas
• And more – much more
The best way to plan for your Gallatin outdoor living combination space that's right for you is to think about how you want to live outdoors. It's important to also think about how this may change in the next 5 to 10 years. You are going to spend lots of time living outdoors, so it's important to build a space that fits the bill in every way.