Archadeck of Charlotte has been building Marvin NC area decks and porches for over 30 years!
According to Niche, Marvin ranks #8 out of 181 suburbs in North Carolina for the best place to raise a family. This is no doubt aided by the quality of life provided by a small population, ample green space, and great public schools. Part of the Twelve Mile Creek Greenway and offering outdoor spaces, like Marvin Efird Park, and luxurious private amenities at Firethorne Country Club, Marvin is the quintessential small town escape from the urban hubbub. Archadeck of Charlotte can improve the way you enjoy your Marvin NC backyard with a custom deck or porch, or combination of outdoor living spaces.
Archadeck of Charlotte is your choice Marvin NC deck builder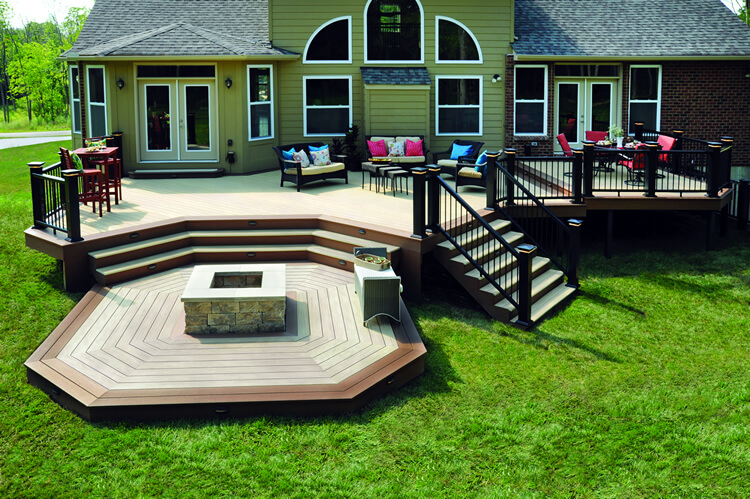 Archadeck of Charlotte has been a choice deck builder and porch builder for Marvin NC residents, including the exclusive Firethorne Country Club community, for many years. Our custom design capabilities lend themselves to creating cohesive, often extensive outdoor living spaces for Marvin residents. Our porch and deck designs create serene spaces of respite, as well as generous areas for outdoor entertaining.
Marvin NC Deck and Screened Porch Design
Archadeck is your trusted Marvin deck builder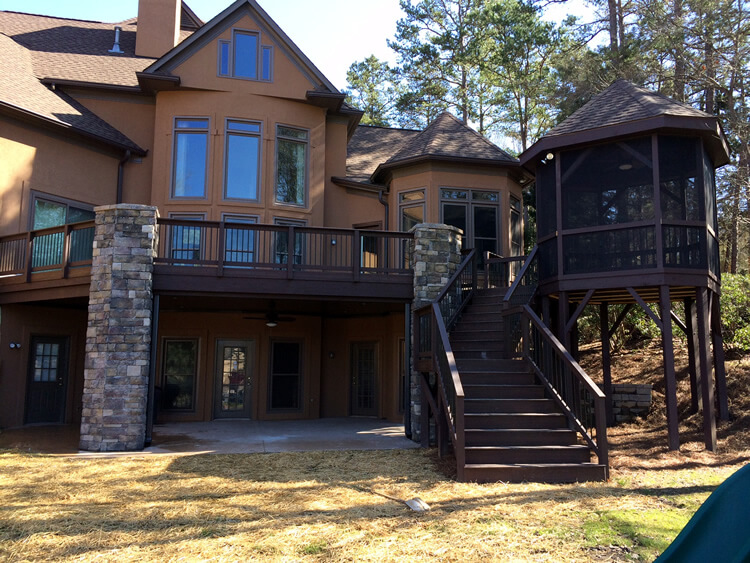 The outdoor living area above features multiple outdoor living spaces with fantastic views of the lush backyard. On the top level, you will find a low-maintenance composite deck, with multiple points of entry from the home. The deck features a custom fascia-mounted railing, terminating at two grand stone columns. The turned stair is not only beautiful but was designed to enter the backyard in an area, which does not impede the covered walk-out patio below the deck. The turret-style screened porch complements the design of the home and will offer coverage from inclement weather and an escape from insects in the summer.
Grand homes in the Firethorne Country Club community lend themselves to grand outdoor living designs. As your trusted Firethorne deck and porch builder, you will find that we can design a space that fulfills your outdoor living needs, and truly complements your home. If your Firethorne home is longing for an outdoor living design, comprised of form and function, Archadeck of Charlotte will bring your ideal design to fruition.