Archadeck of Charlotte is your trusted TimberTech Decking Partner
Composite decking which is also know as low-maintence decking or synthetic decking, has revolutionized the decking industry. Compostie decking allows homeowners to enjoy the benefits of a deck while eliminating the typical maintenance of a wood deck.
What makes this partnership meaningful for Archadeck, as a custom deck contractor?
As a custom deck contractor, it's important to stay up to date with the ever-changing industry trends and products. Archadeck has been a proud platinum partner of TimberTech for many years. TimberTech is constantly innovating its technology and expanding its product line to provide homeowners with the best possible building products.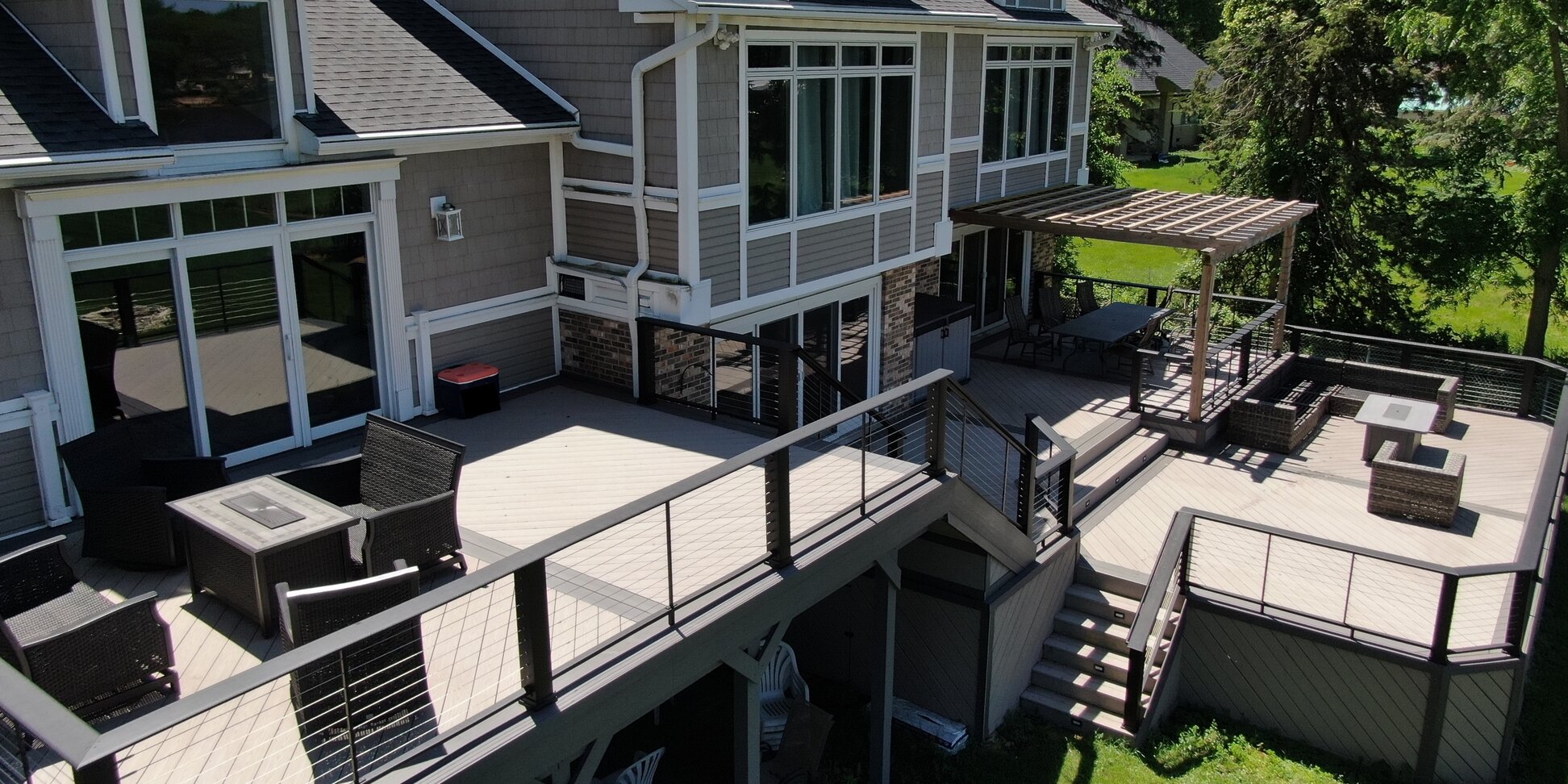 Eliminate Maintenance with TimberTech Decking
Charlotte homeowners are choosing TimberTech to avoid the maintenance of a typical wood deck. Eliminating annual deck maintenance saves you time, money, and energy! Low-maintenance decking provides confidence in knowing that the color of your deck will last for years with no need for sanding, sealing, or staining. Another added benefit is that TimberTech AZEK™ decking resists mold, mildew, stains, scratches, insects, rotting and fading, and it won't splinter.
Maintaining your TimberTech deck is as easy as hosing it down or grabbing a sponge and dish soap for tougher spots.
Benefits of TimberTech low-maintenance decking
No staining
No power washing
No sealing
No sanding
No splinters
Homeowners prefer TimberTech AZEK™ low-maintenance decking because of its extensive product line.
With a vast collection of decking options, you are bound to find a product you love. With TimberTech AZEK™ you have the option of choosing an advanced PVC decking or composite decking.
TimberTech Advanced PVC offers homeowners the most realistic wood look with three different collections.
Advanced PVC Collections: Vintage, Landmark, & Harvest.
TimberTech Composite decking offers homeowners a durable capped composite board that looks like real wood and is built to lock out moisture while maintaining its gorgeous colors.
Composite Decking Collections: Legacy, Reserve, Terrain, Premier, Prime +, Prime
Each decking collection offers an array of gorgeous color options to consider when designing your deck. Paring their rich colors with other materials like their low-maintenance rail options truly allows you to get creative while coming up with a stunning design.

Why TimberTech is Charlotte homeowners' #1 Choice for Composite Decking
Industry-leading technology
Real-wood look and texture
Unmatched warranties
Industry Leading Technology
TimberTech has partnered with AZEK building materials to offer consumers the highest quality, durable, wood-like PVC and composite decking materials on the market. Their Industry-leading technology allows them to experiment and create top-of-the-line products fit to last long and withstand everyday life.
Real-wood Look & Texture
Homeowners want their composite deck to look and feel as close to real wood as possible. TimberTech has worked diligently to create and provide composite decking that has a real-wood look and texture. They focus on elements such as texture, cut, and color to provide high-quality results.
TimberTech has developed 5 different wood looks:
Straight Grain – Traditional wood look
Hand-Scraped Finish- textured, artisan-inspired
Crosscut Grain- Made to look like the wood was cut perpendicular to the grain
Wire-brushed finish- Subtle texture
Cathedral Grain- Board surface contains swirls & peaks

Unmatched Warranties
Warranties are a vital component of choosing a decking company to work with. TimberTech decking combines high-quality products with unmatched warranties, making them a company that's hard to compete with. TimberTech Advanced PVC offers a lifetime limited product warranty & a 50-year limited fade & stain warranty. TimberTech Composite by AZEK offers a 25–30-year limited product warranty and a 25-30 year fade & stain warranty.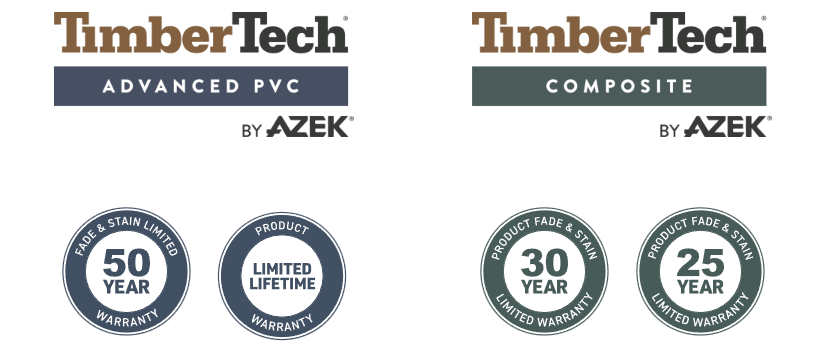 Paired with Archadeck of Charlotte's outstanding warranties, you can trust that your deck will stand the test of time. Archadeck of Charlotte offers workmanship of one-year and structural integrity of five years. They are also backed by the national guarantee corporation which guarantees that your residential outdoor living project will be completed to the terms of your Archadeck contract and built to the agreed-upon specification and a warranty of performance for up to two years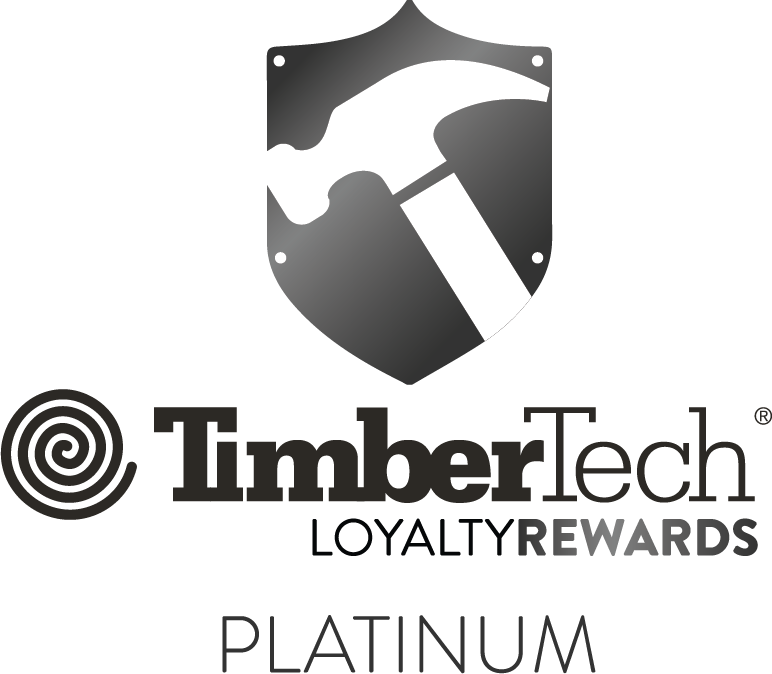 Archadeck of Charlotte is proud to be a platinum partner of TimberTech. With many years of experience building with TimberTech products, we are happy to provide our clients with superior composite decking.
Find more information about TimberTech here.