Custom Screened in Porches, Designed & Built NEAR CHArLOTTE
Archadeck is the leading builder of screened in porches in the Charlotte area. Designing and building outdoor living spaces and structures is all we do. Screened porches are quintessential as outdoor living spaces in Charlotte. Enjoy fresh air and a nice breeze without the sun glaring down on you and without insects buzzing in your ear. With the mild climate we enjoy in Charlotte, screened porches continue to grow in popularity.
Classic or Modern: Screened Porches: Not One-Size Fits All
Gone are the days of the covered porch with screens stapled to posts for an enclosure. Today's screened porches can be as simple as you'd like or as luxurious as you'd like. Either way, outdoor living in a screened porch is effortless.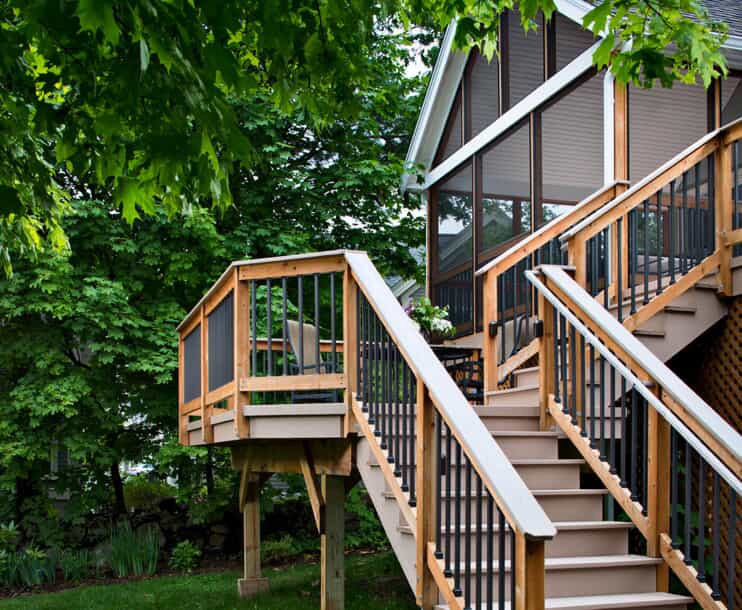 ​
Screened-in porches today can be over-sized entertaining areas, cozy retreats, and everything else. The shape and size possibilities are endless. We'll work with you and your home's architecture to design and build the custom screened porch of your dreams.
What's the Difference Between a Screened Porch and a Sunroom?
If you are deciding between a sunroom and a screened porch, remember that the main difference is in walls. A screened porch encloses your outdoor structure with a roof and mesh screens. This allows plenty of fresh air in while keeping out bugs and light rain. A sunroom, but, is designed with lots of large windows to let you enjoy maximum sunlight and a premium view while protected from the elements. It is often climate-controlled in the same manner as the inside of your home.