Visit our Charlotte, NC Design Center!
Archadeck of Charlotte strives to provide custom outdoor living spaces for families to gather and enjoy more time outdoors.
8334 Arrowridge Blvd, Suite I, Charlotte, NC 28273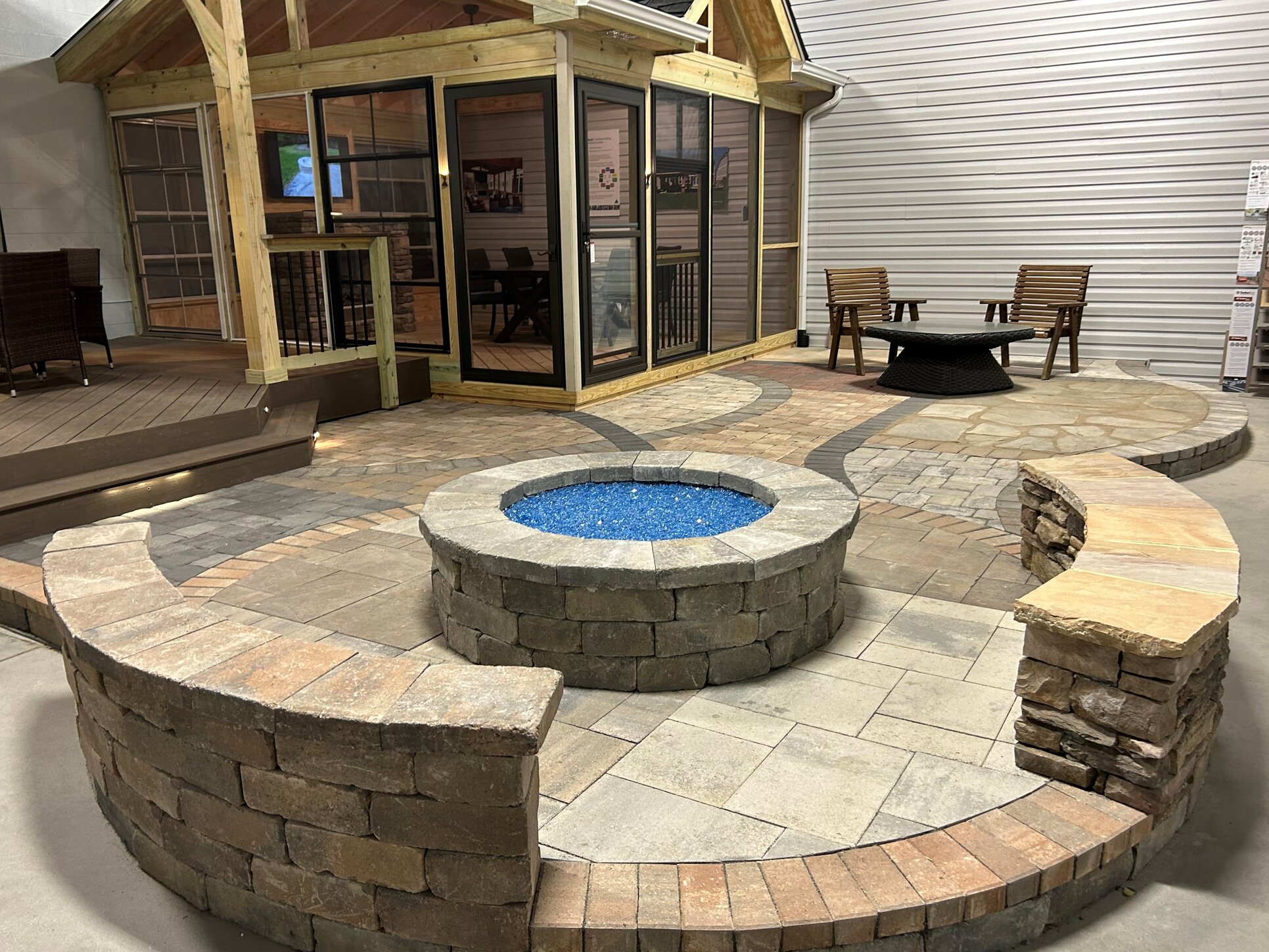 Whether you're looking to design & build a deck, patio, porch, pergola, fire feature, 3-season room, or something else, Archadeck can help design & build an outdoor living space best suited to you. With our many years of experience, we have built hundreds of outdoor spaces for Charlotte area families.
As a custom design & build company, we understand the importance of every detail. By providing our clients with samples of materials, how we build, and different design features we can immerse our clients in the design experience. The showroom allows clients to visualize what their project may look like.
Screened-in porch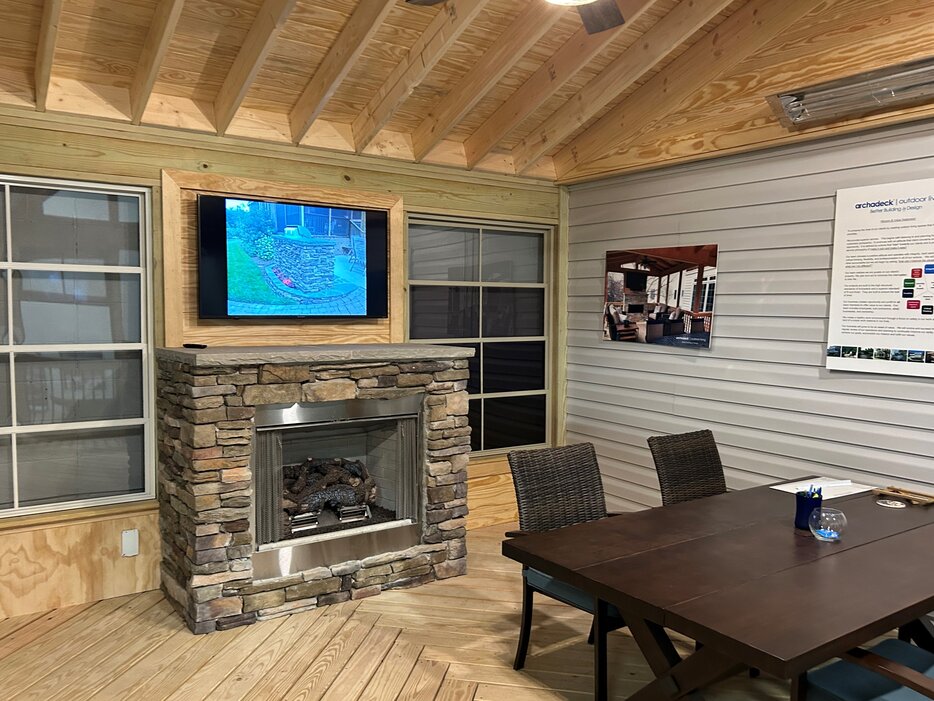 Starting in the screened-in porch, you will find an array of different window styles to choose from. Charlotte homeowners typically opt for vertical 4-track windows which extend the seasonal usage of your porch and potentially make it usable year-round. A section of the porch showcases a typical roll screening to allow you to feel the durability and look of a screened porch.
Warm up your porch with a fireplace!
Fireplaces not only add warmth to your porch but a cozy feel to enjoy more intimate moments outdoors. Homeowners typically opt for a masonry fireplace with stacked stone to add a rustic feel to their porches.
The details matter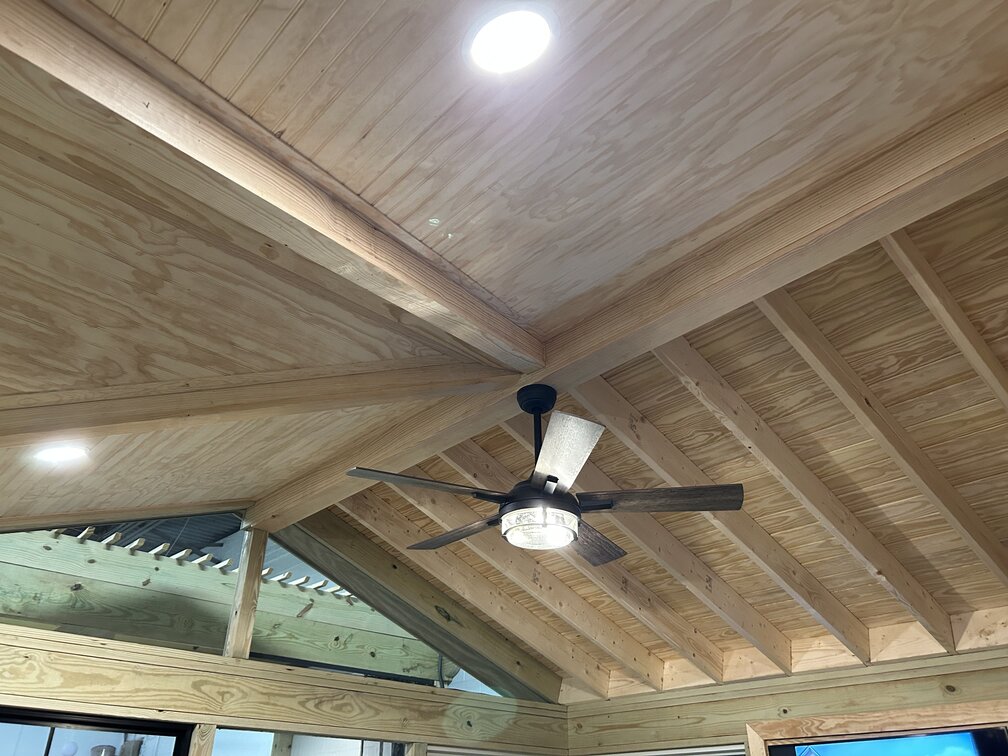 When you look up, you will notice the ceiling of the porch is different on both sides. This is to display the difference between enclosed and exposed rafters. The enclosed rafters give the porch a finished look and the exposed rafters create a more rustic and outdoor feel. These are the type of details clients appreciate seeing before making decisions.
Let's move on to the patio!
Archadeck has been building both paver and natural stone patios for many years. We are partnered with Belgard Pavers and our showroom displays some of our most popular products. A few of the product lines our client's love include; Dimensions, Origins, & Hollandstone. Our showroom also features natural stones such as flagstone and travertine, as it's a popular choice around the Charlotte area.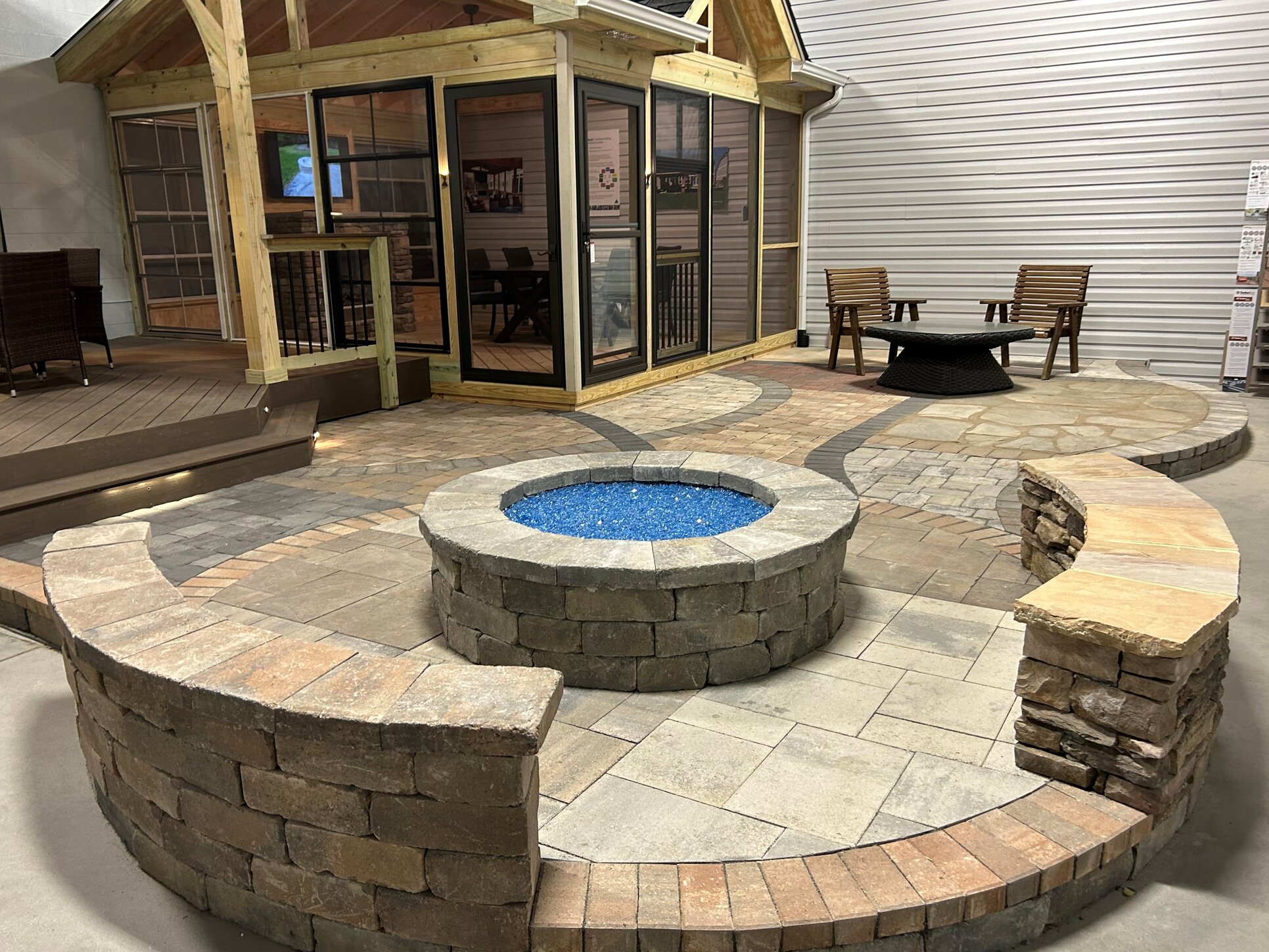 Patio Enhancements
Our patio display features different masonry walls commonly known as retaining walls or seat walls. Adding a wall to your patio creates height & dimension as well as extra seating space. Another popular patio enhancement is a fire feature. Our patio display includes a fire pit with glass beads.
Decking
As a platinum partner with TimberTech by AZEK we wanted our display to feature some of our most popular TimberTech decking products from both the Composite and PVC collection. Being able to see the products in person and feel the different textures allows you to truly visualize how each product would look in your outdoor space. You can also see some of the different rail styles offered, like the builder rail and contemporary. Ask our design consultant about samples to bring home and test out as well.
Read more about our partnership and products here.
Shade Solutions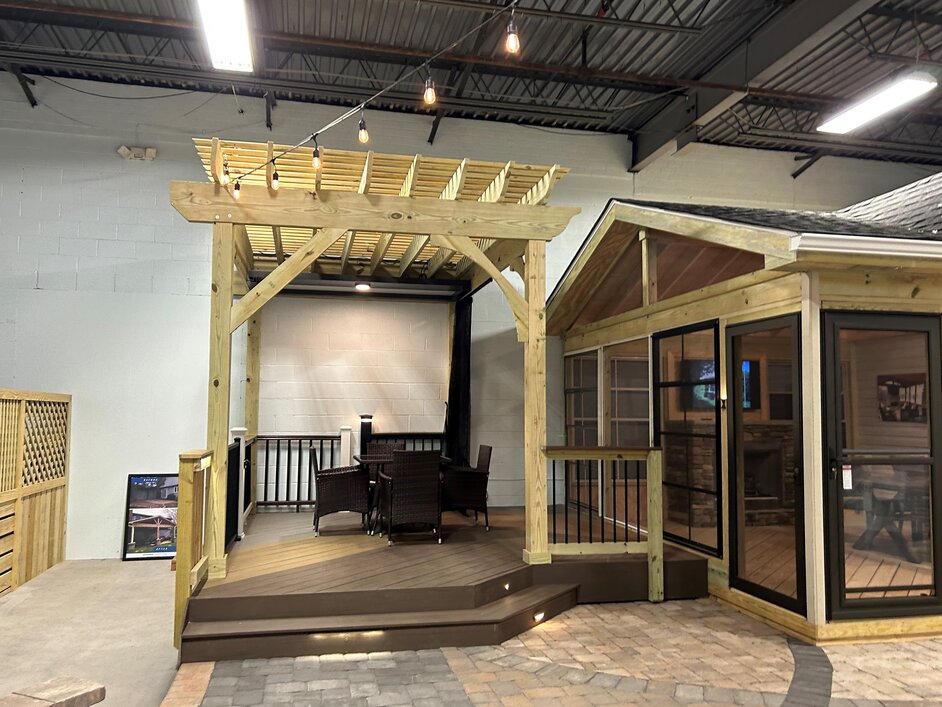 Pergolas provide partial shade to your deck or patio. Whether you're looking for shade, height, or aesthetic, a pergola can help to transform your outdoor space. A common enhancement our clients chose is an underdeck system on their pergola. This actually creates full shade and protection from rain and other elements. Although it's not as durable as an open porch or roof structure, it's a great way to save money and enjoy more shade.
Lighting

Low-voltage lighting can add the perfect glow to your outdoor space. Commonly found on stair risers, rails, or seat walls, clients appreciate low-voltage lighting to help guide their outdoor space at night. String lights are a super popular addition to your outdoor space to add a warm touch and just enough light to enjoy your outdoor space in the evening.
If you're looking for a local company that can help you design & build the outdoor living space you've been dreaming of, look no further!
Get Started Here!
Check out our photo galleries here.
Download our FREE Design Guide here.