Porch Conversion of Charlotte
Archadeck of Charlotte is a premier choice when searching for a porch conversion of Charlotte.
Archadeck of Charlotte specializes in designing & building custom porches to enhance Charlotte homeowner's outdoor living spaces and homes. A common project in Charlotte is known as a porch conversion. This involves converting an open porch into a screened room or 3-season room.
Let's explore the benefits and possibilities of converting your porchwith Archadeck of Charlotte.
Enhancing Your Outdoor Living Space & Extend the Seasonal Usage
Many Charlotte area homes are built with an open porch, leaving you the option of upgrading it or keeping it as is. Although an open porch is a great addition to your home, converting it into a screened room or 3-season room can create a more functional and comforting space. When completing a porch conversion of Charlotte you are extending the seasonal usage of your porch. In North Carolina, the weather is quite mild, meaning you can enjoy your porch during the transitional seasons. With the addition of features like heaters, fans, or a fireplace, you can help to regulate your porches temperature for even more comfortable enjoyment.

Protection from Insects and the Elements
A major advantage of converting your porch into a screened room or 3-season room is the protection it creates. Enjoy time outdoors without the hassle of insects, critters, and weather conditions. Other added benefits to converting your porch are the protection from excessive sun, harsh winds, and pollen.
Customization and Design
Archadeck of Charlotte specializes in designing and building custom porch conversions that seamlessly blend with your home's architecture and your personal style. From selecting the perfect materials to incorporating features such as skylights, ceiling fans, and lighting, we ensure that your new space reflects your vision and enhances the beauty of your home.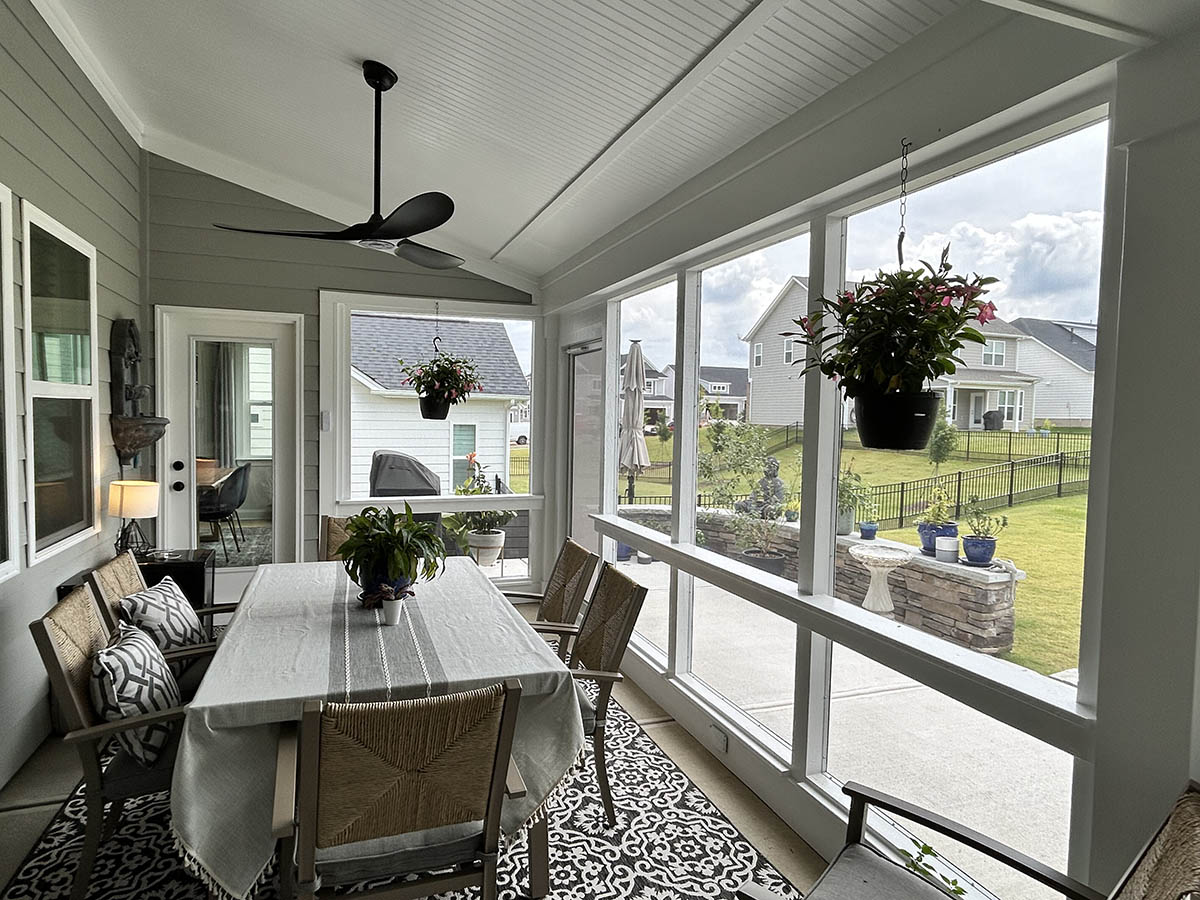 Why Archadeck is the porch conversion contractor for you!
With years of experience and a reputation for excellence, Archadeck of Charlotte is your trusted partner in porch conversions. Our team of professionals will guide you through every step of the process, from initial design to construction and completion. We take pride in our attention to detail and commitment to delivering exceptional results that exceed your expectations.
Ready to transform your open porch into a stunning screened room or 3-season room in Charlotte, NC? Look no further than Archadeck of Charlotte. Our expertise, craftsmanship, and dedication to customer satisfaction make us the go-to porch conversion experts in the area.
Contact Archadeck of Charlotte today to begin your porch conversion journey and experience the ultimate in comfort, style, and functionality. 704-944-1350
Check out our porch galleries here:
/charlotte/photos-videos/photo-gallery/porches/
/charlotte/photos-videos/photo-gallery/3-season-rooms/3-season-rooms/
Read our latest blog CHARLOTTE PORCH BUILDER DISCUSSES MUST-HAVES ON SOUTHERN PORCHES
/charlotte/resources/blog/2023/june/charlotte-porch-builder-discusses-must-haves-on-/