Patio Builders Charlotte NC
Archadeck of Charlotte is the Trusted Hardscape Patio Contractor Near You
Are you looking for reliable patio builders in Charlotte, NC? Look no further than Archadeck of Charlotte! With over 30 years of experience serving the area, we are the premier choice for homeowners searching for patio companies. Our team works closely with you to understand your desired functionality, aesthetic, and budget to ensure that your custom patio exceeds your expectations. As a partner of Belgard, you can have peace of mind knowing that your patio will be constructed with the highest quality building products and built to last a lifetime. Our top priority is providing our clients with excellent customer service to ensure a stress-free experience from start to finish.
Patio Companies
Homeowners searching for patio companies or "patio installer near me" are looking for local & reputable patio contractors who can help design & build their dream patio. Archadeck has custom-designed & built hundreds of patios for Charlotte families. With a strong focus on details & clear plans, we can create custom patio designs that will stand the test of time. As patio builders, it's our job to provide our clients with hardscape patio designs that are not only beautiful but durable.
Request a consultation online or by calling (704) 850-6104, or get our free Design Guide for even more inspiration!
Hardscape Patio
Paver Patio Builder
Paver patios are a popular choice among Charlotte homeowners for a variety of reasons. Not only are they highly durable but they are fairly resistant to cracking and chipping. When creating custom patio designs, pavers offer a variety of colors, shapes, and sizes, allowing you to customize your patio however you like. Archadeck of Charlotte is partnered with Belgard, providing you with high-quality pavers, excellent customer service, and an extensive catalog of products. Another benefit of pavers is that they require minimal maintenance. We do recommend to re-sand your patio every 5-6 years but other than that, a routine sweep or hose down can make your patio look brand new!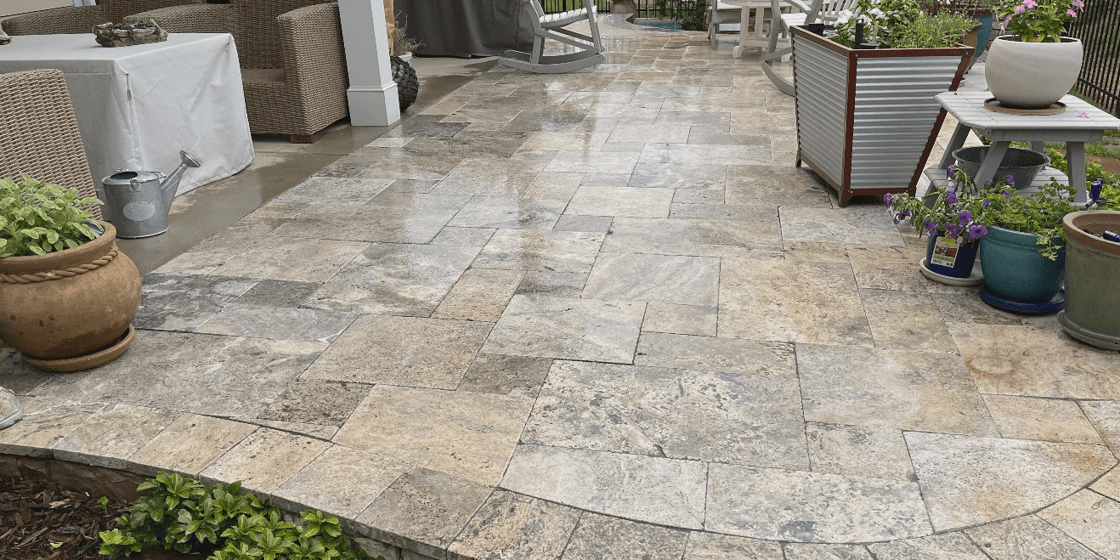 Travertine Patio Builder
When searching for patio companies in charlotte nc, not everyone offers both paver patio and travertine patio installs. Archadeck of Charlotte works with both materials giving you the option. Travertine is a natural stone that offers a durable and stunning patio. Travertine adds a touch of elegance to your outdoor space, its sleek look and variety of colors allows you to choose the perfect stone to match your home.
Custom Patio Designs

As a custom design & build company, Archadeck offers custom patio designs to help you bring your dream backyard to life. From pillars to seat walls, and soldiers courses to inset circles, custom elements can enhance your patio both aesthetically and functionally. Add extra seating and create defined spaces with a seat wall or simply add dimension and height to your patio with a pillar. Rather than a 1 dimensional space, create a stunning border around your patio with a soldier's course in a darker shade, or include different paver types in your design for a more dimensional look. The possibilities are endless when designing your custom patio.
Fire Features

Extend the usage of your patio with a fire feature. Charlotte homeowners typically include some sort of fire feature in their patio design such as fire pits or fireplaces. These additions not only create a cozy ambiance but also allow you to enjoy more time outdoors during cooler days. Fire pits and fireplaces provide both warmth and a gathering spot for your space. At Archadeck, our fire features are custom-designed & built, meaning you can create a fire feature that enhances your specific design and compliments your home.

Outdoor Kitchens
Outdoor kitchens are a popular addition to hardscape patios. They add both dimension and functionality to your patio design. Outdoor kitchens transform any simple patio into an outdoor entertainment area fit for hosting, cooking, and enjoying the fresh air. Whether you love to host or simply barbecue for your family, outdoor kitchens provide a dedicated spot to unwind and cook up something delicious! Some patio builders may offer standard outdoor kitchen designs, but at Archadeck you work closely with your design consultant to custom design an outdoor kitchen that fits your style and enhances your patio.
Charlotte Homeowners Share their Experience when choosing Archadeck as their Charlotte Patio Builders

We are delighted with the new outdoor space! We have enjoyed entertaining in our screened porch and patio. The fire pit has been a great gathering spot where we've enjoyed lots of good conversations along with our s'more's! So glad that we used Archadeck for this project. From designing our space to completing the masonry and restoring the lawn afterwards, the people at Archadeck were conscientious and detail oriented. We are as happy with his project as we were with a previous project that Archadeck completed at our home. Many thanks!! – Eileen R
Archadeck added onto my existing patio and built a beautiful fire pit as well as a gorgeous pergola! I am so pleased with how everything turned out. They were professional from start to finish and were always available to answer my questions (and I had A LOT of questions!). I 100% recommend doing business with Archadeck! – Elizabeth A
Read more client testimonials.
Patio Installer Near Me
Archadeck of Charlotte is the preferred patio builders for Charlotte homeowners looking to enhance their outdoor living spaces. Our consultative process covers everything from the design to permitting, constructing, and ensuring your satisfaction. We focus on the details and work towards the common goal of exceeding client expectations. Entrust Archadeck as your patio builder for a seamless design, hands-off process, and durable build.
Ready to get started? Schedule your complimentary design consultation with our team today! Reach out to us at (704) 850-6104.
Check out our custom patio designs.
Also Read: WHAT TIME OF YEAR SHOULD YOU LAY A PATIO?