THE VERY FINEST OUTDOOR LIVING SPACES UNDER THE MASON SUN ARE CUSTOM DESIGNED AND BUILT BY ARCHADECK
Boasting one of the most interesting historical backgrounds of any city in Warren County, our Mason, Ohio, is more popularly known as "Ohio's Largest Playground" for good reason.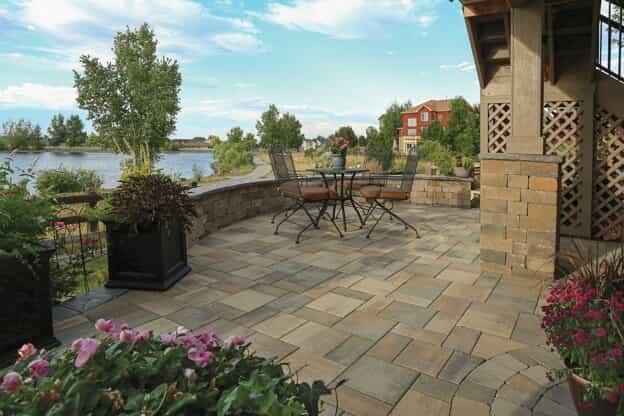 Between Great Wolf Lodge, The Beach Waterpark, and the Western & Southern Open, there are many wonderful opportunities to enjoy our glorious outdoor places and spaces.
The Best Mason, Ohio, Outdoor Spaces Are Custom Designed And Built By Us
Thankfully, our acclaimed reputation as the Mason Deck Designer and Builder precedes us.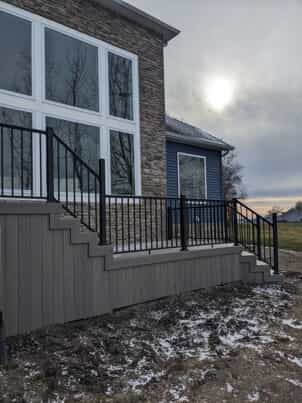 Archadeck of West Central & Southwest Ohio has been designing and building exceptional custom decks, patios, hardscapes, porches and combinations spaces for more than 30-plus years. Our homeowner clients often tell us that we're enriching the quality of life for a second generation of busy Mason homeowners.
(Sidebar)
It all begins with a complimentary design consultation, so give us a call today at (937) 563-4847 to get started.
The Many Ways A Deck Adds To Your Family's Quality Of Life
As far back as 1980, the Archadeck Outdoor Living brand was created to fill a void in the marketplace.
At that time, new home builders did not include any outdoor living areas outside the new homes they were building – just a small concrete pad outside the rear door – if that!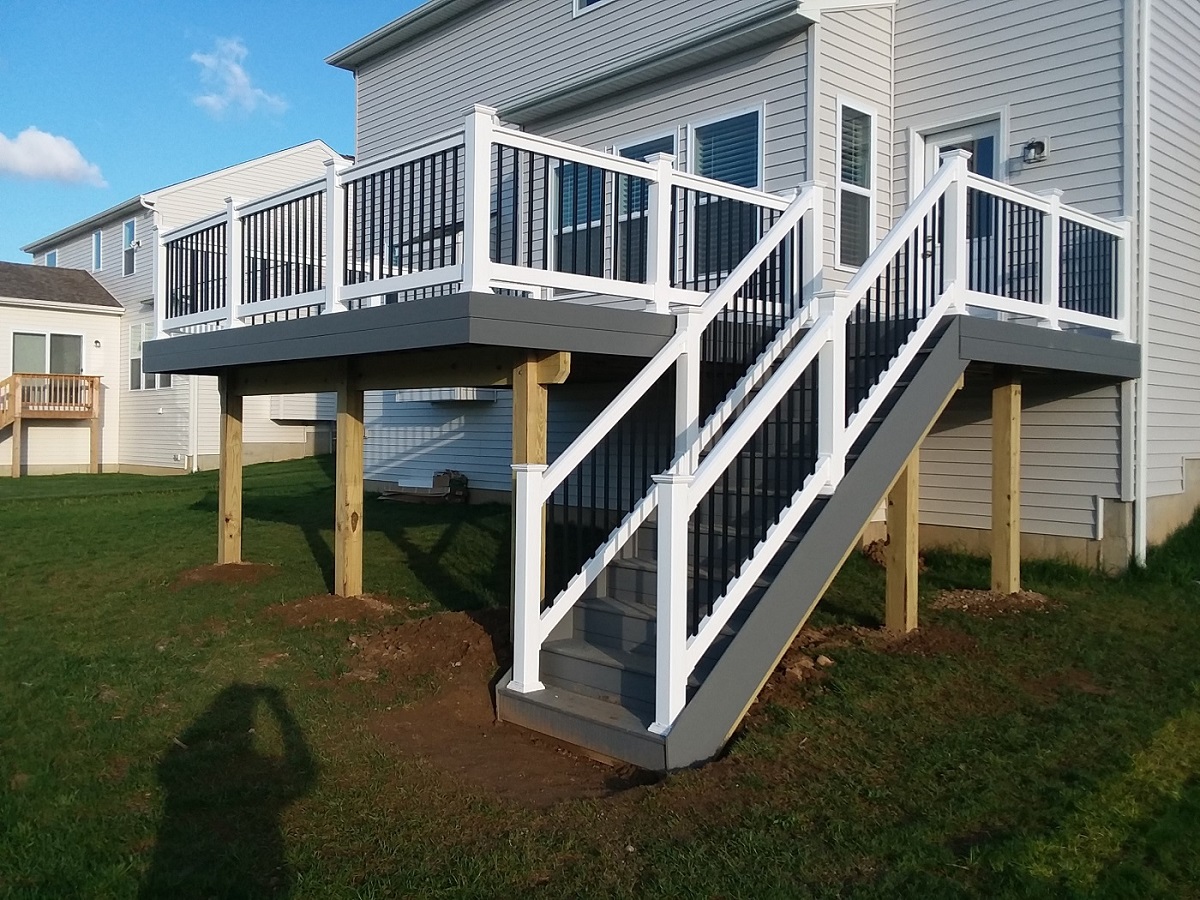 That scenario is pretty much the same today, which is why the Archadeck brand has flourished throughout the United States but most notably in Mason. Under the guidance and creative tutelage of our owner and chief design consultant, Roger Miller, our reputation for being the finest Mason deck builder is well deserved.
When you stop and think about the myriad ways a Mason deck adds to your family's quality of life, the list is virtually endless. Wide open to enjoy your backyard vista, or with a roof cover overhead, decks are one of the major structures from which outdoor living gets its wings.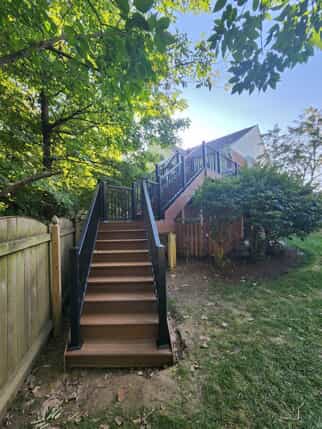 Beautifully designed and constructed from wood and/or low maintenance composite and synthetic decking materials, an Archadeck Mason deck plays host to those outdoor moments from which cherished memories are made.
The Look Of Wood Without Any Of The Maintenance To Keep It Looking Like New
A wood deck typically requires maintenance over its useful life. Eventually, wood decking can wear down and even begin to rot if not properly maintained.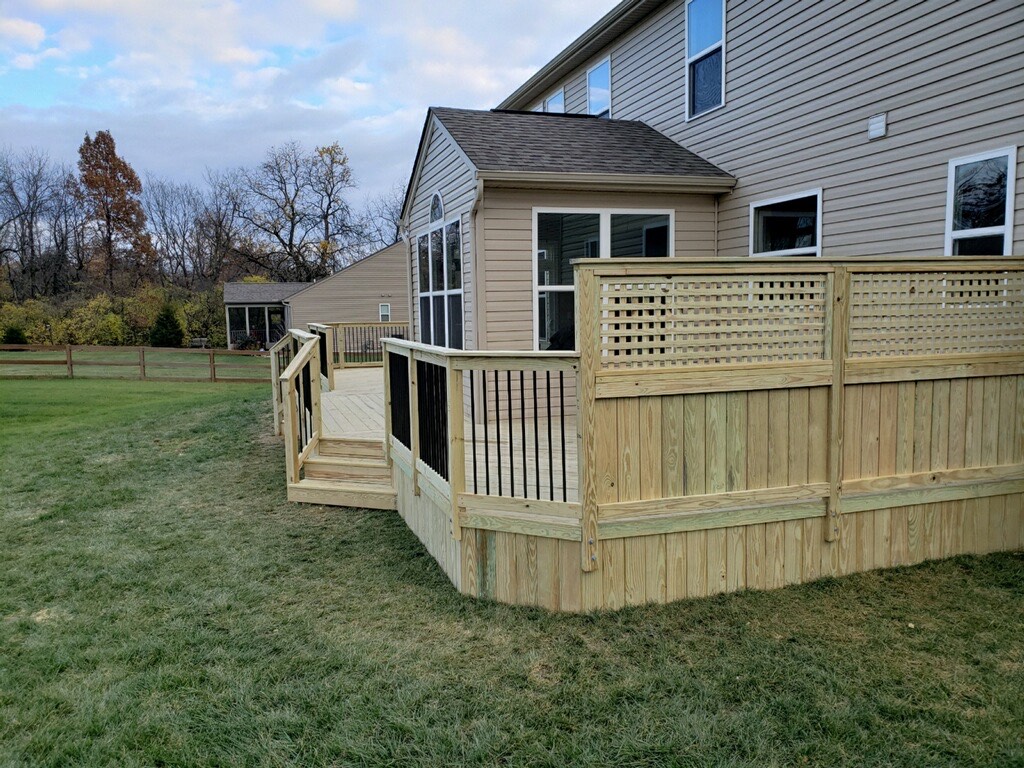 A little care and know-how will ensure you have a more durable and appealing outdoor space for years to come. These 7 steps will put you on the right path:
1. Inspect your deck regularly for rot and to ensure it is structurally sound.
2. Replace any damaged deck boards.
3. Clean it annually during the spring before the hot summer sun.
4. Seal or stain it as needed to improve the deck's appearance.
5. Sand it to create a smoother, more comfortable surface that is less likely to have splinters.
6. Apply sealant or wood stain and stay off it for 2 days' time.
7. Rearrange your outdoor furniture, including planters, toys and grills occasionally to prevent sunlight from causing mismatched color patches, as well as water gathering beneath them.
The alternative? Go with a low maintenance composite or synthetic decking material; and you won't have to bother with any of that upkeep.
Using state-of-the-art new decking alternatives from TimberTech will alleviate all of that routine care.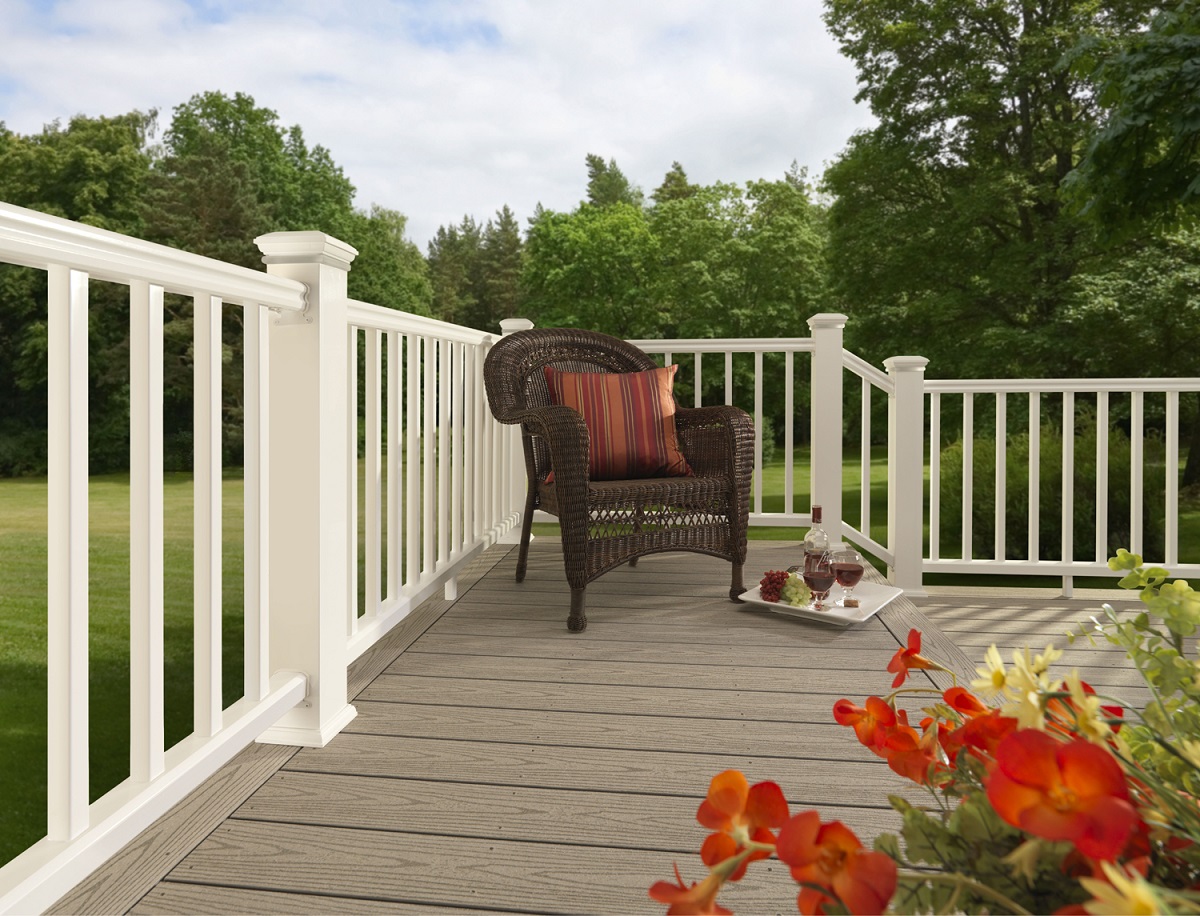 Instead, just brush the surface clean to remove outdoor debris as needed to keep it fresh looking. And should it fall victim to a spill, just a quick rinse with a garden hose should do the job. When we say low maintenance decking, we're not exaggerating.
(Sidebar)
Live better, today and every day, and let Archadeck of West Central & Southwest Ohio custom design and build the outdoor structures you need to elevate your quality of life. You can reach us at (937) 563-4847 or click here.
Enjoy Realistic Wood Looks With TimberTech Composite Or Synthetic Decking Boards
In addition to never having to worry about upkeep, TimberTech products are backed by 25, 30, 50 year and/or lifetime warranties.
TimberTech composite decking products are manufactured using recycled materials, so they are a great sustainable choice. Backed by a 25 to 30-Year Limited Product Warranty and 25 to 30-Year Fade & Stain Warranty, they now can be found at the finest homes in the Mason area.
TimberTech Advanced PVC decking materials are totally synthetic –although you would never know it by looking at them – even up close. They feature the rich texture and grain of real wood, although there's not an inch of it in the material. Backed by an industry-best Lifetime Limited Product Warranty and their 50-Year Limited Fade & Stain Warranty, it simply cannot be beat for carefree – and worry free – outdoor living leisure.
Whether you select TimberTech composite or synthetic decking, both are purposely designed to resemble your favorite wood species and types. Both options deliver premium aesthetics and look just like wood, in the largest selection of colors and textures you can possibly imagine so you can find your perfect match.
Engineered for performance, Mason low maintenance decks enjoy TimberTech's innovative materials technology, resisting fading and staining — and won't splinter, peel, crack, or rot. So your deck will look and perform beautifully for decades without the worry and maintenance of wood.
Upgrade Your Mason Deck And Turn It Into A Porch Or Multi-Season Outdoor Living And Dining Room
With a little imagination, a deck can blossom into an outdoor living paradise. Put a roof cover over it, and you'll be able to protect yourself from the blazing sun when it finally hits or a sudden downpour.
Hate annoying mosquitoes and biting bugs? No problem. We can easily screen it all in for your comfort and enjoyment.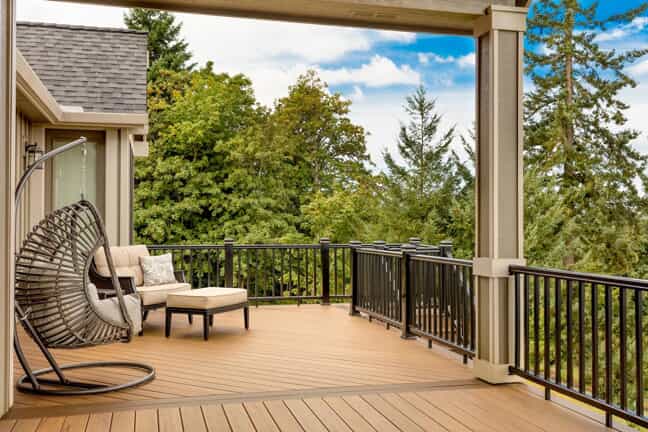 Want to virtually live on it all year long? It would be our pleasure to convert it into a 3 season room. Our team of construction experts can easily upgrade, improve, and transform your outdoor space into a multi-functional relaxing getaway.
In fact, we can change your new or existing Mason deck, patio, or porch into a 3 season room so you can enjoy it whenever you wish.
Using hand built custom 4-track windows and doors, we can transform your outdoor space into a 3 season room. Tailor made to fit into any area, we can reinvent your existing deck, patio, or porch into a relaxing getaway. Don't just settle for a screened in room when you can enjoy much, much more.
Surrounded By Natural Light With Or Without A Cover Overhead, We Specialize In Patio Perfection, Too
Our hardscape designs bring beauty and function to your outdoor living space in the most beautiful ways possible. Whether you are considering a hardscape to work in unison with a deck or porch as part of an outdoor living combination, or only a paver patio, we can bring your ideal structure to life.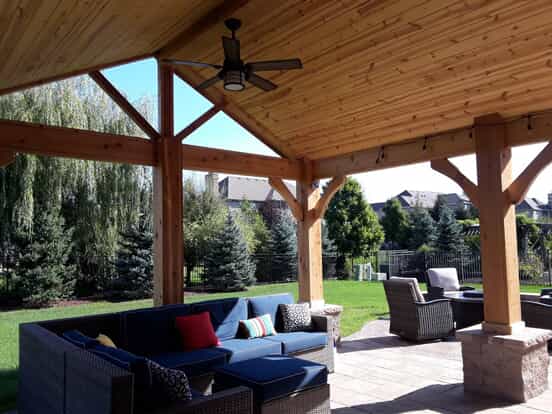 Today's patios are different from the plain concrete ones you may have known as a child. Today, they encompass a wide variety of materials from pavers, natural and synthetic stone, and are often assembled with unique footprints complementing the architectural elements present in your home, and the surrounding landscape.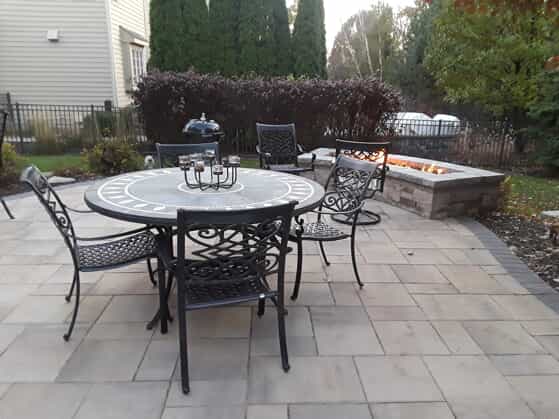 Our Mason patios include vertical hardscapes with outdoor kitchens, outdoor fireplaces and fire pits, retaining walls, decorative pillars, and even hardscape stairs and steps. As such, our hardscape crews have tremendous experience and expertise in designing and building high-quality patios and hardscapes throughout Mason neighborhoods; the kind of hardscapes that make you say "Wow!".
(Sidebar)
Add An Outdoor Kitchen And You May Never Bother To Prepare Meals Inside Your House Again
Regardless of the time of day – or night – a Mason outdoor kitchen can give you the ultimate outdoor living experience on your patio, deck, or porch. If you add a refrigerator and a grill or a Big Green Egg smoker in your outdoor kitchen design, life will become even more precious that it currently is.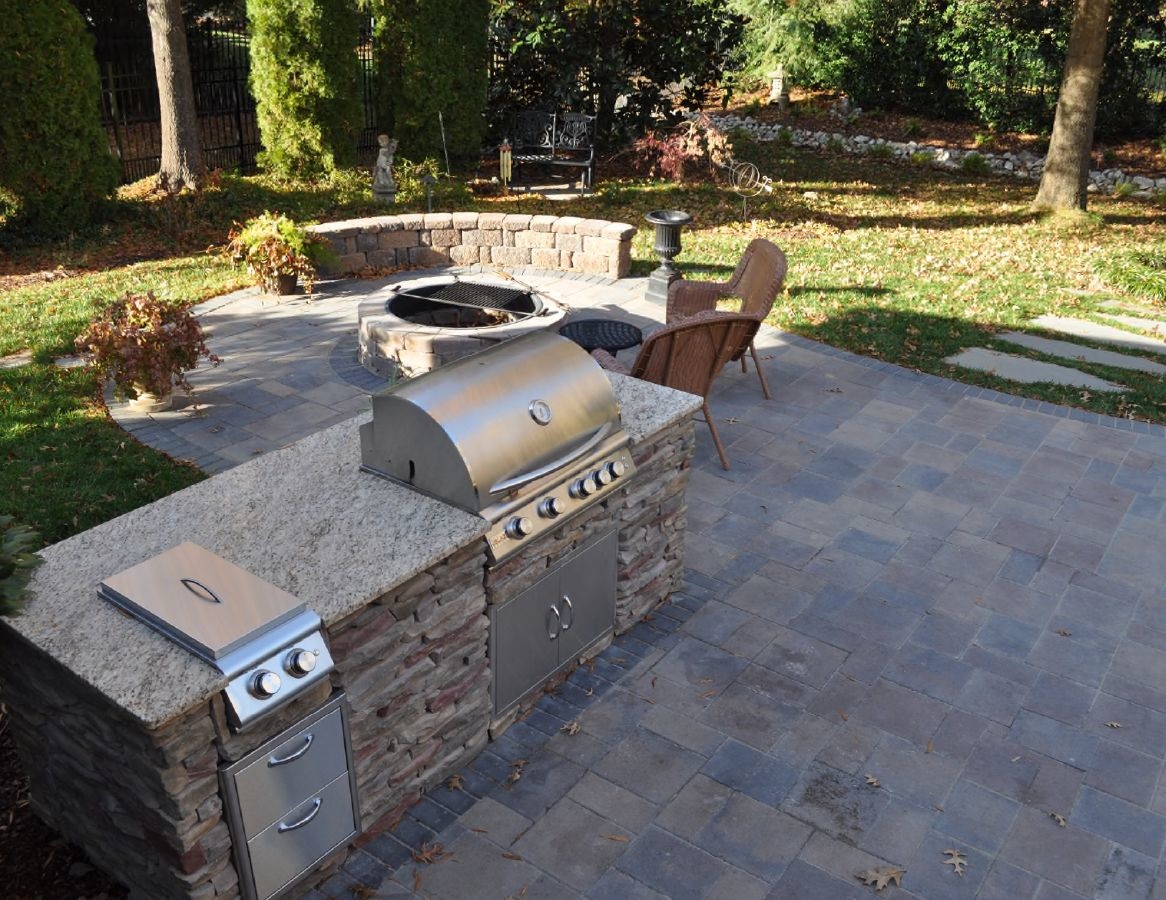 Some options for custom outdoor kitchens include:
• Grills
• Counter spaces
• Cocktail bars
• Fridges
• Outdoor sinks
• Food storage areas
• Food warming areas
• Pizza ovens
• And many more conveniences you most likely didn't realize
Face it. Whether you're having a party or simply preparing a family meal, the chef often gets left inside while everyone else gets to hang outside with one another. With an outdoor kitchen, both cooking and socializing can be combined for every occasion. Come summer when the weather is warm, you don't want to get stuck in a hot, stuffy kitchen. An outdoor kitchen is a wonderful addition to any Mason outdoor space.
Speaking Of Cooking, Add Year Round Warmth And Comfort With A Mason Fire Pit Or Outdoor Fireplace
If you're looking to truly take your outdoor space to the next level, an outdoor fire feature will do just that. Not only does it offer warmth in the chilly months, but it also adds quite a captivating architectural element to your backyard – and in some cases, it gives you the option to roast marshmallows for all the big and little people in your life.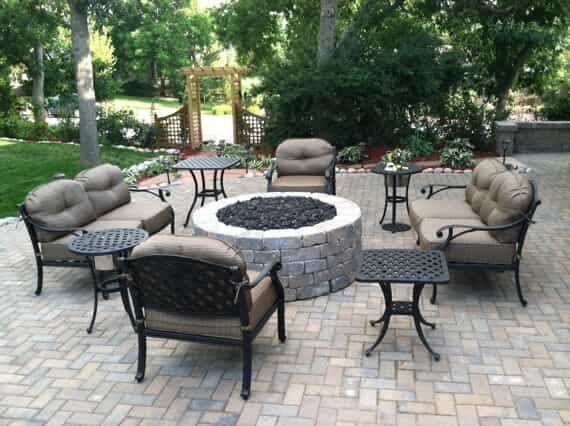 When dealing with anything involving gas or fire – or in this case, both – it's crucial that you have a trained, professional team on the job to make sure the installation meets all the safety requirements. Poor installation can lead to a variety of unforeseen problems and can even pose a risk to your property and your family.
Our team will take every precaution necessary to ensure a perfect design and installation so you can enjoy your fire feature without any worries.
(Sidebar)
Why wait? Enjoy the years you have left by celebrating great times with family, friends, and neighbors in exquisite outdoor living spaces. In Mason, Archadeck makes those dreams come true.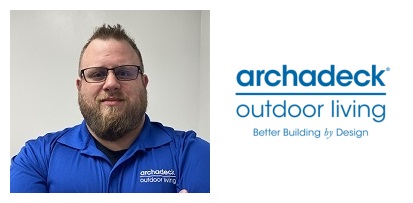 Roger Miller, owner Archadeck of West Central & Southwest Ohio.