OUTDOOR LIVING DESIGNS AND STRUCTURES THAT WILL MAKE YOU THE ENVY OF YOUR SPRINGBORO NEIGHBORS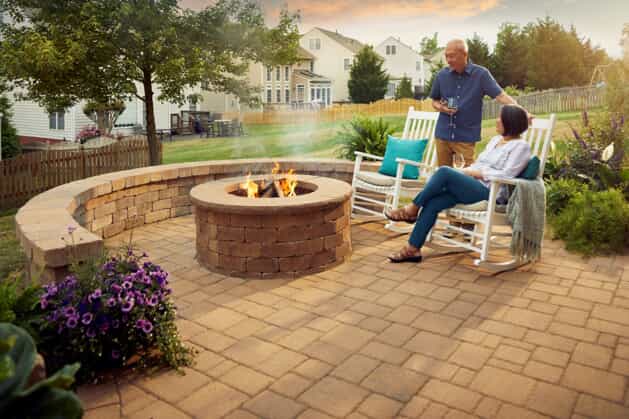 Founded in 1815, by Jonathan Wright, as a Quaker town conveniently located between Cincinnati and the Miami rivers, Springboro became rich with mills, beautiful two-story homes, and even a general store – relatively newsworthy for that time.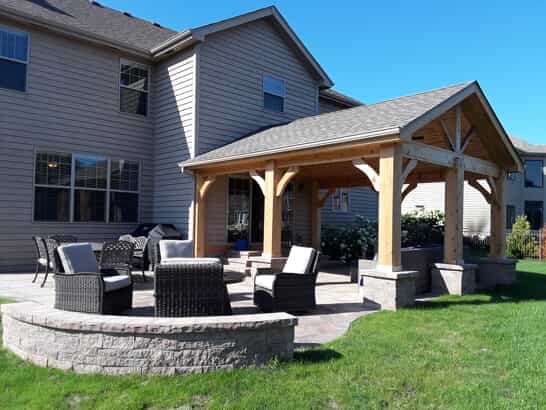 From small-town charm to a retail and residential trendsetter, Springboro has almost doubled in size over recent years. But its more than 200-year-history remains one of the most compelling stories in our greater Dayton area.
Today, Springboro is known for the wonderful quality of life it offers its families, many of whom have discovered the joys and pleasures of relaxing and enjoying our great Ohio outdoors.
Celebrate Our Change Of Seasons In Springboro, Ohio, In Custom Outdoor Spaces
Our growing reputation as the Springboro Deck Designer and Builder has grown by leaps and bounds as the "stay inside" rigors of the COVID pandemic hit the United States.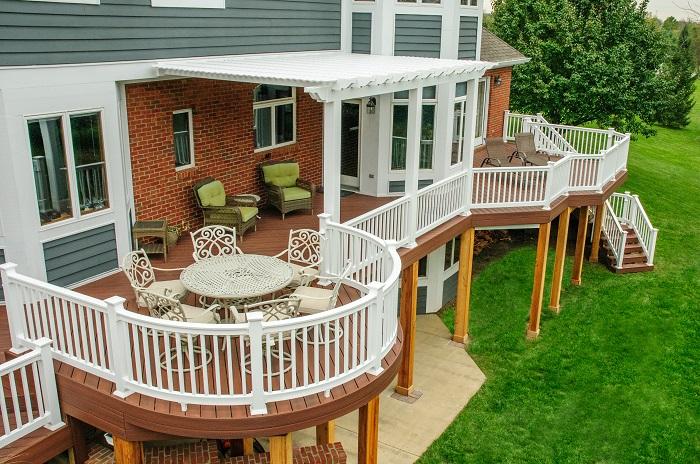 With the majority of that malaise now behind us, Archadeck of West Central & Southwest Ohio has ramped up its designing and building of exceptional custom decks, patios, hardscapes, porches and combinations spaces. For more than 30 years, our homeowner clients have told us that we have tremendously added to the quality of life for another generation of busy Springboro homeowners.
(Sidebar)
Let's start the outdoor magic with a complimentary design consultation, so give us a call today at (937) 563-4847 to get started.
Decks – The Proverbial Golden Goose For Enjoying The Very Best Springboro Backyards
The comfortably elegant ambiance of Springboro extends past the beautifully curved drives, manicured landscapes, and rolling lawns among its various neighborhoods.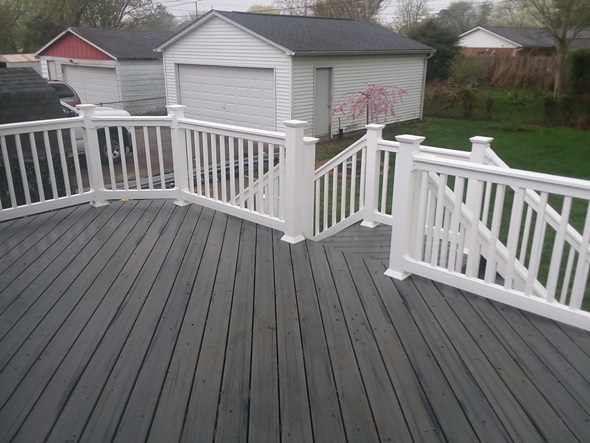 Should you be lucky enough to catch a glimpse or two into the backyards of these homes, you will soon learn that the outdoor living spaces are the center of attention for local homeowners.
And as for who is designing and building them, that's easy. It's Archadeck of West Central and Southwest Ohio, is known as Springboro's premier Deck and Porch Builder.
For over 30 years, we have been designing and building custom outdoor living spaces in Springboro. We are a local, family-owned and operated designer and builder of quality custom decks, porches, patios and purveyors of all things outdoor living. But at the forefront on many of our combination outdoor living spaces are decks – of all shapes and sizes.
When you stop and think about the myriad ways a Springboro deck adds to your family's quality of life, the list is virtually endless. Wide open to enjoy your backyard vista, or with a roof cover overhead, decks are one of the major structures from which outdoor living gets its foundation.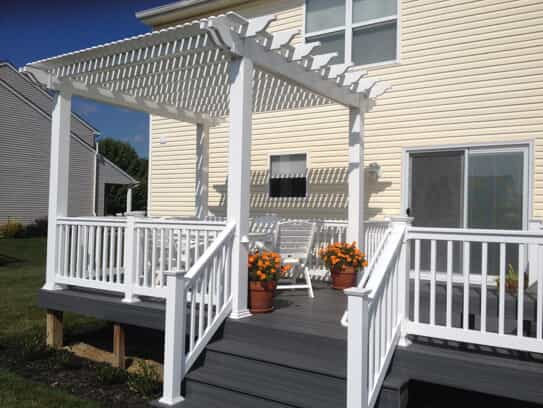 Beautifully designed and constructed from wood and/or low maintenance composite and synthetic decking materials, an Archadeck Springboro deck plays host to those outdoor moments from which cherished memories are made.
Deck Safety Is No Accident
A most enjoyable time outdoors with friends and family can be ruined in a moment by a deck failure. At Archadeck, we recommend periodic deck safety inspections to ensure your outdoor space is fit for entertaining. Our acronym BE SAFER sums it up quite nicely.
Boards – Look at the condition of your deck boards. Most wood will show some cracks and splits over time, but is the general condition of the boards good, or are the boards splintering and unsafe to walk on?
Every Connection – A deck should be built using a variety of fasteners and metal hardware connectors to create a continuous pathway to ensure deck stability and safety. Check to see if the appropriate fasteners and connectors were used when constructing the deck. Look at the condition of the hardware. Does any of it need to be replaced?
Structure – If visible, look at the posts, beams, and joists that provide the structural framework of the deck. What is their condition? Is there any noticeable sagging between supports?
Attachment – The attachment of the deck to the house (at an area called the house band) is the area where most deck failures occur. Pay special attention to this area and check to make sure that the deck is properly attached to the house band with appropriate screws or bolts and that it is properly flashed for water protection. Nails should never be used for this type of attachment.
Footings – The footings receive and support the weight (also known as the load) of a deck and the columns that bear on them. A footing that is sinking may cause a noticeable sag in an area or a column separating from a beam.
Exits – Check the areas where people exit from the deck. These exits usually involve stairs, so be sure to check the condition of the material used on the stair stringers, stair treads, and risers.
Rails – Look at the condition of the rail posts and sections of railing on the deck to make sure that the railing is secure. Check to make sure that the pickets/balusters are fastened securely and spaced no more than four inches apart.
For More Relaxed Outdoor Living Enjoyment, Many Folks In Springboro Prefer Low Maintenance Deck Materials Over Wood
For some clients, you just can't beat the natural beauty of a wood deck. But if you're looking for virtually carefree outdoor living, a low maintenance composite or synthetic deck is the way to go.
The decision to have us build your new deck or upgraded Springboro deck with state-of-the-art new decking alternatives from TimberTech, will alleviate all of the routine care associated with real wood.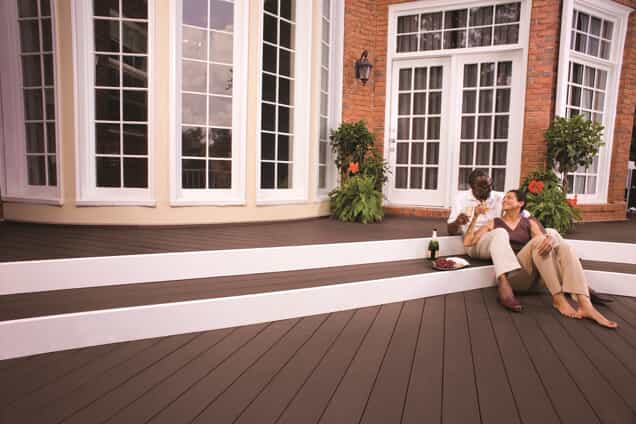 With the newer deck alternatives from TimberTech, all you do is simply brush the surface clean to remove outdoor debris as needed to keep it fresh looking. In the event of a spill, no worries. A quick spritz with a garden hose will eliminate any trace of a mishap. So as you can see, when we say low maintenance, we're not overstating the case.
(Sidebar)
Savor the good life – in your very own backyard, and let Archadeck of West Central & Southwest Ohio custom design and build the outdoor structures you need to elevate your quality of life. You can reach us at (937) 563-4847 or click here.
Transform Your Springboro Deck Into A Porch Or 3-Season Outdoor Living And Dining Room
With a little imagination, a deck can blossom into an outdoor living paradise. Put a roof cover over it, and you'll be able to protect yourself from the blazing sun this summer or an unexpected downpour.
Hate annoying mosquitoes and biting bugs? No problem. We can easily screen it all in for your comfort and enjoyment.
Want to virtually live on it all year long? It would be our pleasure to convert it into a 3 season room. Our talented team of construction experts can easily upgrade, improve, and transform your outdoor space into a multi-functional relaxing getaway.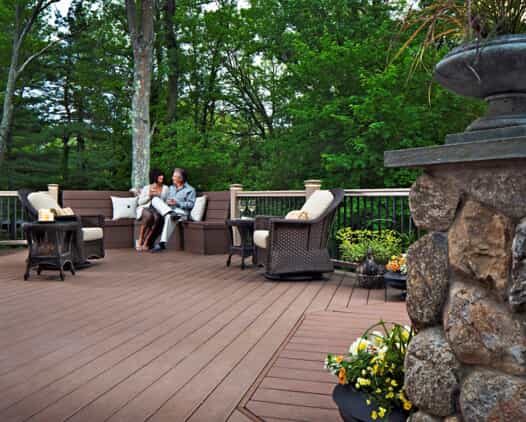 In fact, we can change your new or existing Springboro deck, patio, or porch into a 3 season room so you can enjoy it whenever you wish.
Using hand built custom 4-track windows and doors, we can transform your outdoor space into a 3 season room. Tailor made to fit into any area, we can reinvent your existing deck, patio, or porch into a relaxing getaway. Don't just settle for a screened in room when you can enjoy much, much more.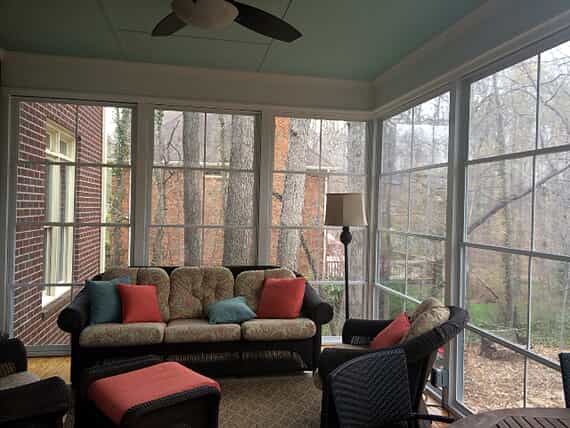 Our Patio Creations Are Just As Popular As Our Deck Structures
Our paver patio hardscape designs bring beauty and function to your outdoor living space in the most beautiful ways possible. Whether you are considering a hardscape to work in unison with a deck or porch as part of an outdoor living combination, or only a paver patio, we can bring your ideal structure to life.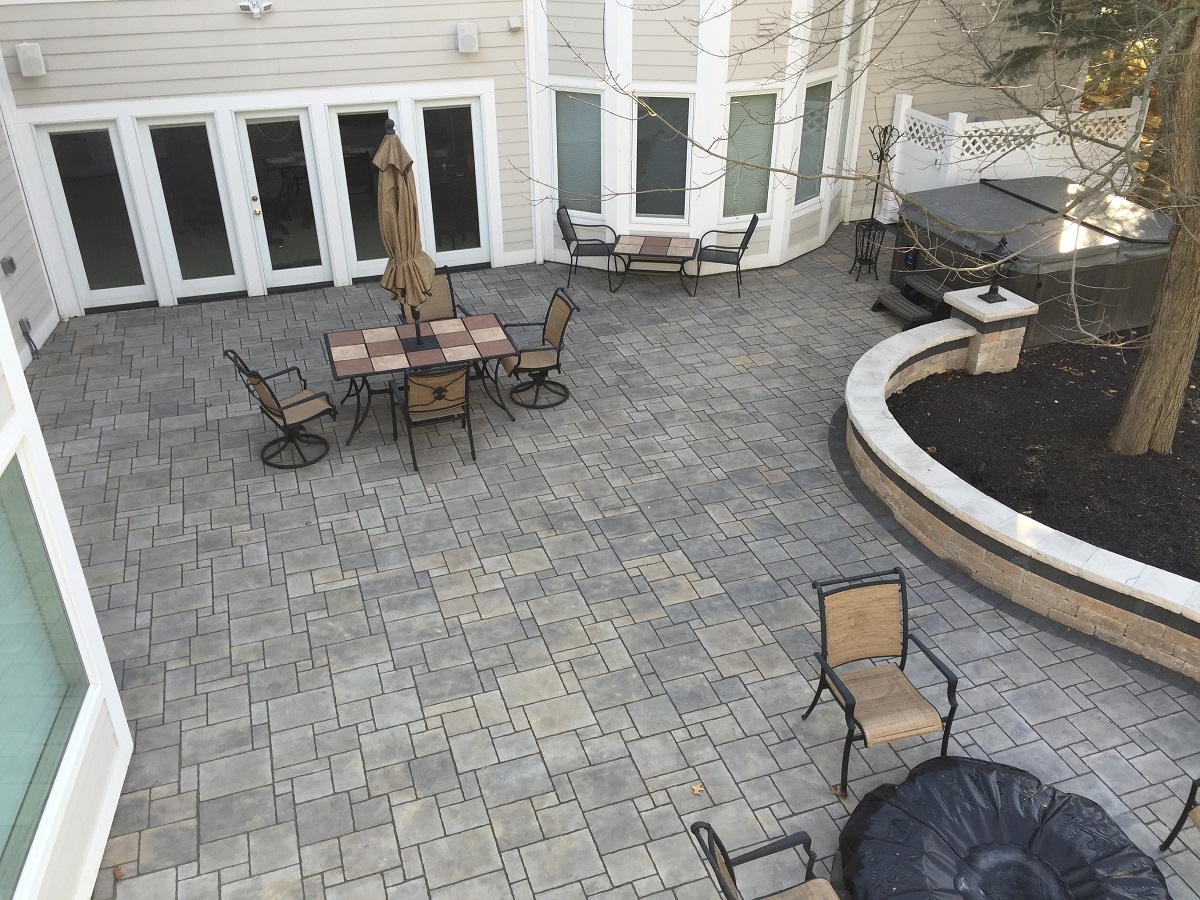 Today, patios are different from the simple poured concrete ones you may have known as a child. Now, Springboro patios encompass a wide variety of materials from pavers, natural and synthetic stone, and are often assembled with unique footprints complementing the architectural elements present in your home, and the surrounding landscape.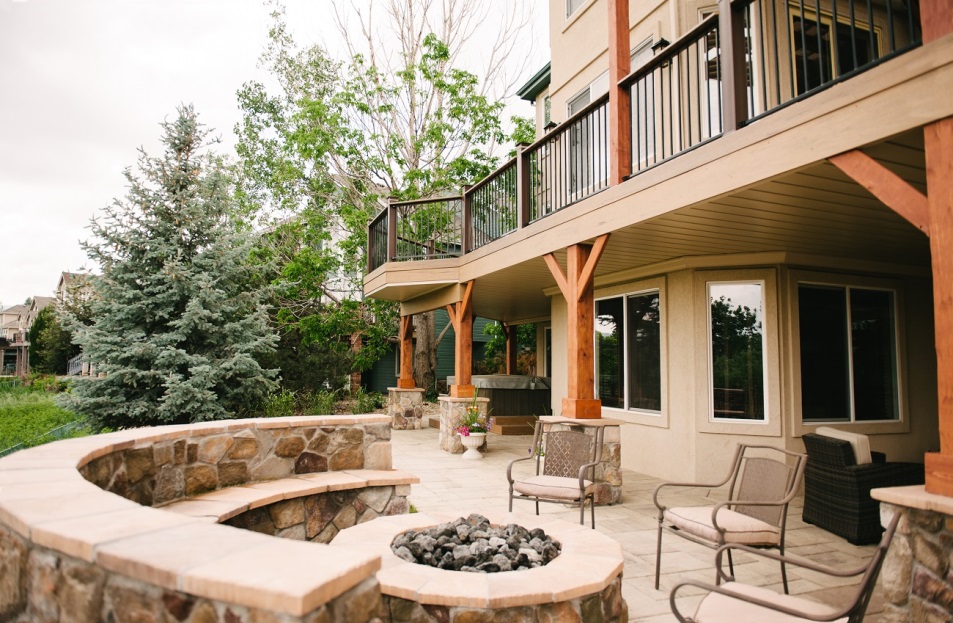 Our Springboro patios include vertical hardscapes with outdoor kitchens, outdoor fireplaces and fire pits, retaining walls, decorative pillars, and even hardscape stairs and steps. As such, our hardscape crews have tremendous experience and expertise in designing and building high-quality patios and hardscapes throughout Springboro neighborhoods; the kind of hardscapes that make you say "Wow!".
(Sidebar)
With an endless array of outdoor living structures and enhancements to choose from, let us guide you with a complimentary design consultation you can schedule right here. Or phone us at (937) 563-4847.
With A Springboro Custom Designed Outdoor Kitchen, You Have Our Permission To Bid Your Interior Kitchen A Fond Farewell
Regardless of the time of day – or night – a Springboro outdoor kitchen will deliver the ultimate outdoor living experience on your patio, deck, or porch. By outfitting it with a refrigerator and a grill or a smoker in your outdoor kitchen design, your life will change dramatically every time you decide to prepare breakfast, lunch, or dinner. Smart Springboro home entertainers favor these as a few customizable choices to outfit and complete their backyard kitchen:
• Gas and charcoal wood charcoal grills
• Stone countertops
• Cocktail bars
• Beverage and wine refrigerators
• Outdoor sinks
• Food storage areas
• Food warming drawers
• Brick and stone pizza ovens
• And many more conveniences you most likely didn't realize were even possible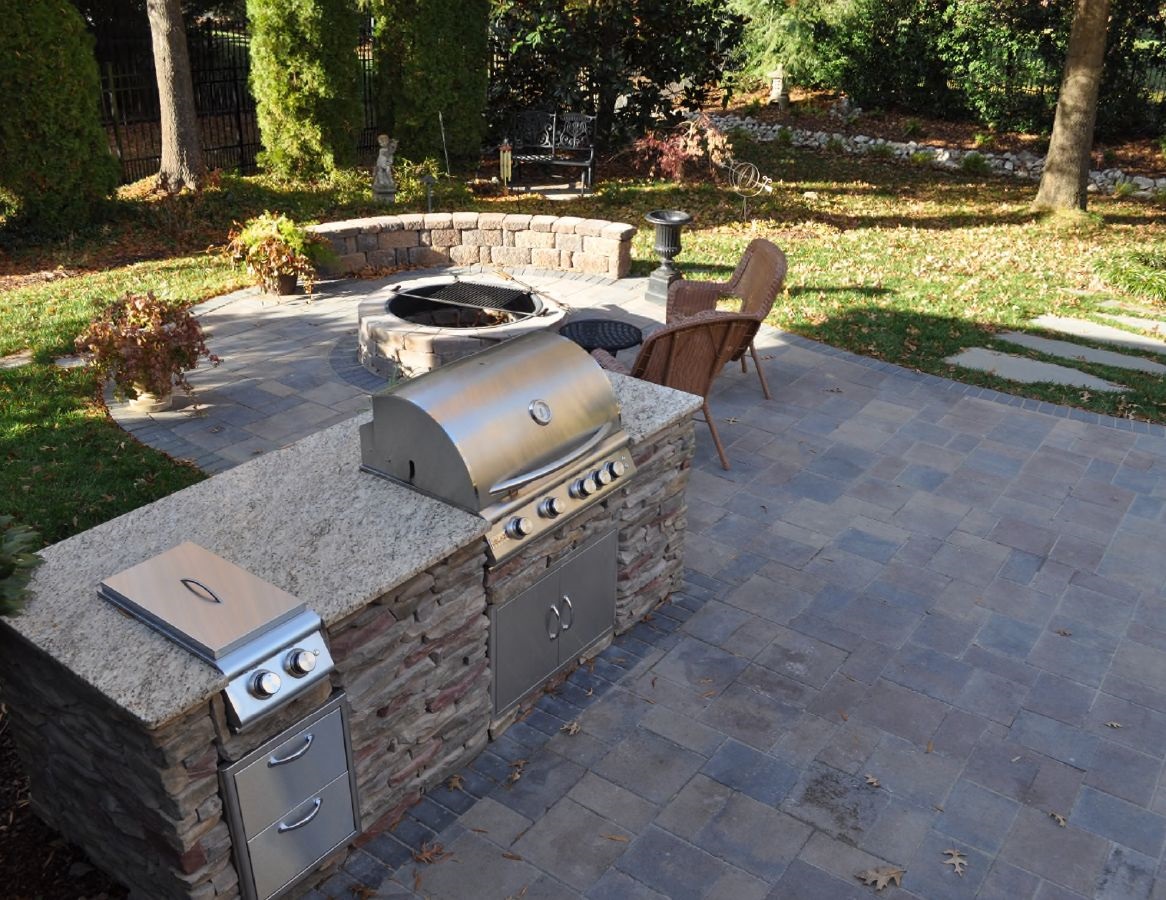 Whether you're having a huge festive party or simply preparing a family meal, the household chef often gets left inside while everyone else gets to hang outside with one another. With an outdoor kitchen, both cooking and socializing can be combined for every occasion; and come summer, you won't get stuck inside a hot, stuffy kitchen. That's why an outdoor kitchen is a wonderful addition to any Springboro outdoor space.
Speaking Of Warm, Cozy Up To The Comfort Of A Custom Springboro Fire Pit Or Outdoor Fireplace
When looking at taking your outdoor space to a whole new level, an Archadeck outdoor fire feature will do just that, and very nicely indeed. Not only will it offer warmth in the chilly months, but it also adds quite a stunning geometric architectural statement to your backyard vista.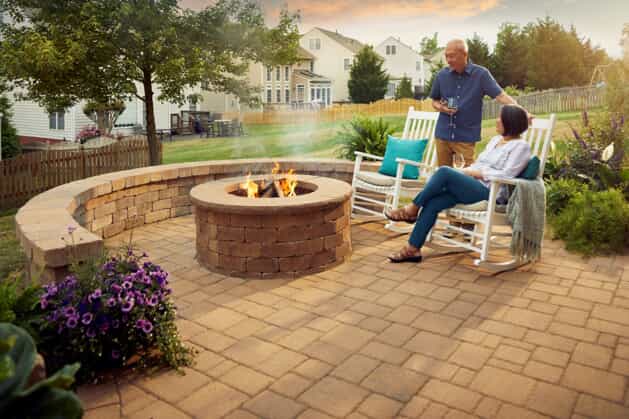 When dealing with anything involving gas or fire – or in this case, both – it's crucial that you have a trained, professional team on the job to make sure the installation meets all the safety requirements. Poor installation can lead to a variety of unforeseen problems and can even pose a risk to your property and your family.
Our team will take every precaution necessary to ensure a perfect design and installation so you can enjoy your fire feature without any worries.
(Sidebar)
Why wait? Enjoy the years ahead that await you by celebrating great times with family, friends, and neighbors in your own exquisite outdoor living spaces. In Springboro, Archadeck makes those dreams come true.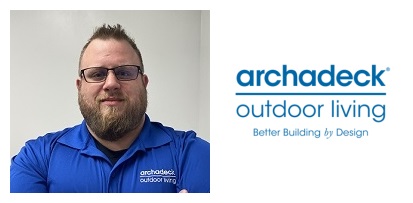 Roger Miller, owner Archadeck of West Central & Southwest Ohio.