BUILDING A DECK, PORCH OR PATIo YOU'LL LOVE WITH PRODUCTS YOU CAN COUNT ON
At Archadeck of West Central & Southwest Ohio, we have given a lot of thought to what makes a beautiful deck or patio. It comes down to three main elements: design, workmanship, and materials. When you choose Archadeck to custom design and build your new deck and patio, we bring our "A game": exceptional design skills and precise, high-quality construction.
What about materials? We've worked with a broad range of deck and patio materials over the years, and we've assembled a collection of materials we recommend. They're not just our personal favorites, but materials that are durable, look good, and hold up the way they're supposed to making each client proud to show off the custom deck and/or patio we've built for them.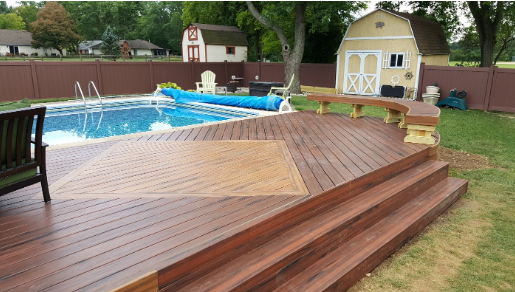 In compiling this collection, we also considered our clients' favorite materials. These are materials our clients have chosen again and again, one client after another, with complete satisfaction. No wonder we recommend using them! Throughout this page, you'll find our preferred materials. These are our "go-to" brands, the ones we offer as we help clients make design choices for a new deck or redecking project.
DECKING
We always offer premium pressure-treated pine as a decking option. This classically perennial favorite is a top choice for homeowners who prefer natural wood for their decks, and we have no reason to discourage them. If you are one of the homeowners who will always prefer a wood deck, we know how appealing the look and feel of "real" wood is to you. What we like: their value, they're natural, and they can be painted or stained.
For clients wanting to enjoy their outdoor living spaces without concern for decking upkeep, cleaning, and preservation, we strongly suggest Fiberon composite decking. This line of wood plastic composite WPC and polyvinyl chloride PVC decking won't warp, rot or splinter, so the look you love today will be there tomorrow. Wooden decking simply can't compare.
With Fiberon low maintenance decking, you have three collections to choose from.
1. Concordia: A perfect fit for your casual lifestyle, it features subtle grain patterns with no repeats. Its eight color choices are Warm Siena, Burnt Umber, Cinnabar, Graphite, Ipe, Tudor Brown, Rosewood, and Castle Gray. Its Fiberon warranty is for 50 years against staining and fading; and it comes with a lifetime warranty for performance.
2. Sanctuary: Rustically refined, this beautiful and easy-to-maintain composite decking features a 3-sided PermaTech cap layer and contains 95% recycled content. It's relaxing and soothing beverage names are Moringa, Espresso, Latte, Chai, and Earl Grey. Its Fiberon warranty is for 40 years against staining, fading, and performance.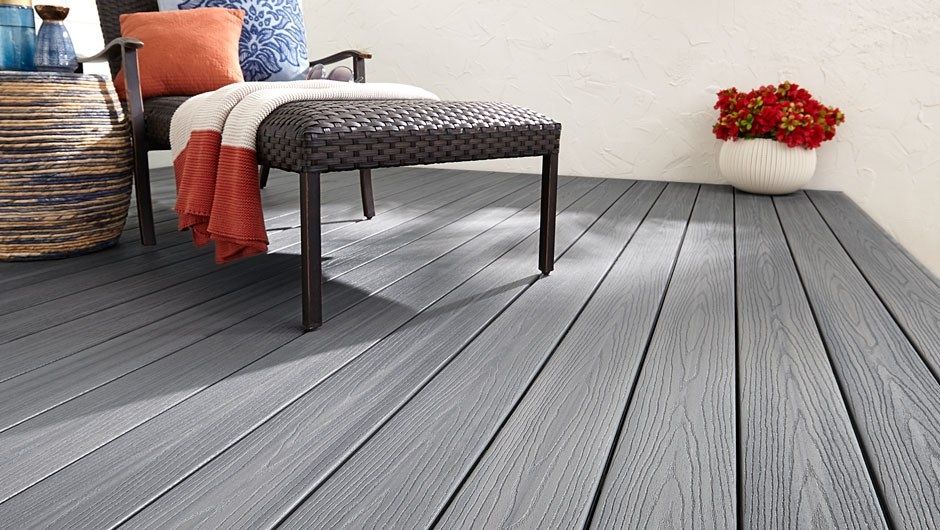 3. Good Life: Perfect for hosting neighborhood gatherings, enjoying a summer dinner with your family, or relaxing outside after a long week, Good Life offers unbeatable performance and durability for any decking project needs with two collections – Escapes and Weekender. Color choices include Cabana, Tuscan Villa, Bungalow, Beach House, Cabin, and Cottage. The Escapes warranty is for 30 years against staining, fading, and performance. The Weekender warranty is for 25 years against staining, fading, and performance.
Fiberon low maintenance decking products are made from recycled materials. That means they divert more than 70,000 tons of wood and plastics from landfills and incinerators each year.
Fiberon products are free of harmful chemicals, produced using sustainable processes, and contribute toward points in LEED and other green building rating systems. Plus, during the manufacturing process, they use a closed-loop water cooling system for zero water discharge and recover 98.5% of the waste materials they generate. These practices were recognized by Green Builder magazine, who named Fiberon a "Eco-leader" in the builder industry.
Another terrific choice is the low maintenance decking line from TimberTech AZEK's family of sustainable deck boards and products. TimberTech offers a premium portfolio of capped polymer and capped composite decking – as well as railing, porch, lighting and paver products – while AZEK manufactures distinctly unique PVC deck boards, trim, and moldings. Together, the brands present homeowners with a comprehensive suite of first-rate products that are long lasting, sustainable alternatives to wood.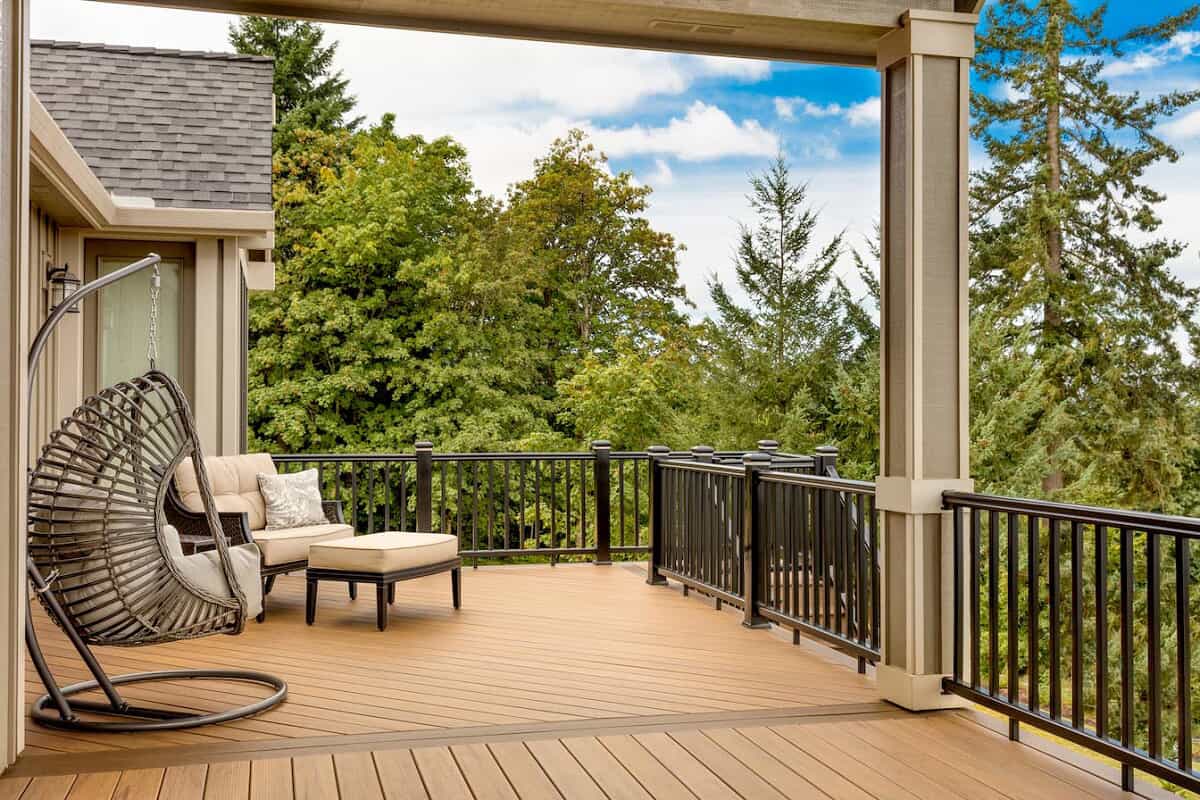 The TimberTech PRO Terrain Collection features a range of hues from solid to moderately varied to create a timeless look with a complex, rugged wood grain pattern designed to camouflage everyday wear and tear. Design your space with practical, scalloped decking that's the perfect combination of value and performance.
The TimberTech Edge Collection is an excellent substitute for traditional lumber with its beautiful, monochromatic colors in this inspired collection. These full-profile boards feature a subtle, straight grain pattern and offer a painted wood look that keeps your outdoor living space looking good for decades.
AZEK Pro is yet another widely popular choice for outdoor living clients who require virtually zero maintenance on and in their outdoor living projects.
LOW MAINTENANCE OUTDOOR LIVING WITH PAVERS AND HARDSCAPES
Most of the time, all you need to do to keep your paver patio looking great is to sweep it, blow debris away, or hose it off. How often depends on how much debris your patio collects, including leaves. There will be dust that you can't necessarily see, so if you hose down the patio periodically, you prevent dust and soil buildup, too. Whether you sweep or blow it once a day or once a week, a paver patio is much less labor intensive than a wood deck. Even better, it will keep its good looks far longer.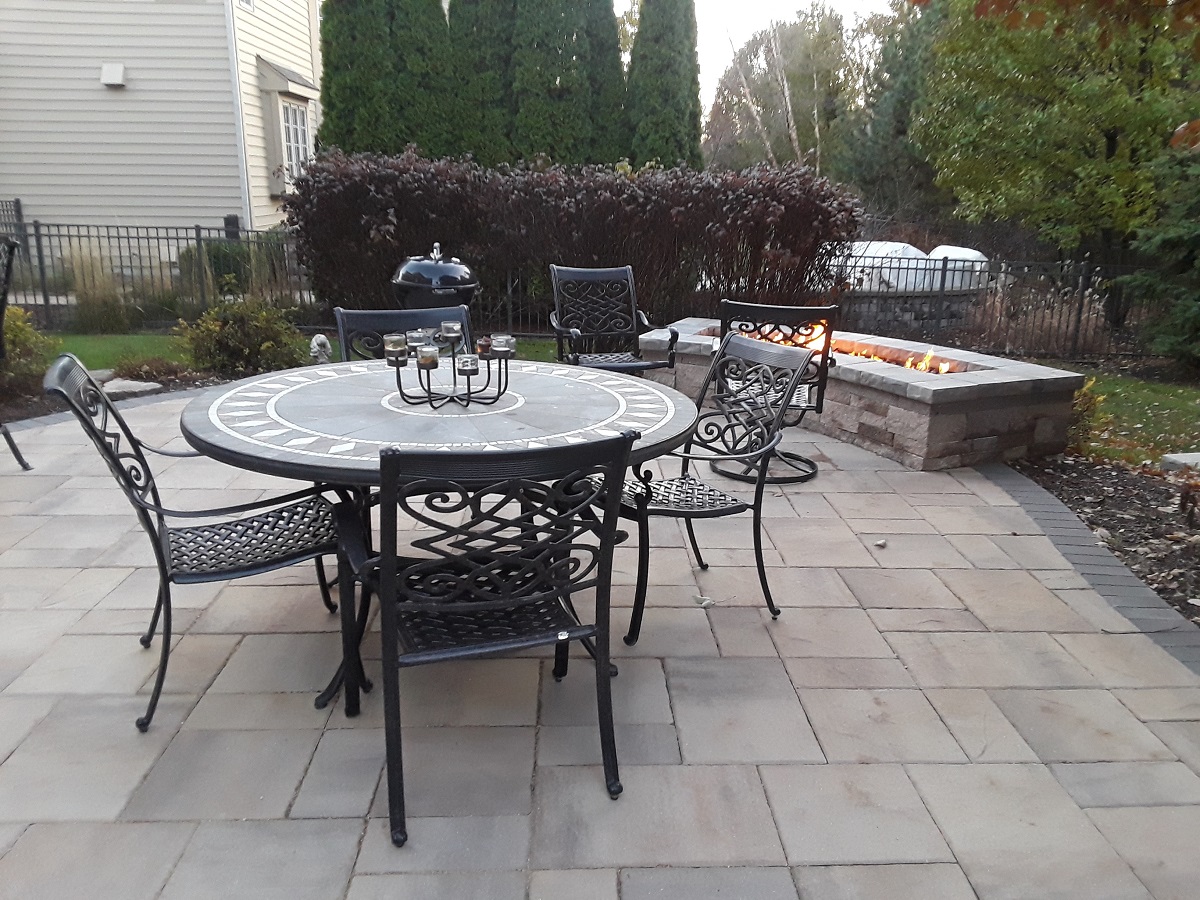 Paver and hardscape patios are ideal as a standalone outdoor living space or as an integral part of a combination outdoor living space paired with a deck, covered porch, or 3 season room.
Paver and hardscape patios are aesthetically pleasing, and that's a huge reason why our clients choose them. Pavers are available in a variety of colors, sizes, and textures. They're quite versatile and extremely durable.
Our favorite line of pavers and slabs is from Unilock, the paver industry leader for more than 50 years – and growing.
The Beacon Hill Flagstone Collection has become a staple of the hardscape industry, with good reason. From design to installation, and completion, Beacon Hill keeps on giving in so many ways. The flagstone surface texture of this product is well suited for any contemporary or rustic style project, no matter if it's a pool deck, patio or driveway. You can't go wrong when selecting Beacon Hill for your outdoor home improvement project, because the end result is always stunning and you will enjoy the long lasting appearance made possible by Unilock EnduraColor Technology.
Should your landscape design call for the simplicity of an economical paver, Hollandstone offers a classic rectangular shape available in a range of colors for affordable patios, walkways, driveways and commercial projects. Simple laying patterns and ease of installation contribute to its widespread appeal.
Brussels Block is the original tumbled paver, first introduced to North America by Unilock in 1993. These pavers are literally 'tumbled' in a drum to create an antiqued patina that brings timeless warmth and a relaxed appearance to any project. Reflecting the design cues of quarried stone, Brussels Block was traditionally sold in the standard and half stone sizes, until the XL size was introduced to increase the range of patterning possibilities. Today, Brussels Block is available in a number of colors and continues to be a popular choice for rustic driveway, patio and walkway projects.
Another Unilock budget-friendly paver is Camelot. Manufactured to exceed ASTM standards for quality and strength, its slightly rounded profile in classic shapes and styles makes it an economical choice to achieve a cobblestone appearance. Available in several colors, it's appropriate for driveways, walkways and patios.
Featuring pitched edges to work interchangeably with any wall, Unilock Ledgestone is a great choice. It is designed to be well suited to a wide range of paver and wall product styles, from contemporary to rustic. Cast from natural stone using Reala Technology, the highly detailed surface texture of this Stonemark product gives it the rugged elegance of natural stone with all the durability and precision of a manufactured product. We often use Ledgestone coping to finish walls, pillars and pool edges, and to create attractive step treads.
As you can see, our outdoor building project product offerings of pavers and hardscapes give you a wide range of materials from which to choose. We can offer recommendations, but ultimately the choice is yours. You can't go wrong when you choose any of these products for your deck and patio.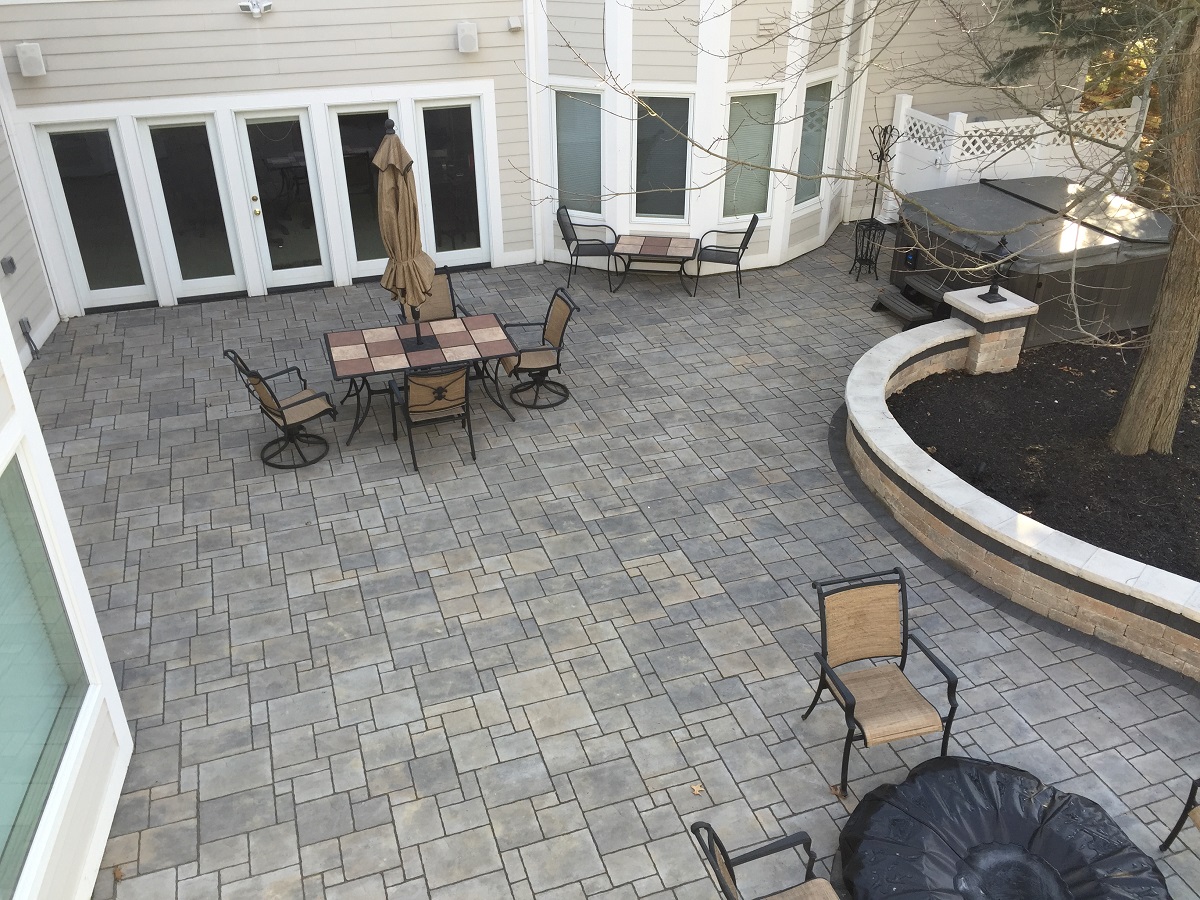 For concrete pavers, the Bullnose line gives added dimension to any wall, step, or patio application when an overhang is desired. The bullnose edge provides a smooth rounded edge that creates a slight shadow line that is the finishing detail in many applications.
Another concrete paver favorite is Rosetta Grand Flagstone which maintains the attractive texture and scale of large natural flagstone but in a consistent unit thickness only concrete can achieve, making it a comfortable and quality finished installation.
A third popular concrete paver choice is Rosetta Dimensional Flagstone that mimics an authentic, slate texture using six unique shapes and various stone textures. It's a perfect choice for walkways and elegant patios that require consistent dimensions and a more formal, sophisticated look.
Porch Materials – Comfort, Quality, And Shade From Summer Sun All Under One Roof!
Archadeck of West Central and Southwest Ohio offers both wooden and low maintenance options for our porch materials, including screened porches.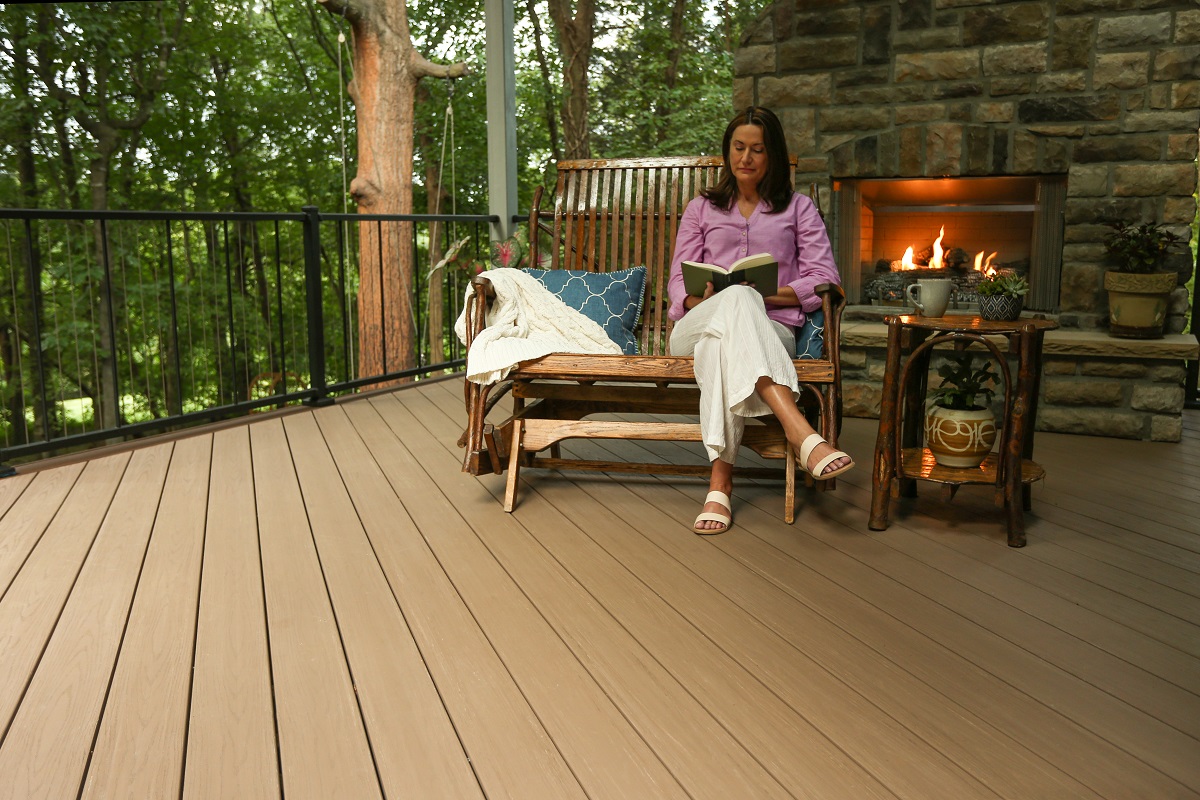 Many people may choose to use wood since the porch will be "under roof" whereas some clients choose to carry on the flooring and materials used in conjunction with a deck for fluidity and overall design aesthetics.
Wood Porch Materials
When it comes to porches, wood is one of the most common materials that come to mind. It's not surprising, as this material is versatile, easy to work with, and comes in various styles and species. Moreover, it is affordable and can provide a deck or a porch with a rustic charm.
Low Maintenance Synthetic and Composite Porch Materials
Synthetic porch and deck building materials encompass products that contain PVC. This can be a product that is built using solid PVC or capped (wrapped) with PVC. PVC (polyvinyl chloride) is a product that is free of any wood. These decking products, known as the second generation of decking materials, came onto the scene about a decade ago. PVC products deliver the ultimate in low maintenance characteristics, but are generally at the higher end price point. Cost for synthetics can vary depending on the color, pattern and amount of streaking and undulation present. In general, the formulation of synthetic is very expensive and especially the synthetics that contain emulated natural wood details. Among the leader in solid PVC decking is, of course, AZEK from the TimberTech AZEK family.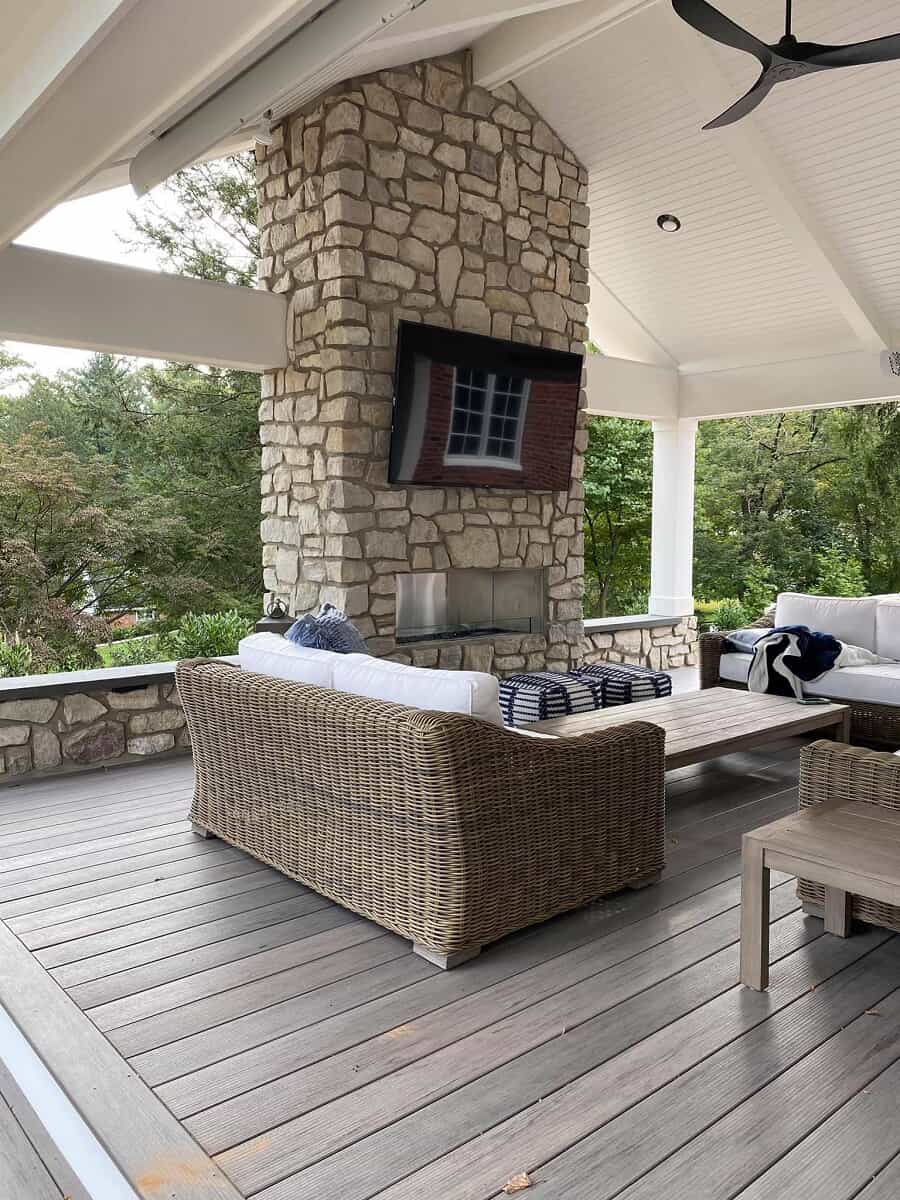 Composite porch and deck building materials are most commonly used when low maintenance is a top priority. Composites came onto the outdoor living construction scene in the late 1980's and early 1990's. Composites are made up of wood pulp that is combined with plastic which is often derived from recycled plastic. This combination of wood pulp and plastic is used to create this low-maintenance porch decking material. Even though wood plastic composites (WPC) don't require staining or painting, they do need to be kept clean in order to keep them looking and functioning their best. A good comparison of what can happen to a wood composite deck is to look at what an ignored leaf can do to a concrete driveway if it is not removed promptly. This is the same thing that can happen with your WPC deck if it is not kept clean. Since we are dealing with products that are outside in the elements on a daily basis, composite needs to be checked for any debris or dirt on a regular basis. WPC is a great product to use on or in your outdoor structure design, but the growing trend today is leaning toward more homeowners choosing synthetic over composite.
Screened Porch Building Materials And The Wisdom Of SCREENEZE
With real estate being a hot commodity today, many clients are adding home improvements instead of moving to another home. Two of the most significant ones that we are often consulting on are screened porches and 3 season rooms.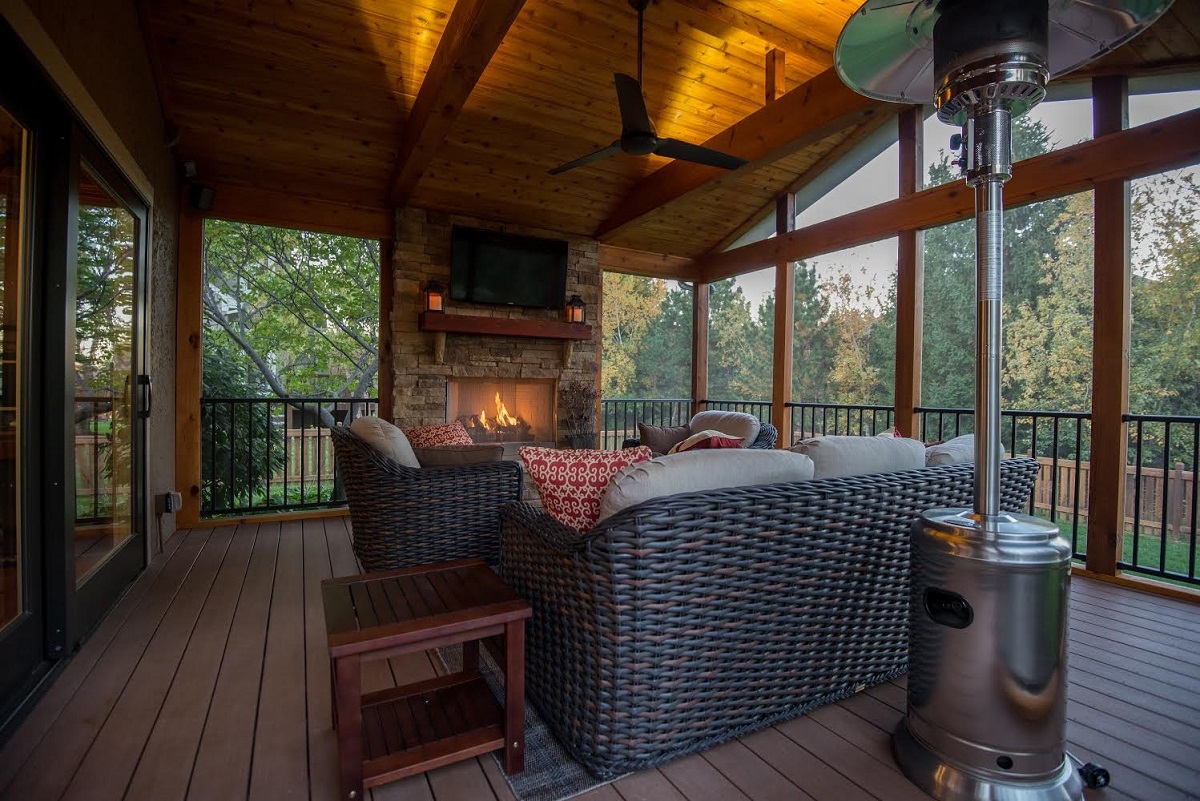 Simply put, the foundation of either porch addition is a deck – wood or low maintenance. It then becomes a greater practical and functional addition when covered with a roof, enclosed with screens, or totally enclosed with a SCREENEZE porch system.
The innovative SCREENEZE design is stronger and more durable than ordinary screen systems. The SCREENEZE system helps maintain the screens integrity. As you peer out of your porch built using this system, the screen is nearly opaque which sets the stage for spectacular views.
The SCREENEZE porch screening system is a patented fixed screen system, featuring an aluminum base and a vinyl cap which are snapped together and attached to your porch or gazebo. SCREENEZE can be installed on the inside, outside, or center of your porch post and rail design.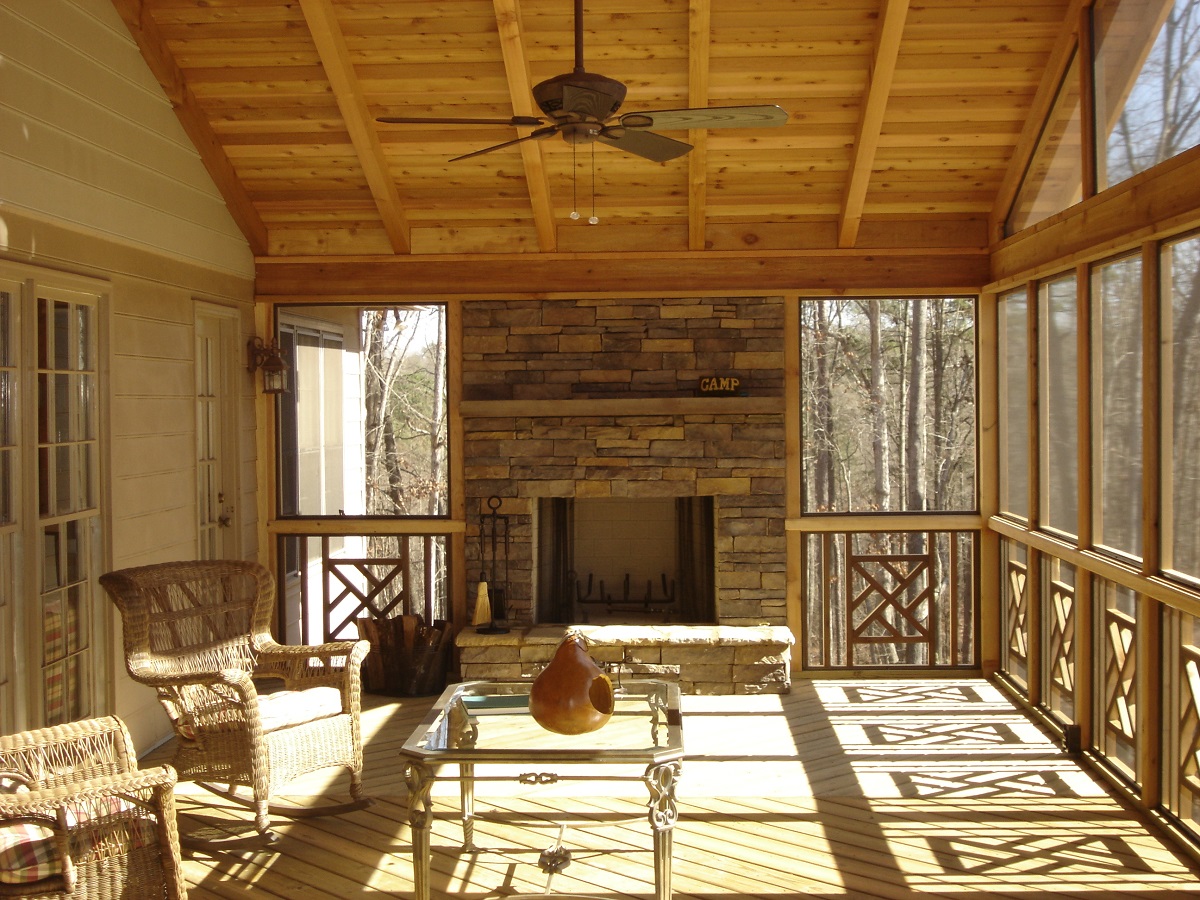 Part of the beauty of it is that SCREENEZE allows for large spans of porch enclosure protection and becomes almost invisible with the rails placed outside the screen.
More advantages of using SCREENEZE include:
• Thanks to its innovative and highly durable track system, your SCREENEZE screened room retains its shape better than traditional screen and will not crinkle or sag over time.
• SCREENEZE is designed to span longer and larger distances than traditional screening methods to up to 150 Square Feet. Unlike traditional screen, this does not limit you to forty square feet or a width of 3 feet. You can easily do a 10′ × 15′ panel with SCREENEZE.
• SCREENEZE can be attached to any smooth uniform surface.
• To complement your taste and décor, SCREENEZE is available in white, sand and bronze.
Contact Archadeck of West Central & Southwest Ohio today to learn more about a custom deck, porch, patio or combination outdoor living space design. You can reach us at (937) 563-4847, or via email at wcohio@archadeck.net.
Let this be the year that Archadeck makes your outdoor living dreams come true.

Roger Miller, owner Archadeck of West Central & Southwest Ohio.
It all begins with a complimentary design consultation, so give us a call today at (937) 563-4847 to get started.