Oakville Balcony Remodel Transforms Home's Dated Exterior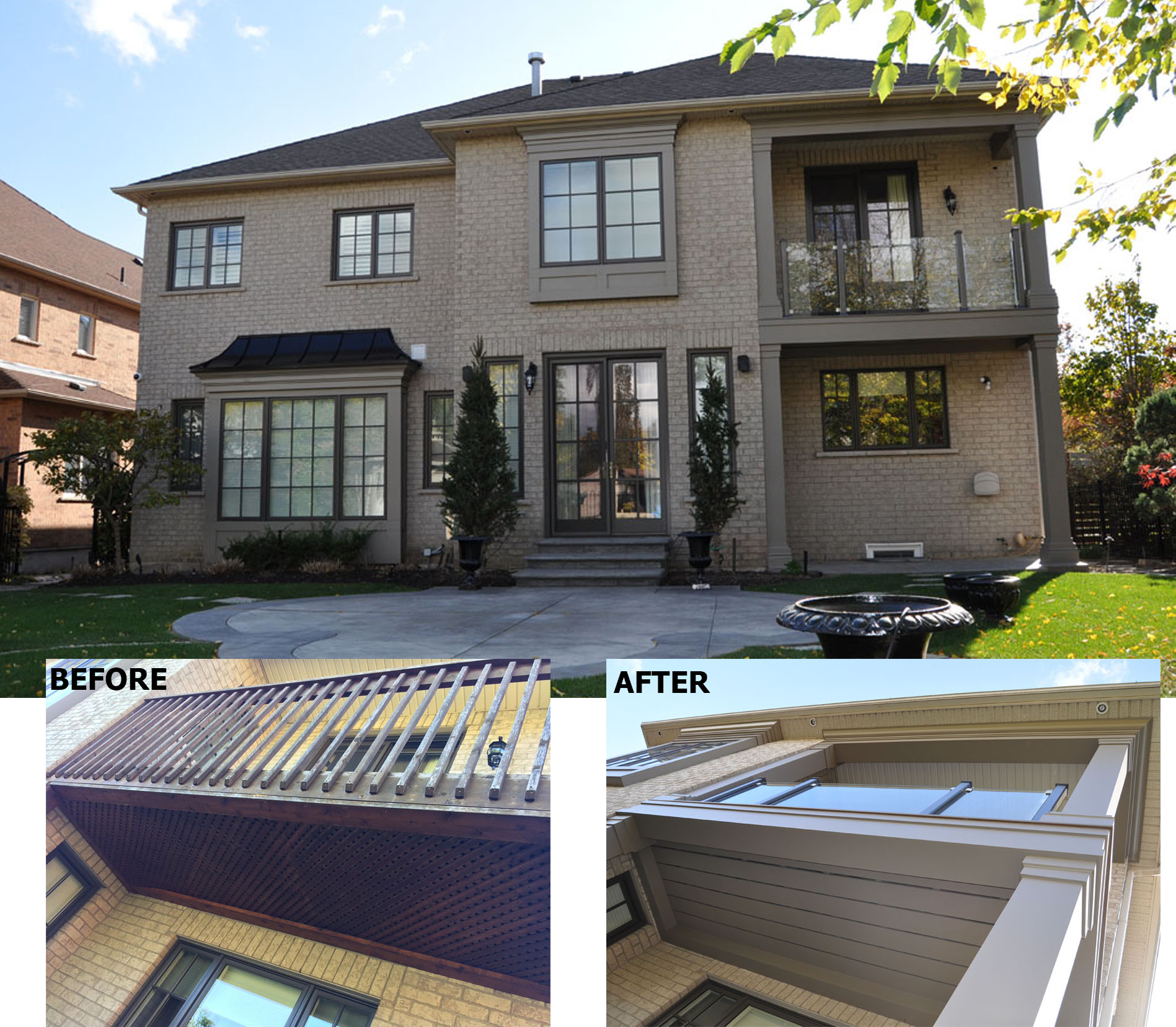 Oakville Home Receives Exterior Update with a Balcony Renovation
Oakville home exteriors need updates to stay with the fashions of today and avoid the "dated" look. While many homeowners have no problem renovating their kitchens and baths and other interiors that can aesthetically age a home, they often neglect exterior features. When it comes to an aging deck or balcony, a facelift not only brings your home up-to-date, but it also improves the safety and performance of your outdoor living space. This aged Cedar balcony was not only looking dated and worn but presented a safety hazard too.
Low-Maintenace Modern Materials Look Original to The Home
We replaced the Cedar balcony with TimberTech Legacy composite decking in Ashwood. We added frameless railings with glass infill for an unobstructed view of the yard and a modern aesthetic. The columns are wrapped with exterior MDF boards painted to match the new composite decking colour. We replaced the patio ceiling under the deck with matching painted MDF tongue and groove for an upscale finished look that will also hold up against the weather. With the neutral palette, we were able to make this update look like it was always there.
The homeowners already enjoy the instant update the new balcony provided for their home's appearance and will appreciate the long-term low-maintenance and durability of their new finishes. TimberTech decking requires no staining, painting, or sealing, a welcome change from the weathered look of their previous wood balcony. And TimberTech offers a 30-year stain and fade warranty, meaning this balcony will last a great deal longer than the previous.
If your home's exterior spaces could use an update, call Archadeck of Oakville, Burlington, West Mississauga & Milton today! (877) 362-5802