Deck, Paver Patio, Pergola, and Outdoor Combination Space Builders – Parker & Castle Rock Colorado
Archadeck of Greater Denver produces custom outdoor living designs for paver patios, decks, and other outdoor living spaces in Parker and Castle Rock, CO.
Every homeowner's ideal outdoor living space vastly differs from another's. From the way your property is set surrounding your home to the distinct architecture of your house and the landscaping you have worked hard to cultivate; your home is one-of-a-kind. That is why the Archadeck of Greater Denver and the Foothills team takes time to collaborate with you, our valued customer. Archadeck has been servicing the Denver Metro area since 2011, bringing with us specialized skillsets focused on all things outdoor living, starting with our detailed approach to design and our diligence throughout the entire construction process. Whether you are looking for a specialized deck builder in Parker CO, or are wanting more intricate like an outdoor living combination space in Castle Rock CO, look to the experts in fluidly bringing together multiple structures, including paver patios, pergolas, and other outdoor living structures, into one beautiful design.
Do you need a little outdoor living inspiration? Allow Archadeck of Greater Denver and the Foothills to assist you in creating the perfect custom outdoor living space.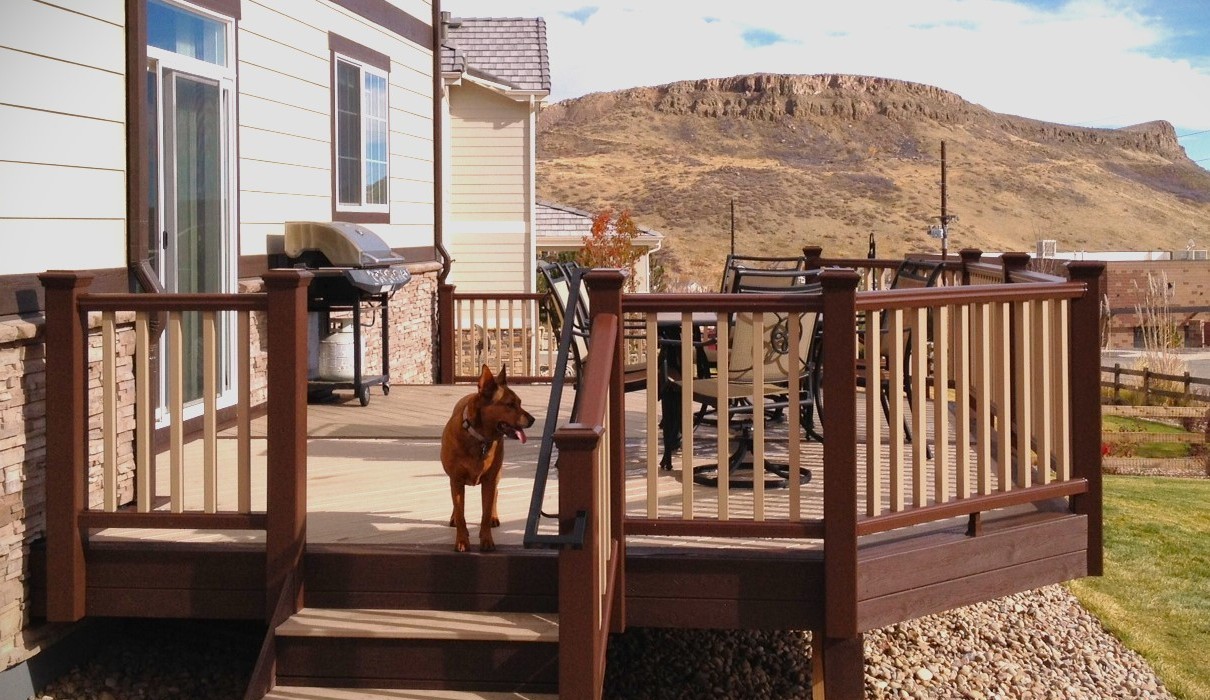 Get the Most out of Your Views with Parker CO Deck Builders
When looking for a deck builder in Parker, Colorado, you want to know whomever you work with knows the area. Anyone who lives in the Mile High City knows that our weather is finicky, it changes rapidly and often changes hard. Your new deck will need to endure rapid temperature fluctuations, the dense weight of snow, and on average more sun than Miami. Not only do we get more sun but being higher up in altitude means that the sun's intensity is stronger.
As expert deck builders in Parker, CO, Archadeck of Greater Denver and the Foothills have provided custom decks for over a decade. This longevity in the region allows us to know exactly how our materials will react and how best to use them in achieving your goals. Allow us to bring your dream outdoor space into a reality. TimberTech and Trex decks are the perfect construction material when looking for low-maintenance decking in Parker, Colorado. Not only is it easy to care for, but these composite decks provide decades of durability without staining or sealing your wood deck every year.
Improve Your Outdoor Space by Hiring Experienced Patio Roof Cover Builders in Parker and Castle Rock CO
Do you now find yourself wishing that you had constructed a roof over your patio when you initially built it? It is never too late to make additions to your patio. To get the best protection for your outdoor areas, turn to Archadeck of Greater Denver and the Foothills. As your patio roof cover builders in Parker and Castle Rock, Colorado, we will evaluate your patio and find the best, and most secure, way to add the perfect patio cover. Enjoy the great outdoors no matter the weather with the finest patio roof cover. You can specify just how much or how little of your patio space is properly shaded by your new patio roof cover as it is created according to your exact specifications.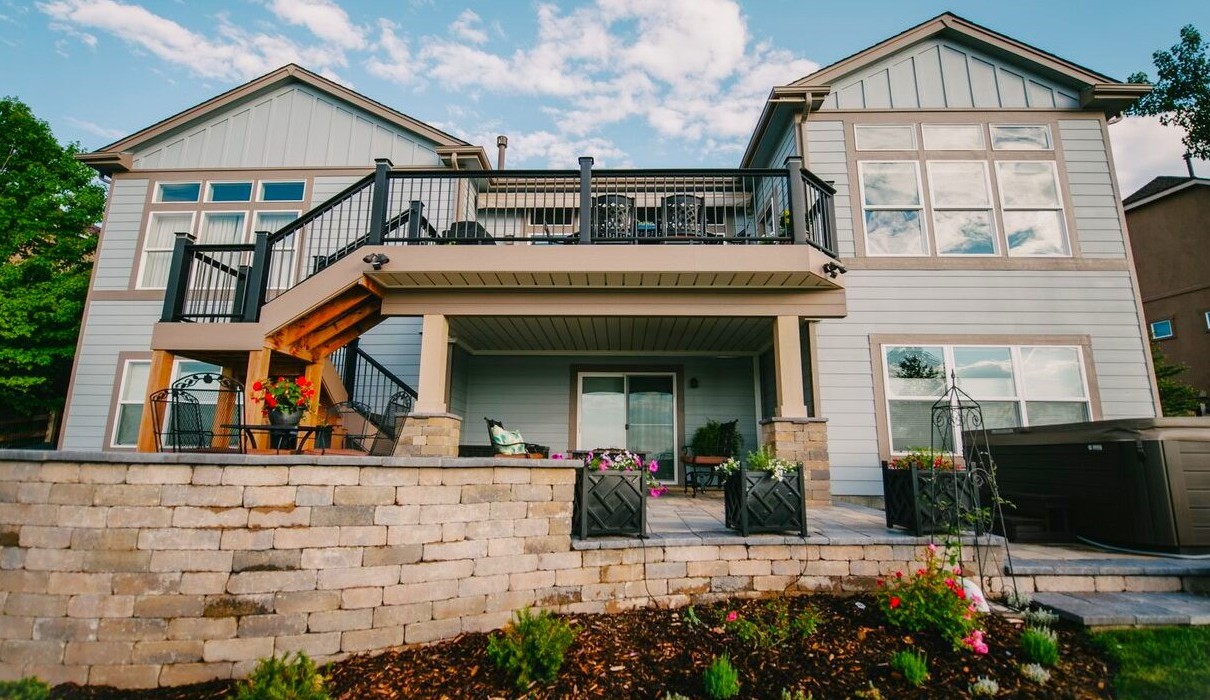 Does your ideal outdoor living space go beyond the scope of a normal deck and patio contractor's abilities? Let Archadeck of Greater Denver and the Foothills show you that we are up to the challenge. With numerous award-winning custom-designed projects and a talented team ready to deliver, we are ready.
As skilled your trusted outdoor combination space builders of Castlerock and Parker, Colorado, we adhere to the highest design standards to ensure that your vision is meticulously created, producing a finished product that is a beautiful, functional piece of artisanship. Such attention to detail is featured in the combination outdoor living space pictured above, from the deck that is accented with a paver hardscape foundation that provides plenty of space for dining, a dry porch living area, and a hot tub, to the switchback staircase that leads up to the upper deck.
The first step in getting the outdoor combination space you've been wanting is contacting your better building partners at Archadeck of Greater Denver and The Foothills.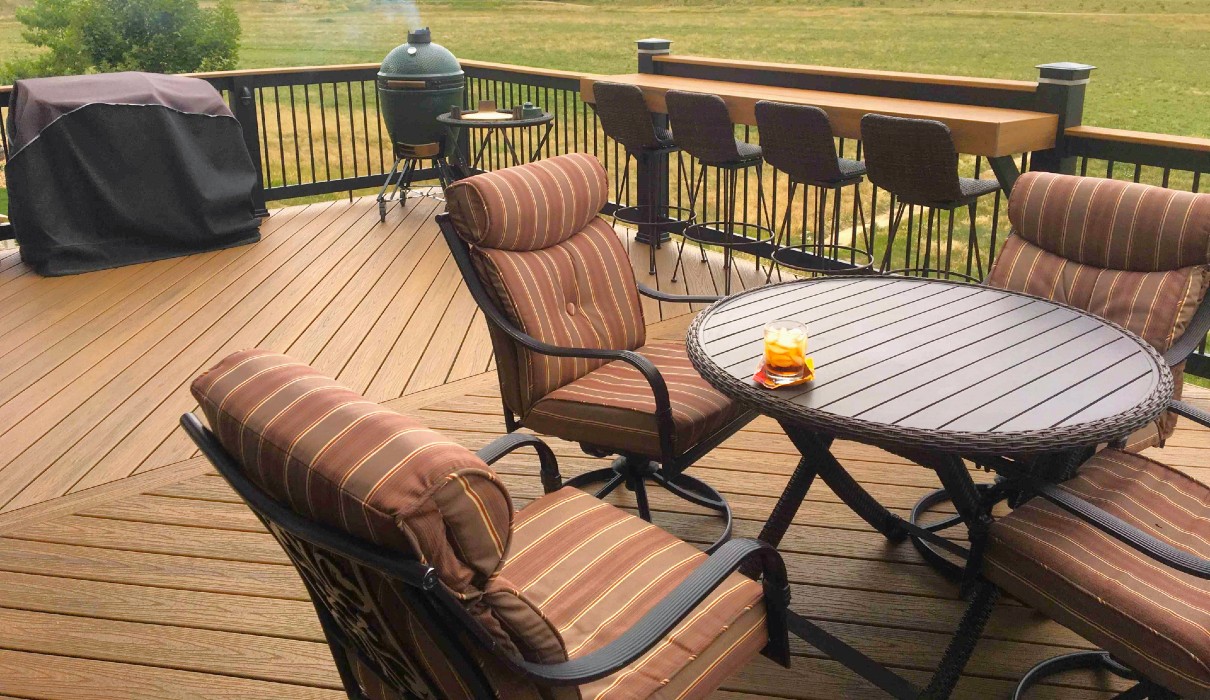 Archadeck of Greater Denver and the Foothills' outdoor living design consultants are eager to discuss your next outdoor living project with you. We offer free design consultations for decks, paver patios, pergolas, and other outdoor living spaces, so do not hesitate to contact us today. Simply call 720-704-1556 or fill out our contact form.
Learn about financing your Castle Rock or Parker deck, paver patio, or patio roof cover project. Click here!