Deck, Patio, Pergola, Patio Roof Cover Builders - Erie, Broomfield, and Westminster Colorado
Archadeck of Greater Denver and the Foothills is your one-stop contractor for custom decks, paver patios, patio roof covers, and pergola designs in Erie, Broomfield, and Westminster CO.
No matter the type of outdoor living space you long for, put Archadeck's design expertise to work for you. Our experience in custom composite decks, beautiful paver patios, pergolas, and other outdoor living designs positions us as leaders in Greater Denver outdoor living. Our goal at Archadeck of Greater Denver and the Foothills is to bring your vision in outdoor living to fruition – custom-designed, quality-constructed, tailored for your needs.
Westminster Deck Installation Pairs Perfectly with a Patio
Every backyard deserves a space that brings about exactly the mood the homeowners wish to experience. At Archadeck of Greater Denver and the Foothills, our custom deck and patio installations are not necessarily built for one mood – they are customized to use for many purposes and states of mind. This beautiful second-story Westminster Colorado deck installation would have been ample on its own. However, these homeowners and our Design Consultants worked to co-create a sleek composite deck with a more rustic paver patio below with rustic stone wrapped timber columns. Together, these spaces create a multi-functional outdoor design, perfectly used together or one at a time. Not only that, but either space can be staged for quiet relaxation or provide a perfect party atmosphere.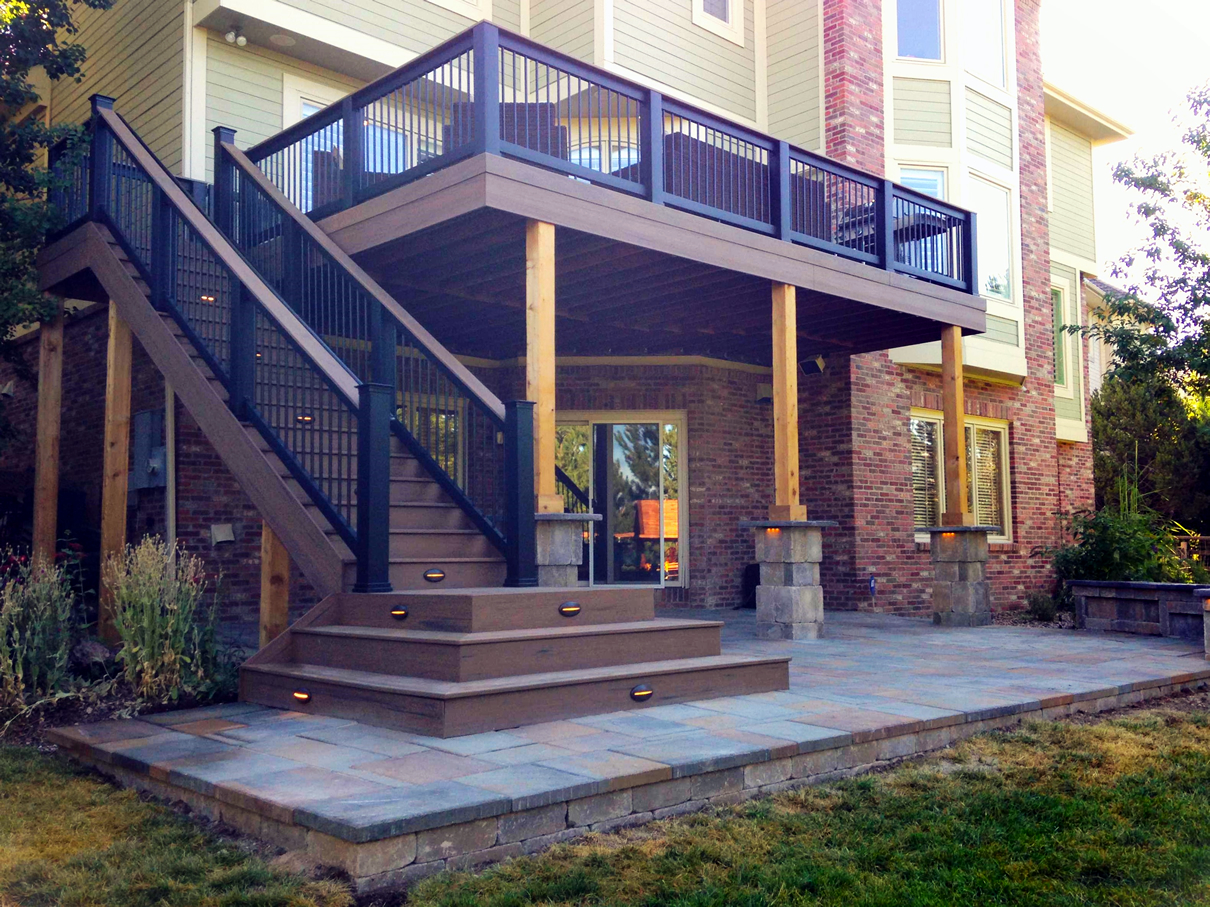 Westminster CO deck installation with ground level paver patio
A Pergola is a Plus for Your Broomfield Deck Installation
Like the Westminster deck above, most of our custom deck installations are not simply decks and nothing else. Most of our decks are paired with either a secondary living space or are "decked out" with useful amenities. One such amenity is a pergola. The great thing about a custom pergola for your Broomfield deck is that it can cover as little or as much of your deck as you wish. It can provide partial sun protection, keeping the hottest sun at bay without putting a damper on your deck usage. However, if your deck is west facing, you might opt for more than just a pergola. This deck is one example, for which the homeowners have added even more sun protection by way of a sunshade on the end of their deck.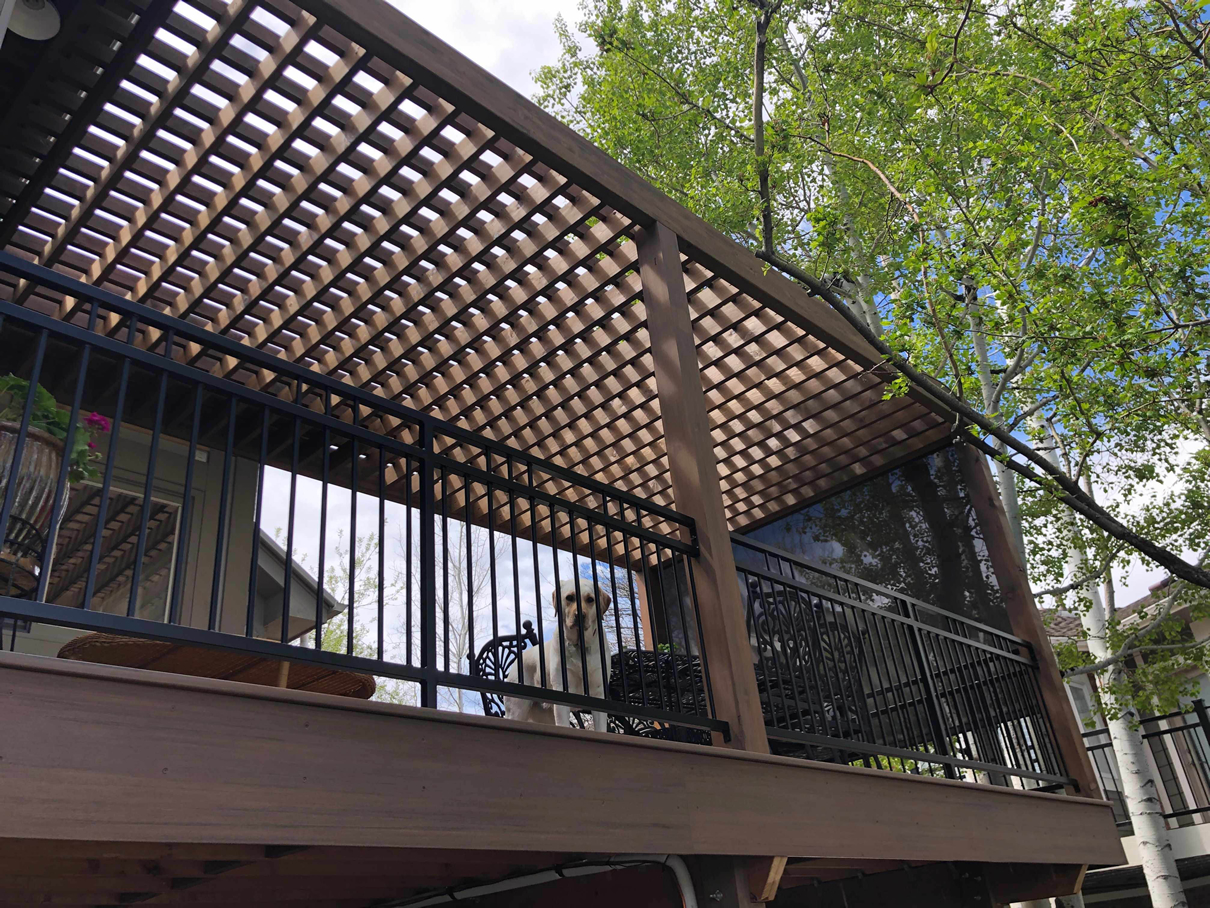 A sleek pergola and sunshade can make your Broomfield deck more usable
Pergolas Are Not Just for Decks, Pair Yours with a Patio
Archadeck of Greater Denver and the Foothills can create your outdoor sanctuary, which feels like an extension of your yard and surrounding landscape. A Westminster, Broomfield, or Erie patio installation serves as an idea canvas to add a custom pergola of your choice – whether it be a low-maintenance pergola like the one you see above, or a more classic and rustic natural wood pergola design like the one you see below. This patio not only features a pergola with half-wrapped columns, but it also boasts a patio roof cover on the opposite side. Therefore, these homeowners can choose which side they wish to use, or use them together for grilling, dining, relaxing, and/or entertaining.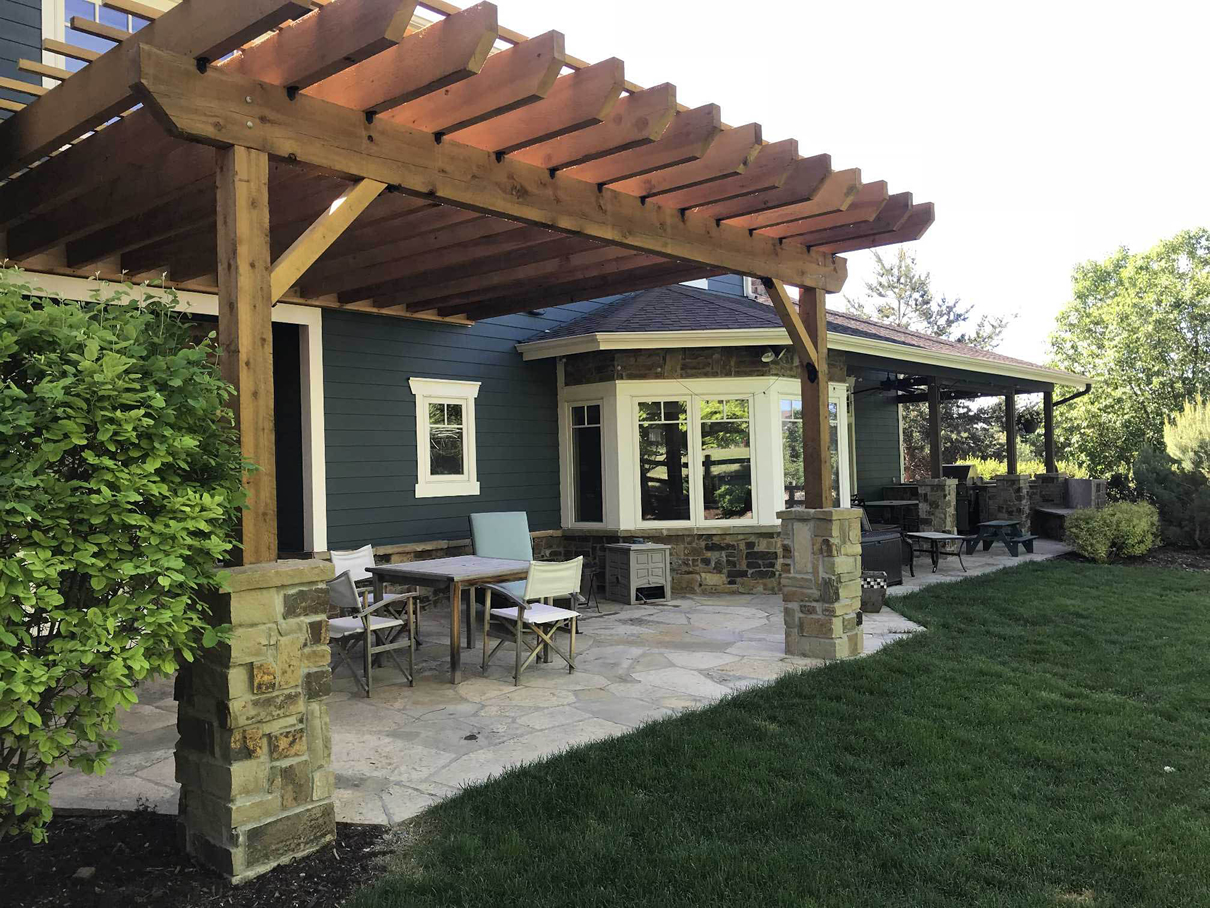 Choose Archadeck for your patio, pergola, and patio roof cover design needs in Westminster, Erie, and Broomfield CO
Archadeck of Greater Denver and the Foothills' outdoor living Design Consultants are eager to speak with you. Get in touch with us for your complimentary deck, patio, or pergola, or patio roof cover design consultation today. Call 720-704-1556.
Learn about financing your Erie, Broomfield, or Westminster CO deck, paver patio, or patio roof cover project. Click here!