Deck, Paver Patio, Pergola, and Outdoor Combination Space Builders – Golden Colorado
Archadeck of Greater Denver and the Foothills builds top-quality, customized outdoor living designs, including paver patios, decks, and combination outdoor spaces in Golden CO.
When it comes to outdoor living ideals, there is no right or wrong answer. There is no one design that outshines all others. There is only the best outdoor living design for your home, your design taste, and your budget. These are a few of the facets that lead Archadeck of Greater Denver and the Foothills to your ideal design. Whether you are in search of a Golden CO deck builder, paver patio installer, or designer-builder of all types of outdoor living spaces, Archadeck of Greater Denver and the Foothills wants to be your first choice.
Golden Colorado Deck Builders, for Decks with Expansive Views
If we know one thing at Archadeck of Greater Denver and the Foothills, it is that the scene is set for majestic outdoor living in Golden Colorado. If you are in search of a deck builder in Golden CO, who can bring you outdoors in style, where you can enjoy nature's ever-changing canvas, we are ready to help you achieve it. The Golden Colorado deck below features a custom installation with parting board, it additionally boasts low-profile horizontal stainless steel cable deck railings, which do not impede the beautiful view from within. This expansive Golden CO deck was also constructed with TimberTech AZEK decking for ultimate low-maintenance benefits and a finish that is guaranteed to last for decades. These clients chose to add a retractable awning, which will not only provide shade while the deck is in use, but it can help protect the deck from harsh sun and rain when not in use.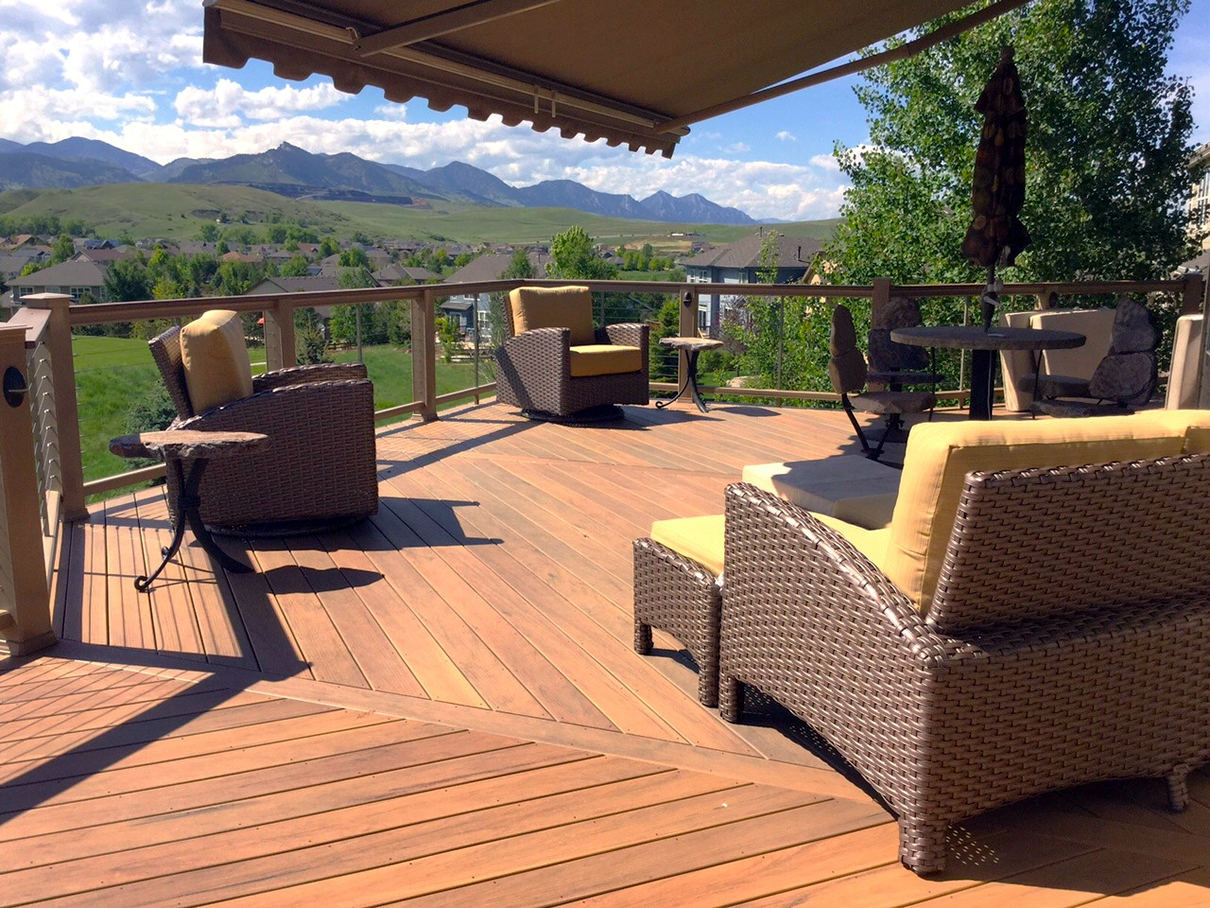 Golden Colorado deck design with cable railing and retractable awning
When you work with Archadeck of Greater Denver and the Foothills, you are not locked into one outdoor living space, or even two. You are not held to any design standards, but those of your own. You might be surprised to know that the composite deck photo above is but one part of an extensive outdoor combination living space, whereby the deck is on the second story, with a walk-out patio beneath. The patio is also accessible by a custom deck stair, and boasts multiple living areas, including an open-air space with a fire pit, and a private nook beneath the deck that creates a perfect spot for a hot tub.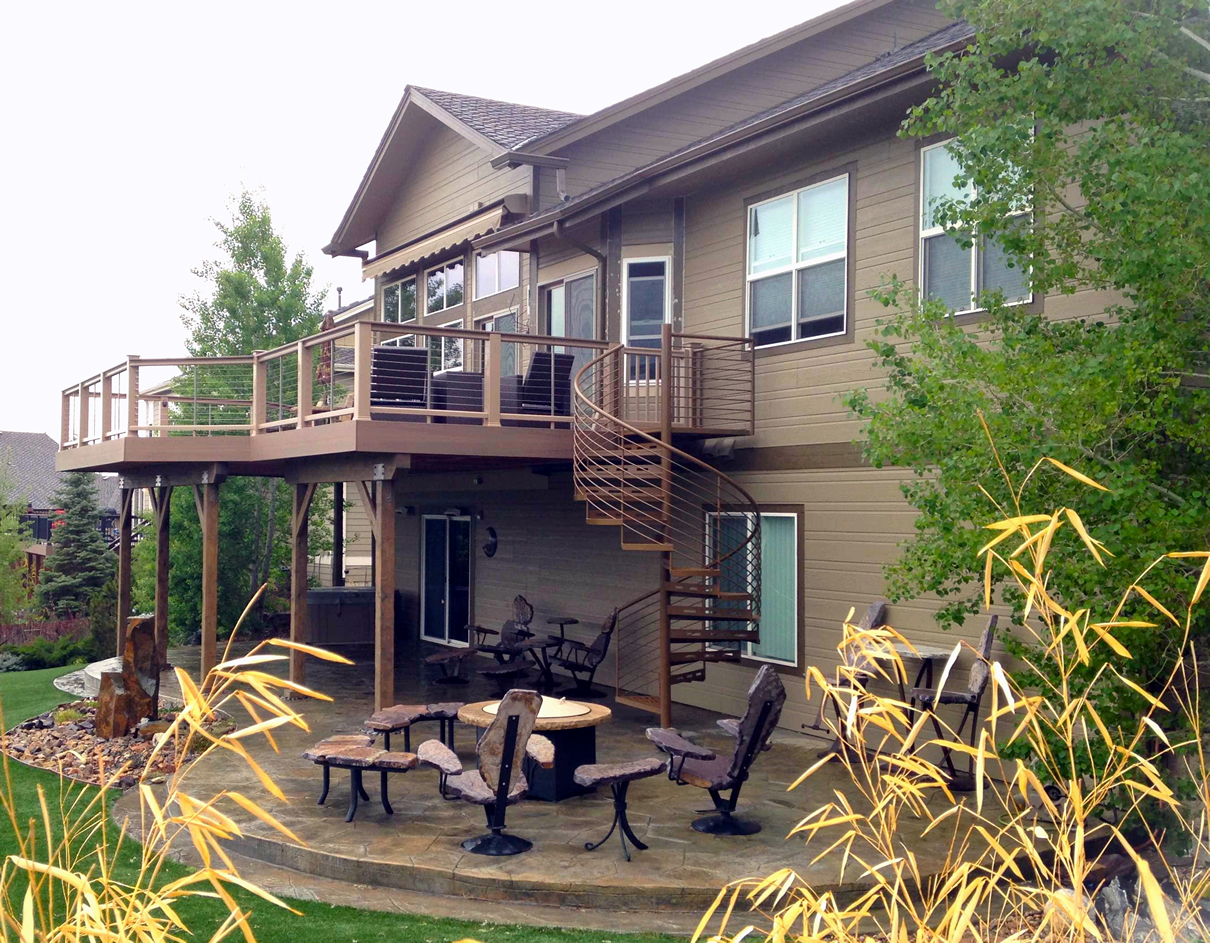 Golden Colorado outdoor combination living space with deck and patio
Golden Colorado Pergolas Make a Statement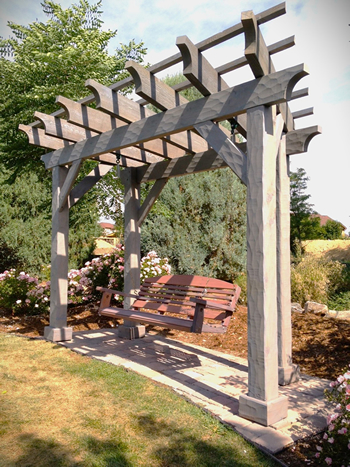 Your Golden Co pergola design doesn't have to be expansive to make a significant impact in your new outdoor living design. We often add pergolas, trellises, and privacy walls to our outdoor living designs. They are very popular in the Greater Denver area. If you are looking for shade, a stylish accent, privacy, or all three – our pergolas, trellises, and privacy walls make fantastic outdoor living design additions!
Archadeck of Greater Denver and the Foothills' outdoor living Design Consultants are eager to speak with you. Get in touch with us for your complimentary deck, paver patio, pergola, or combination outdoor space design consultation today. Call 720-704-1556.
Learn about financing your Golden CO deck, paver patio, or patio roof cover project. Click here!