Metro Denver Deck Roof & Patio Cover Builder
Archadeck builds deck roofsand patio covers to transform your outdoor living space for function and aesthetics.
Expanding the functionality of an outdoor living space doesn't always mean that you need to start from scratch. Building a deck or patio roof cover over an existing structure not only provides protection from the elements, but it also creates a completely new outdoor living space for you and your family to enjoy.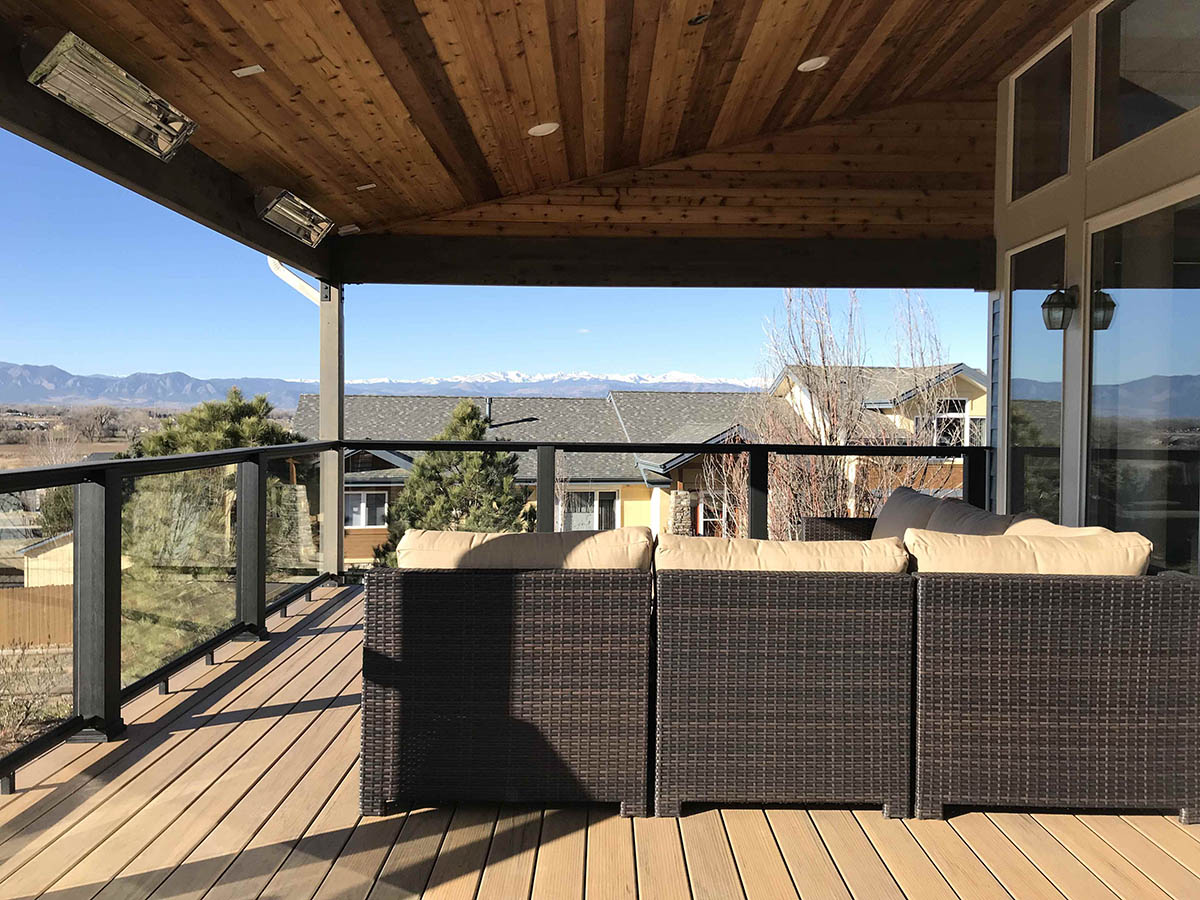 Louisville CO deck roof design
Archadeck of Greater Denver and the Foothills have been deck and patio roof builders since 2011.
As a locally owned design-and-build company, we are committed to the success of your project and making your outdoor living dreams come true. We have the experience and expertise of an international design-and-build firm and create outdoor living spaces that are truly one of a kind. With a portfolio full of award-winning projects and an outstanding team of employees, you can feel confident that we can bring your outdoor living vision to life.
Expert Deck and Patio Roof Builder in the Denver Area, Serving: Arvada, Broomfield, Golden, Highlands Ranch, Louisville, Superior, and Surrounding Areas
Archadeck of Greater Denver and the Foothills designs and builds all types of patio and deck roofs; hip roofs, gable roofs, shed roofs, and flat roofs, with each style providing a unique aesthetic and varying in function. During the design process, we'll work closely with you to determine the style, shape, and slope of your roof so that we can build a deck or patio roof cover that complements your home and landscape, making your desired outdoor living space a reality.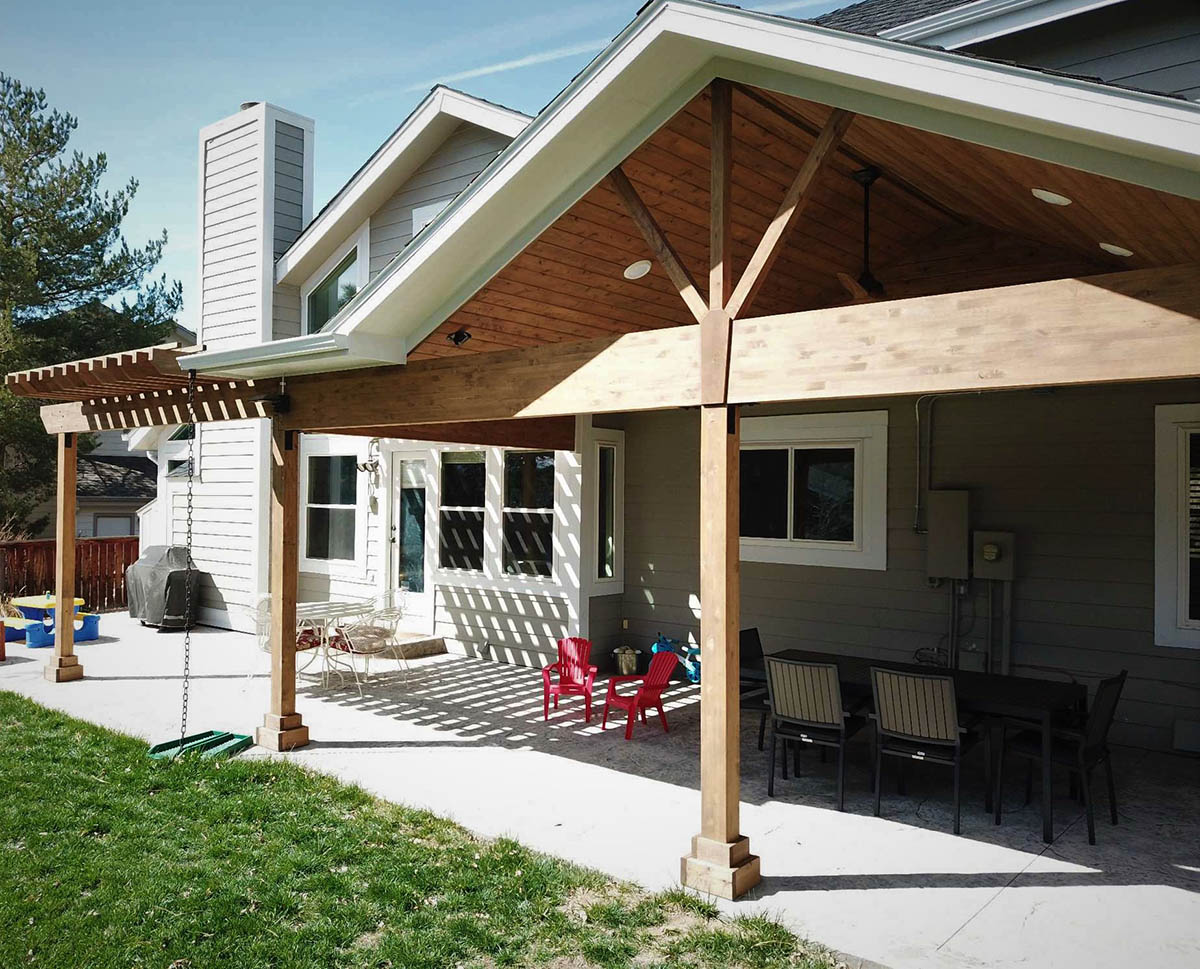 Denver area patio roof cover design with attached pergola
Imagine having a roof cover over your deck or patio. You and your family will be able to enjoy your natural surroundings in a beautiful, well-protected setting for years to come. You'll also have endless entertaining opportunities, where your guests can move freely around your outdoor living space, rain, or shine.
Our custom capabilities do not end with deck and patio covers. We build complete custom porches too!
Because each of our outdoor living designs is custom curated to each client's needs, your new porch is sure to be unlike any other. Obviously, customization will include arriving at the proper budget and size of the porch, but it is also much more than that. Whether you need to replace your existing deck or porch, or build all new, Archadeck of Greater Denver and the Foothills can bring your ideal outdoor space to life. A new covered porch could be just the thing you need to bring you more enjoyment at home.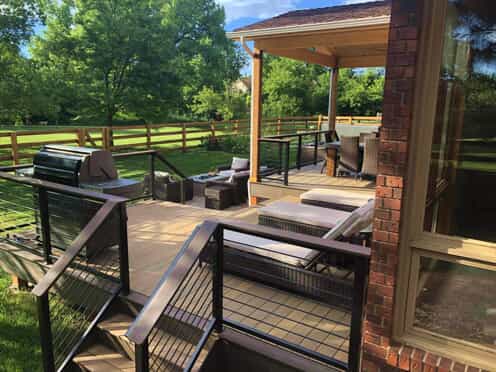 Custom deck and patio roof cover by Archadeck of Greater Denver and the Foothills
Up your outdoor living aspirations with a screened-in porch.
If you are interested in an outdoor living design that offers a little more protection from the elements (as well as insects and potential woodland visitors), a screened porch or patio design could be your ideal outdoor escape. Like our deck and patio cover projects, our screened porches are all one-of-a-kind creations that speak to your specific usage requirements, as well as your preferred aesthetic. Choose a traditional screened porch, or dare to dream big – either way, Archadeck of Greater Denver and the Foothills can fulfill your wishes.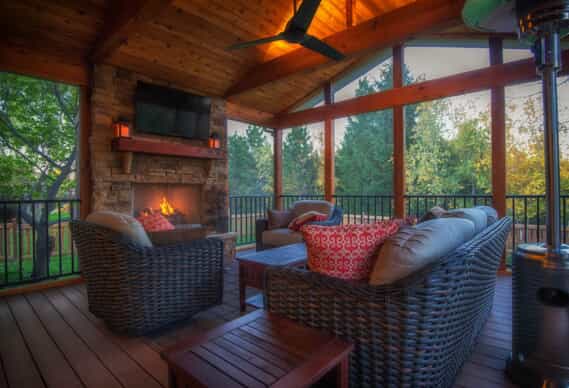 ​Screened porch design with outdoor fireplace, open gable roof and composite deck by Archadeck
If you're looking for a Metro Denver deck and patio cover builder that you can trust, call Archadeck of Greater Denver and the Foothills today at (720) 704-1556 to schedule a complimentary design consultation. We look forward to helping you build the outdoor living space of your dreams!