Metro Denver Outdoor Living Combination Builder, Serving Greater Denver
Archadeck of Greater Denver are not simply Denver deck builders, we are your local outdoor living combination design-and-build specialists.
We have been a trusted deck builder, patio roof cover builder, and patio builder throughout the Denver CO metro since 2011. Most of our clients understand the value in having multiple outdoor living spaces to accommodate multitude of uses. Whether you are looking to design an outdoor area for relaxation or entertaining – or both – Archadeck of Greater Denver can help you arrive at your ideal outdoor living combination, designed with your needs in mind! Following, are examples of our multi-living space designs.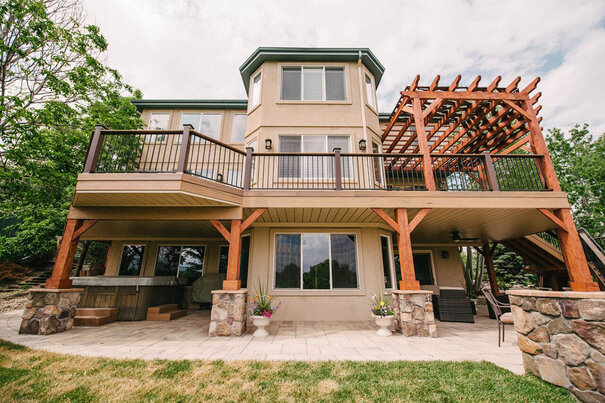 Arvada CO deck and patio outdoor living combination
Custom Backyard Design by Lafayette CO Patio & Deck Builders
Archadeck of Greater Denver created this beautiful backyard combination in Lafayette, Colorado, to accommodate any number of uses. These clients have a low-maintenance Trex deck right outside their back door, protected by a custom pergola. Without the need for a deck railing, we designed a step that encompasses the perimeter of the deck, which will allow these homeowners to easily accommodate guests and heavy foot traffic. Off the deck, you will find a curved Belgard paver patio, complete with a seating wall and custom privacy screen. This expansive space easily makes room for multiple living areas, including a grill space, fire pit area, and an outdoor lounge area on the deck.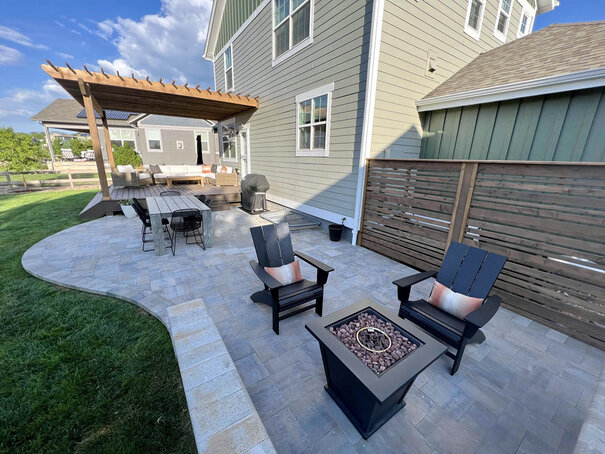 Lafayette CO outdoor living combination by Archadeck of Greater Denver and the Foothills
At first glance, this deck in Littleton might seem standard. However, a closer look reveals much more. Not only does this deck break convention with a beautiful custom shape that provides enough space for multiple outdoor living areas, but it is also constructed with premium TimberTech PRO Reserve decking and includes low-maintenance RDI deck railings. What makes this an outdoor living combination space?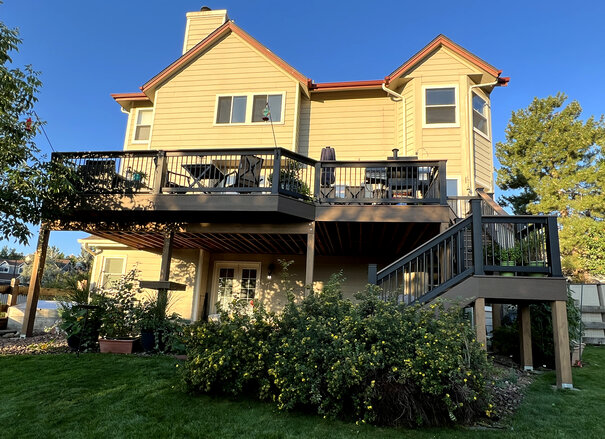 Littleton deck installation built with TimberTech decking by Archadeck
By virtue of the 2nd story deck installation, there is a covered patio beneath. What's more, Archadeck's outdoor living designers took the ground level covered patio to a whole other level with a custom built-in pub table.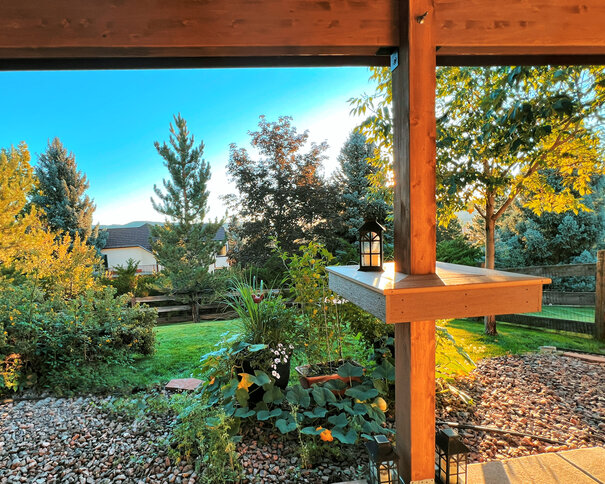 Littleton covered patio with custom-designed pub table by Archadeck of Greater Denver
Superior CO Super Combo – A Deck, Patio, and So Much More
Hello, beautiful! Heighten your outdoor living aspirations with a truly unique up-and-down combination. This gorgeous back yard now boasts multiple outdoor living areas on two levels, offering these homeowners and their guests a truly heightened outdoor experience. The only quandary a space like this one poses is, "Where do I go first?" Well, you could begin on the top-level deck, conveniently constructed on the home's main living level. Or you could venture below to an ultimately luxurious covered patio that serves as an all-inclusive outdoor living room.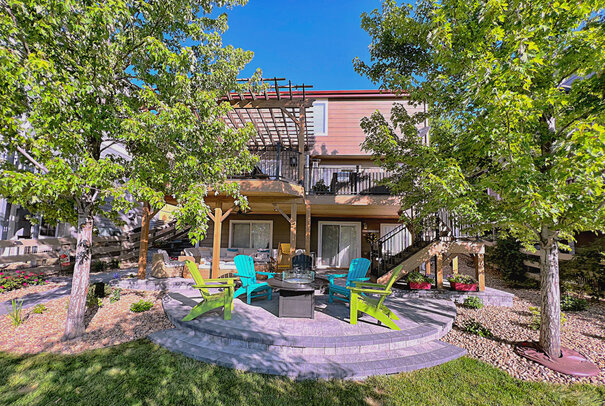 Superior patio and deck installation with pergola by Archadeck
Let's take a gander at the top first, which hosts a seating area around a gas fire table that sits beneath a custom pergola, as well as a generous grilling and dining area. And in between, we can meet for a morning coffee or evening tea! The deck is constructed with beautiful TimberTech Legacy decking for ultimately low-maintenance outdoor living. A trip down the turned deck stair will jettison you into the lap of outdoor luxury. The covered patio below the deck is finished to the nth degree with a tongue and groove ceiling, recessed lighting, and a ceiling fan. Comfortable seating provides a space for private enjoyment or for gathering with guests. But that's not all!

Deck and patio design combination by Archadeck of Greater Denver and the Foothills
A few steps from beneath the patio roof, you will find an open-air patio with a second fire table. This flexible area is outfitted with comfy Adirondack seating, where evenings are beautifully spent, sipping your favorite drink, making s'mores, or simply watching the flames dance in quiet solitude. Outdoor living combinations with this many spaces are ultimately flexible and can be staged to host get-togethers with spill-over seating, additional dining space, or any purpose you see fit.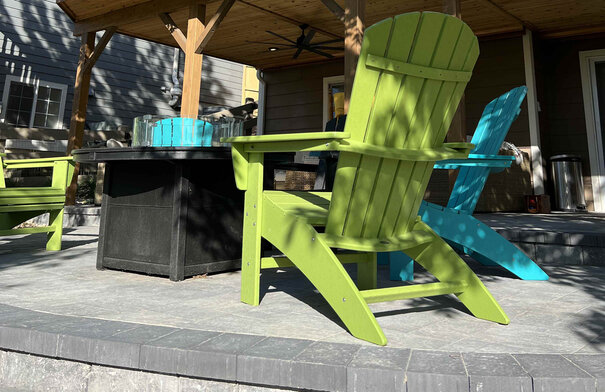 Curved Belgard paver patio design by Archadeck of Greater Denver
If you have been considering contacting a Denver outdoor living combination builder to bring your back yard to life, what are you waiting for? Call Archadeck of Greater Denver and the Foothills today at (720) 704-1556to schedule a complimentary design consultation. We look forward to helping you build the outdoor living space of your dreams!