Custom Deck and Porch Builder in Simpsonville, South Carolina
If you are in search of a porch and deck builder in Simpsonville SC, choose Archadeck of Greenville.
Archadeck of Greenville is pleased to provide exemplary design-build services for outdoor living spaces in Simpsonville, South Carolina. When considering hiring an outdoor living builder, we know you have choices. Archadeck of Greenville is a locally and family-owned company, backed by a reputable brand, which has built hundreds of thousands of high-quality outdoor living spaces since 1980. Whether you are thinking of building a deck, porch, patio, or a combination of spaces, we can design and build the space you long for.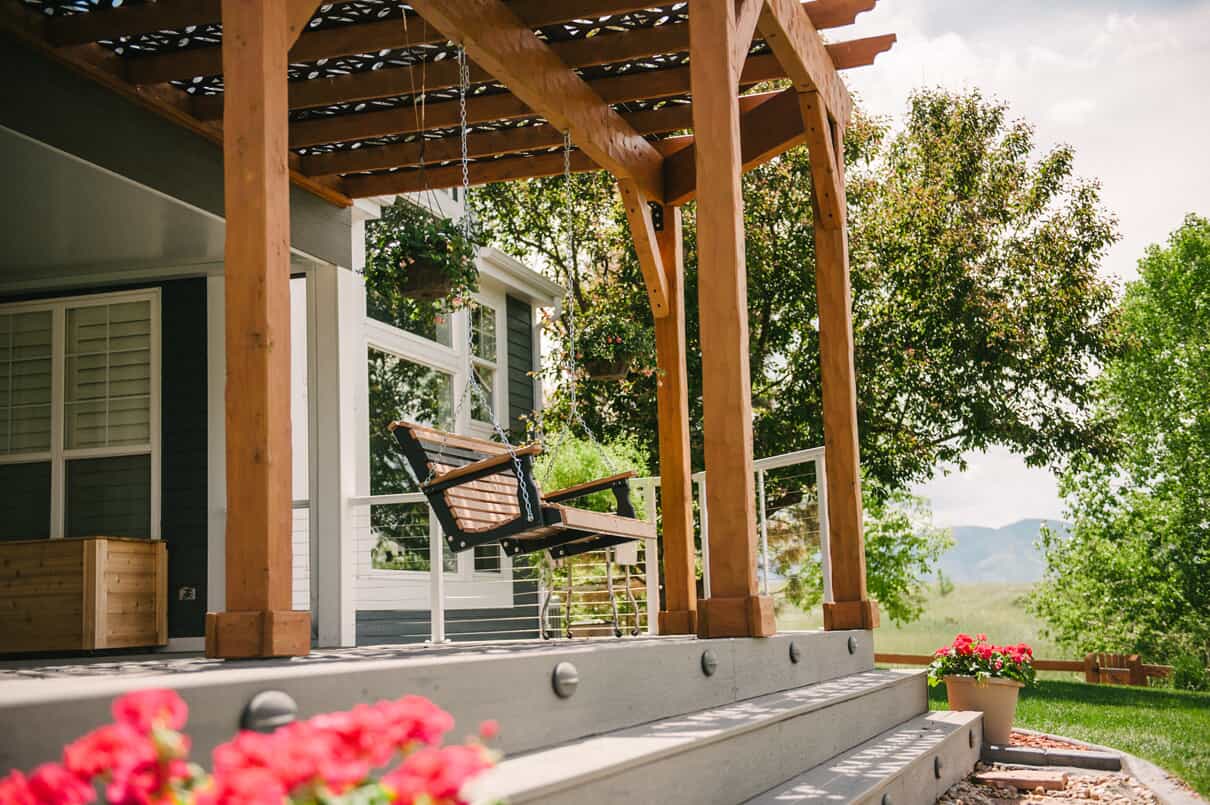 Entrust Archadeck with your Simpsonville SC porch or deck design and construction.
Unique Patio Builder in Simpsonville, South Carolina
All patios are not created equally. When you choose Archadeck of Greenville for your patio project, yours will be unlike any other. From the materials you choose, to the shape and size, and on to the amenities you wish for, your Simpsonville SC patio will be an extension of your style, as unique as you! Speaking of amenities…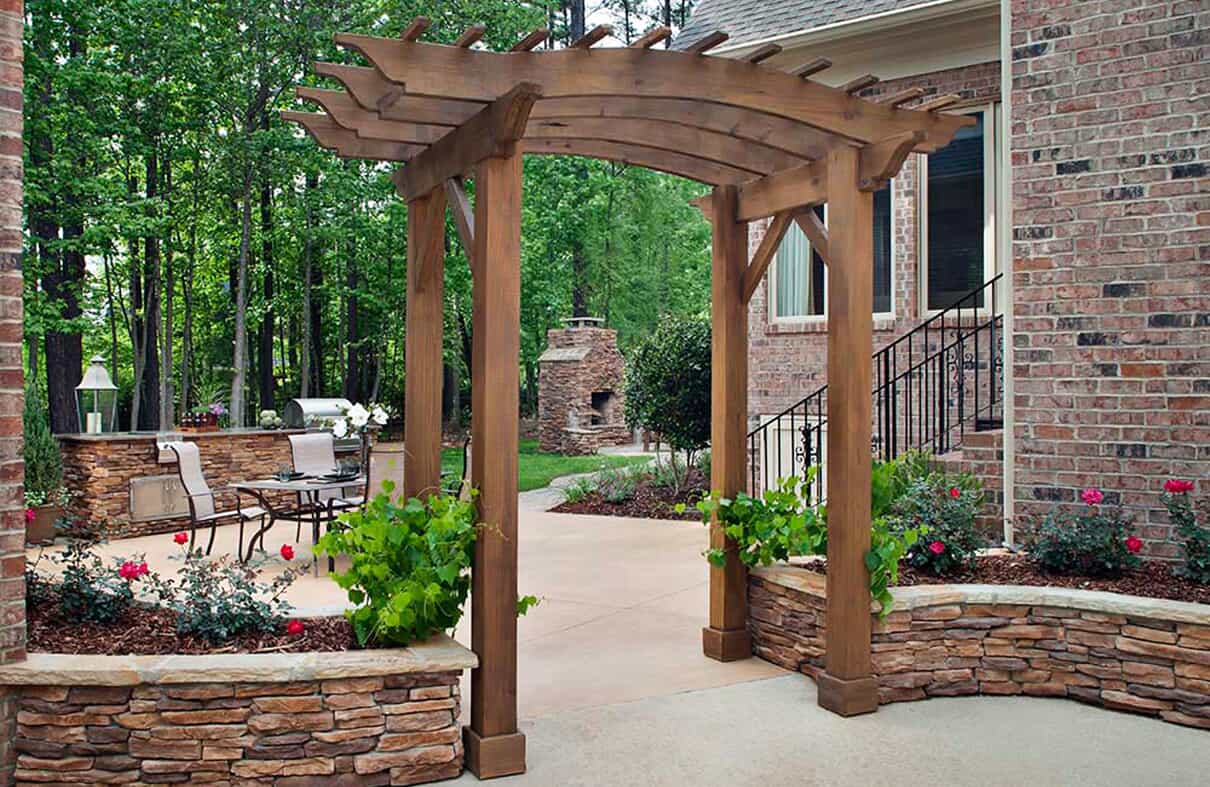 Archadeck builds one-of-a-kind patio designs in Simpsonville, South Carolina
Further Your Simpsonville SC Deck or Patio Design with a Custom Outdoor Kitchen
Simpsonville SC clients choose Archadeck of Greenville to bring their indoor spaces out of doors! This often includes fantastic amenities, such as full-service outdoor kitchens. Why build a custom outdoor kitchen on your Simpsonville SC patio or deck? More and more, clients are realizing that outdoor kitchens are not simply places for entertaining. Cooking and dining outdoors is a great way to spend time with family, outside the confines of home offices, away from screens. An outdoor kitchen and dining space allows our clients to unplug, unwind, and reconnect. Family dinners and Sunday brunches have never been more anticipated than those spent cooking in a custom outdoor kitchen.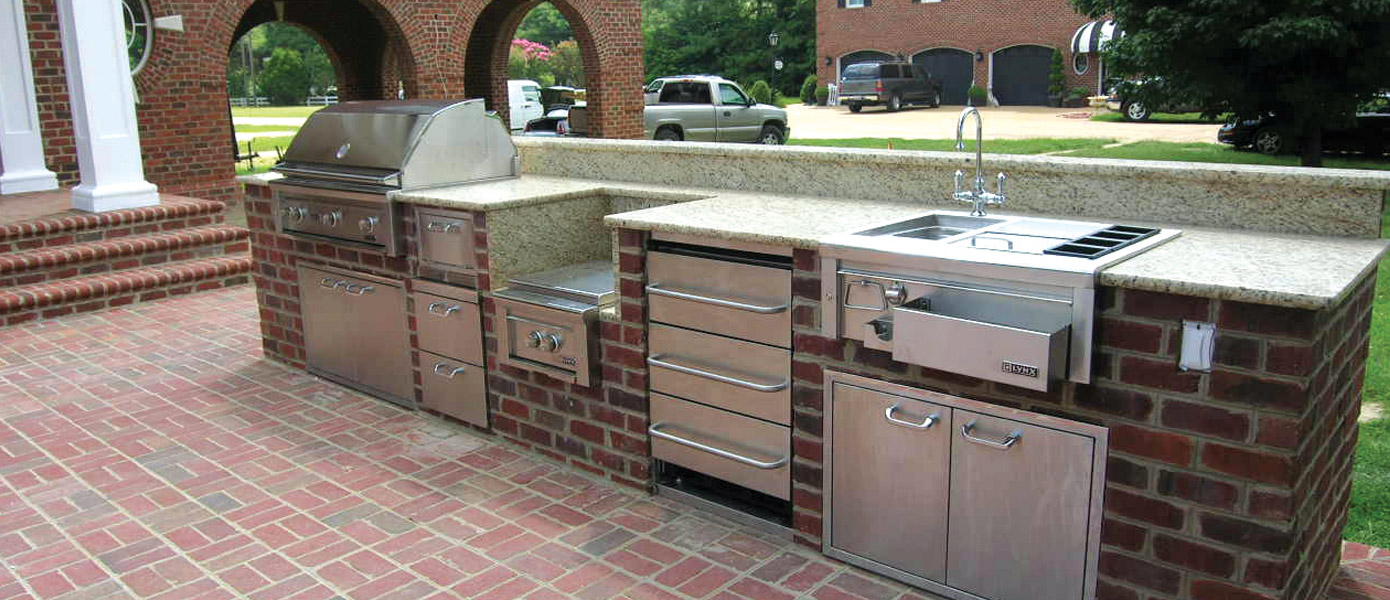 Archadeck can build the kitchen of your dreams – outdoors!
Outdoor Fireplaces are All the Rage in Simpsonville SC Outdoor Living
Over the last few years, outdoor fireplaces have become less a novelty and more a staple in Simpsonville SC outdoor living designs. There is really something to be said about the added beauty of an outdoor fireplace, but they provide function, as well. Archadeck of Greenville can light up your outdoor living space in Simpsonville SC with a custom fireplace, whose warmth and ambiance will give you more hours outdoor each year. Choose between traditional wood-burning or low-maintenance gas-burning fireplace designs and take your outdoor living to the next level in Simpsonville.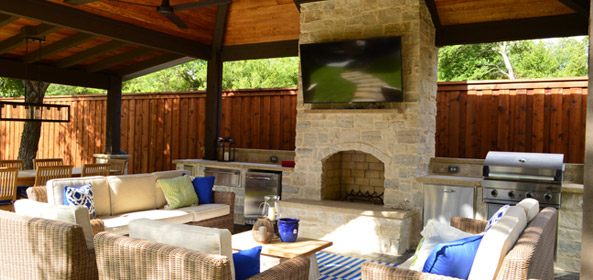 Elevate your Simpsonville SC outdoor living with an outdoor fireplace.
End your search for a Simpsonville SC custom outdoor living builder with Archadeck of Greenville! Schedule your custom porch, deck, or patio design consultation by calling (864) 301-9966.