High-Quality Custom Porch Builder In Raleigh, Durham, And The Greater Triangle
Adding a porch to your home is a great way to add outdoor living space to your Raleigh, Durham, or Chapel Hill area property. With many options to choose from, having a trusted partner in design and construction is an important first step in the porch-building process. With Archadeck of Raleigh Durham, we'll help you decide what kind of porch best fits your outdoor living needs, work with you to design the perfect porch, and then build it for you so you can kick back, relax, and enjoy your outdoor living. When choosing between a screen porch, covered porch, front porch, or 3-season room, Archadeck is here to help you assess which will best fit your goals and needs.
Covered Porches
Living through the heat of the summer in Raleigh Durham means seeking shade wherever you can find it. If you have a deck or paver patio and you need shade, turning it into a covered porch is the way to go. With many options in materials and design, we will make sure your covered porch looks like it was built when the house was built. With a clean, matching roof line, no one will ever know your covered porch was added on later.
If you don't have a deck or patio yet, but want to get more use out of your yard during the sunny season, we can custom design and build a covered porch with a deck or patio to meet your every outdoor living need. Creating a space for you to sit and relax while the kids run around the yard, or an outdoor eating area that you won't have to wait until the hot sun sets to enjoy, are just some of the reasons you might consider a covered porch.
Screened Porches
Screened-in porches are a popular southern tradition. Great for blocking UV rays and stopping annoying insects from bothering you. Learn more about our screened-in porches today.
Adding additional square footage to your home is a huge undertaking. It might sound daunting to knock out a wall and expand your home's footprint, but with the addition of a 3-season room you can add that square footage without the headaches of a full remodel. By using your existing doorway or turning a window into a door – we can add a lovely additional living space that will become the spot everyone wants to be. With matching siding and roof,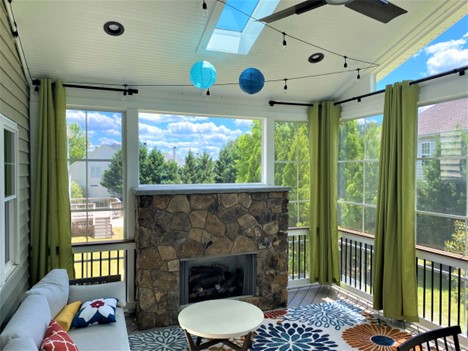 the room will look original to your home.
Sometimes known as sunroom or 3-season rooms, in Raleigh-Durham there is a good chance you will get to use this room all year long. With tall windows to let in a lot of natural light and fresh air, you're 3-season room will become the new family room. A sunroom addition in Raleigh is the perfect way to gain living space in your home.
There are a large variety of options to choose from for your new porch. Check out porch design options for inspiration and to begin planning.
Give us a call today at (919) 446-5585 to schedule your complimentary design consultation with our team. We look forward to helping you transform your outdoor space!