Raleigh Eze-Breeze Windows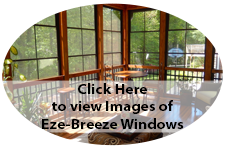 Do you have a deck or screened porch that you'd like to enjoy for more time throughout the year? Are you looking for better ways to enjoy the sights and sounds of nature, while keeping pesky bugs and pollen at bay? Eze-Breeze windows may be the perfect solution for you.
Eze-Breeze windows are a combination window system made of screens and ultra-clear vinyl that allow you to easily change your screened porch into a 3-season room simply by opening and closing the windows. Close the clear windows to keep out pollen, bugs and cold. Open the vinyl windows to expose up to 75% of the screens to bask in the fresh air, smells of outside, and more moderate temperatures.
Eze-Breeze windows provide a great view
Most of our Triangle area customers ask us to design and build their outdoor living spaces so they can more fully enjoy the beauty of nature surrounding their home. Whether enjoying the blooms of a spring garden, watching the gentle rainfall of a spring shower, or looking after grandkids playing in the yard, having a clear view is of utmost importance. In addition to being ultra-strong, Eze-Breeze windows are ultra-clear, ensuring a great view of all the activity and peacefulness of your backyard, whether your windows are open or closed.
Ready to get started? Schedule your complimentary design consultation with our team today! Reach out to us at (919) 446-5585.