At Archadeck of Raleigh, Durham and the Greater Triangle We Love Working With Our Amazing Vendors
When it comes to building dream outdoor living spaces for homeowners in Raleigh, Durham, and the Greater Triangle, only the best materials for the job will do. Over the years, we've developed great relationships with specialized artisan and commercial vendors who offer stunning, high quality, and top performing products. Some of these vendors we've found through our clients (if there is a particular vendor that interests our clients, we are happy to work with them) and others we have found through our own networks. No matter how we found them, we are happy to include their very best products in our work. Access to a wide range of customizable design and construction materials is just one of the benefits of working with Archadeck on your outdoor living project.
Here are a few of the specialty vendors we work with and recommend:
AZEK
Over the past twenty years, AZEK has become a leading brand of low-maintenance synthetic decking. Now owned by the same company that owns TimberTech, AZEK provides high-quality decking, railing, trim, and moulding for beautiful and lasting outdoor living spaces.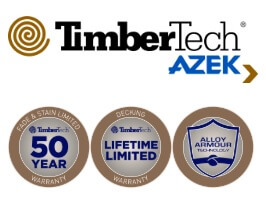 AZEK® Decking
AZEK's premium capped polymer decking line is known as TimberTech AZEK consists of three collections: Vintage, Arbor, and Harvest. Each collection differs in its colors and grain patterns as well as the size of boards they offer. All are backed by a 50-year limited fade and stain warranty.
The Vintage Collection is AZEK's designer series. It offers natural wood-grain patterns and six highly variegated color options. A special feature of the Vintage collection is that the decking boards are available in different widths. This provides greater customization if you have a preference for wider or more narrow boards to complement your home.
The Arbor Collection offers natural wood-grain patterns and color tones in seven warm earthy hues. Decking boards are available in one standard size. Although it has a larger variety of colors, the Arbor collection is less expensive than the Vintage collection.
The Harvest Collection is the most cost-effective composite decking offered by AZEK. It features three colors in soft, calming tones with wood grain embossing and standard board widths.
Ready to get started? Schedule your complimentary design consultation with our team today! Reach out to us at (919) 446-5585.