Greensboro deck construction since 1991.
If you are searching for deck builders in Greensboro NC, Winston Salem, or High Point, call on Archadeck for turnkey deck construction services.
Don't leave your deck construction project to chance. For the highest-quality outdoor living design, allow Archadeck of the Piedmont Triad to take the lead. Put our 30-plus years of experience to work for your custom deck project.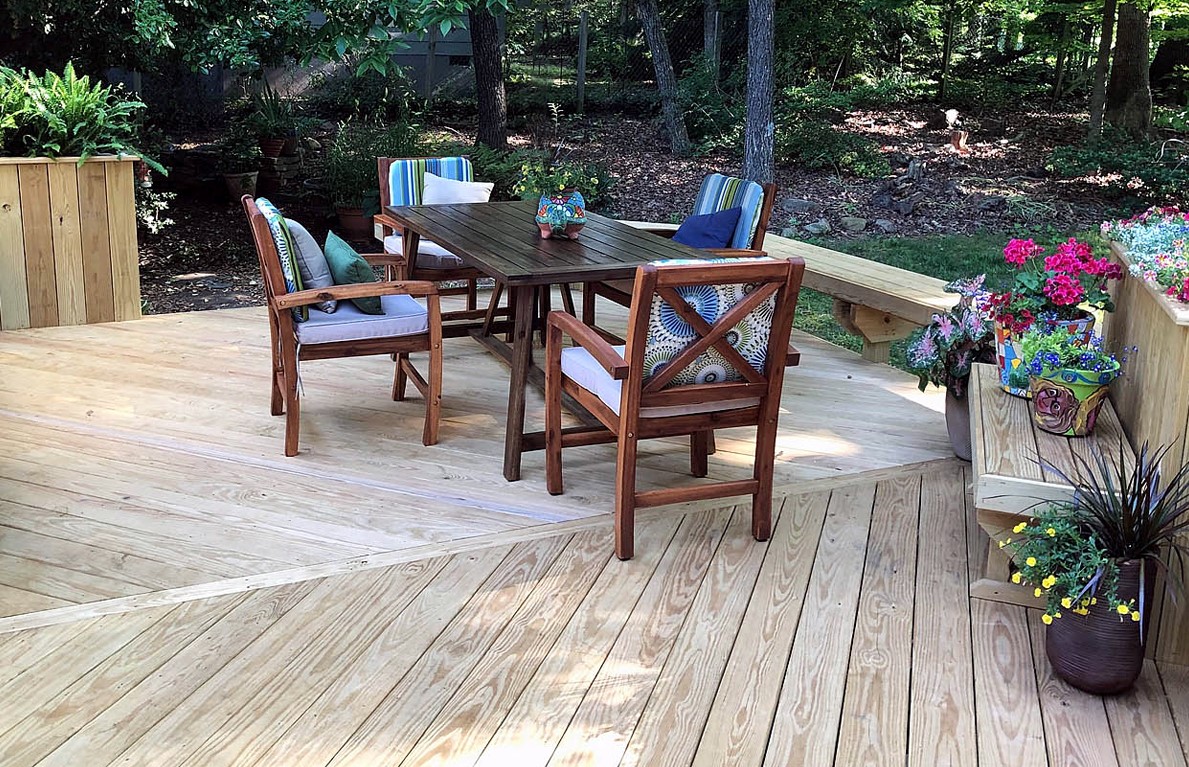 Winston Salem deck design by Archadeck of the Piedmont Triad
All Greensboro deck builders are not the same, nor are their decks.
Perhaps what is most evident when comparing an Archadeck deck to those of other Greensboro deck builders, is the shape. Our decks are not cookie-cutter designs. Though we do build decks of all shapes and sizes – even simpler designs – you would not mistake one of ours for a builder-grade deck. That's because regardless of the shape and size, each of our decks is customized to the nth degree. Archadeck deck designs begin with a specified shape and size, but customization goes far beyond those criteria.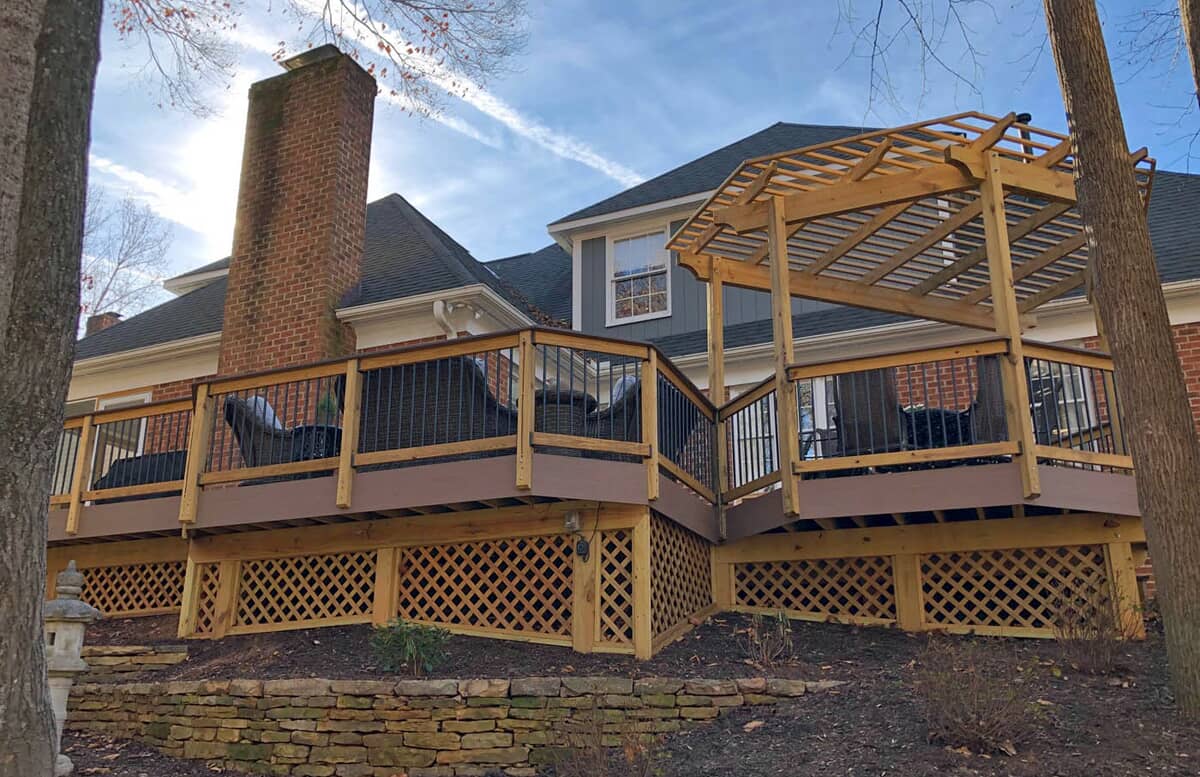 Greensboro AZEK deck design with wooden pergola and lattice skirting
As your Greensboro deck construction partner, we will co-create your ideal deck design.
Aside from choosing Archadeck to build your deck, what is the most influential element that will separate your custom Winston Salem, High Point, or Greensboro deck design apart from the rest? It's you! Through our custom design consultation, your outdoor living space becomes a reflection of your home, your landscape, and your personal style. There is only one you, and Archadeck of the Piedmont Triad's Design Consultants are ready to help you create your one-of-a-kind deck design.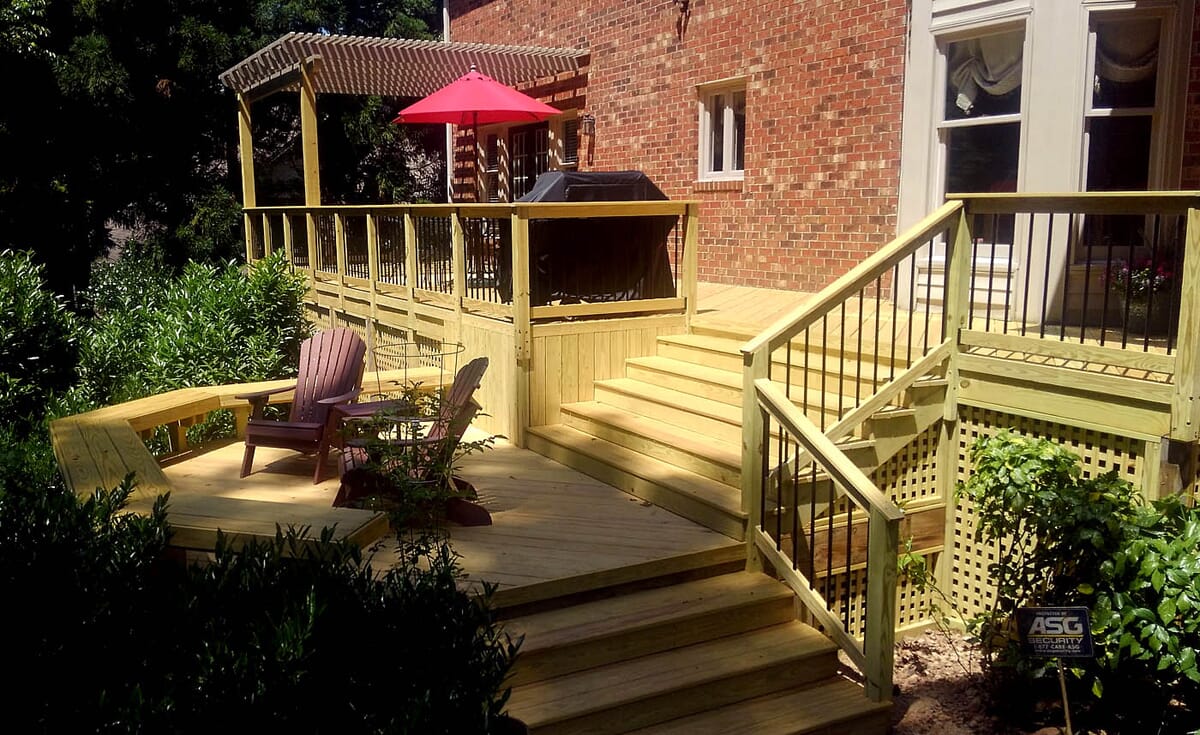 Greensboro multi-level deck design with built-in seating and pergola
What are some important decisions you will make about your new Archadeck deck?
Many of our clients first consider their deck construction budget, but that is only one of many important considerations Archadeck will address with you during your consultation. What else must be considered?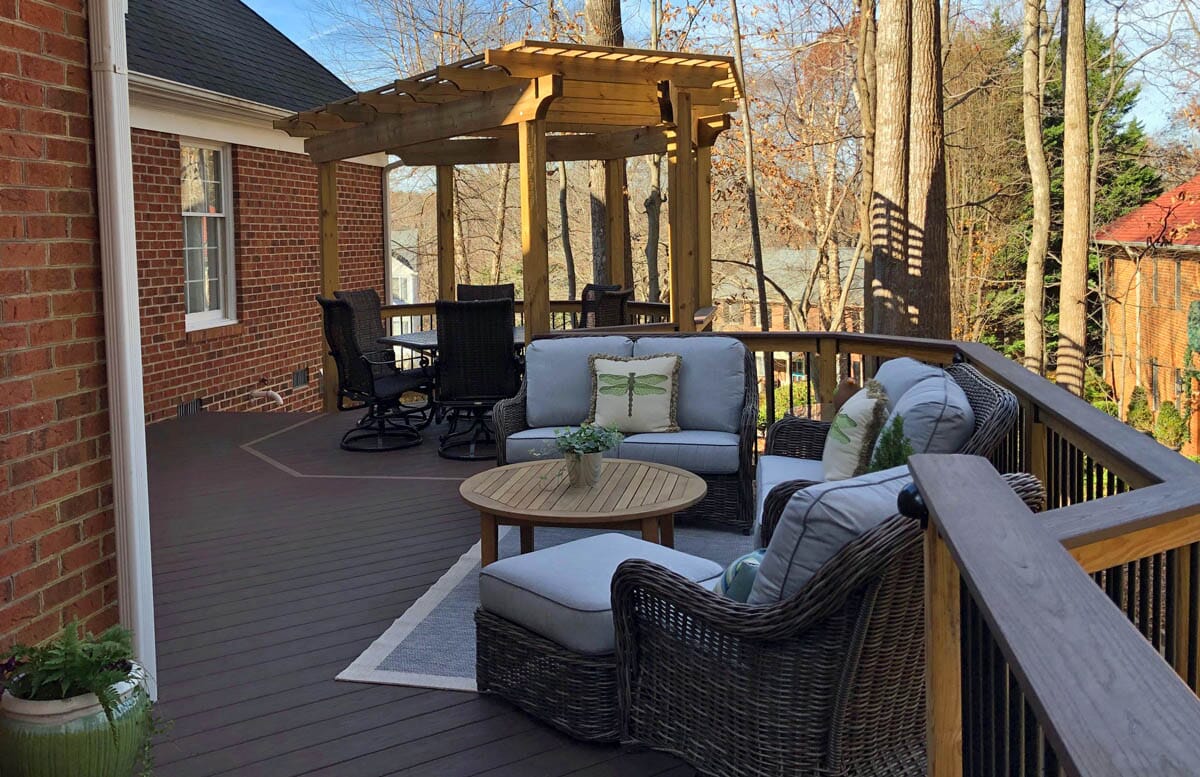 AZEK composite deck in Greensboro with hybrid railing and pergola
Your existing landscape.
By visiting your home, your Archadeck Design Consultant will be able to walk your property to make recommendations about the shape, size, and orientation of your new deck. They will take measurements and address potential issues with building the deck you want in the space you have. Archadeck will adhere to setback requirements, as well as any HOA building standards to ensure that your deck is built to-standard.
Your outdoor living needs.
It is important that we know how you intend to use your new deck. If you enjoy entertaining, your Design Consultant can make recommendations for a deck that will not only be spacious enough to accommodate guests but will also allow foot traffic to flow easily throughout your space.
Your maintenance needs.
Though traditional wood decks are still very popular in the Greensboro and Winston Salem market, many of our clients opt to build a composite deck that will offer ease of maintenance. This is an important consideration concerning not only time, but the potential cost to properly maintain a wood deck. Because if you do not have the time to paint or stain your deck periodically, you will have to hire someone to do it. Though your investment in synthetic decking might be higher in the beginning, it could be worth the time and money you will save throughout the life of your deck.
Amenities and upgrades.
Decking materials are not the only upgrades that can be made to your custom deck design. Archadeck of the Piedmont Triad can take your deck to the next level with luxurious amenities, such as deck lighting, a pergola for shade, custom railings, or even an outdoor fireplace or fire pit.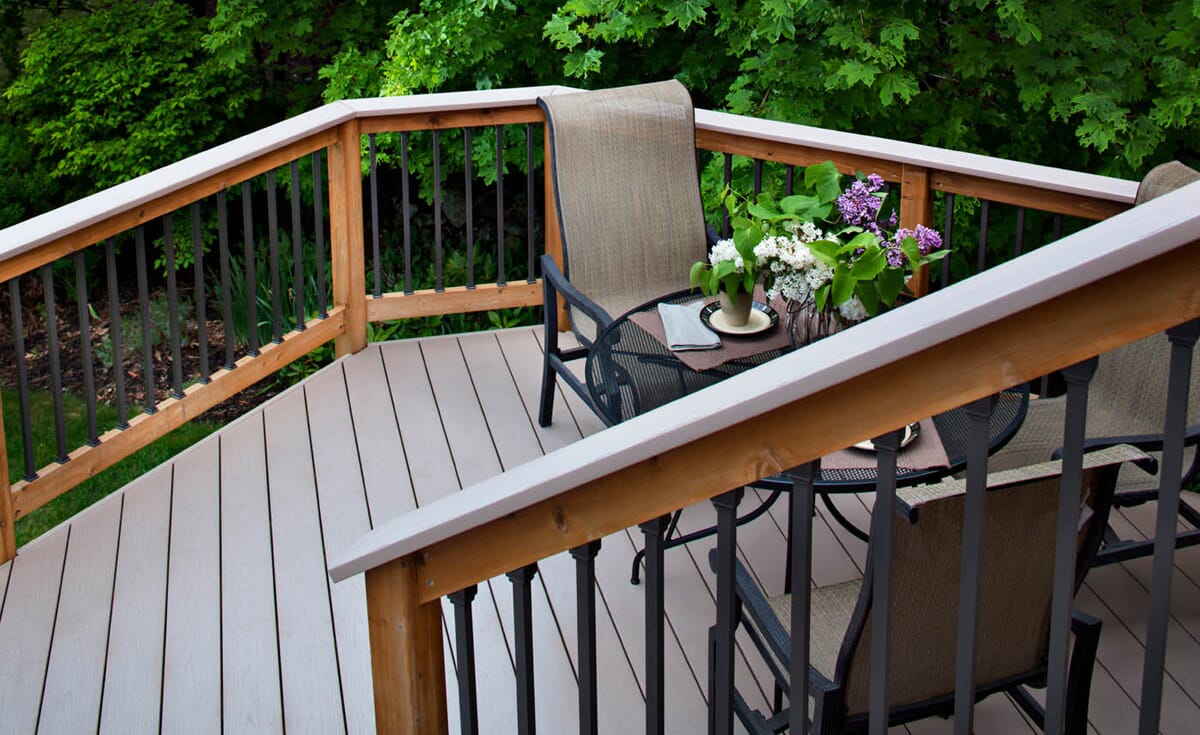 Composite deck design with custom hybrid railing
Looking for a Greensboro and Winston Salem deck contractor, who provides deck renovation?
If you have a deck, which requires improvements, call on Archadeck of the Piedmont Triad for custom redecking. Redecking is a specialized service offering, whereby we upgrade and improve your outdoor living space without tearing it down for a full replacement. Your Archadeck Design Consultant can tell you if your deck is right for our redecking service. What is included in redecking? We will reinforce the deck structure where necessary and replace your aged decking boards with new wood or composite decking. Often, we replace deck stairs and railings, as well. Redecking isn't just for old decks, though. Many clients simply wish to upgrade their decking from wood to synthetic, so they can forego the time and cost of periodic deck maintenance.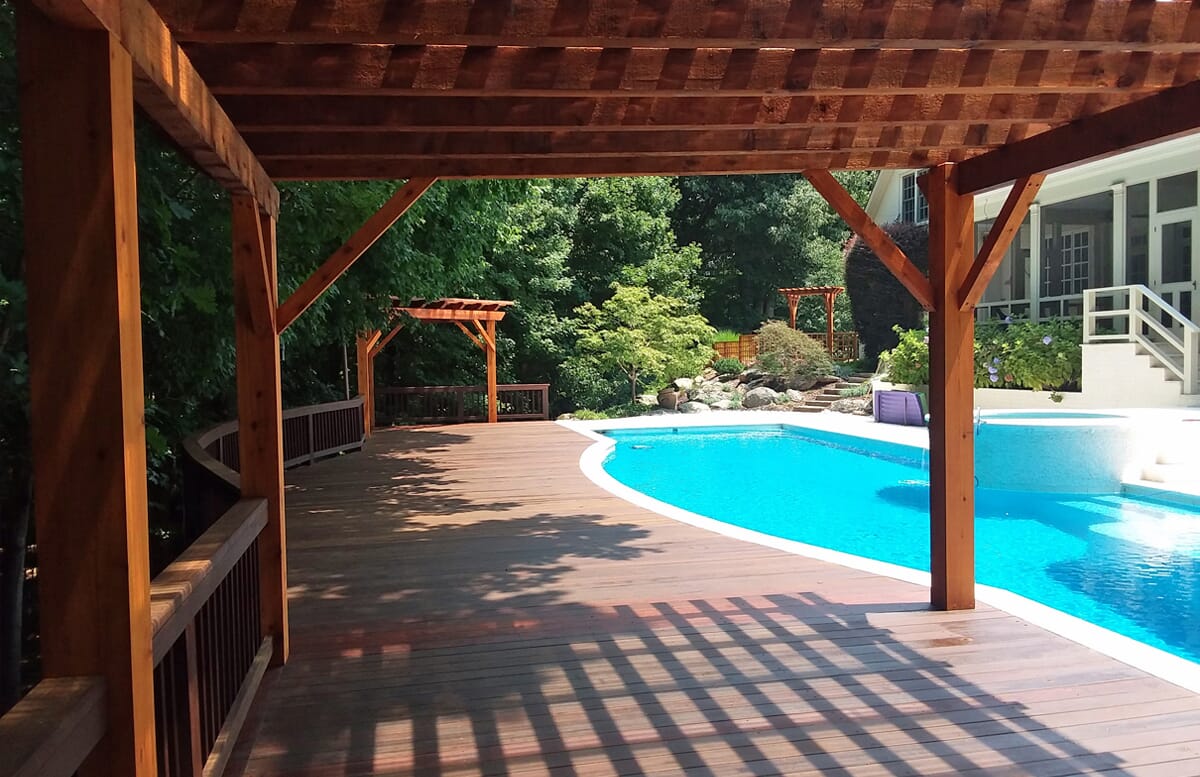 Greensboro redecking project by Archadeck of the Piedmont Triad
Quality service and quality deck construction, guaranteed.
Archadeck of the Piedmont Triad will endeavor to provide top-notch service throughout your design-and-build experience with us. Your deck will be constructed by experienced contractors, who specialize in outdoor living construction. Additionally, your project will be backed by the best warranties in the outdoor building industry, including workmanship and structural warranties, as well as manufacturers' warranties on the products used to build your deck.
Looking for trusted deck builders in the Greensboro area? Archadeck of the Piedmont Triad's outdoor living Design Consultants are ready to help you achieve your ideal deck design. Get in touch with us by calling (336) 664-1332.