Deck Builders in Columbia, SC
Custom Deck Design & Construction Near You
When you are searching for a trusted, experienced deck contractor in Columbia to design and build the custom deck of your dreams, turn to Archadeck of Central South Carolina. Building custom outdoor living environments and structures is all we do, and we do it best.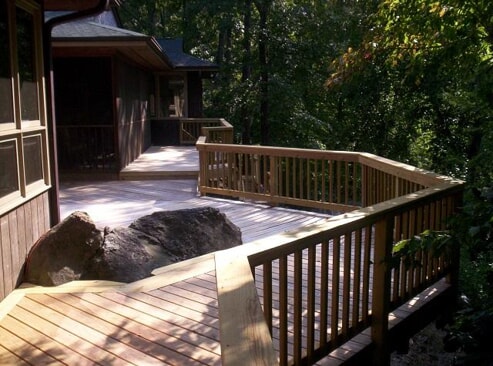 Each deck we build is custom designed to blend seamlessly with your existing architecture and reflect your personal style. Our custom deck designs reflect beauty, quality and extended enjoyment where form and function combine as one.
Our team specializes in custom decks built from a wide range of materials including wooden decks such as traditional pressure-treated pine and hardwoods. We also offer composite and PVC decks as low-maintenance TimberTech, Trex and AZEK. We can also combine these materials to provide you with the most benefit and aesthetic within your deck space.
We are the premier builder of custom decks in Columbia and Central South Carolina. Call us at (803) 784-1566 or contact us online and set up a time to discuss your ideas. Our consultation is completely free!
Experienced Wooden Deck Builder in Columbia
The traditional choice for deck building, wood is still a gorgeous and sturdy choice. We use pressure treated Southern Pine for most wood projects. We also offer beautiful hardwood choices such as Ipe.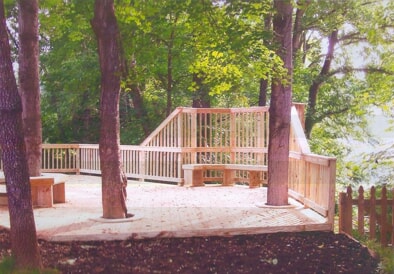 This stunning lakeside pressure-treated deck includes built in bench seating, and unique privacy railing. We also integrated the existing trees within the landscape into the design of the deck.
Wood decks do require regular maintenance with stain or sealant. Depending on your property, if your deck is exposed to full sun most of the day or is under the cover of a heavily wooded lot, you may need more or less maintenance. The versatility in finishes allows you to choose different stain colors each time to make your deck look brand new.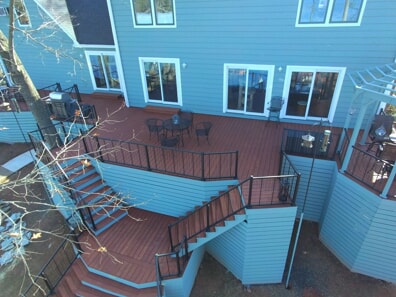 This gorgeous custom deck is built from pressure-treated pine that has been stained. The flowing multi-level design features a centerpiece of twin staircases leading from the landing to the upper-level deck. The deck encompasses the entire back of the home with ample area for rocking chair relaxation, outdoor dining and entertaining and 360-degree views of tranquil Lake Murray from every angle.

You can read more about this project in our blog story Outdoor Living on Lake Murray Never Looked So Good!.
Composite Decking from TimberTech, Trex and AZEK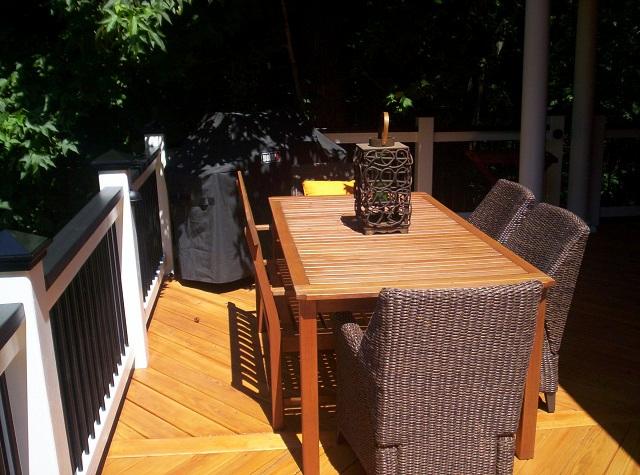 This custom composite deck and open porch in the Kings Grant community of Lexington, SC, is rustic and elegant and provides plenty of room for dining and entertaining!
Natural wood has met its match when compared to today's composite decking. No other decking material requires as little maintenance as synthetic, nor can natural wood promise the longevity synthetic provides. To avoid compromising the characteristics of the material it is important that it be installed properly. Our knowledge and experience working with synthetics over the years can ensure a space that not only meets but exceeds your expectations.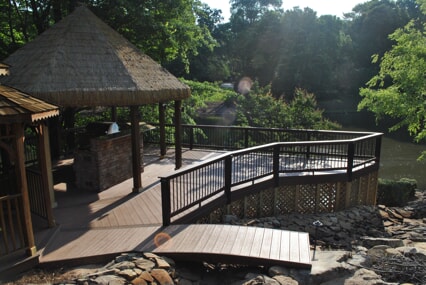 This new TimberTech deck will provide years of low-maintenance enjoyment to these Lexington, SC, homeowners.
Many Columbia-area homeowners don't want to stain their deck every year and in fact, if they use a low-maintenance material such as TimberTech or Trex, they never have to. There are a variety of synthetic decking materials that look very similar to wood but never require staining nor any annual maintenance. The only maintenance they require is using a sponge or hose to remove anything you would remove from your indoor floor such as ketchup and food spills. Otherwise, the mud that's tracked on along with the dirt and pollen can be removed with a garden hose or perhaps the addition of a sponge and water.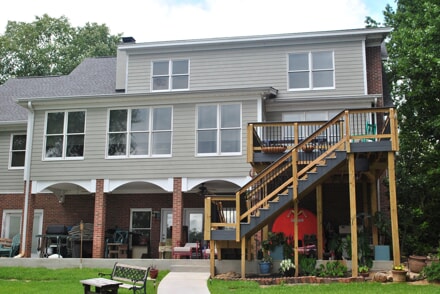 Trex deck in Lexington, SC.