AKRON DECK BUILDER
Locally owned & operated, Archadeck of Akron brings you the commitment to quality customer care of a local business, with the expertise and knowledge of an international design & build firm.
Building a deck is not as simple as it used to be. With advances in engineering and design, plus improvements in synthetic decking, there is an increased variety of material options and design features. Each deck we build is custom designed to blend seamlessly with your home and reflect your personal style. Our deck designs reflect beauty, quality and extended enjoyment where form and function combine as one.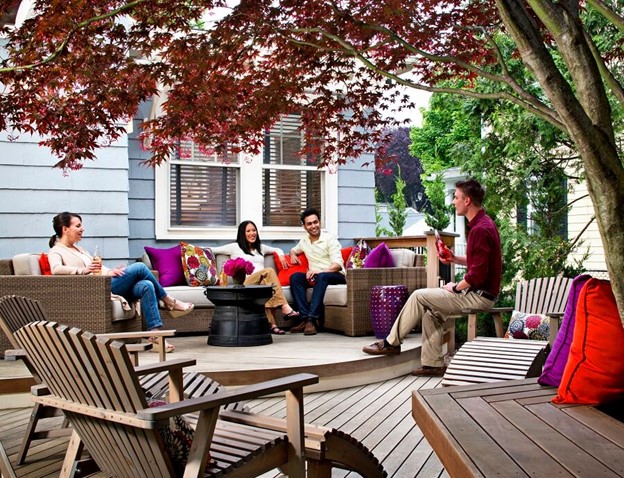 We specialize in decks built from a wide range of materials including wooden decks such as traditional pressure-treated pine and hardwoods. We also offer low-maintenance composite and PVC decks built using high-quality synthetics like TimberTech, Trex and AZEK. We can also combine these materials to provide you with the most benefit and aesthetic within your deck space.
Akron Wooden Deck Builder
Wood is widely considered the traditional choice for deck building. Natural wood is still a gorgeous and sturdy choice. Archadeck of Akron uses select pressure-treated Southern Pine for most wood projects. We also offer beautiful hardwood choices for your custom wooden deck addition, such as Ipe.

Wooden decks do require regular maintenance with stain or sealant. Depending on your property, if your deck is exposed to full sun most of the day or is under the cover of a heavily wooded lot, you may need more or less maintenance. The versatility in finishes allows you to choose different stain colors each time to make your deck look brand new.
Akron Composite & PVC Deck Builder
For many Akron-area homeowners don't want the chore of staining their wooden deck each year. The good news is that if you use a low-maintenance composite or PVC material such as TimberTech or AZEK, you never have to! There are a variety of synthetic decking materials that look very similar to wood but never require staining nor any annual maintenance. The only maintenance they require is using a sponge or hose to remove anything you would remove from your indoor floor such as ketchup and food spills. Otherwise, the mud that's tracked on along with the dirt and pollen can be removed with a garden hose or perhaps a sponge and soapy water.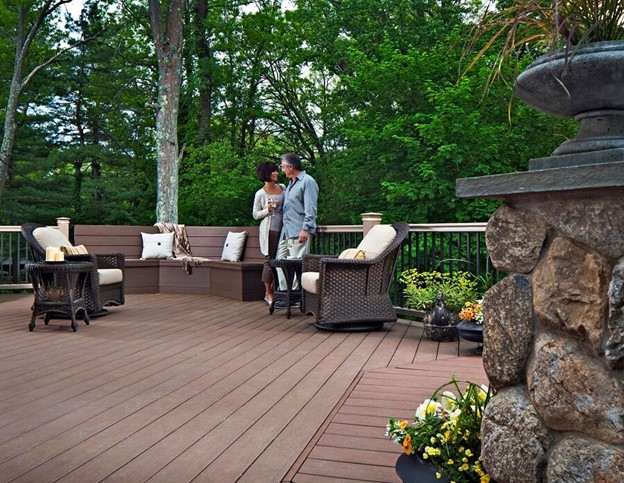 In addition to reduced maintenance, synthetic decking won't split, crack or warp. Design versatility is also a huge advantage of synthetic decking. For instance, synthetic decking can be bent and molded for stunning curved picture framing, winding inlays, and intricate patterns and designs throughout your deck. Low-maintenance suppliers provide extensive warranties, giving you peace of mind. With this much information to consider, we'll help you weigh the cost versus the benefits to decide which decking material will work best for your home & lifestyle.
Akron TimberTech and AZEK Decks
There are a variety of synthetic decking materials that look very similar to wood but never require staining nor annual maintenance. The only maintenance they require is using a sponge or hose to remove anything you would remove from your indoor floors such as ketchup and food spills. Otherwise, the mud that's tracked on along with the dirt and pollen can be removed with a garden hose or perhaps the addition of a sponge and water. Archadeck of Akron recommends TimberTech and AZEK products for many of our deck and redecking projects.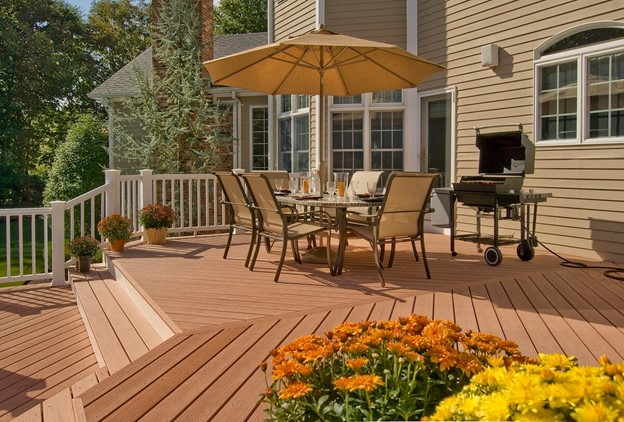 Our customers love TimberTech by AZEK decking. It comes in beautiful colors with streaking and graining patterns for an authentic rich and beautiful look.
TimberTech by AZEK building products' traditional and capped composite decking is a top choice for low maintenance deck and it is more durable and long-lasting than traditional wood. This allows you confidence in knowing the color and texture of your Akron, Oh, TimberTech deck will last for years with no need to seal or stain your deck. And, unlike wood, TimberTech decking resists mold, mildew, stains, scratches, insects, rotting and fading, and it won't splinter, warp, or cup.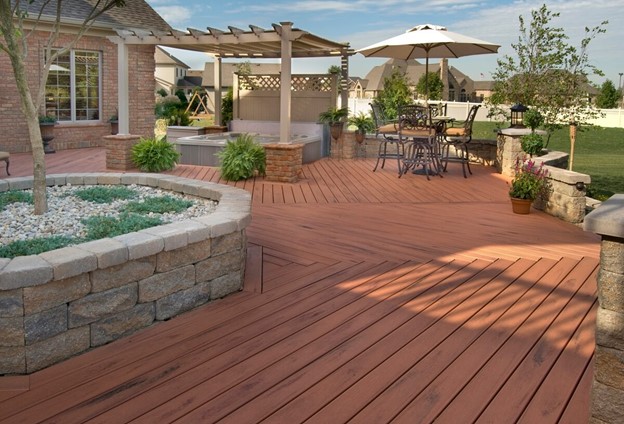 Archadeck of Akron utilizes TimberTech decking in both new deck additions and it also serves as a great material for redecking and resurfacing existing older composite and wooden decks. TimberTech and AZEK are both manufactured in the USA, and right here in Ohio. Which is another great reason to choose these synthetics because you are choosing a decking board made close to home!
Low-maintenance decking suppliers like TimberTech also provide a 30-year Fade & Stain warranty. Having the added bonus of a warranty adds peace of mind to your outdoor living investment.
Akron Custom Decks Built With Privacy in Mind​
If privacy is a concern when you're thinking about adding a deck at your home, trust Archadeck of Akron to design the perfect solution. We have a variety of ways to create privacy screens—or a wall, if you prefer something solid—for your deck. Every deck we design and build is custom made, so designing a custom deck with privacy wall is not a stretch!
The degree of privacy homeowners want for their outdoor living spaces can vary, so it's a topic we address routinely as deck builders. We always want to understand a client's expectations about how much privacy they'll have on their new deck. We care about making sure we design and build your deck with the amount of privacy you want. A deck's design should fulfill the needs of the homeowners, not the designer.
Akron Private Hot Tub Deck Designs
Most homeowners who plan to have a hot tub on their deck do want a certain amount of privacy. That's an important design consideration. If your deck surrounds a pool, you may want a privacy wall around it. Some clients request privacy screens on three sides of a deck, while others only want screens around their hot tub area. We can also design an alcove or extension of the deck specifically for a hot tub, creating a little nook with a custom privacy screen.
Privacy outdoors is not an "all or nothing" proposition. It often makes sense to place privacy screens at one side or one end of a deck, leaving other parts of the deck open. Placement of privacy screens may be guided by your home's proximity to neighboring homes. Can neighbors sitting on their own decks see everything happening on yours? That can be unnerving. And with or without neighbors, a home situated on a corner lot is always a candidate for an Akron deck with privacy screens.
Privacy Screens for an Outdoor Room
Some homeowners want their deck designed with privacy screens for a different kind of reason. They consider their deck an outdoor room, and adding screens enhances the room-like feeling they want. The screens don't necessarily need to be solid walls to achieve that effect. A lattice screen or one fashioned with slats to allow light through can accomplish the same thing. Sometimes just the visual suggestion of a "wall" is sufficient. For example, it's not unusual to see a custom deck with pergola at one end and a privacy screen at the other. Both structures serve the purpose of encasing the deck as a protected space where the cares of the world don't intrude.
How are Akron Privacy Screens Made?
At Archadeck of Akron, we can build custom privacy screens, walls or fences with the same materials we use to build decks and pergolas. We're not limited to just those materials, though! The decision about what materials to use develops out of our conversations with the client about materials they prefer and how much privacy they desire.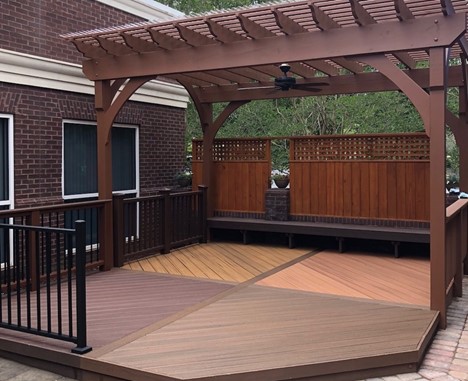 Lattice—either wood or vinyl—is a popular material for screens because of the amount of light and air it lets in. We can paint lattice to match or complement your deck color, too. For some homeowners, though, lattice doesn't provide enough privacy. A custom screen made with wood slats is one solution. For others, a privacy wall made of solid wood is the best option.
As any homeowner with a yard knows, trees and shrubbery can serve as screens and contribute to backyard privacy, too. At Archadeck of Akron, we take the client's landscaping into consideration when we're designing custom privacy decks. If you have shrubbery that provides some but not all of the screening you want, we can design a custom screen to work side-by-side with nature's handiwork.
Updating Your Deck to Include Privacy Screens
Maybe you don't need a whole new deck at this time. Are you more interested in updating the deck you have? In many cases we can replace a deck's surface boards without replacing the entire structure in a process called redecking. Some homeowners take this route to replace the surface of a wood deck with new, low-maintenance composite decking. That is also a good time to incorporate custom privacy screens if you've been wanting to increase privacy around your outdoor living space.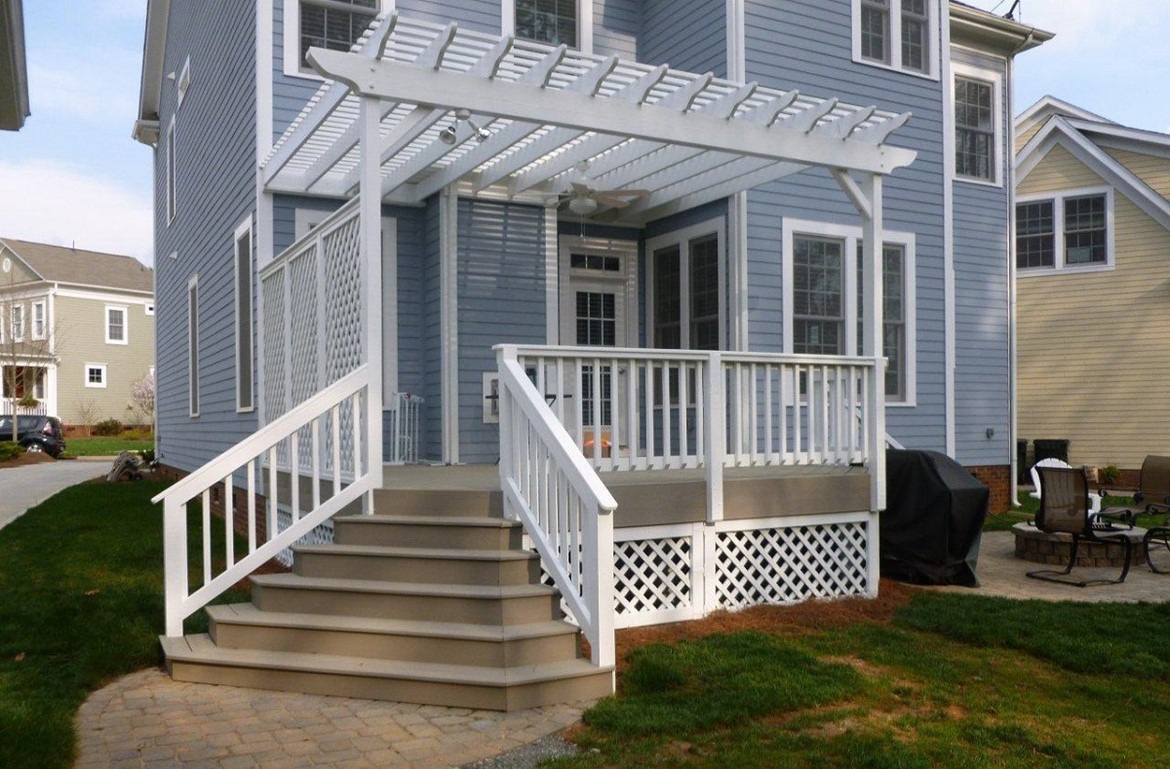 Read more: Akron Wood Deck Receives a Much-Needed Rejuvenation. In this blog post, the privacy wall we added around the clients' hot tub is referred to as a fence. Call it what you want! As long as it provides the amount of privacy you were looking for, we're happy.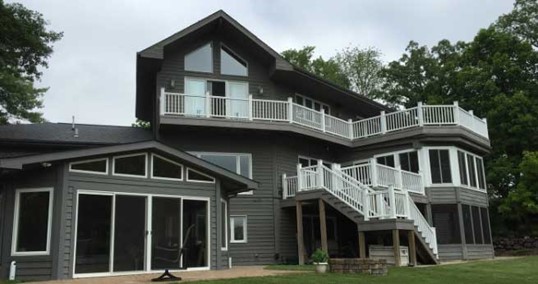 Archadeck of Akron Redecking
Instead of tearing out your old deck and starting from scratch, redecking can modify your existing structure and save you time and money in the process. The first step in determining if your aging deck is a good candidate for redecking is to have it evaluated by a reputable Akron OH deck builder such as Archadeck of Akron.
If the substructure (the base that the deck is built on) is in good shape, you may be able to save hundreds, or even thousands, of dollars by redecking. The key elements we look at during this evaluation are the quality of the original substructure and how it has weathered or degraded over time. We also determine if any applicable building codes have changed since the deck was originally installed. If we do perform a redeck, we will make sure to comply with these codes as well.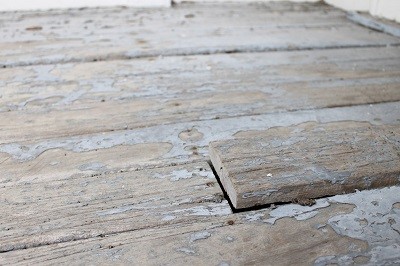 After our inspection, we will have a detailed discussion with you about what you want out of your new deck. If you are hoping to replace pressure-treated pine planks with one of our quality, low-maintenance composite decking products or wood. Keep in mind, when redecking with synthetic, there are specific joist spacing requirements that must be met.
Look at these amazing before & after images of a recent redecking project in Canton, OH:

For this redecking project (above), Archadeck of Akron replaced the wooden decking, stairs, skirting using low-maintenance TimberTech composite decking. We also replaced the deck's existing wooden railing and pickets with low-maintenance materials.
Archadeck of Akron may also be able to expand the square footage of your deck as part of your redecking project. This is possible by redecking the original footprint of your existing deck and extending out from there. We won't have to install a whole new foundation. We will only need to install a foundation for the incremental extension. From here, you can then pick the deck's colors, features, and design options that best suit your needs. During the redecking process, you can make additional changes or add amenities. You can add integrated bench seating, upgrade or replace the railing, add a pergola or covered area for shade or privacy, or even change the direction and flow of the stairs. The possibilities are endless!
Akron Budget-Friendly Decks
Archadeck of Akron would like budget-conscious homeowners to know that we can add a high-quality deck to your home for less than $12,000. If you've priced decks recently and determined that a decent-sized deck is out of reach, we encourage you to give us a call. We offer a series of eight deck designs in the under-$12K price range, and we think you'll find one—or several—that meet your needs. If you're looking for custom decks on a budget, you can't go wrong with Archadeck.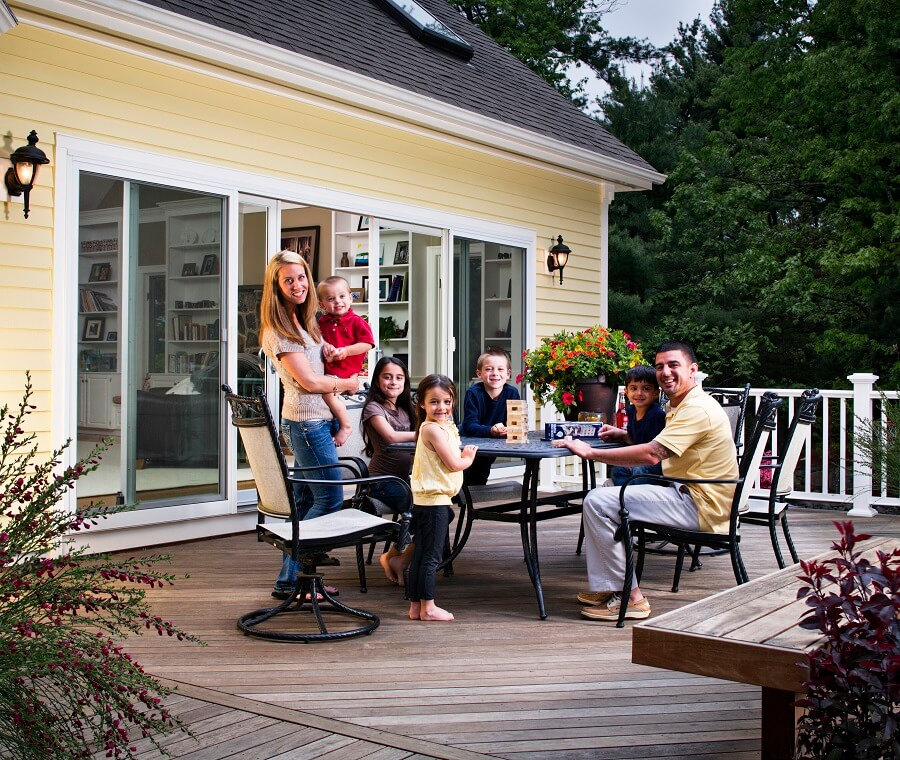 Custom Deck and Design with Your Budget in Mind
Enjoying time outdoors with family and friends is part of many homeowners' vision for how they want to live when they're at home. Often, that vision includes a deck added onto the back of the house. At Archadeck of Akron, we believe you shouldn't have to be in one of the top tax brackets to afford a comfortable deck. Whether your vision includes relaxing on the deck, hosting get-togethers or simply grilling and eating outdoors, we want to help you achieve that.
We also want you to know that when you work with Archadeck, budget-friendly doesn't mean substandard quality. We put the same care into building more affordable decks as we put into our grandest high-end decks and other outdoor living structures. We will not sacrifice quality to achieve a desired price point.
How To Get a Custom Deck on a Budget in the Akron Area
Archadeck of Akron is committed to working with homeowners to design and build custom decks for less than $12,000. To that end, we offer our Lifestyle Classics, a series of 8 deck designs that won't "break the bank." All eight of the designs are attractive and functional, just as you'd expect a professionally-built deck to be. To keep the price of these decks under $12,000 we build them with pressure-treated wood, our most affordable decking material.
Your first step towards learning more about our custom budget-friendly decks is to contact us and schedule a complimentary design consultation. We won't ask you to simply click on one of these 8 deck designs and place your order. When we say "custom deck on a budget," we mean that we will customize your deck for your home.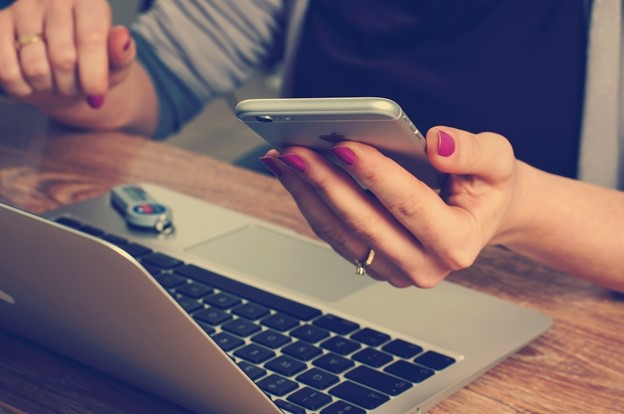 To achieve that customization, we'll need to meet with you at your home and take some measurements. We'll also need to listen as you talk about how you want to use your new deck. Together we'll look through the eight Lifestyle Classics deck designs to see which ones best match what you're looking for.
Akron Budget-Friendly Outdoor Living Space Ideas
You can start gathering ideas right now by looking through our Lifestyle Classics photo gallery. As you'll see there, these affordable structures are real, solid decks! Whether you call them classic or traditional, we think you'll call them just right. Each design is slightly different in terms of shape, stair placement, direction of the decking boards, and layout of the deck space. All are built with pressure-treated wood to keep the cost under $12K.
Your Archadeck design consultant will show you how we can customize your deck to look like it truly belongs on your home. In other words, we work to make your deck look original to your home, not like an afterthought as though it's tacked on. You can request additional customization, of course! For example, if you want low-maintenance composite decking, we can make that change for you. Keep in mind that composite decking is more expensive than wood, so if you choose a composite deck, the price will increase.
Custom Deck Ideas under 12K
How do you see yourself enjoying your deck? Do you think you'll use it primarily for cooking on the grill and dining outdoors? You may want a section for grilling and dining and another section for lounging. Do you picture lounge chairs where you can relax and get lost in the sounds and scents of a beautiful spring day? Will you entertain friends, or are you more interested in spending time outdoors with the children or grandchildren? Having a space where the family can enjoy the outdoors together may increase the amount of quality time you spend with each other. It's difficult to put a price tag on that.
To get started on your affordable Akron deck, call today for a complimentary consultation at (330) 537-6412 or email us. We look forward to hearing from you!Keep in mind, size and site conditions could affect the final cost.
Which of our Lifestyle Classics designs would look perfect added to your home?
Akron Octagonal Wooden Deck Design
Diagonal decking meets at the center parting board of this Akron wooden deck to create visual interest. This design, the The Savannah, opens up the corners of the deck and creates a sense of spaciousness.
Akron Classic Wooden Deck Design
Two distinct sections within this Akron wooden deck design suggest separate areas for different purposes. This design, The Cambridge, features stairs tucked up against the house to maximize the amount of functional deck space.
Akron Spacious, Inviting Wooden Deck Design
Let your furniture placement determine whether this spacious, inviting Akron wooden deck will be used as one large outdoor room or divided into multiple living areas. This design, The Northwood, features a modern diagonal arrangement of decking boards.
Akron Wooden Deck with Raised Dining Area
An octagonal raised area that's perfect for dining makes this Akron wooden deck one of our most popular budget-friendly designs. The Chesapeake, with a second level, creates the sense of having an extra outdoor room. There is plenty of room on the main deck for several activities.
Akron Budget-friendly Custom Wood Deck
Built-in benches make entertaining easy, and you won't need as many chairs taking up space on the deck. The Shenadoah features a divided design for two distinct areas and increased functionality.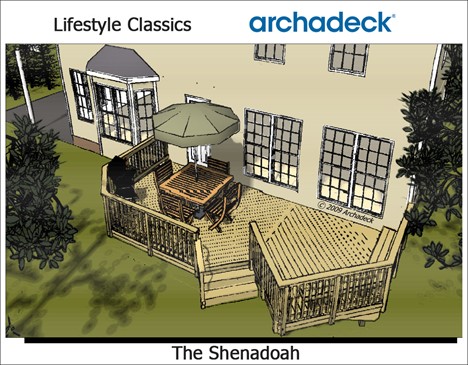 Akron Budget-friendly Wooden Deck
With the stairs tucked to one side, The Windjammer keeps all the focus on the deck itself. This medium-sized Akron wooden deck is a true classic—and budget-friendly, too.
Akron Traditional Wooden Deck
The spacious footprint of this hexagonal deck suggests one big room, but you can also divide it into distinctive areas if you choose. The Nordic combines simplicity with flexibility, very much a traditional design.
Akron Wooden Deck with Parting Board Detail
The Newport design features a large single level with a parting board creating two sections on the deck. The diagonal decking boards clearly say "custom deck design!" This classic Akron wooden deck gives you plenty of room to entertain a larger group comfortably.
Want to Learn More?
Are you looking for a deck builder near me? Contact Archadeck of Akron today to schedule your deck design consultation. The call and the consultation is free, but the benefits you will get from your new deck or redecking project are priceless! You can reach us at (330) 537-6412 or email us.
At Archadeck of Akron, we are your local professional deck design and build company — you get a custom design every time!