Akron Porch Builder
Here at Archadeck of Akron we specialize in all things outdoor living. A huge benefit of being able to live the outdoor lifestyle your desire is having options. This can mean having a covered outdoor living structure that works in unison with a deck or patio and allows you the freedom and protection to escape a popup summer shower or the heat and humidity of the late summer afternoon sun without having to retreat indoors.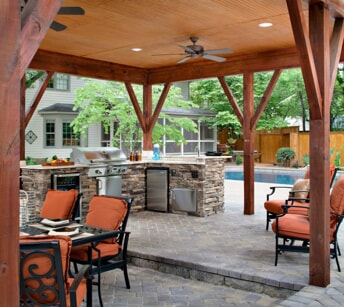 This detached covered poolside porch is built over a custom tiered paver patio and features an expansive outdoor kitchen.
We don't believe in one size or design fits all when it comes to any of our outdoor living structures. Porches in particular, have the ability to transform your home's livability and aesthetic. We specialize in designing porches that add curb appeal, functionality and enhanced enjoyment all while keeping your home's existing architecture in mind. Unlike other companies that treat a porch addition as an afterthought, Archadeck of Akron strives to build you a quality, customized design that appears original to your home adding value and enjoyment for many years down the road.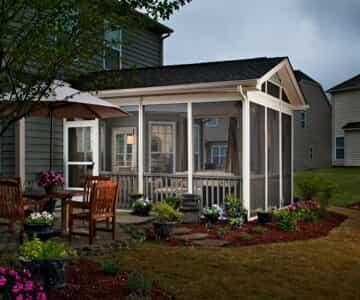 Here's a peek at the various types of Akron-area porches we design and build: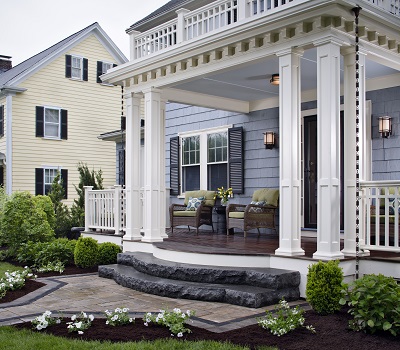 Akron Front Porches
A front porch or portico is your home's face. It's what everyone sees as they drive by. It greets and welcomes guests even before you do. It also serves as that lasting first impression and prologue to the interior of your home. A front porch can protect you and your home's front facade from the elements, add curb appeal or serve as a refuge for relaxation.
For this Akron, OH, front porch makeover, Archadeck of Akron resurfaced the flooring of the porch and installed a beautiful new railing. The updated railing adds tons of curb appeal to the home and opens up the views from the front porch. The finishing touches to the renovation include the addition of steps for easier entry and exit from the porch, new skirting and new paint.

Before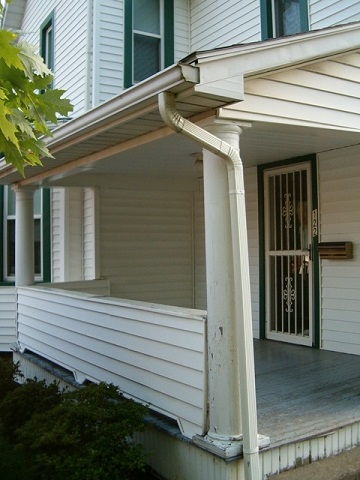 After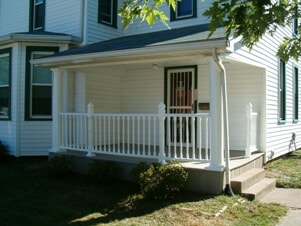 Akron Covered Porches
Our custom covered porches are designed to protect without reducing your connection with the outdoors. From simple front porches to complete outdoor entertainment areas, our covered porches and covered patios will transform your home from the outside in.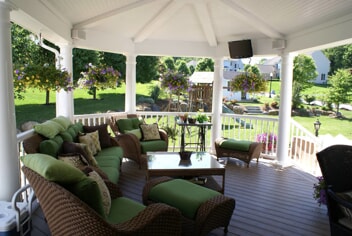 No matter what type of porch you have in mind; whether it an update to your home's front entry, a quaint rocking chair porch addition, a three season room to escape the humidity of summer and chill of late fall or a multi-faceted backyard destination, Archadeck of Akron is your go-to porch designer and builder — we can make the pleasures of porch living a reality!
Contact us today to learn more at (330) 537-6412 or email us.