Porch Builders in Sugar Land, Pearland, League City, and Southwest Houston, Texas
Lazy Sunday afternoons are the perfect time to sit back and read a book — and what better place to relax than on a porch where you can enjoy the outdoors? Whether your porch supports your front door, adds value to your backyard, or even wraps around your entire home, it makes a beautiful addition to your home's architecture and landscape.
At Archadeck of Southwest Houston, we can design and build a porch for any home in the Sugar Land, Pearland, League City, and Southwest Houston, Texas areas. Our custom porch builders specialize in building a variety of beautiful custom porches that add value to your outdoor living spaces and allow you to enjoy the outdoors.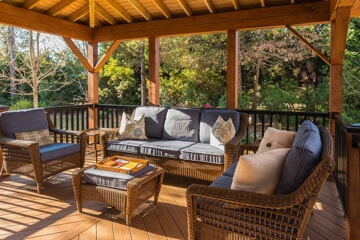 Benefits of a Porch
Porches are a unique and beautiful addition to any home! Their attractive appearance will match your home's architecture and landscape while also showing off your personal style. Not only will a porch add to the aesthetics of your outdoor living spaces, but they are fully functional. They provide the perfect place to sit and relax on a nice summer day, or somewhere to entertain guests when they come over. A porch can enhance your property value, improve curb appeal, and make your outdoor living experiences more enjoyable.
Types of Porches
Here at Archadeck of Southwest Houston, we specialize in building and designing several different types of porches to help improve your home's exterior:
Front Porches – Covers your front door and adds a warm, welcoming atmosphere for guests entering your home while also boosting your curb appeal.
Back Porches – Adds value to your backyard and landscape while also providing the perfect, comfy place to sit and enjoy the weather outside.
Wraparound Porches – Surrounds your entire home with a fully-functional and aesthetically pleasing porch. These porches provide the perfect amount of extra outdoor living space to relax or entertain guests.
Open Porches/ Patio Covers – Added over top of your existing patios, open porches and patio covers enhance your outdoor experience by protecting your outdoor entertainment areas while also leaving them open for people to walk in and out of.