Pure Outdoor Living "Deck-adence"
Locally owned & operated, Archadeck of Southwest Houston is the premier outdoor living builder for custom, one-of-a-kind decks in the Southwest Houston area. We bring you the commitment to quality and personal customer care of a local business, with the expertise and knowledge of an international design & build firm.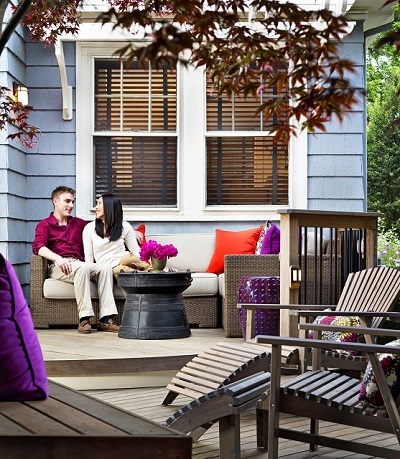 Building a deck is not as simple as it used to be. With advances in engineering and design, and improvements in synthetic decking, there is now a wide variety of material options to choose from. Choosing your decking material and color is the first decision, but there are many more. You must choose the size and shape of the deck, location of the stairs and the railing type and color. To help you through these complicated choices we will use your property & lifestyle as a way to help guide you through our many years of experience. The personal service you get with Archadeck of Southwest Houston, a custom outdoor living space design & build firm, is top notch from the first call until well after post construction clean up.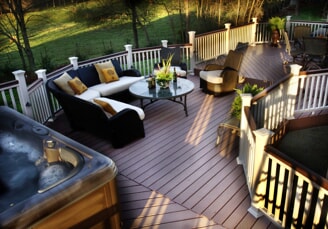 Houston Low-Maintenance Deck Builder
Low-maintenance decking such as AZEK and Timbertech will never have to be stained or sealed, but it will need occasional cleaning. Solid PVC and composite decking won't split, crack or warp. Aside from being easy to care for and maintain, design versatility is another huge advantage of synthetic decking. For instance, synthetic decking can be bent and molded for stunning curved picture framing, winding inlays, intricate patterns and creating designs throughout your deck. Low-maintenance decking suppliers provide extended warranties and stand behind the quality of their product, giving you peace of mind.
Houston Wooden Deck Builder
Wooden decks remain the traditional choice for deck building. Wood is still a beautiful and sturdy choice. We offer select-grade pressure treated Pine for wooden deck projects. Wood decks do require regular maintenance with stain or sealant. Depending on your property, if your deck is exposed to full sun most of the day or is under the cover of a heavily wooded lot, you may need more or less maintenance.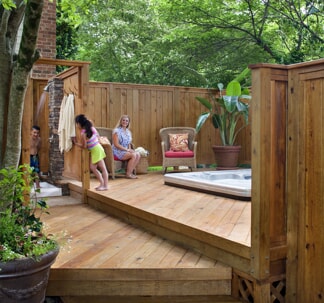 To learn more about bringing your Houston dream deck to life, contact Archadeck of SW Houston today! You can reach us by phone at (713) 597-5285, or via email at swhouston@archadeck.net.