Your trusted Kansas City porch builder since 2001!
As your Kansas City area porch builder, Archadeck of Kansas City cares about the ways you want to live outdoors.
We have been designing and building custom screened porches and covered porches in the Kansas City market for 20 years. Allow our experience to work for you.
When homeowners who are seeking a contractor to build their porch, they often come to us with ideas about what they absolutely do want and what they absolutely do not want. Some of the most common themes we hear on the "do want" list are a bright & airy space and one that looks original to the home.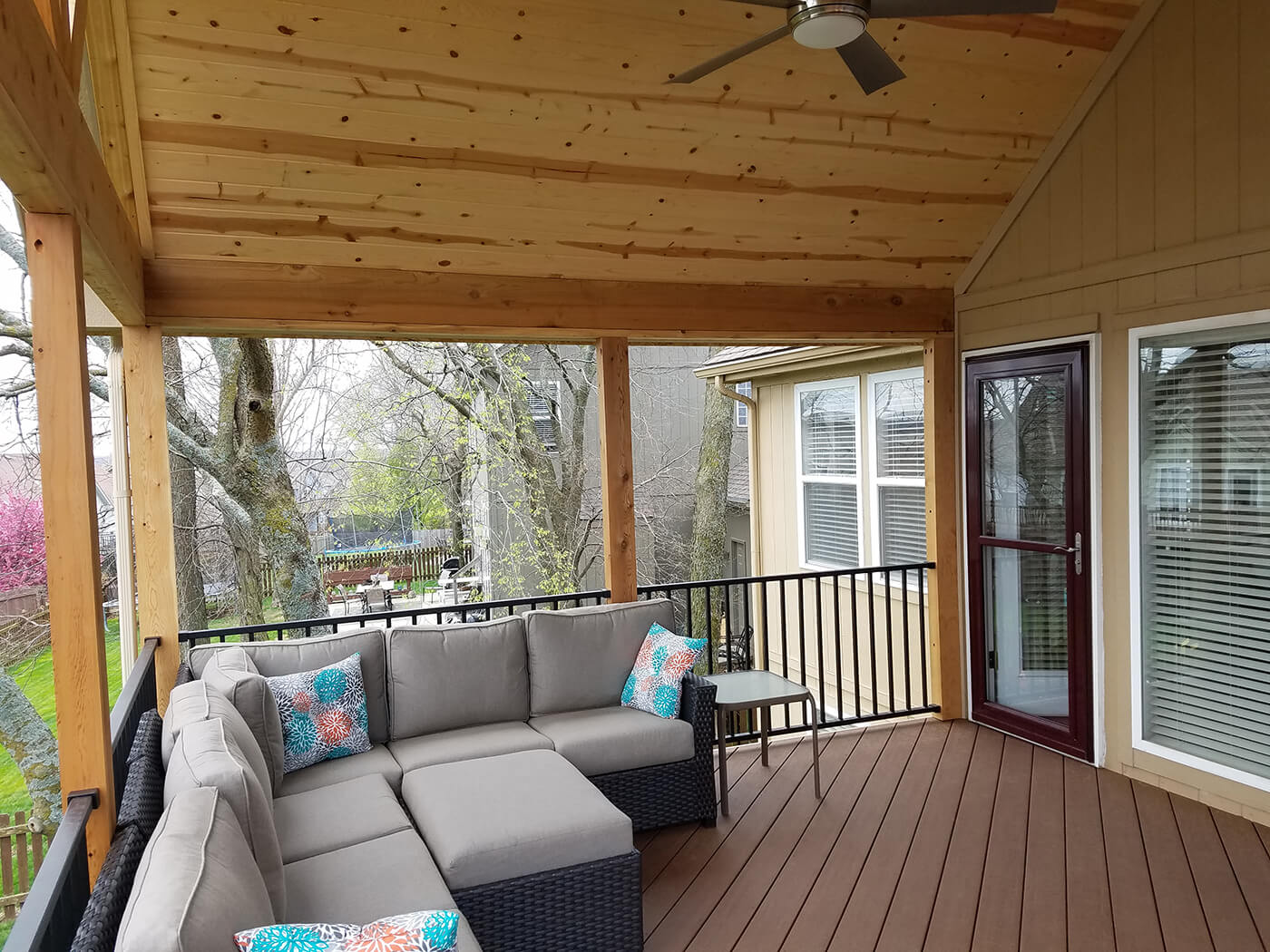 Custom open porch by Archadeck of Kansas City
Common themes for what people don't want also have to do with light. Homeowners want to make sure that no light is sacrificed in their home because they add a bright and sunny outdoor space to the back of their home. And similar to the wish list, nobody wants a room that looks added on.
The photo below is a 3D rendering of the Archadeck of Kansas City porch design you see in the photo above. Each of our outdoor living designs is tailored to the style of the home, as well as the outdoor living requirements of our clients.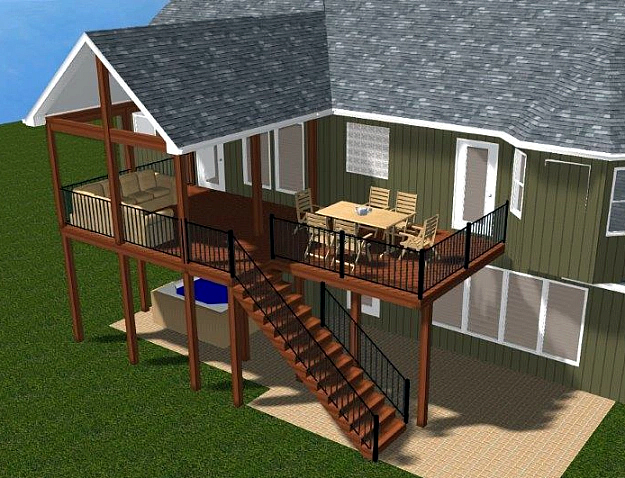 Open porch and deck design rendering by Archadeck of Kansas City
What are other important considerations for your new Kansas City area porch?
Design aesthetics are not the only important considerations when planning a new porch for your home. Archadeck of Kansas City can help you achieve the most usable outdoor living space for your outdoor living style.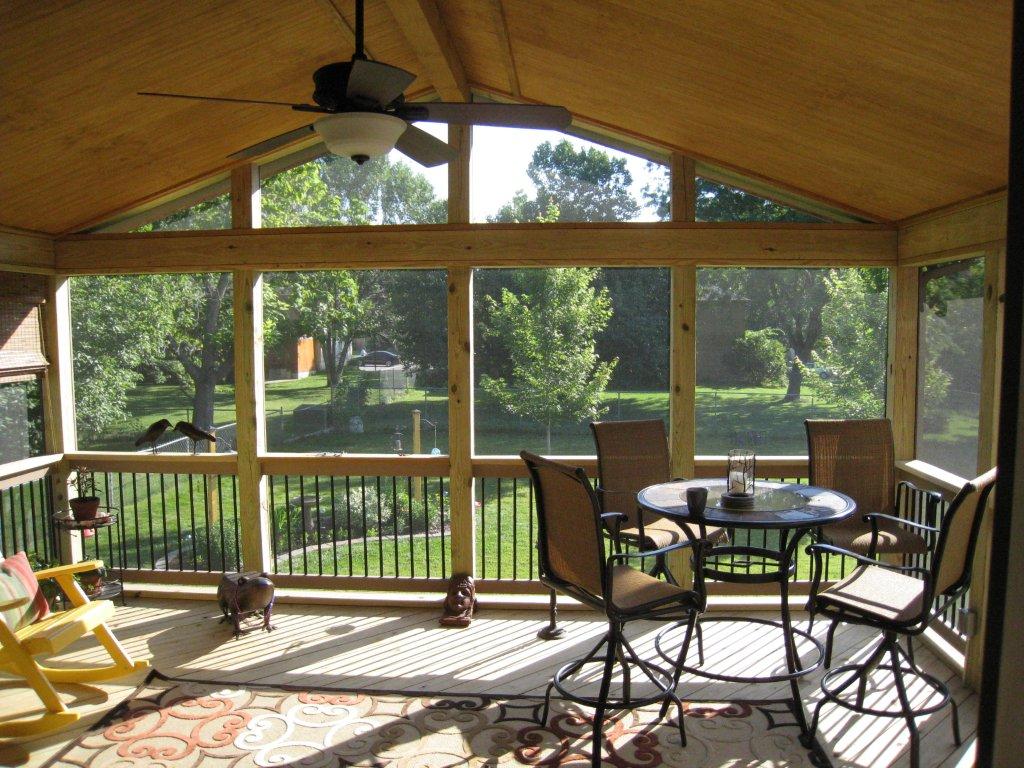 Olathe KS screened porch with gable roof
Do you plan to eat outdoors?
Do you plan to spend a lot of time congregating in your new space?
Eating, seating, or both?
Where will you sit? What will you be doing?
Imagine these two scenarios. In the first scenario, you and other members of your family like to steal away in your new room. You grab your morning coffee and your laptop to check your email and sip french blend while taking a look at the emails in your inbox. Another member of your family who comes home exhausted heads out to the porch before the family meal to catch up on the news of the day with a bowl full of fruit or a handful of a snack chips. The book worm in your household can often be found wrapped in her favorite book on the big comfy couch in your porch.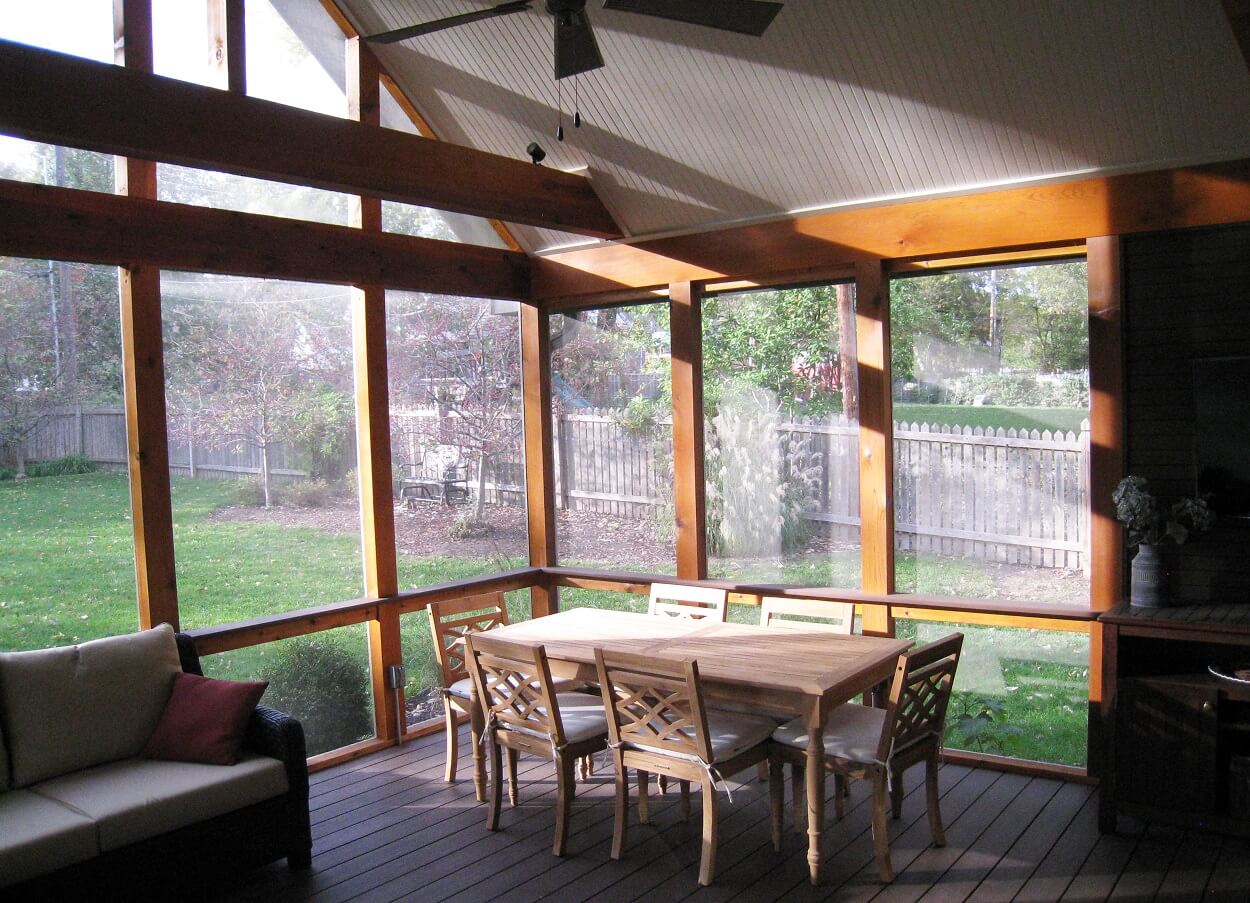 Leawood KS screened porch with AZEK synthetic flooring in Acacia
Now compare those scenarios to these. Your family of 5 or 6 eats dinner out on the porch any and every day that the temperature is over 70 and below 90. Or, your home is the neighborhood magnet for kids and their parents alike. You're thrilled to have a covered outdoor space to watch them run and play. Or, you entertain regularly and often have groups of people enjoying beverages or football games outside.
Speaking of football – enjoy football on TV on your new porch!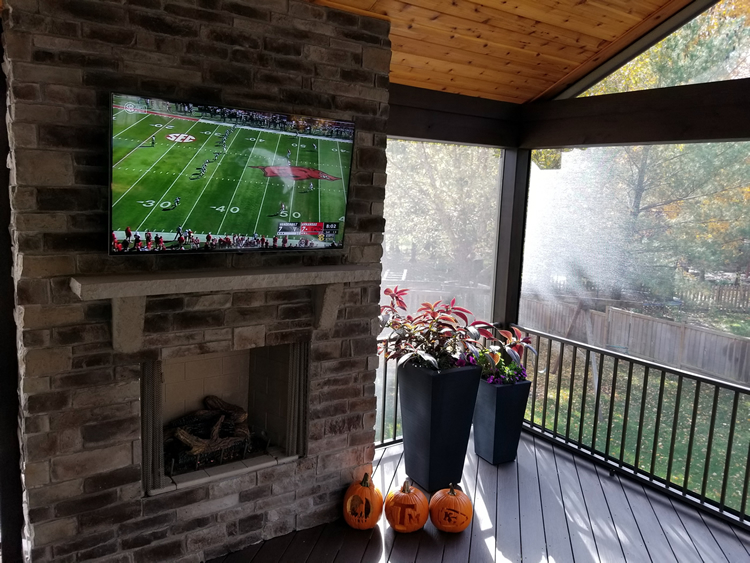 Kansas City area screened porch with stone fireplace and TV
Those are very different scenarios and different in more ways than just one. If your porch is often used to steal away, you don't need to have a space that seats a larger number of people. But, if you plan to use the porch for morning coffee, after work beverages, and for regular book reading, you probably want both an eating area and a seating area. The size of a dual activity living space is a good bit larger than a space that includes only a table or only a seating area. Even if you have a small bistro table, two very comfortable chairs and something to kick your feet up on in between the chairs, the space will be a bit larger than the space that just includes a table and a few chairs.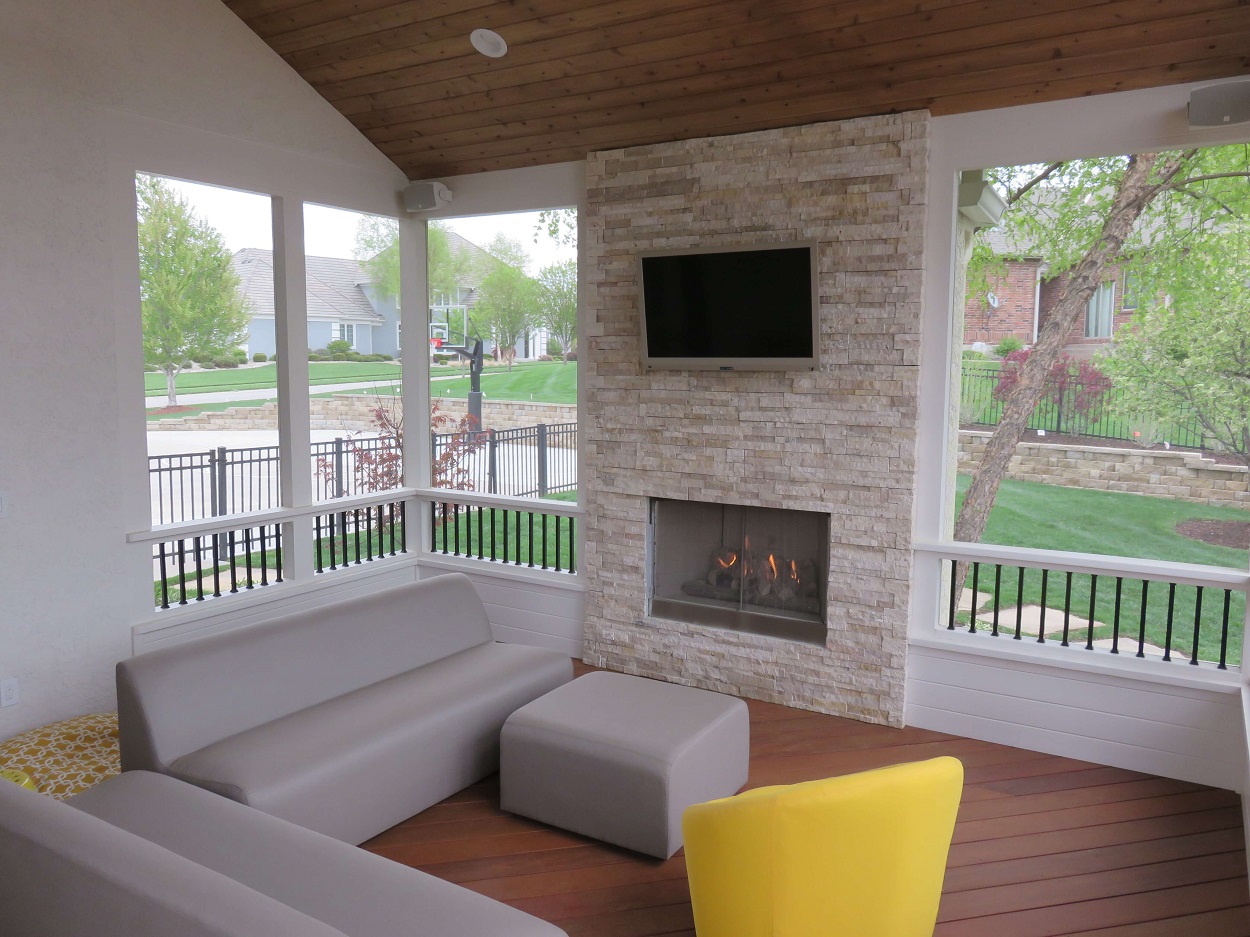 Shawnee KS screened porch with outdoor fireplace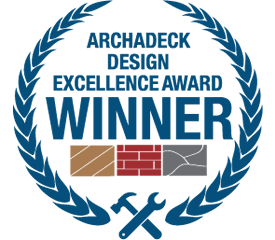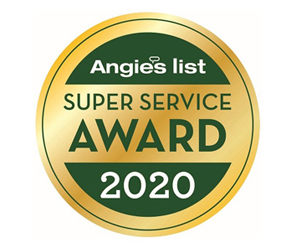 Angie's List Super Service Award for 13 years — 2007, 2009, 2010, 2011, 2012, 2013, 2014, 2015, 2016, 2017, 2018, 2019, and 2020! Read our reviews on Angi.com
With an A+ rating by the Better Business Bureau, you can count on Archadeck of Kansas City to provide top-notch outdoor living building services. We are a name you can trust and one that you will recommend to family and friends.

Individuals or groups?
This is also a hugely important consideration. The scenario above of a small bistro table, a couple very comfy chairs and a large footstool does a great job accommodating one, two or even three people at a time. But add a family of 5, regular football Sunday groups, book club or a place to exile your child and several friends and the space needs to be a good bit larger. Perhaps your home is the one that everyone comes to for every family get together or maybe your home is the place where everyone gathers for Sunday night dinners. Now close your eyes and imagine one of these groups all seated in your new porch. Imagine the walking area and having ample space for family and guests to move about without crowding or causing people to spill or drop because of a tight space. The last thing you want to do is add a brand new porch and then find out you don't spend much time there because it doesn't accommodate the way your family and guests spend leisure or family time.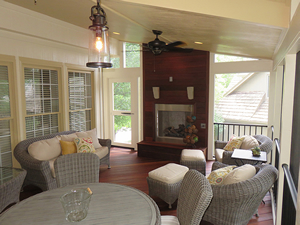 Kansas City area porch with multiple living areas
Many of our Kansas City area porch clients opt for a space that's large enough to fit both an eating area and a seating area as this best accommodates how they want to live outside.
How many months throughout the year?
If you think about how you really want to live outside, does that vision include just the spring months when the breeze is blowing, the skies are blue and the temperature is mild? Maybe you're the type that just can't get enough of the sights and sounds of outdoors. You may be the type that will happily grab either a fan or a space heater to extend the number of months you can spend in your outdoor room. Now consider an outdoor fireplace. Whether wood burning or gas, are you the type that would be the first one to grab a blanked and warm cup of hot chocolate to spend a quiet Friday evening watching your favorite show on a TV mounted over your outdoor fireplace?
Ambient, cozy porch fireplace
While you have this option, really think about it
When you purchased your home, you didn't get to decide the layout of the rooms or the size of the various rooms. When you're having a builder custom build a new space for you, these choices are all yours. It's important to work with an experienced builder who will ask you the right questions and also help you translate that to the space that's right for you and your budget.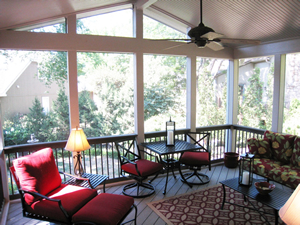 We will build your Kansas City porch specific to your needs and budget.