Raleigh's Best Outdoor Fireplace Builder
Outdoor Fireplaces Add Warmth & Charm
Outdoor fireplaces can add charm and comfort to any outdoor living space. They can be built on decks, sunrooms, patios, or porches. Once you've chosen to add an outdoor fireplace to your Chapel Hill, Durham, or Raleigh-area home, deciding upon the placement is the first step in the design process. You'll also want to consider the benefits and options between gas and wood-burning fireplaces, and the variety of design options that come with each.
The Popularity of Porch Fireplaces
At Archadeck of Raleigh Durham, we find that porches are the most popular place for outdoor fireplaces. Our clients love to enjoy family time, entertaining, or unwinding after a busy day on their open or screened porches. Adding an outdoor fireplace makes the space usable throughout more months of the year. In addition to providing warmth to chilly air, fireplaces can also become a social hub and visual focal point for the porch. Fireplaces can be added to existing porches to give the space a totally new feel, or incorporated into the original design of a new space.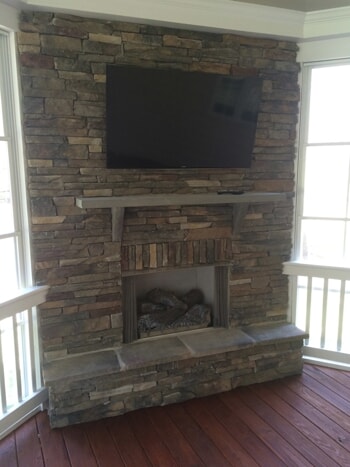 Choosing Your Fireplace Layout
Choosing the placement of your porch fireplace is a big decision. Corner fireplaces are popular but they can take up a great deal of floor space. If you place your fireplace along a wall, you'll keep more livable space on the porch. Another important consideration is visibility to your yard. You want to make sure the fireplace doesn't obscure your favorite view. Similarly, the fireplace can function as a privacy wall if there's a particular area outside the porch that you'd rather not see.