Choose Archadeck As Your Chapel Hill, Durham, and Raleigh Outdoor Fire Pit Builder
Have you been dreaming of sitting around a campfire, enjoying the company of good friends and a stunning view of the stars? That campfire feeling doesn't have to be reserved for the occasional camping trip anymore. You can enjoy the crackle of wood, the warmth of the flickering flame, and the pleasures of friendly conversation around a custom outdoor fire pit in your own backyard. Archadeck of Raleigh, Durham and the Greater Triangle can build your new outdoor fire pit on your deck or patio, using materials that are sure to meet your needs and personal style.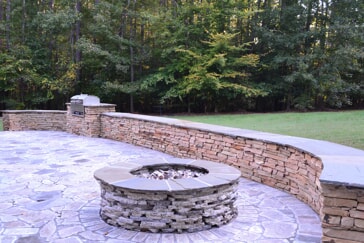 Patio Fire Pits
The most common location for a Raleigh outdoor firepit is on a concrete, stone, or paver patio. Being at ground level and on a fire-resistant surface gives most people the greatest peace of mind for enjoying an outdoor fire close to home. You can also choose an in-ground firepit to create the closest campfire feeling.
There are also many beautiful design options for creating a patio fire feature. You can highlight the fire pit as a focal point using a custom inlay in the paver patio design. The fire pit area can also be visually and physically defined using retaining walls of the same or a complementary material as the patio. Retaining walls can also serve a functional purpose, such as providing extra seating or dry storage space.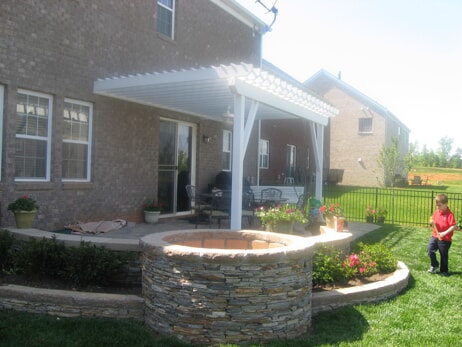 Give us a call today at (919) 446-5585 to schedule your complimentary design consultation with our team. We look forward to helping you transform your outdoor space!