Porches
Nothing says welcome home like a beautiful, custom porch. At Archadeck of Lawrenceville, our detail-oriented designers and expert builders are here to make your outdoor living dreams a reality. We'll work with you from start to finish to create a gorgeous custom porch that fits your home, vision, and budget.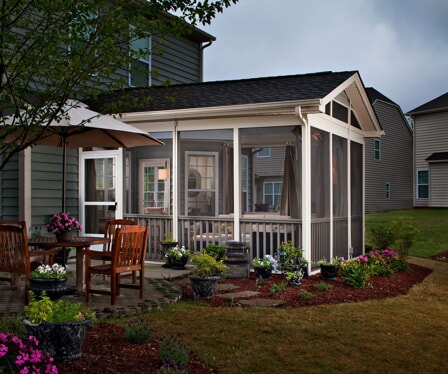 If you can dream it, we can build it.
Our local, family-owned company is here for you every step of the way. From our free consultations to our top-quality construction work, Archadeck makes achieving your dream porch simple. Here's a look into our process:
Connect: Take advantage of our free consultations. Give us a call or fill out an online request to chat about our designs and pricing. We want to make sure you're as confident as we are in the work we do!
Consult: One of our expert designers will work alongside you to create the porch of your dreams. You can browse our past designs and discuss new ideas until you're fully satisfied with your vision.
Design: We offer a variety of design options to suit your budget and needs. Clients seeking more tailored projects can receive either 2D drawings or 3D models of their proposed designs. Likewise, those in search of more straightforward projects can take advantage of our catalog of existing classic designs. Either way, when you work with Archadeck, you can expect personalized service from our team of knowledgeable designers.
Build: This is when you see your dream porch come to life. Our building team will do it all: from securing permits to construction clean up, we'll make sure everything runs smoothly. Once our work is done, we'll conduct a walkthrough with you. During this final step, you can point out any issues or changes you'd like to see — we want to make sure your porch lives up to your vision 100%!
Enjoy: Our warranty guarantees years of enjoyment. All you have to do is sit back and make memories on your beautiful new porch!
Our Free, No-Obligation Consultations
At Archadeck of Lawrenceville, we offer estimates and preliminary consultations at no cost. During your appointment, one of our representatives will arrive in-person to review your property and create a comprehensive needs analysis. If you decide Archadeck isn't for you, no sweat. We won't charge you for our visit, and we won't pressure you to follow up. So why wait? Your dream porch is only a call away.
We can't wait to show you what we can do for your home. Schedule your complimentary deck design consultation today at (470) 594-3231!