SUNROOM BUILDERS in Wilmington, DE
Enjoy The Delaware Outdoors in the Comfort of Your Home
At Archadeck of Delaware, it is our goal to help our customers enjoy the sun and rain alike with custom designed sunrooms. When it comes to building another room in your Wilmington home, consider sunrooms. Sunrooms are an affordable way to increase your home's square footage. Adding a sunroom to your home is a cost-efficient way to increase your home's value while inviting more sunlight into your home. Choosing to add a sunroom to your home gives you endless possibilities for livening up your home. Archadeck of Delaware wants to help you build the perfect sunroom for you and your family by catering to your specific needs.
Custom Delaware Sunroom Installation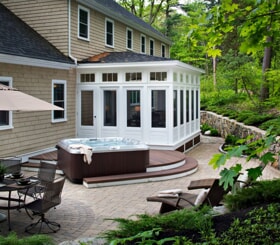 Sunrooms are a perfect way to observe the world around you in the safety of your own home year-round. We will listen to every need you bring to us and carefully design a sunroom that will fill every dream you have for your custom sunroom. We include floor-to-ceiling windows that allow you to enjoy your views from summer to winter. All without having to conform to the unpredictable weather, insects, or pests.
The Benefits of a Custom Sunroom in Delaware
Adding a custom sunroom to your house adds a whole new element to your home that you wouldn't be able to experience otherwise. It allows you to be in nature without having to deal with its inconsistencies. You can enjoy the sunshine without the heat or bugs, and you can enjoy the rain from the comfort of your home. We also will fully insulate your windows, allowing you to be in a controlled environment the entire time.
We allow you to customize your sunroom to meet your needs, whether you want a full dining table or a television and comfy couch. At Archadeck of Delaware, we can make anything happen for you and your family. We will design and build the perfect sunroom for you. We have years of experience to inform us on what we need to do to make your sunroom dreams come true. For more information, check out our images of sunrooms with our Free Design Guide!
Contact Us Today for Custom Sunrooms near You!
Give your home a facelift with a new sunroom by calling Archadeck of Delaware anytime. We will get you set up to schedule a complimentary consultation immediately.
We want to hear everything you have in mind for your new sunroom. Call us at (302) 240-9225.