Custom Deck Builders in Wilmington, DE
Creating Custom Decks You'll Enjoy for Years to Come
Need deck construction in Wilmington or surrounding cities? Searching the web for a "Deck Contractor Near Me"? You've come to the right place!
When you are looking for an experienced and certified deck builder, you can trust Archadeck of Delaware to deliver results you'll love. We know there's no better way to relax on a summer afternoon than to stretch out on your private backyard deck, and we go above and beyond to make your vision of the perfect outdoor living space a reality.
When you're looking for a deck contractor near you, why not start with one of Wilmington's best? We provide exceptional deck building services in towns and cities in Wilmington and other communities.
Get started with a complimentary design consultation! Call (302) 240-9225 or contact us online today.
What is the Benefit of Adding a Custom Deck to Your Home?
Custom decks are the perfect way to add value to your home, and they give you multiple options for entertaining, relaxing, or just taking in the views. There's no question that a custom deck design built by the experienced deck builders at Archadeck of Delaware can enhance your home in a number of ways.
Other benefits of adding a deck to your home include:
Increases Resale Value: Adding a deck will increase your property value and attract more attention when it comes time to sell.
Creates Aesthetic Appeal: Every deck we build complements your home's style and adds to its visual aesthetic.
Adds Functionality: You can use a deck for various purposes, from barbecuing or entertaining to relaxing and enjoying a nice day outside.
Increases Curb Appeal: A well-designed deck will not only add beauty but generate interest in potential buyers when it comes time to sell.
Our Custom Deck Builders Create Decks Designed Your Way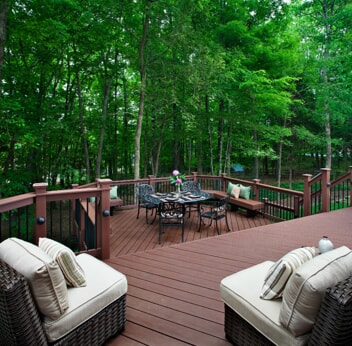 Archadeck of Delaware takes the important task of custom deck design and deck construction to the next level. As such, our focus remains on quality, innovation, and industry best practices.
We provide only the best deck contractors, deck designers, and deck materials. Furthermore, we ensure the longevity and reliability of our deck construction.
You can create your own custom deck design, or choose from a variety of ready-made designs. Not sure where to start? Browse through our free design guide for inspiration. The priority of our custom deck builders is giving you a design that integrates well with your home aesthetic.

Check out what our customers have to say about our quality craftsmanship by reading our reviews!