Birmingham Porch Perfection!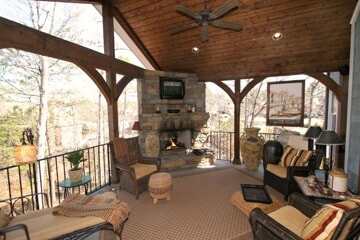 We are so very lucky in the South because not only do we have porches almost everywhere, we love and respect our porches. We understand the importance of a good porch, and some would agree that every Birmingham-area home needs at least one porch. A custom porch addition adds beauty, enjoyment, curb appeal and value to your home. As your Birmingham porch builder, Archadeck of Birmingham is right there with you. We consider it our professional duty to bring porches to all who desire them.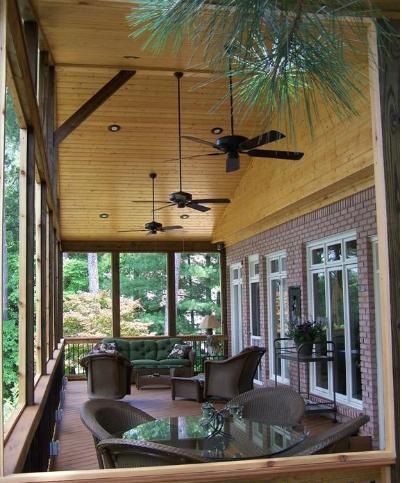 Types of Porches
There are a few different kinds of porches, depending on how you want to categorize them. The most popular porch (especially in the summer) is the screened porch. It protects us from flying pests as well as from rain and the sun's wilting, burning UV rays. A screened porch with a ceiling fan sits just this side of heaven. As your thoughtful porch builder, we usually include electrical wiring in any new back porch designs because some day, someone is going to want a ceiling fan.
Right up there with screened porches are covered porches. You could think of these as screened porches without the screens. Covered porches are also called open porches because they aren't enclosed. With open porch designs, you're protected from rain and sun, but you're open to all the nature your yard has to offer. And you can still have a ceiling fan, not to mention a couple of light fixtures, because you know you'll want to read a book sitting on that covered porch at night. Archadeck, your Birmingham porch builder, understands how important that is.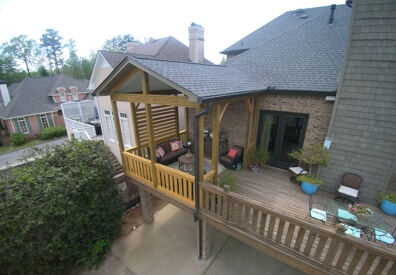 We can also categorize porches another way: front porches and back porches. Front porches are usually open porches, and they tend to be more formal. You could think of them as "matching" the front room of the house, which is likely a formal living room. Meanwhile, the back porch is where people can sprawl out with a board game or a jigsaw puzzle or a puppy or a grandchild and not worry about how they look to neighbors passing by. It's the back porch that's usually screened, and the best homes have a deck or patio leading out from that screened back porch. Covered porches and decks also go together exceptionally well.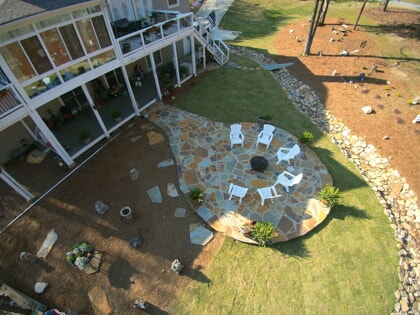 Birmingham Porch Versatility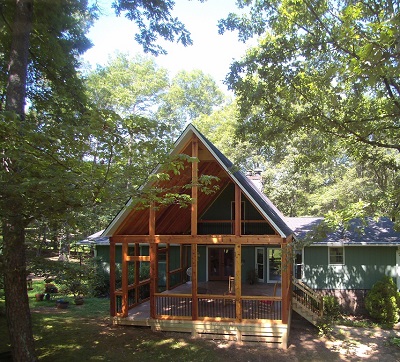 Archadeck of Birmingham offers stunning porch design options to suit every home, every family, and every budget. From simple two-pillar designs to vaulted porches with ornate support beams, you can get a fabulous porch added to your home at any time. Porches are one of the most versatile of all the outdoor living spaces we build, they enhance your property value, improve your curb appeal, and transform the livability and enjoyment of your home for the better!
Porches are for Entertaining
If you enjoy entertaining outdoors, a covered back porch is ideal for large gatherings, especially if you combine that with a deck or patio to give people more room to spread out. You'll need access to the grill nearby, too. Have you considered including an outdoor kitchen within your porch design? No need to keep running back indoors for food and drinks if you can prepare everything outdoors. An outdoor kitchen is ideal for hosts who would prefer to stay outside with the guests rather than be stuck indoors cooking in isolation. Your Archadeck design consultant can share covered porch ideas with you based on structures we've designed and built for other homeowners who love entertaining outdoors. We can design the outdoor kitchen with whatever amenities you choose, including space for your favorite outdoor smoker or deluxe grill.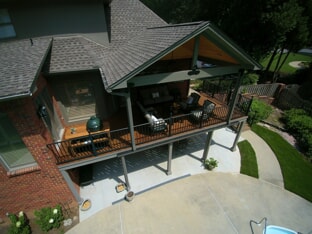 Whether you're looking at front porches or back porches, open porches or screened, Archadeck of Birmingham knows your Southern frame of reference, and that includes porch culture. Regardless of the size of your new outdoor room, it's going to be your favorite room in the house.