Building Better Birmingham Backyards!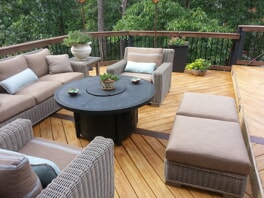 Decks are the workhorses of all the outdoor living structures Archadeck of Birmingham builds. If your deck is working alone, it takes on quite a lot of responsibility! It provides you with an ultra-convenient place where you can just step outside your door, sit in a comfortable chair and bask in nature's glory. On pleasant mornings, you can take your coffee, tea or super-healthy breakfast smoothie out on the deck. Lunch on the deck provides a break from the hectic activities of the day. In the evening, settle down to catch up on the day's news with your tablet, or curl up with a good book. When you place your grill on the deck, no one is going to want to eat dinner indoors! Then, when the sun goes down, lie back in your deck lounge chair and get lost in the stars. Take it from one of Birmingham's premier deck builders, your new deck will become your "outside living and dining room" — and probably your favorite room of the house!
Birmingham Deck and Screened Porch Combinations
If your new deck will work in combination with other outdoor structures, you'll have the best of both worlds. Combine a deck with a screened porch and you'll have one area open to the stars and the other protected from rain and pesky insects. When you want to bask in the sunlight, the deck is calling your name. When the family wants to eat a meal without hungry pests flying about, a dining table on the nearby screened porch provides a perfect setting. Deck construction doesn't have to end with a deck. Combination outdoor living projects bring two or more outdoor structures together to give you the function and aesthetics of each.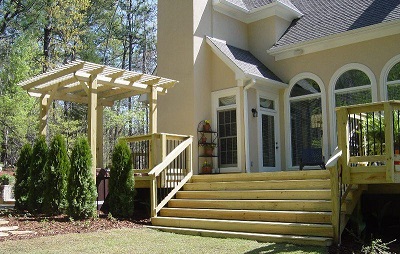 Birmingham Deck and Pergola Combinations
Make that deck even better with a pergola providing a bit of shade and tons of visual interest defining the boundary of your structured outdoor living space. Would you like a privacy screen, bench seating or a swing under that pergola? Yes, a swing! You've heard of a porch swing; now you can have a deck swing. Or maybe you'd like more than just a little shade from your pergola. We can build the perfect deck-and-pergola combination designed for the way you want to use your outdoor living space. Roll these images around in your mind: Deck and screened porch. Deck and pergola. Deck and pergola and screened porch. Mmmmm.
Decks Customized for Your Needs
As your Birmingham deck builder, we want to learn all the ways you would like to use your deck so we can design the perfect deck for you and your family. At Archadeck of Birmingham, we are custom deck builders, meaning we don't offer the same set of plans to every homeowner wanting to add a deck. We create different backyard deck designs unique to the setting of each project. We believe that designing and building custom decks is the only way to create an outdoor living space that meets the specific needs of the client.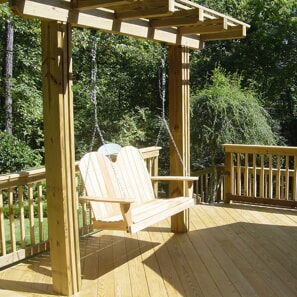 For homeowners whose hilly lots require them to build elevated decks, we can create some beautiful and very practical design options for you to consider. For example, deck stairs just beg for a landing part-way down to the yard, or even two landings if it's a far trip. A landing provides an opportunity to create an additional seating area — especially useful when you're entertaining a large group and a few people want a separate spot where they can visit away from the crowd. Another possibility is a dry under-deck area. If you're building one of the second story decks popular around Birmingham, consider adding a patio underneath! It would function like a covered patio, a second seating area where you would be protected from rain but could still enjoy the outdoors. Another custom design option is closing off the under-deck area and using it for dry storage. To ensure a dry space under your elevated deck, we add a special system during the deck installation to funnel water away from the underside of the deck.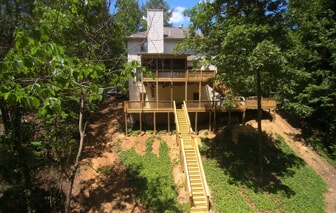 Birmingham Multi-level decks
Multi-level decks are popular deck designs because they provide two or more separate areas for entertaining or relaxing. Want a little privacy on the deck to practice yoga? With a multi-level deck, you can have your own space outdoors while another family member relaxes on a different level. When you work with Archadeck as your Birmingham deck builder, we will create a custom deck design that works for the way your family enjoys the outdoors.