Archadeck of Fort Wayne is Your Porch and Outdoor Room Designer and Builder
Does your home have enough porches? At Archadeck of Fort Wayne, we believe every home should have at least one porch, or preferably two. And if you truly love porches, there is nothing wrong with having as many of them as you want. The benefits of adding a porch are truly boundless…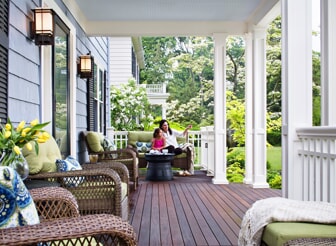 Give Your Fort Wayne Home a Front Porch for a Face Lift
If your home was not originally designed with a front porch, Archadeck of Fort Wayne can help you remedy that situation. We know of three good reasons why you need a front porch on your home:
Welcome your guests with a front porch smile. If you compare before and after photos of a home where a front porch has been added, you'll see it for yourself. The façade with a front porch looks like it's smiling. The porch adds personality to the front of your house and feels infinitely more welcoming.
Protect your guests – and yourself – from rain with a covered porch at the front door. No one likes standing at someone's front door in the rain, especially if that's the day you've forgotten your umbrella. Fumbling for your house keys at your own front door, in the rain, is a special form of torture. Adding a front porch means you'll have a roof over your head and it's a whole different experience. Packages need love, too, in the form of a porch roof so they can stay dry until you take them inside.
Participate in your community without leaving the front porch. While porch-sitting may seem a lost art, think of it as social media before the electronic age. Why not unplug for an hour and relax on the front porch with a cup of coffee or tea? You can't try this just once, though, and expect to get the full experience. The magic happens when people become accustomed to seeing you there regularly. They stop to chat, and suddenly you're getting to know your neighbors.
A Front Porch Custom Designed for You is the Best Front Porch in Fort Wayne, IN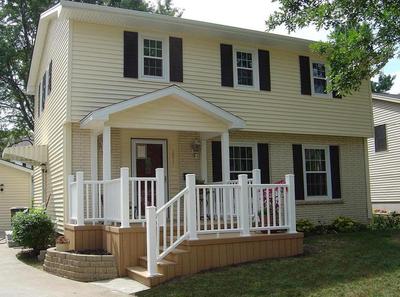 One of the best things about adding a front porch – or enlarging the one you have – is that you get to choose everything about it. The architectural style, size and shape, type of floor, ceiling, and columns – not to mention the colors – Archadeck of Fort Wayne will custom-design all of it your way. Your Archadeck design consultant can walk you through the design process and show you the many materials and colors available. We custom design each porch we build.
If a Portico is More Your Style …
While portico isn't a word you hear often, you've probably seen more porticos than you realize. Like a porch, it provides a roof over your head while you stand at the front door and fumble for your keys. A portico is simply a roof covering the front steps, or stoop, so it's smaller than a front porch. If you have more than a few steps at your front door, a portico may not even cover all of them. A porch, by comparison, includes an expanse of floor space and has room for porch furniture and maybe even a porch swing. While most porticos are supported by columns, some are only supported by brackets or braces.
Covered Porch or Screened Porch – In Fort Wayne, IN, it's All About Comfort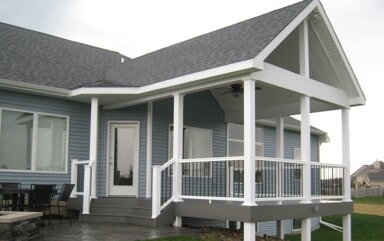 All porches are covered, so it may seem odd to refer to a porch as a covered porch. The term covered porch is used to distinguish it from a screened porch. Traditionally most front porches in Fort Wayne are not screened, so those are covered porches. (However, if you would like a screened front porch, we can custom design and build one just for you!) If you are plagued by mosquitoes, flies, or other insects you don't want to share your porch with, let Archadeck of Fort Wayne create the perfect screened porch for you.
Fort Wayne Screened Porch Builder: Not Your Grandma's Screened Porch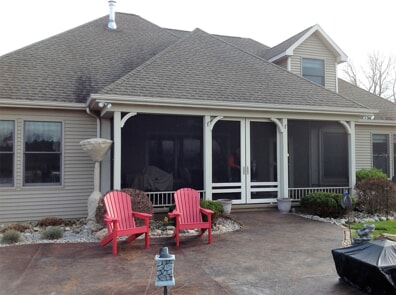 Technology has modernized screened porch construction. Gone are the days when all screened porches were constructed of wooden framing and all screens were alike. Today's screened porches are more likely to be supported by an aluminum or vinyl (PVC) frame, moving them into the category of low-maintenance outdoor living structures.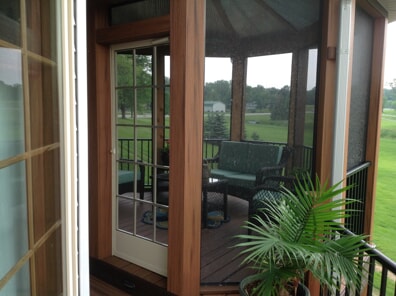 If you think all porch screens are alike, you'll be surprised to learn how many kinds of screening products are available now. We can help you select the type that best meets your family's needs. Some porch screens are designed to reduce the sun's glare. Some are more resilient, less likely to be damaged by pets or rambunctious children. Some have a tighter mesh pattern to keep out the tiniest insects.